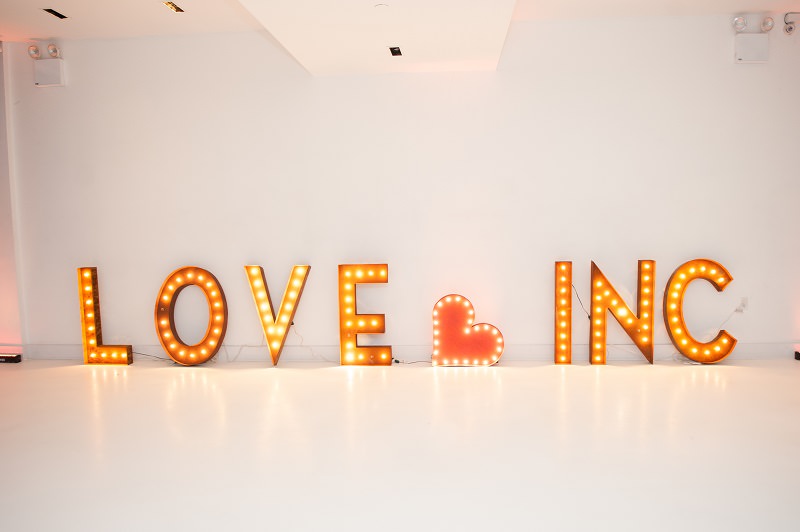 We've officially been live for a week and what a week it has been! We kicked off the launch of Love Inc. in style, celebrating with the crème de la crème of the wedding industry last Tuesday night at 404, a chic event space in New York City.
The evening was produced by Roey Mizrahi Events, who did an incredible job selecting vendors and designs to bring the essence of Love Inc. to life. From the moment guests walked into the door until they got home with their gift bags, they were exposed to some of the best brands the industry has to offer.
Inspired by the season, we asked guests to Fall Into Love Inc., "The goal with this launch was to create an atmosphere that was intimate and inclusive so as to accurately represent the brand but also remain fresh and new," explains Roey Mizrahi of the event concept. "We didn't want guests to enter and be overwhelmingly preached to about what the brand is; we wanted them to enter and subtly feel it—feel a room filled with delectable sweets, refreshments and entertainment while celebrating love, equally. It's not about necessarily showcasing any one vendor but focusing on the statement at hand that love is sweet, love is universal, love is equal. And that we have all gathered here to support that notion."
Event Farm helped make sure check-in was quick and seamless so guests could quickly get to the important stuff (i.e. the free booze!). As guests entered the expansive space, professionally lit in a soft amber hue by Universal Light & Sound, they were greeted by oversized signage by Vintage Marquee Lights that ended up not just being the focal point of the décor but also of people's Instagrams. Gotham DJ spun lounge music that fit the atmosphere to a tee as guests mingled and explored loveincmag.com at our Digital Bar, which provided them with iPads to check out the site as well as a charging station to keep all of their mobile gadgets at full battery.
Our dessert table (which I had to dedicate an entire post to because of all the amazing sweets!) had confections to tickle every type of taste, from s'mores made right on site to artisanal popcorn, inventive whoopie pies, a beautiful branded wedding cake and more.
Cocktail tables provided by BCR Signature Events were sprinkled around the room and were topped with linens by Nuage Designs and modern arrangements by Blade Floral and Event Designs, who also provided the magnificent centerpieces that flanked the dessert table and bar featuring rich red and golden orange blooms in pewter-toned vessels, textured with weeping willow.
Nisa Lee Catering, who is a trifecta force to be reckoned with (she's a celebrity chef, catering queen and event planner!) provided the passed hors d'oeuvres made from local and fresh ingredients. Our menu consisted of culinary delights such as crispy baja shrimp tacos, red Thai Chilean sea bass Israeli couscous, ruby beets chickpea puree candied pecans and roasted eggplant goat cheese pomegranate sprinkle.
Meanwhile, guests sipped on The Tauster, our delectable fall-flavored signature cocktail created by Art & Spirit Mixology (we'll be sharing the recipe later this week) and wine was provided by Stein Family Wines, who offers proceeds from their Same-Sex Meritage varietal sales to Freedom to Marry. Cheers to that!
Upstairs, We Love Photo Booths snapped photos for guests to take home (view the full gallery here), as they posed with whimsical signage by Liddabits that had playful sayings such as "Equality Is Sexy" and "We Love Women." And if guests needed a break from standing in stilettos, they were able to hang out at our Lovers Lounge, which was sponsored by Patina Vintage Rentals.
The night was beautifully documented by Mikkel Paige Photography and Epic Filmmakers, and guests left home with gift bags filled with goodies from Solemates, Two Paper Dolls, Hangers by Chelsea, Madison Lee's Cakes and more.
And amongst the amazing desserts, fab music and fun entertainment, there was a sense of enthusiasm in the air that went beyond just the food, drinks and industry friends. The excitement for equality vibrated throughout the space and it was clear that we were all there to celebrate the same thing: love is love.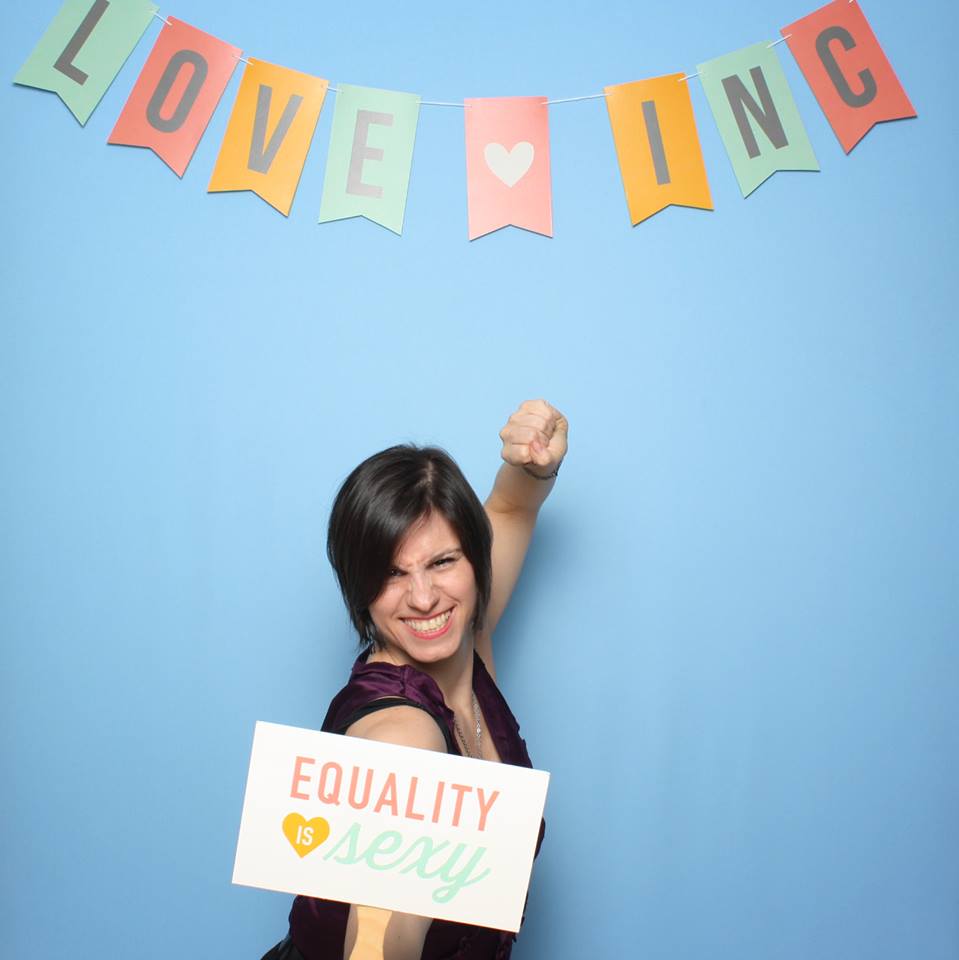 Hello world, we are Love Inc.
Photos by Mikkel Paige Photography