These Matching Grooms are Serving Up Serious Style Inspiration
What's better than one groom? Two! Especially when they both bring major style to the aisle. Wedding fashion has always been about making a statement, but when two grooms choose matching outfits for their wedding day, it says something more. Coordinating ensembles showcase a symbol of unity, and there couldn't be a day more perfect for such a statement than a wedding day.
Lately we're seeing more and more grooms go the matching route, from formal black-tie tuxedos to beach chic linen suits, proving there's a case to be made for corresponding outfits. So if you're looking for fashion inspiration for your big day, whether or not you're planning to wear the same suit as your soon-to-be-spouse, these newlyweds are serving up some serious style inspiration!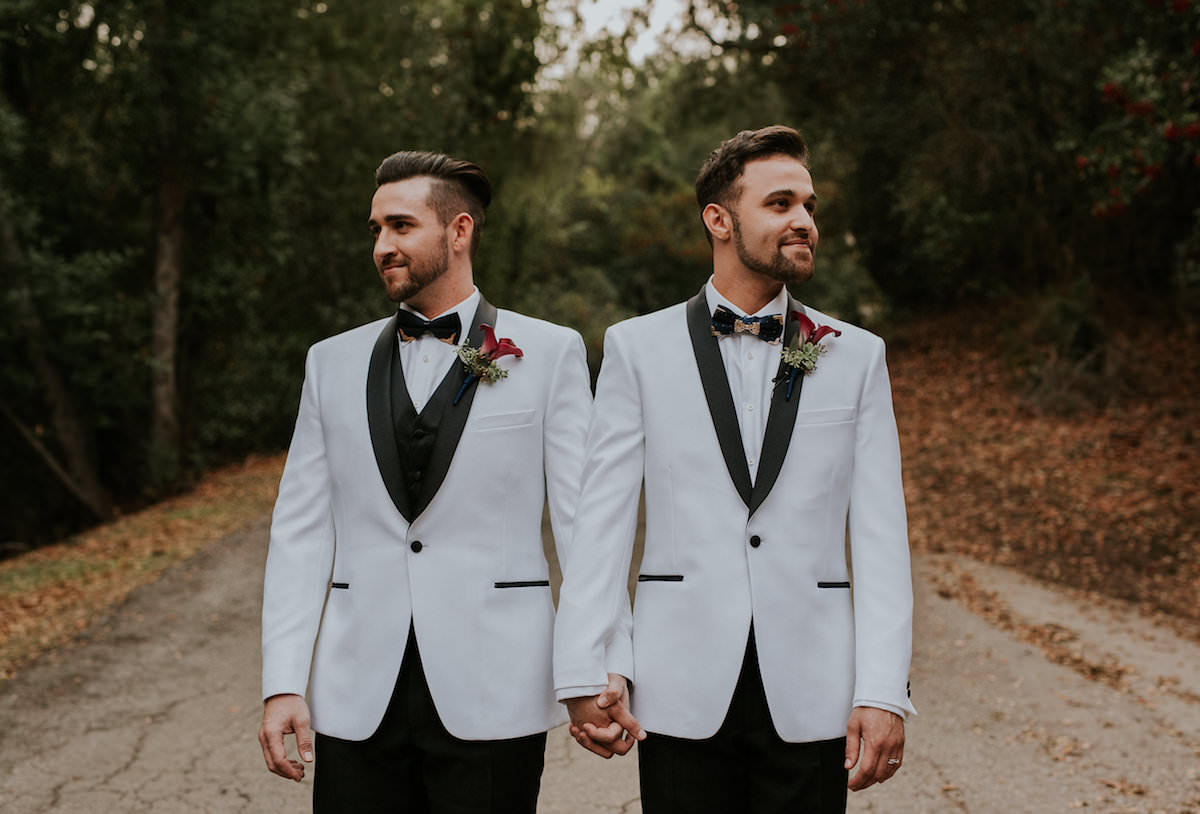 These grooms look sharp in white tuxedo jackets with burgundy calla lilies fastned to their black lapels. For a subtle difference, one groom wore a black vest, and they chose different but complementary bow ties with beautiful gold detailing. | photo by Christy Kendall Photography | via Scotty and Justin's Dashing Rustic Wedding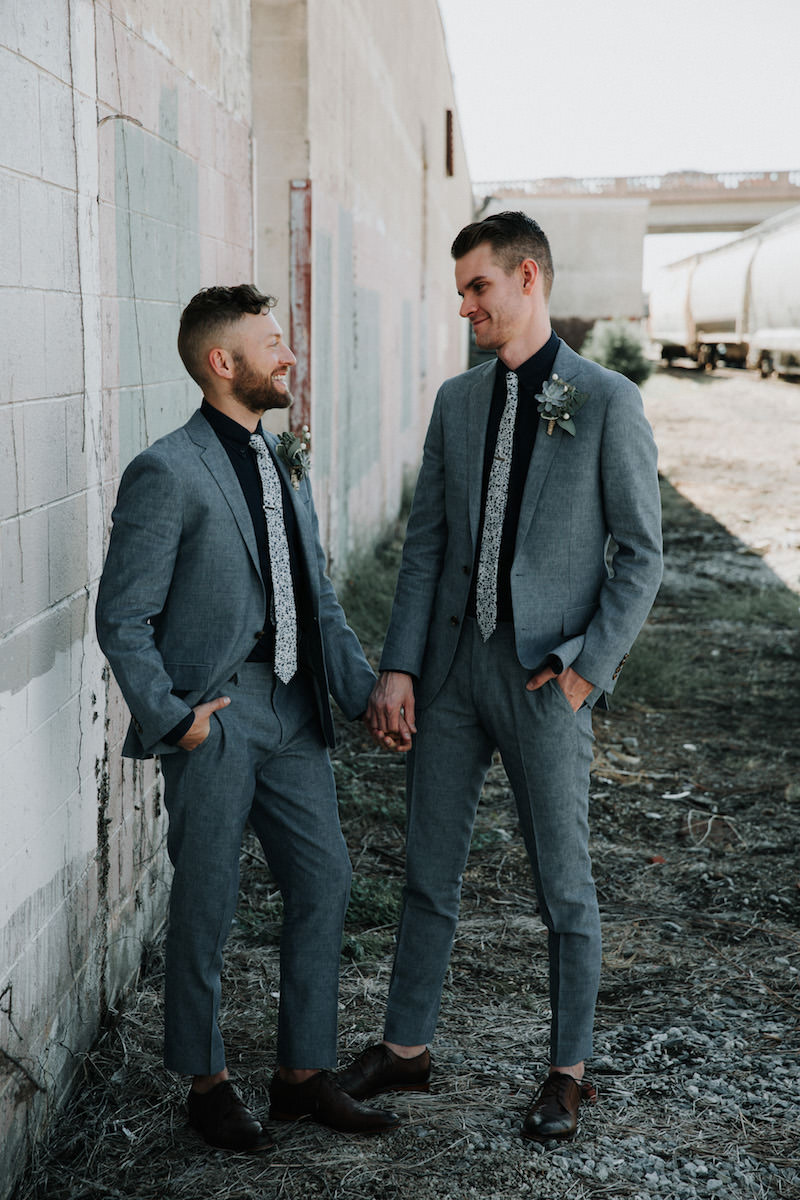 The theme of Josh and Ryan's wedding was dapper nights, so it's only fitting they sprung for something stylish. We love the combination of their J.Crew suits paired with dark denim shirts and floral ties. | photo by T&K Photography | via Josh and Ryan's Dapper Knoxville Wedding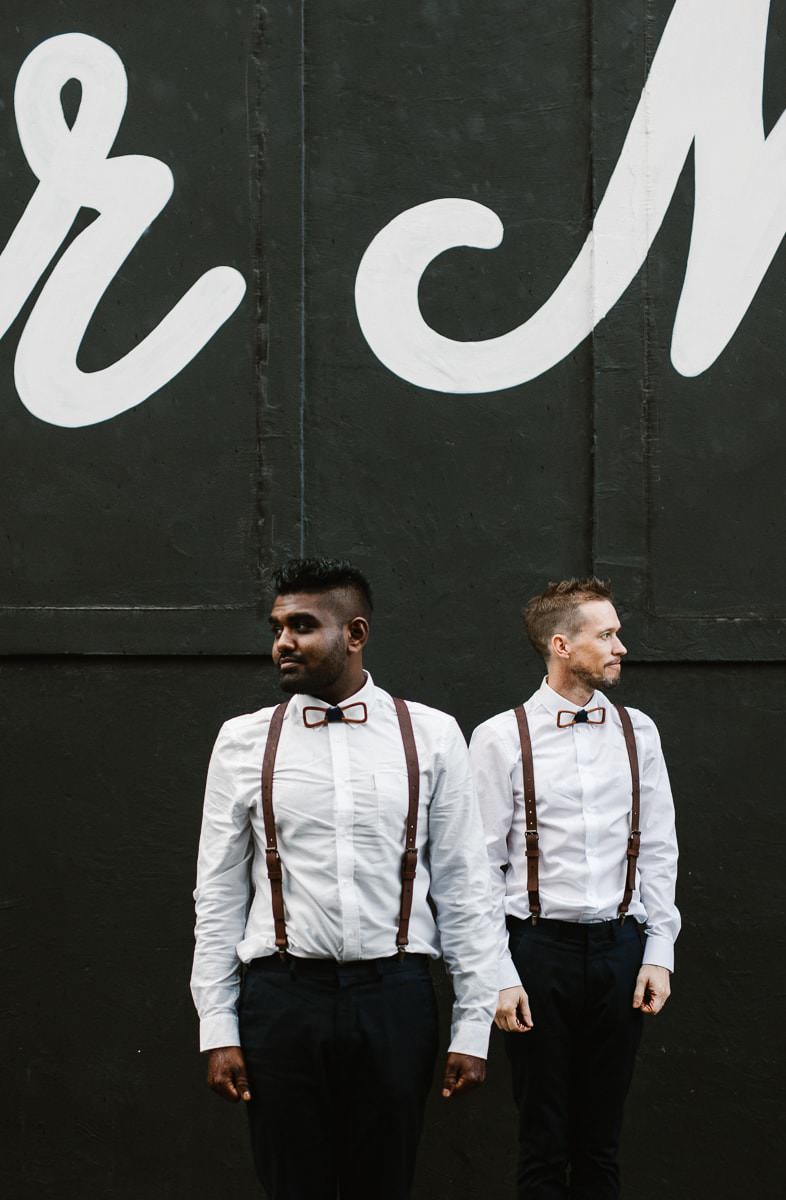 There's so much to love about this epic Cape Town wedding, but we're especially loving Nathan and Brendan's style. With leather suspenders and unique bow ties, these grooms exchanged vows barefoot underneath a lush arch decked in pink proteas. | photo by Thunder & Love | via Greenery-Filled Same-Sex City Wedding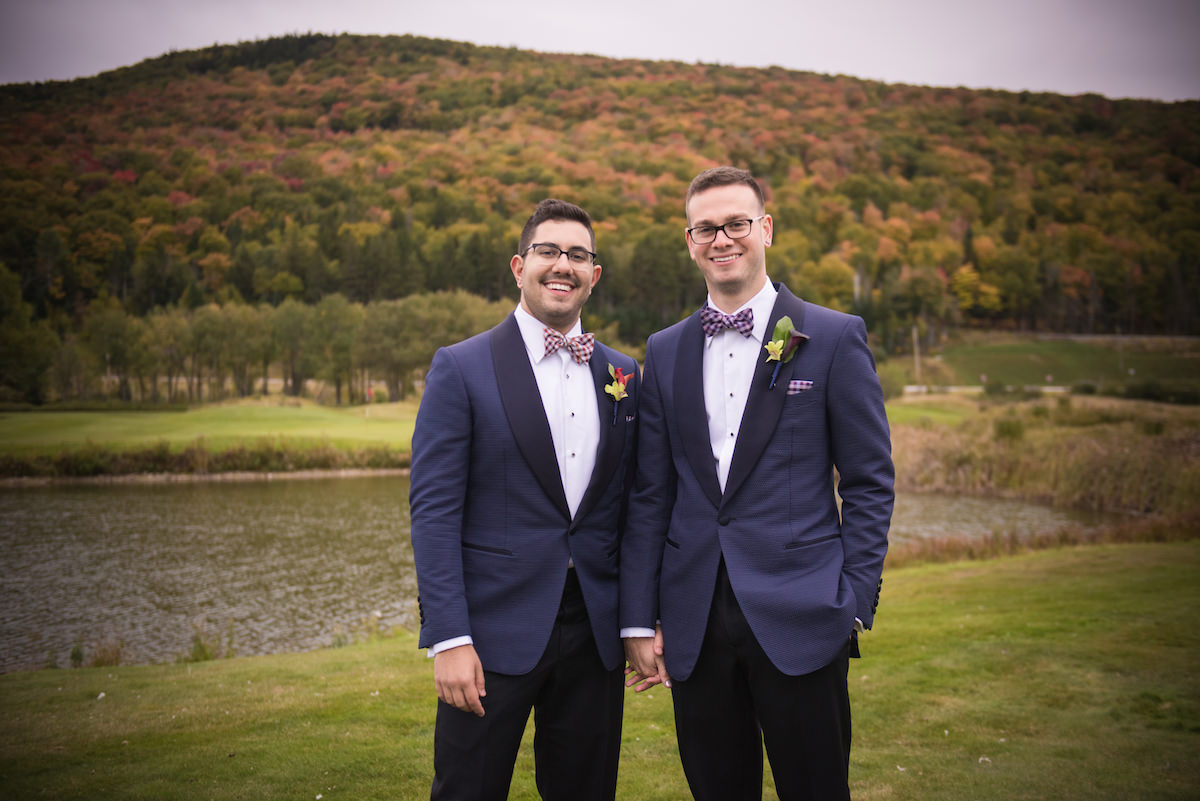 Kevin and Kyle donned matching custom Tom Ford tuxedos for their wedding, which they accessorized with different color plaid bow ties and pocket squares. | photo by Bénédicte Verley Photography | via Kyle and Kevin's Fall New Hampshire Wedding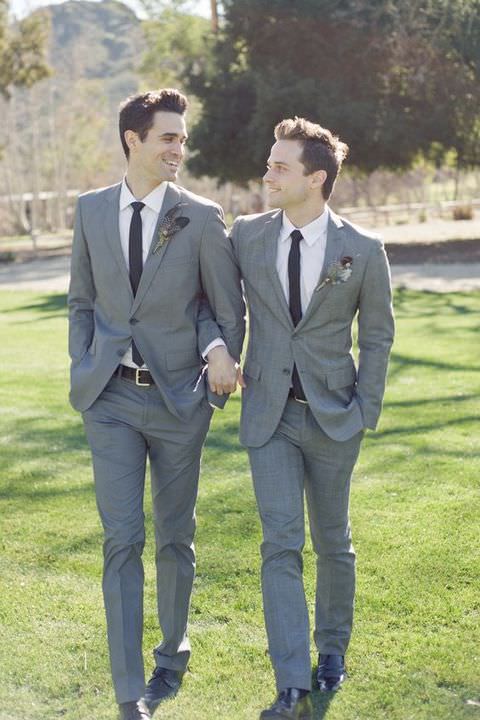 If there's one day that calls for a perfectly fitted suit, it's your wedding day! These dashing gents look sleek in slim-fit gray suits paired with black ties. | photo by Jillian Rose Photography | via Love is Love Inspiration Shoot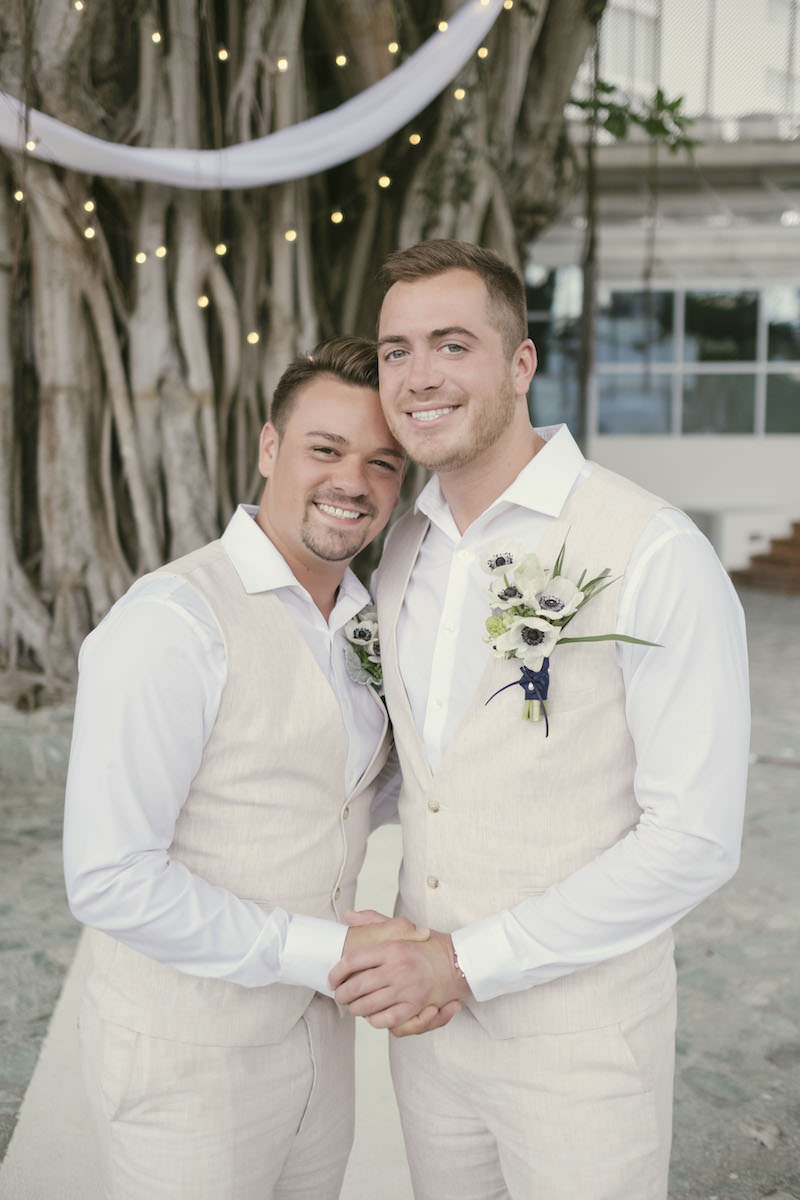 Jim and Rickey's no-jacket look with custom linen suits were the perfect match for their beach-themed destination wedding in Puerto Rico. | photo by E. P. Anderson Photography | via Jim and Rickey's Beach-Themed Destination Wedding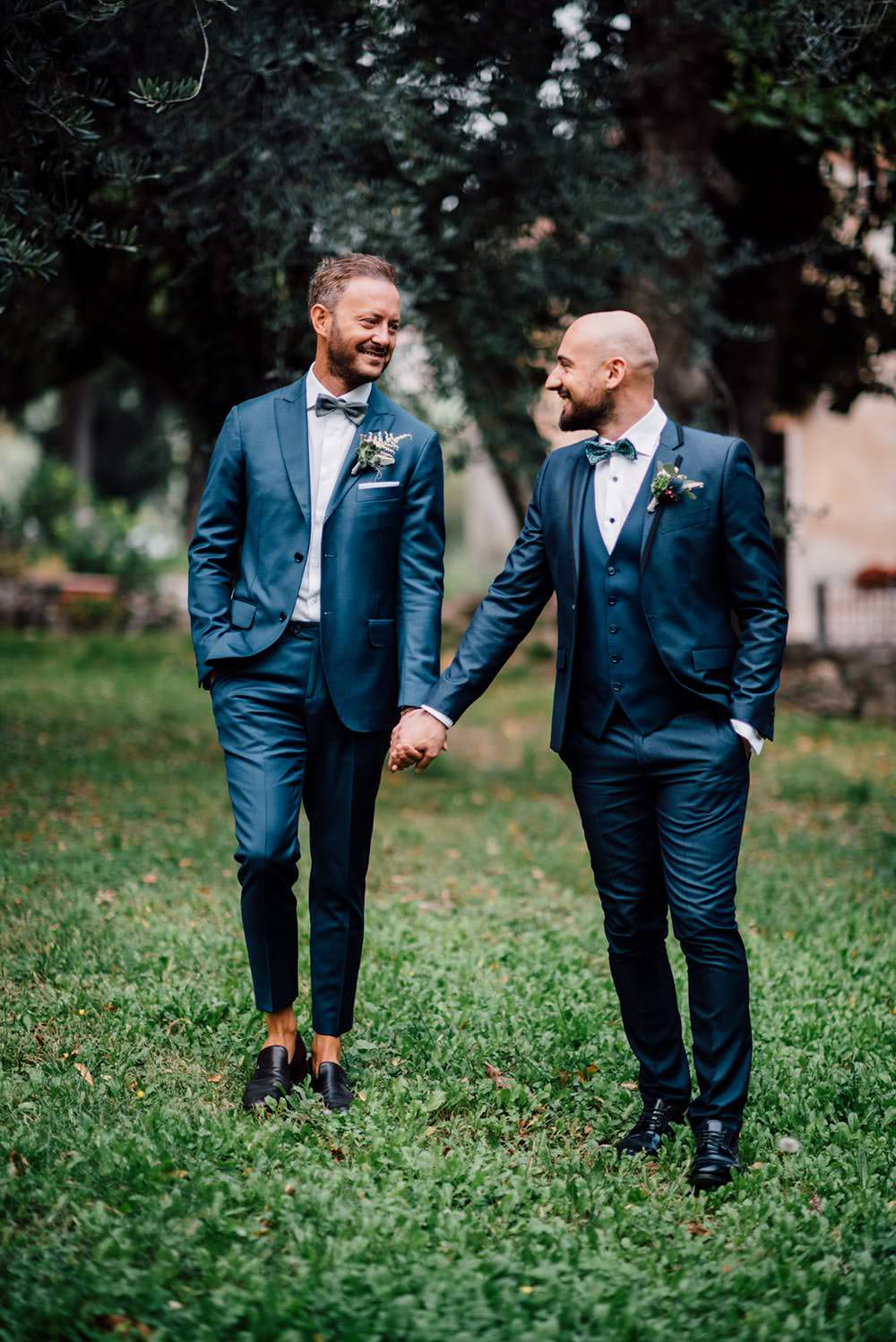 Steel blue wedding suits are still as fashionable and trendy as ever, and it's not hard to see why. These two — one with a vest and one without — prove why the trend isn't going anywhere any time soon. | photo by Serena Genovese Photography | via Industrial and Intimate Wedding Inspiration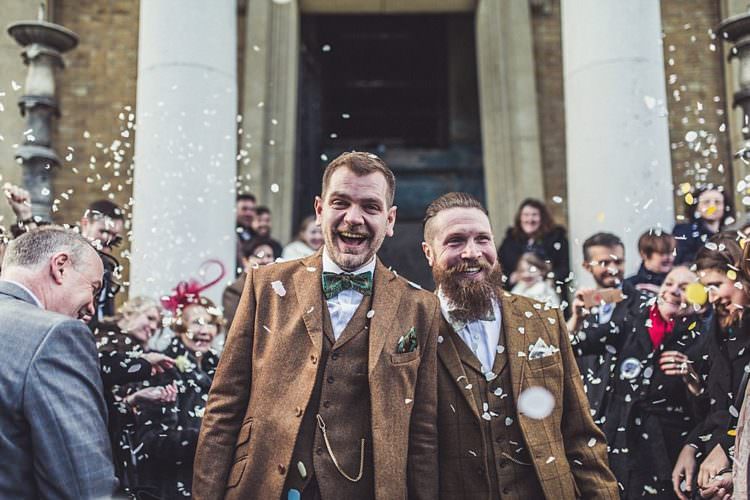 Getting married in the winter means you can rock tweed at your wedding, and that's exactly what Anthony and Nicholas did! Although their suits differ slightly, the grooms looked dapper in brown tweed suits, and we couldn't love their outfits any more! | photo by Claire Penn Photography | via Anthony and Nicholas' Wedding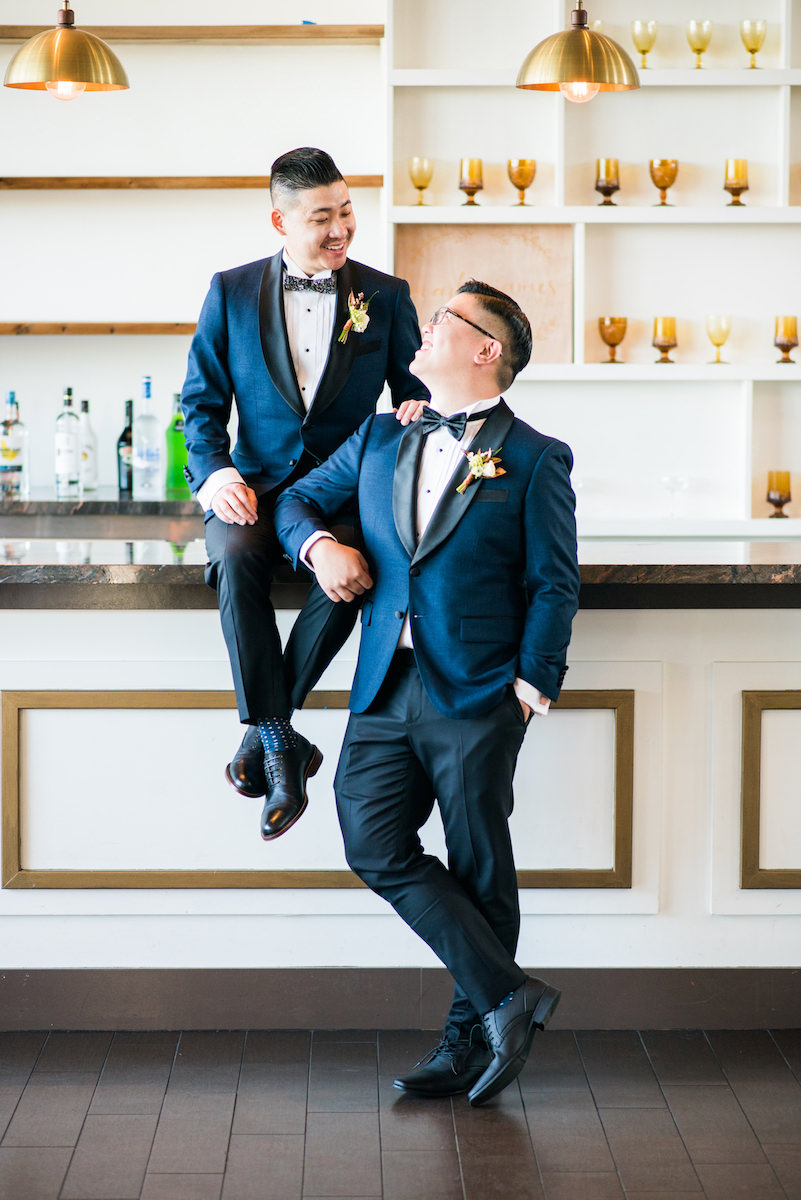 Navy was a key color in their wedding palette, so James and Mark had to incorporate it into their wedding outfit as well. Chic navy tuxedo jackets with a black lapel and black pants made for an ultra stylish look for these two grooms! | photo by David and Tania Photography | via James and Marks' Navy and Copper Wedding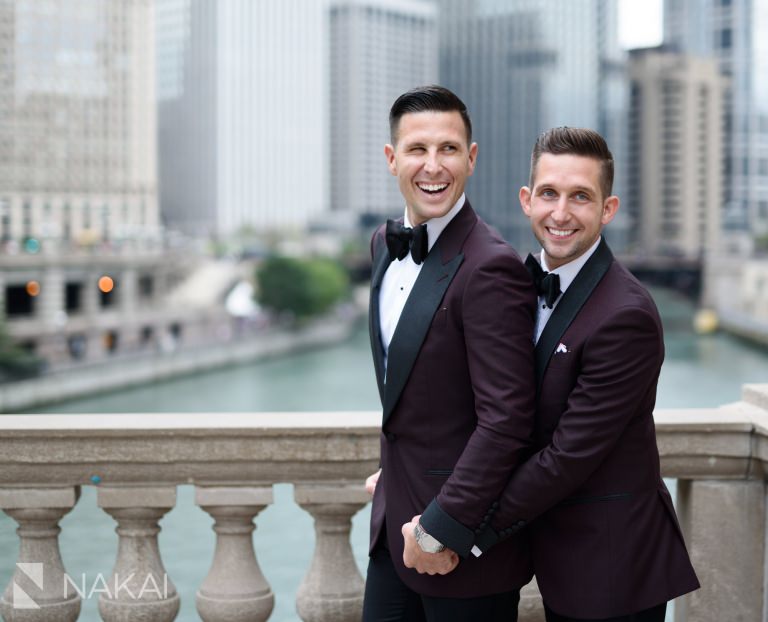 These dark burgundy tuxedo jackets take Jason and Chase's wedding fashion to the next level. For their luxury Chicago wedding, their custom tuxedos were designed by ESQ Clothing. | photo by Nakai Photography | via Jason and Chase's Wedding
Written by: