We might still be in the early days of summer, but thanks to this gorgeous New Hampshire wedding, we're already dreaming of fall. The autumnal colors were positively breathtaking for Kevin and Kyle's ceremony at Omni Mount Washington Resort. Overlooking the regal White Mountains, the grooms exchanged vows in a personal ceremony officiated by the close friend who introduced them and changed their lives forever. We are smitten over Bénédicte Verley Photography's images of Kyle and Kevin's special day, orchestrated by Love List member Contagious Events, which was filled with fun, love and an epic surprise for their guests.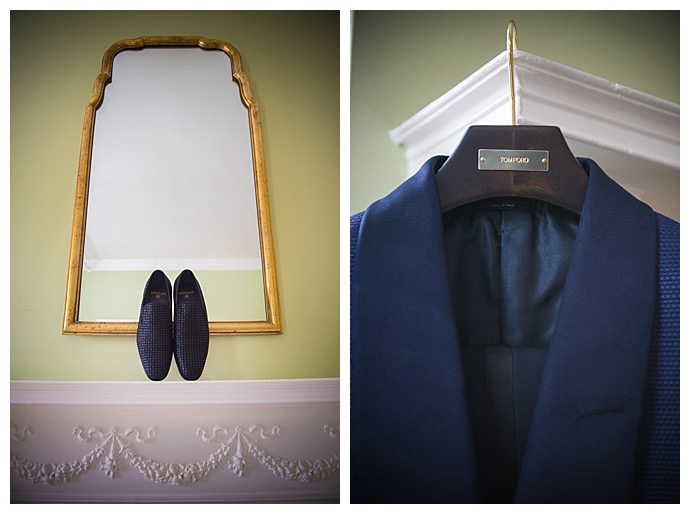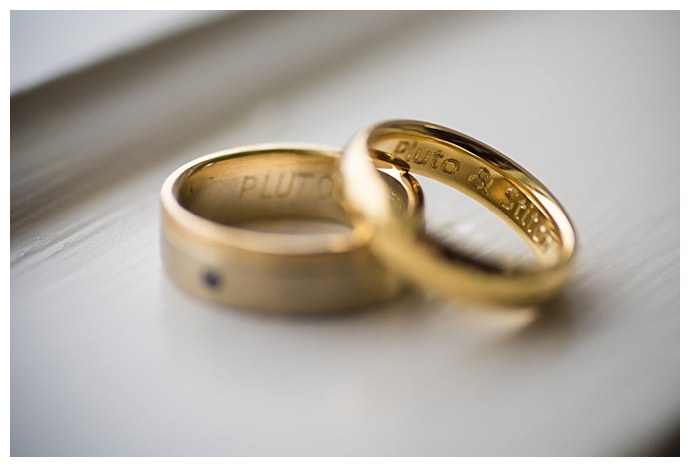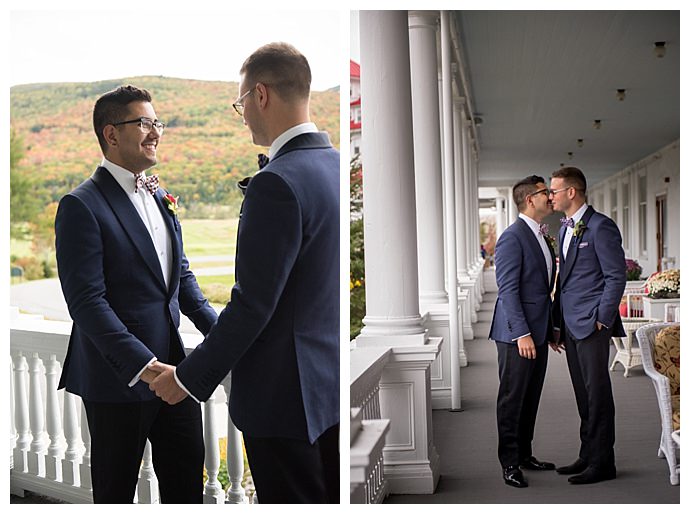 The Love Story
When Kevin went to visit his friend Helen at Yale University, Kyle was living across the hall. Helen noticed the immediate spark between them and slipped away to give them some time together. Kyle was hell-bent on studying as he flipped through a textbook with his highlighter in hand, but Kevin had other ideas and snatched the highlighter from him, threatening to highlight Kyle's face. "Get that away from me!" Kyle said as Kevin pulled back. "I meant the highlighter." And in that moment, they shared their last first kiss together.
Years later, Kyle and Kevin joined Kyle's family at their lake house in Vermont. Everyone knew what was coming — that is everyone except for Kyle. With plans to propose out on the lake, Kevin asked Kyle to go paddle boarding after breakfast, but Kyle had planned to spend the day finishing his book, so the proposal would have to wait. Kevin kept pleading with Kyle to go out on the lake, so by the time he reached the end of his book, he was annoyed but joined Kevin on the lake anyway. Kevin knew he needed time to cool off, so they spent two hours paddling around the lake, admiring the scenery and enjoying each other's company. As they neared the house, Kevin asked Kyle to slow down as he tried to guide him toward the center of the lake, but Kyle zoomed past him, exclaiming, "I am never going to slow down for you." Kevin managed to catch up, and once his board was close enough, he dropped to one knee, asking: "Will you never slow down for me for the rest of your life?" Kyle stood there with his paddle in hand in complete shock until Kevin asked him to marry him. To which Kyle, of course, said yes!

The Ceremony
The grooms wanted a fall wedding when the New Hampshire landscape would be drenched in color. They chose Omni Mount Washington Resort for its old-world charm and breathtaking ceremony views. Kevin and Kyle looked fashionable in matching custom Tom Ford tuxedos with textured navy jackets that they accessorized with corresponding purple and orange bow ties and pocket squares. 
White calla lilies decorated the end of the aisle, which looked out at hills of autumnal foliage, and their friend Helen, who introduced them, flew all the way from Zimbabwe to officiate their wedding and share stories from early on in their relationship. "We wrote our own vows, and we were told later that it was an incredibly heartfelt and personal ceremony," Kyle says. "It was nice to know that we were able to tailor our ceremony to fit us perfectly."

The Party
Kyle and Kevin's vision for a modern fall soirée was brought to life with a deep purple and orange color palette with hints of ivory, slate and navy. The round tables in the reception space were decorated with curved white calla lilies, red and orange circus roses and white hydrangeas, which were surrounded by staggered floating candle pedestals to create a cascading waterfall effect. After a seated meal of barbecue short ribs, filet mignon and stuffed chicken breast, the newlyweds danced the foxtrot to "L-O-V-E" by Nat King Cole. "We had been taking queer social dance classes with Liz Nania from Out to Dance, which made our first dance incredibly fun and relaxing," Kevin says.
But the best part of the night was yet to come. Kevin and Kyle summoned "RuPaul Drag Race's" Latrice Royale all the way from Florida to surprise their wedding guests. "We are huge fans of her, and we were incredibly excited to have her perform at the wedding," Kyle says. "Everyone in the room was amazed and wowed by her performance. She was able to take a reception and change the atmosphere into one of pure joy, love and excitement." Before the night was over, the grooms cut into their four-tiered wedding cake with an ombré ribbon of purple and orange cascading down the side. The cake was topped with their favorite disney characters, Pluto and Stitch, which they also had engraved into their wedding bands.

Memorable Moment
"When we finally made it back to our room at the wee hours of the morning, we were exhausted and elated," Kevin says. "It was then that what had just happened finally sunk in — were were married!"

*Editor's Note: This post contains affiliate links. Each time you purchase an item via our affiliate links, Love Inc. is receiving a small percentage of the sale, thus you are helping our small, equality-minded business grow and allowing us to provide more content for YOU! Isn't that just fantastic?