Wool knit ties are back! Yes, your father will probably have a story about when he wore them but all great trends make their way around again. And since they are available in all kinds of colors and styles, they are perfect for wedding attire. Below are a few options for different themes: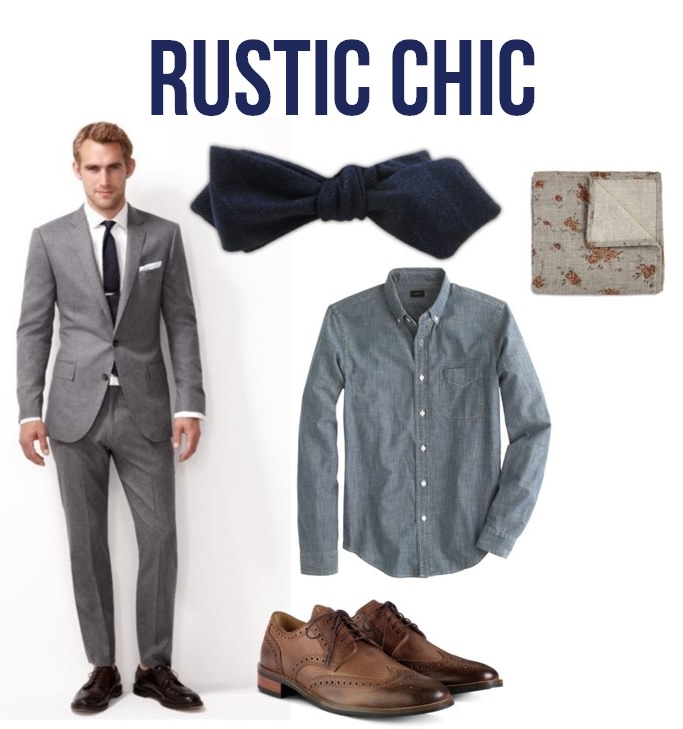 Adding a wool tie or bow tie to a chambray shirt is an easy way to achieve a rustic feel for your event. Chambray is like a blank canvas, so you can mix any colors or patterns with it—you really can't make a bad move. A flannel suit also pairs with the theme, but you could also pair it with a vest and slacks if you want to be even more casual.
Outfit: Ludlow Suit in Italian wool flannel by J.Crew, $650 | Chambray shirt by J.Crew, $88 | Navy herringbone wool tie by The Tie Bar, $15 | Grey Rose Print pocket square by Topman, $10 | Lenox Hill casual wingtip oxfords by Cole Haan, $198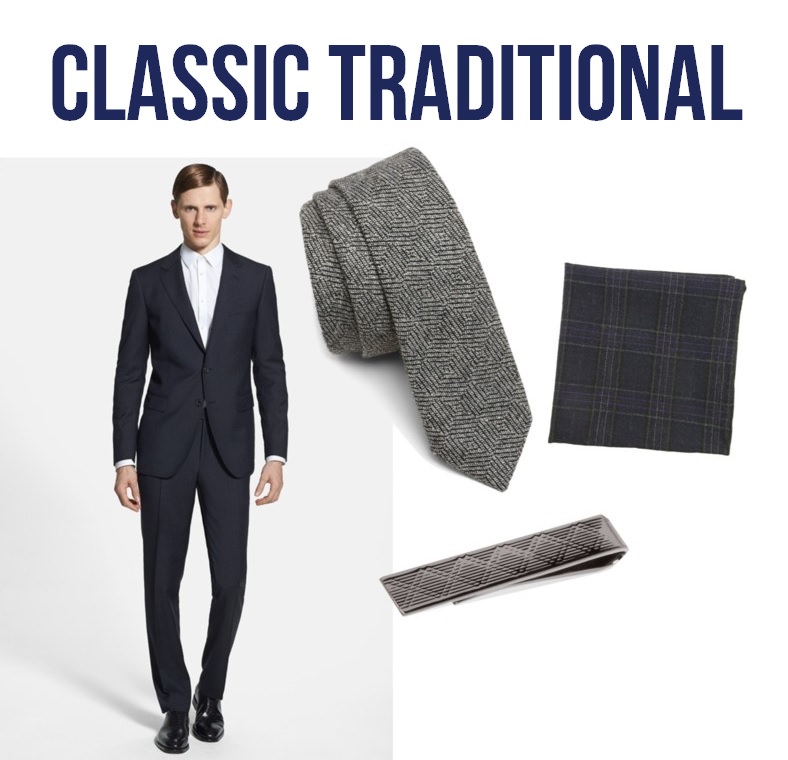 For a more traditional feel for your big day, pair a basic color wool tie with a dark suit. Choosing a pocket square with a pattern in the same colors of the tie and suit will pull everything together. Finish the look off with a modern tie bar. (Make sure to match your metals: ring to watch to bar!)
Outfit: 'Attitude' navy wool suit by Lanvin, available at Nordstrom for $1,695 | Herringbone check wool tie by Topman, available at Nordstrom for $20 | Jefferson plaid wool pocket square by The Tie Bar, $10 | Egara gunmetal tie bar by Men's Wearhouse, $24.99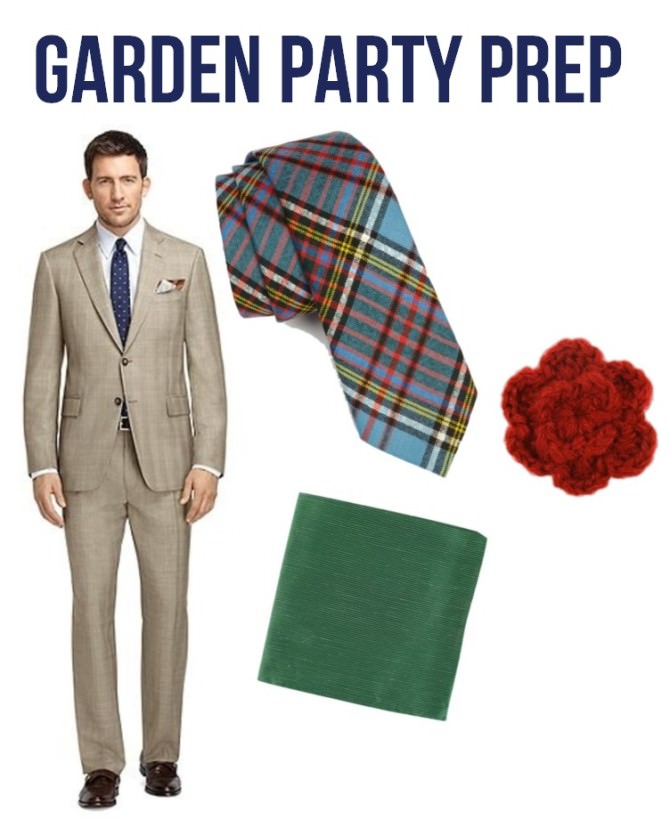 Lighter-colored suits are key when achieving a preppy garden party look. They act as a base to then be able to play with color. Wool ties are available in colorful plaids, florals, stripes and polka dots. Any of these would be perfect for this theme, just make sure to pick a contrasting pattern for your pocket square. For example, a striped tie paired with a polka dot square. Another great trend to add to this theme is the wool flower lapel pin! You won't have to worry about this flower wilting and it can be worn again.
Outfit: 'Madison' suit by Brooks Brothers, $1,198 | Woven tie by Fahlgren, available at Nordstrom for $48.98 | Burgundy lapel flower pin by The Tie Bar, $5 | Fountain Solid Grass pocket square by The Tie Bar, $10
The wool tie trend can work for any wedding theme but I think what makes it even better is that it can easily be worn again. Pair it with a blazer, vest and jeans and share the story with every compliment given. Because you will receive plenty of compliments!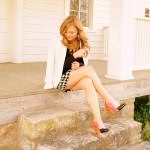 Krista Roser is country girl with a city heart who loves all things fashion, especially anything vintage. You can find more from Krista on her blog Junkin, Diggin and Gettin Lost.