While Key West may win the popularity contest, we recommend Key-hopping to get the most out of your honeymoon experience.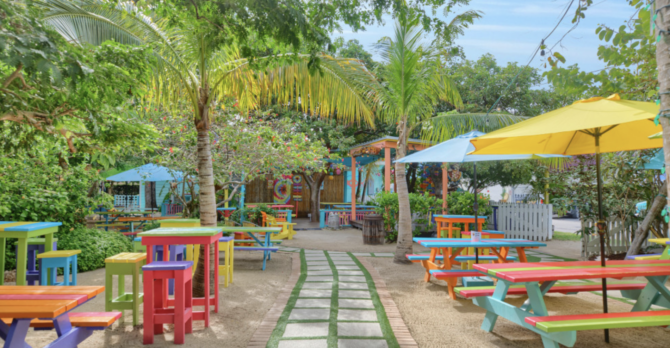 DAY ONE
3PM: Arrive at check-in to Amara Cay Resort, a luxury resort at the top of the Keys in Islamorada, with incredible views. amaracayresort.com
5PM: Painting the Keys session at Florida Brewing Co. Try your hand at painting a Floridian landscape while sipping on brews infused with local flavors such as Key limes, citrus and local honey. floridakeysbrewingco.com
8PM: Dinner at Azur, where innovative Mediterranean specialties make it difficult to choose which entree to order. Luckily, you really you can't go wrong with anything on the menu. azurkeywest.com
DAY TWO
9AM: Islamorada is known as the sport-fishing capital of the world, so flex your angler muscles with a morning fishing charter. Bonus: They have a restaurant on-property that will cook your catch! robbies.com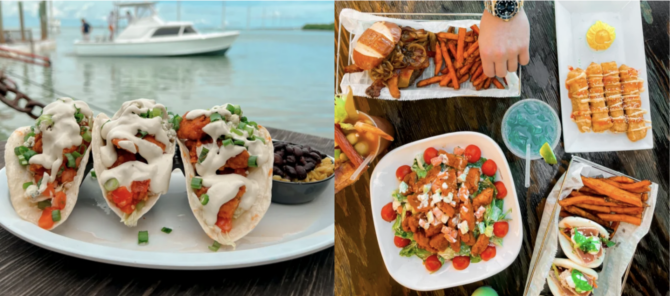 2PM: Late lunch at Robbie's Marina. Didn't catch a fish? No worries, their menu is filled with low-key favorites. Be sure to browse their kitschy open-air market afterward.
5PM: Relax with a craft beer and cocktail tastings at Islamorada Brewery & Distillery (tip: their Sandbar Sunday Ale is the perfect boat beer!). islamoradabreweryanddistillery.com
8PM: Dine al fresco at Atlantic's Edge, located in Cheeca Lodge Resort & Spa. This waterfront restaurant's delectable menu highlights Keys cuisine, with a focus on fresh seafood. cheeca.com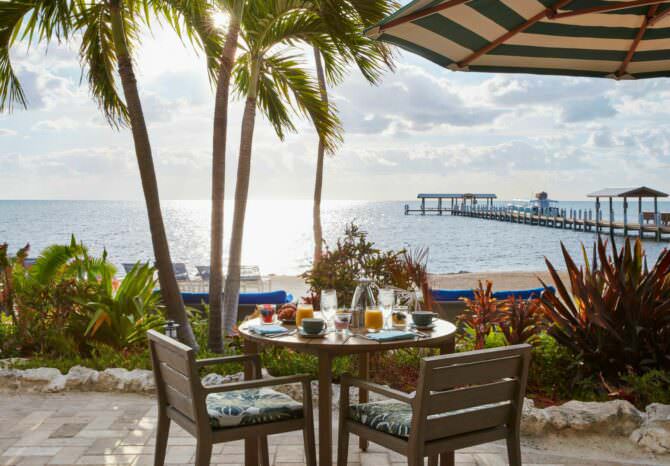 DAY THREE
7AM: Head south to Key West and drop your bags at Alexander's Guesthouse, an LGBTQ-owned, lovingly restored "conch house" built in 1902 with a serene yet homey decor and chic poolside sundecks. alexanderskeywest.com
10AM: Explore the Ernest Hemingway Home & Museum (cash-only admission), a historic property lorded over by 55 cats, all descendants from Hemingway's cat Snow White (and yes, about half of them have the famous sixth toe). hemingwayhome.com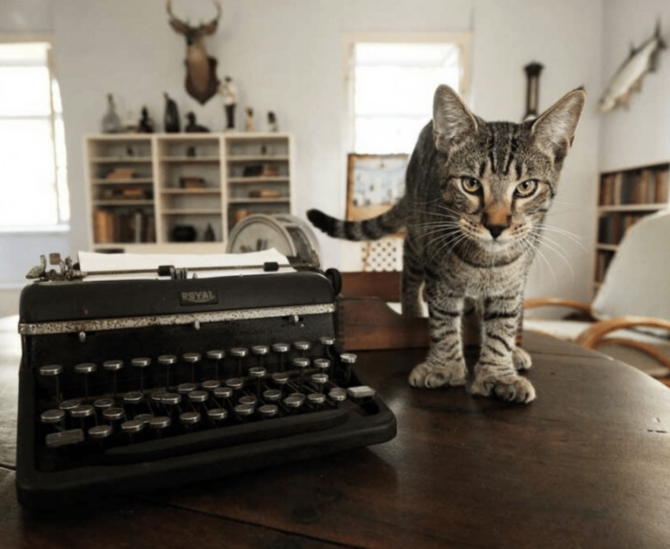 12PM: Lunch at Blue Heaven — go for the brunch menu if you're there on a Sunday. This quirky backyard-style restaurant offers live music and meringue-topped Key lime pies (a sign of a "true" Key lime pie, though very hard to pull off in Florida heat so it's rarely on the menu). Don't miss the rooster graveyard in the back! blueheavenkw.com
2PM: Stroll through the glass-enclosed habitat at the Key West Butterfly & Nature Conservatory, filled with lush greenery and hundreds of colorful butterflies and birds fluttering around you. keywestbutterfly.com
4PM: A little afternoon delight: ice cream! Head to Flamingo Crossing for a scoop — or two! — before going back to the hotel to freshen up for dinner. facebook.com/flamingocrossing.keywest
7PM: For perhaps the most romantic dinner you'll find in the Keys, you must take a ferry to the exclusive 27-acre island, Sunset Key, just 500 yards off Key West. Latitudes is a fine-dining, open-air restaurant with reservation-only seating, so be sure to plan in advance. For peak romance, time it just right for sunset, so you can take in the views in-transit or while you're dining waterfront. sunsetkeycottages.com/key-west-restaurants/latitudes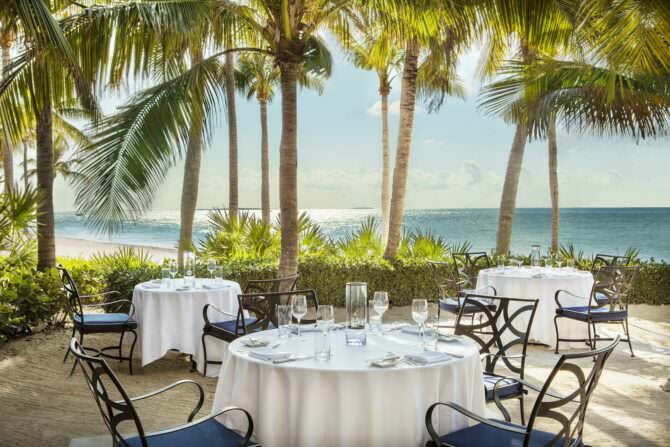 DAY FOUR
9AM: Leisurely wake up and enjoy Alexander's Guesthouse's breakfast spread (poolside!) of fresh juices, homemade muffins and, depending on the day, a main course of egg casserole, French toast or quiche.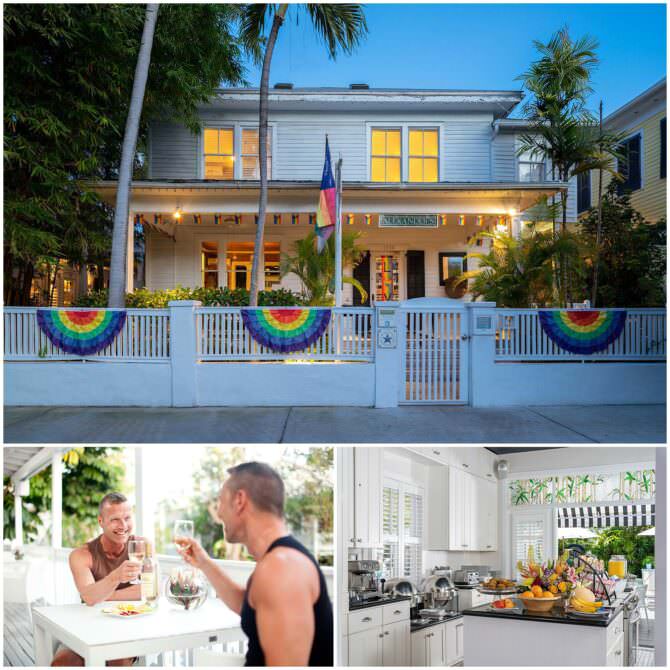 11AM: Explore the city's history through food (is there any better way?) on the Southernmost Food Tasting & Cultural Tour with Key West Food Tours. This three-hour walking tour will introduce you to hidden gems and authentic island flavors. keywestfoodtours.com
3PM: See the city from the water while receiving an adrenaline rush on one of Fury Cat's guided Jet Ski tours. You may even spot dolphins and sea turtles along the way! furycat.com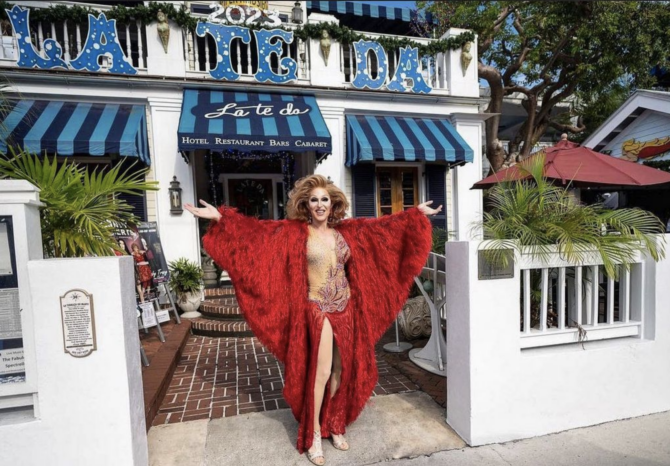 7PM: Dinner and a show at LaTeDa, a venue that screams Old-World Key West. After your meal, head into the cabaret room for a riveting drag performance by one of their resident artists, Randy Roberts or Christopher Peterson, both masters of impersonation and impeccable comic timing. lateda.com
9PM: Head for a night out to the "Pink Triangle" portion of famous Duval Street, a cluster of LGBTQ+ bars and entertainment clubs around the 700 block of Duval.
Written by Brittny Drye originally for Love Inc.'s V7 Issue | Cover photo by Next Voyage