Put me in front of a rack of tuxedos, and I just want to click my heels together three times and be taken as far away from there as possible. When I think about my wedding, I picture my wonderful groom waiting there for me at the end of the aisle, and then I picture what I'd be wearing to meet him. That's when the dream stops.
For someone who loves weddings, the idea of breaking tradition has always been a personal struggle. It wasn't until recently that I've accepted that you can incorporate a love for fashion and let your style illuminate during your very special day. A great option for the discerning groom or bride who wants to go off the beaten path is to try a short suit! Whether you consider yourself preppy and understated or mismatched and deconstructed, we have some smart ways to style the short suit to make it completely and utterly you.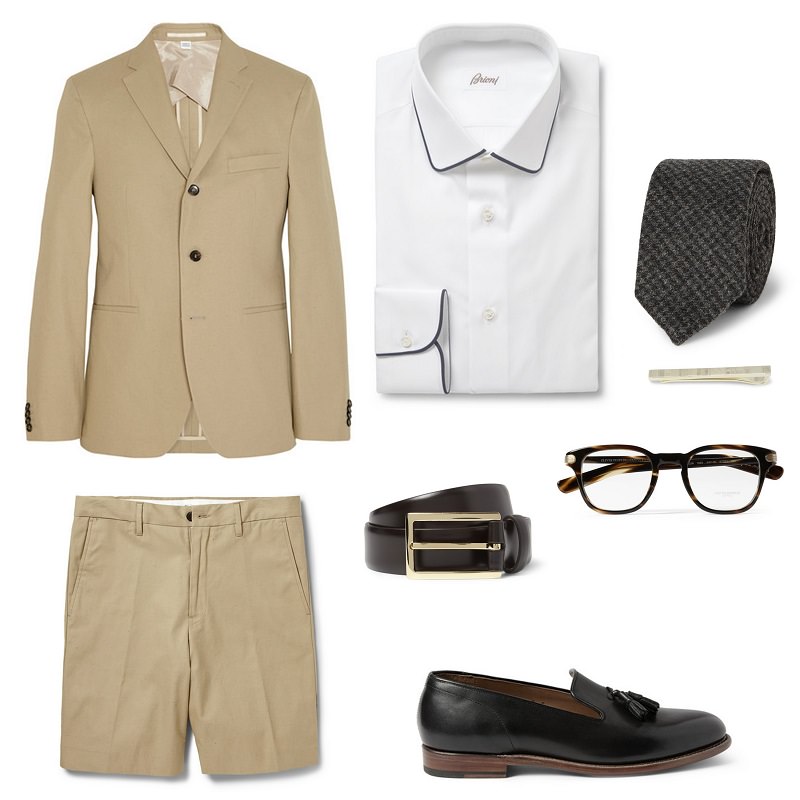 The Gentleman
This clean short khaki suit offered by Acne Studios is a great way to bridge the gap between modern and classic. Pair with a black loafer (no socks, please!) from Grenson, and a tone-on-tone houndstooth tie to round out that 1960s-inspired look.
Get the look: Adrian Dot shorts by Acne Studios, $220; Drifter W J Dot jacket by Acne Studios, $610; cotton shirt by Brioni, $630; houndstooth wool tie by J.Crew, $70; tie clip by Paul Smith, $125; glasses by Oliver Peoples, $340; Marcel loafers by Grenson, $301; leather belt by Mulberry, $330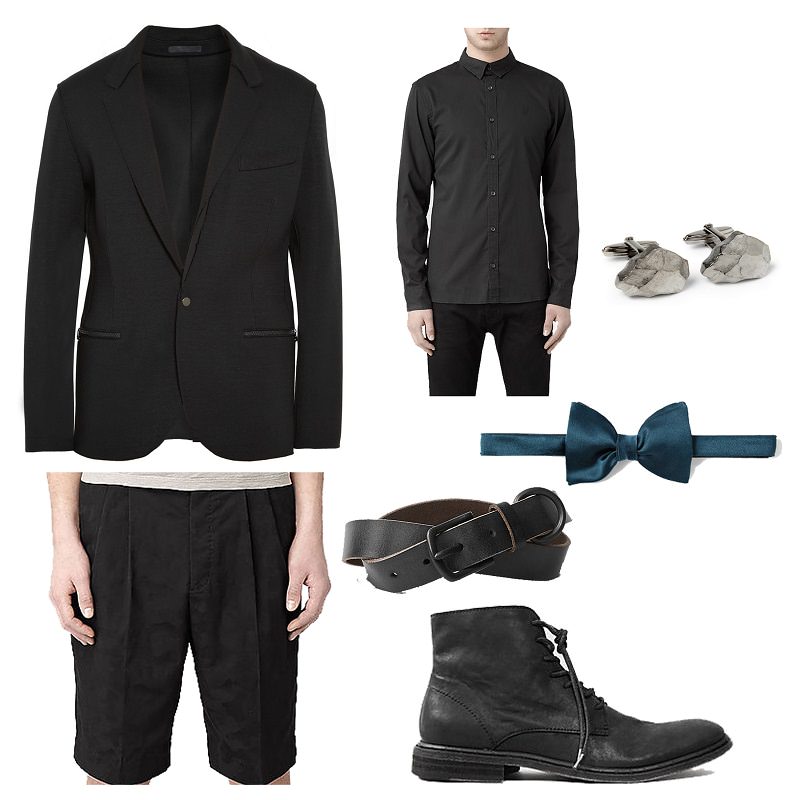 The Irreverent
When you mix AllSaints and Lanvin you get the perfect deconstructed look for your big day. Add a little pop with this royal azure bowtie and raw-cut cufflinks for a fashion-forward look. Besides, when the day is over, these are amazing pieces to infuse style into your day-to-day wardrobe.
Get the look: Neoprene Blazer by Lanvin, $1,595; Minister shorts by AllSaints, $178; Redondo shirt by AllSaints, $125; cufflinks by Lanvin, $230; Alber silk-satin bow tie by Lanvin, $145; belt by AllSaints, $85; boots by AllSaints, $285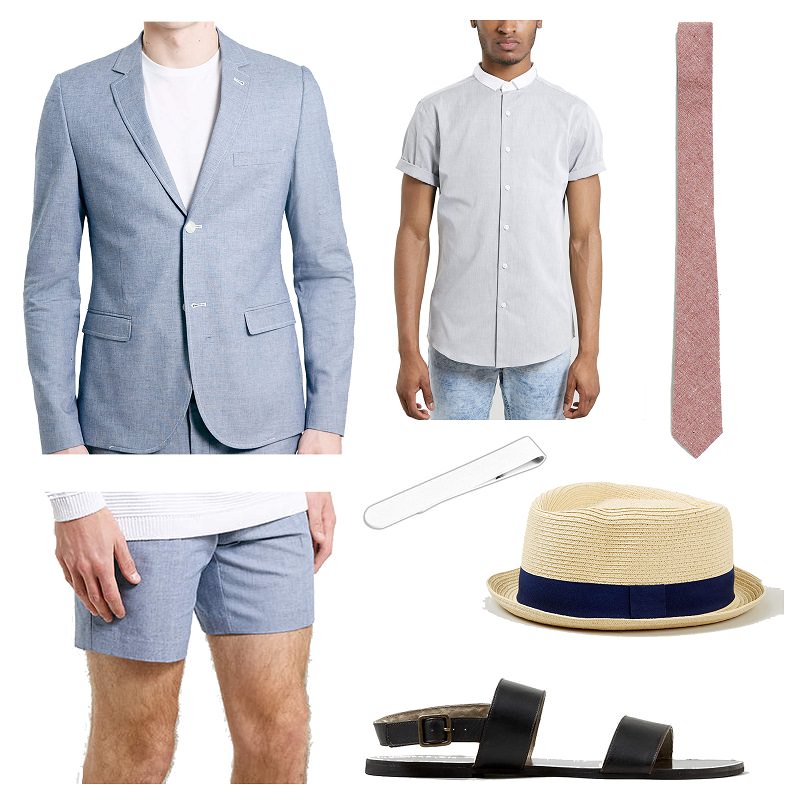 The Dreamer
Dapper meets casual with this summer-worthy short suit from TopMan. Oxford-inspired, this look is a way to still make your wedding feel formal even if it's located seaside. Add some color with a textured tie and top off the look with straw hat to enjoy your day in the sun.
Get the look: Indigo Oxford blazer by Topman, $110; Indigo Oxford shorts by Topman, $50; Shirt by Topman, $50; tie by Topman; $17; tie bar by thetiebar.com, $15; straw hat by Topman, $24; leather sandals by Topman, $59
By Michael Dougherty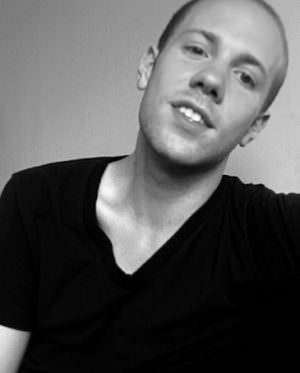 Ever since I was a little boy I could be found sketching beautiful gowns and dreaming of love.  Over the years I have helped design and write other couple's stories all while cultivating my own chapters in love.  With a background in fashion, I hope to inspire couples' fashion on their very special day.