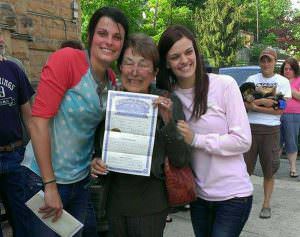 Exciting news from the Bible Belt — Arkansas has become the first Southern state to issue marriage licenses to same-sex couples!
On Friday, Judge Chris Piazza struck down the state constitutional ban, giving gay and lesbian couples the freedom to marry. The judge did not issue a stay in the ruling, which means, come Monday, couples can begin tying the knot. However, the state of Arkansas will seek a stay in the ruling as they plan to appeal the ruling but it couples can get married before that stay in put into effect, their marriages should be recognized by the United States government (assuming that the federal government treats them as they did couples in Utah).
Judge Piazza wrote these hauntingly beautiful words in the ruling:
Our freedoms are often acquired slowly, but our country has evolved as a beacon of liberty in what is sometimes a dark world.

It has been over forty years since Mildred Loving was given the right to marry the person of her choice. The hatred and fears have long since vanished and she and her husband lived full lives together; so it will be for the same-sex couples.

It is time to let that beacon of freedom shine brighter on all our brothers and sisters. We will be stronger for it.
Congratulations, Arkansas!
Photo credit: freedomtomarry.org