Taylor and Max's wedding was a vegan affair, where everything from their delicious appetizer buffet to their chic and fashionable wedding attire was vegan. It required a bit of research and extra planning on their part, but it's clear they didn't have to sacrifice style or taste in order to pull off a vegan-friendly soiree. Kendall Lauren Photography was there to capture Taylor and Max's gorgeous ceremony in the heart of Seattle, where summery yellow and white flowers from Pike Place Market mirrored the joy and fun of their special day.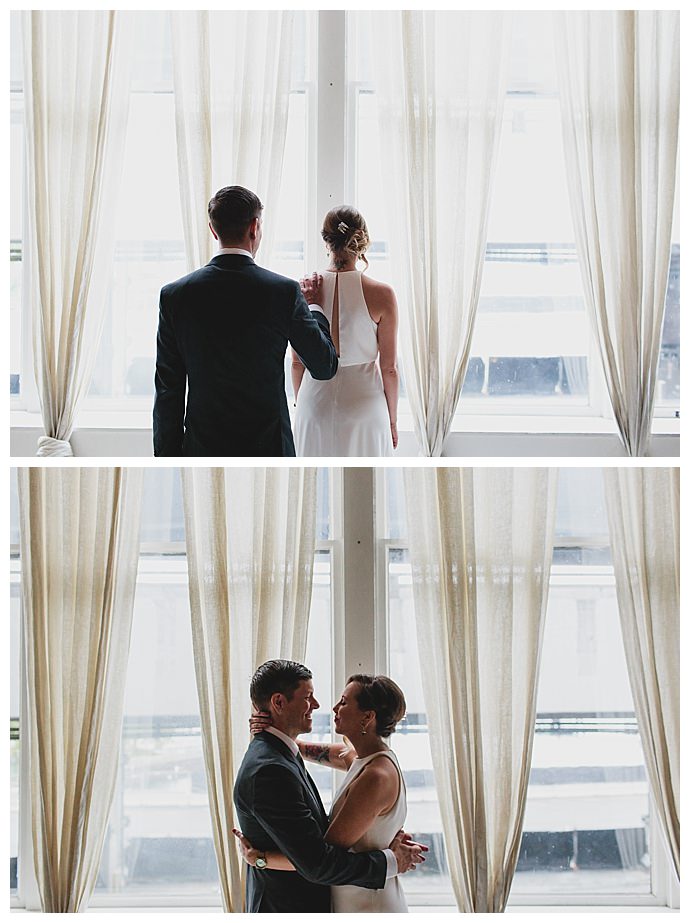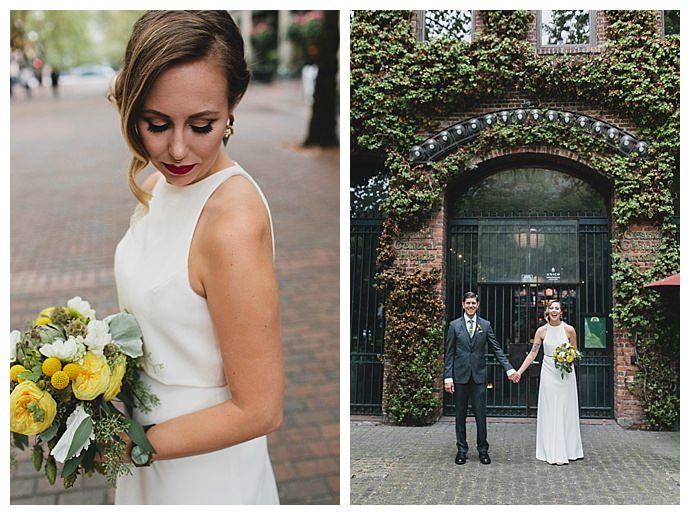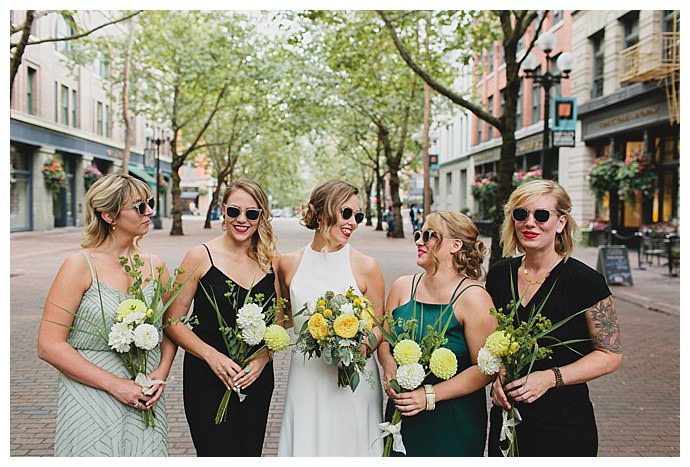 The Love Story
Spaghetti played an unlikely role in bringing these two together, but unlike "Lady and the Tramp," it wasn't love at first shared plate of noodles. Taylor and Max met while working at The Old Spaghetti Factory. Friends first, they waited until the timing was right to take their relationship to the next level. After seven years together and a new house to share with their two loving kitties, Max planned an intimate proposal to ask Taylor to marry him. Max decorated their back porch and then crafted a ring box out of a tree from their backyard. Inside, Taylor opened the box to find not one, but seven rings, each one signifying a year they've spent together. After she said yes, the newly engaged couple celebrated with two of their favorite things: champagne and Netflix.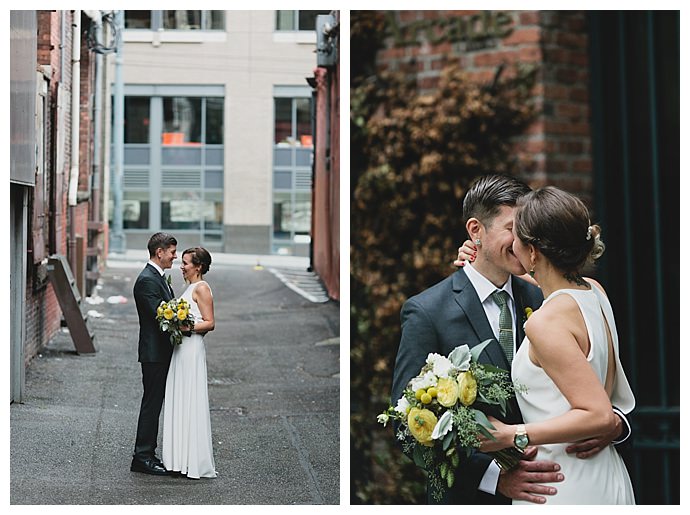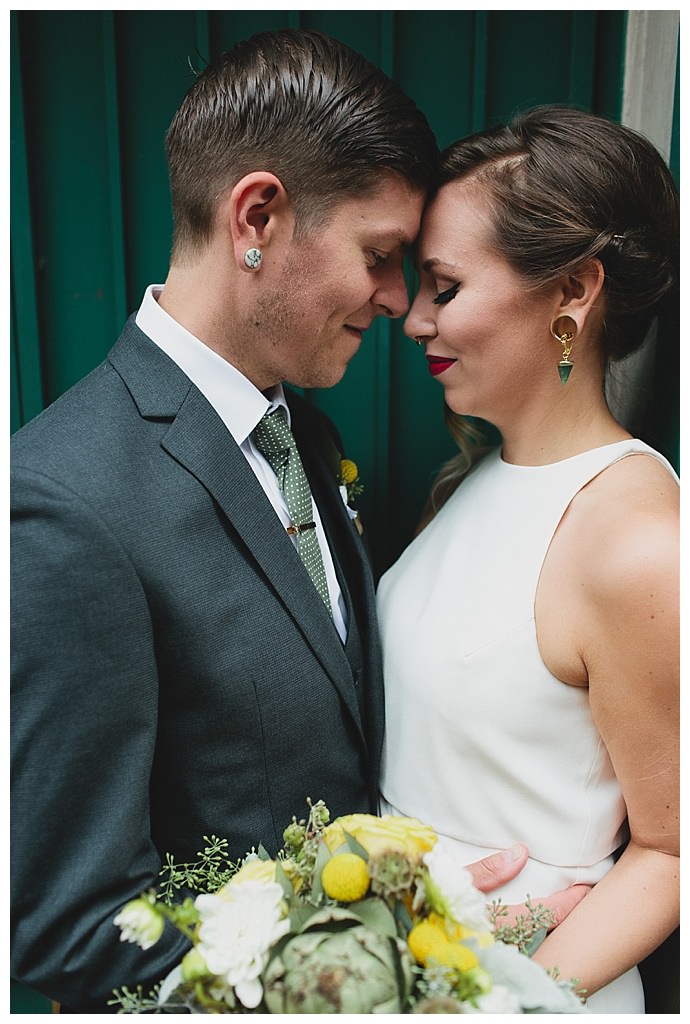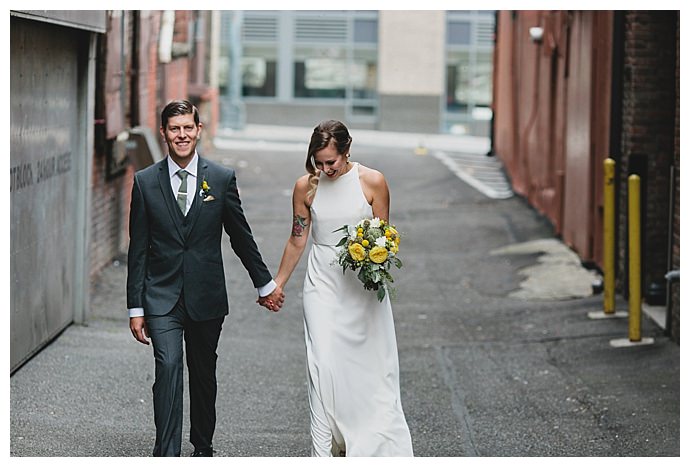 The Ceremony
In a beautiful space that used to house The Elliott Bay Book Company, Taylor and Max said "I do" against a beautiful red brick wall at Seattle's AXIS Pioneer Square. Their ceremony was officiated by a close friend, who became a Dudeist priest specifically for the occasion. According to Dudeism.com, the Church of the Latter-Day Dude plays homage to iconic comedy "The Big Lebowski," manifesting as a newly formed religion that boasts more than 400,000 ordained dudes and dudettes.
Taylor and Max wrote their own vows and exchanged a pair of rings they made themselves with a little help from With These Rings, which provides classes in an intimate setting where you can craft unique wedding bands for your special day. After sealing it with a kiss, the newlyweds recessed back up the aisle to Goldfinger's cover of The Cure's "Just Like Heaven," an energetic closing to their short and sweet ceremony.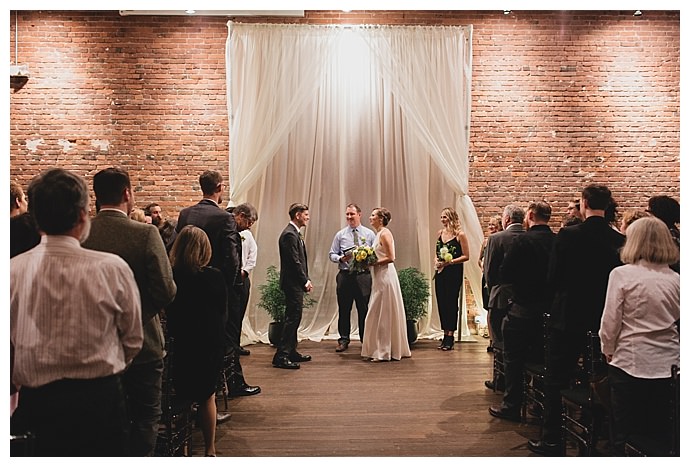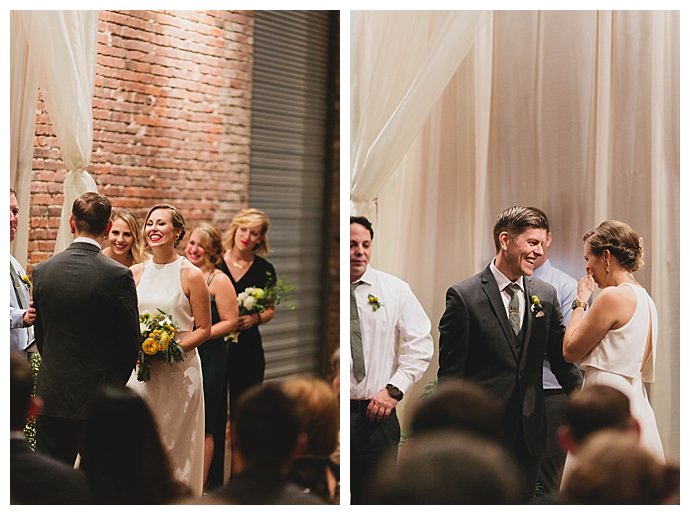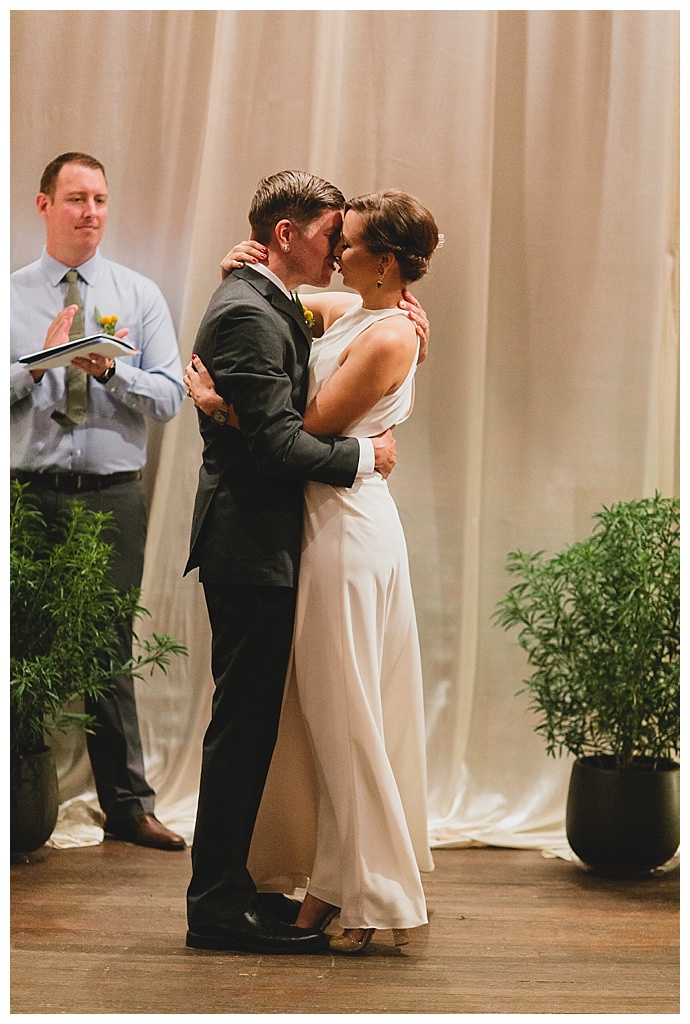 The Party
For the reception, Taylor changed out of her chic Jill Stuart dress into a jumpsuit with a plunging neckline by the same designer. They DIY'd their music, which included a selection of guest's favorite dancing songs, and instead of a first dance, they made sure to hit the floor when "We Got Two Jealous Agains" by NOFX came on, a favorite tune of theirs.
"Appetizers are our favorite part of the meal, so we decided to do an appetizer buffet," Taylor says. "Passed hors d'oeuvres during cocktail hour included watermelon brulee with ne chevre cashew cheese, masa arepa with preserved lemon guacamole and radish straws, and mini tacos with baja tofu served in lime cups." And for dinner, another buffet offered black bean tamales, panko-crusted tofu with curry potato sambal and chana masala, and a charred broccoli salad with candied orange zest and pine nuts. Outside the venue, two vintage VW buses occupied the alley: one stocked with vegan cookie ice cream sandwiches and another for taking fun photo booth pictures. The room was decorated with flowers from Seattle's iconic Pike Place Market, and guests took home the custom glass bottles that their signature cocktails — a balsamic bourbon and peppered grapefruit gin — were served in.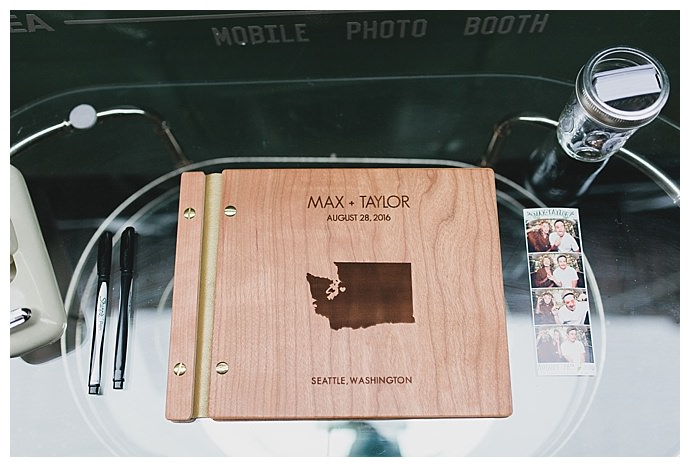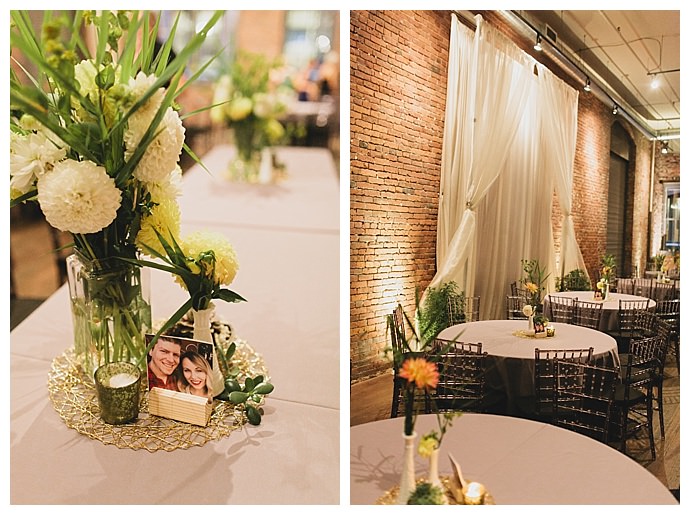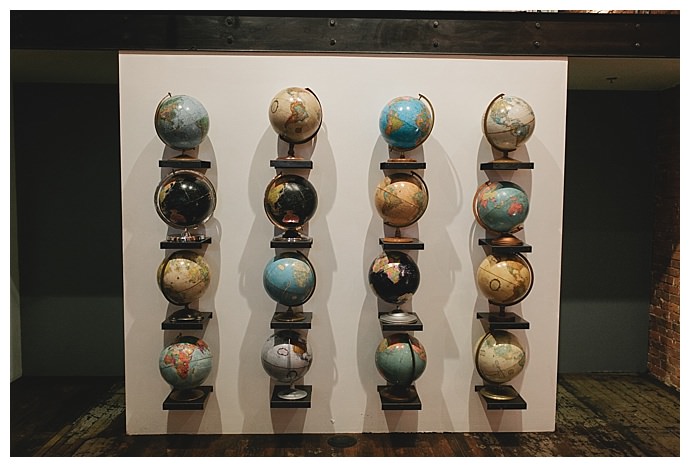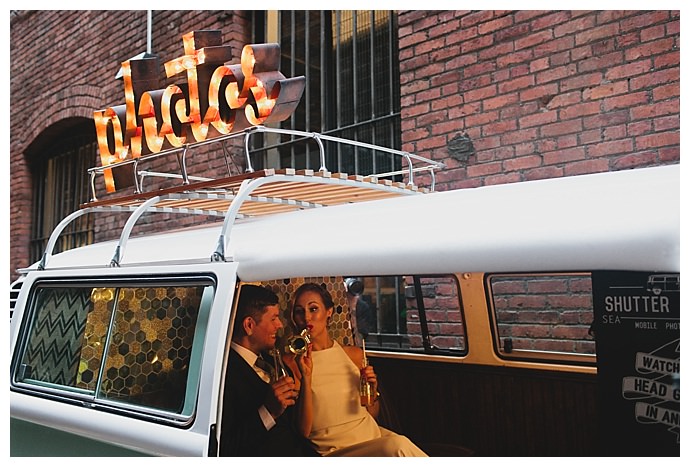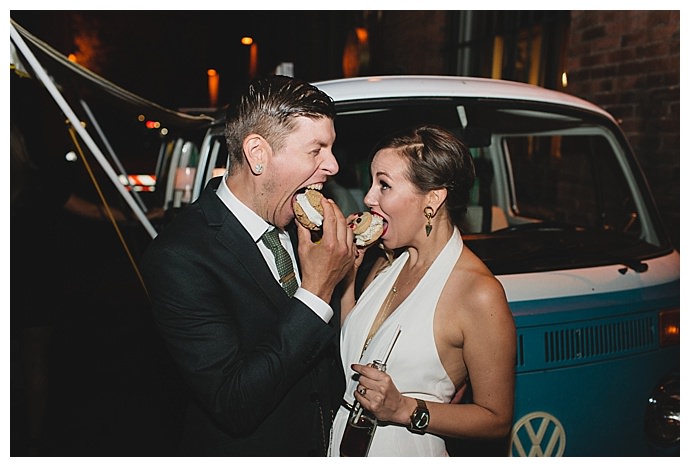 Memorable Moment
"The morning of the wedding, we got up early and took a walk and got coffee," Taylor says. "It was a really nice way to begin the day together and try to keep everything in perspective and not get stressed out."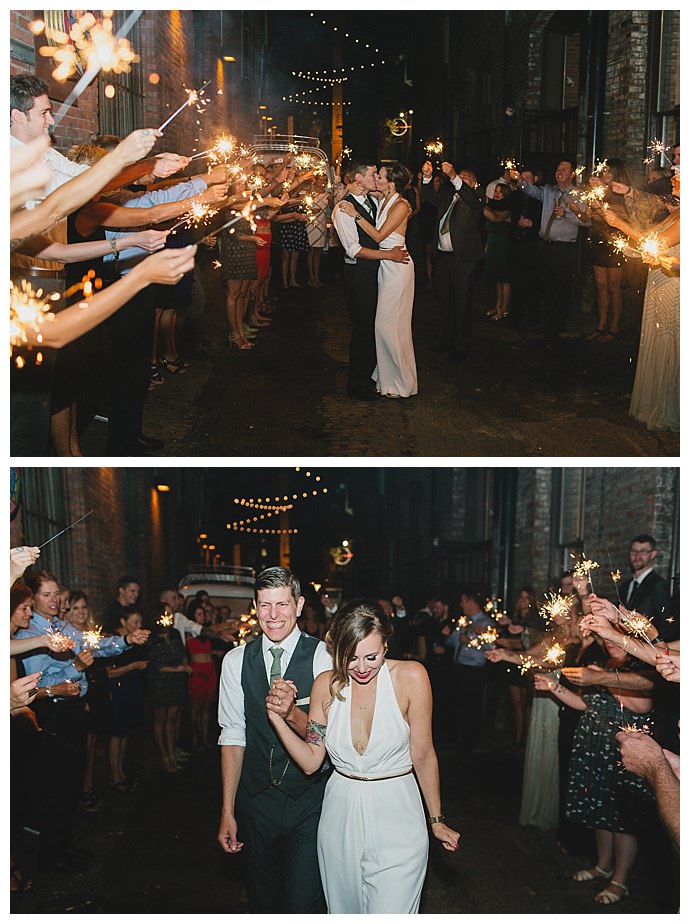 Team of Talents
Venue: AXIS Pioneer Square
Photography: Kendall Lauren Photography
Floral Design: Karissa Chamblin
Stationery: Kelly Bjork
Catering: City Catering Company
Desserts: The Cookie Counter
Photo Booth: Shutter Bus Co.
Wedding Dress and Jumpsuit: Jill Stuart
Wedding Suit: Kenneth Cole
Wedding Rings: With These Rings
Hair and Makeup: Urbanista Weddings