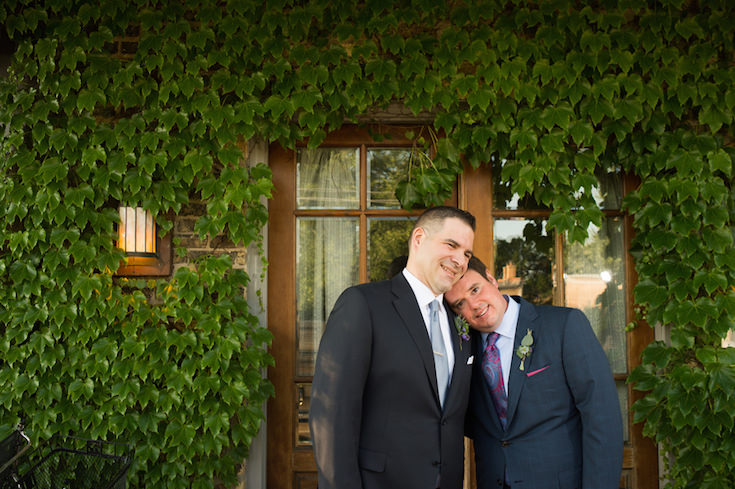 As if getting married wasn't exciting enough, the day before Stephen and James said "I do," the Supreme Court ruled in favor of marriage equality. Emotions ran high during this celebration as the grooms, who had been together for a decade, exchanged vows in a gorgeous firehouse-turned-venue that was flawlessly captured by Candice Cusic Photography. 
The Love Story
Stephen and James met in 2004, six months after the first state in the country declared marriage equality and their wedding fell on the day after the United States Supreme Court brought the freedom to marry nationwide. "During the decade between those two events, our lives became more and more intertwined. We moved in together, moved through several career changes and graduations together, bought a home together and rescued a two-year-old, 50-pound boxer named Romeo together," says James.
"Around the time Romeo came into our lives, in September of 2014, we began planning our wedding," continues Stephen. "Marriage equality had come to Illinois that year, and even though we had committed ourselves to each other and had a civil union, we wanted to enjoy all the legal and tax benefits that were still not available to us, and also to share our joy with family and friends."
The Venue
While searching for a venue that would accommodate their intimate 50-person guest list, James came across Firehouse Chicago, a century-old firehouse that had been converted into a venue. The space boasts a beautiful blend of modern and vintage, with crisp white subway tile walls and historic detailing such as a restored tin ceiling and the original fire pole.
The Fashion
The grooms opted for suits instead of formal tuxedos. Stephen paired his blue-gray Ermenegildo Zegna suit with a mulberry paisley Canali tie, matching pocket square and cufflinks, and Magnanni shoes. James wore a navy Canali suit with a light blue Zegna tie and oxblood Allen Edmonds shoes. 
The Ceremony
Escorted by their beloved boxer Romeo, the grooms walked down the aisle to a string version of The Pixies' "Here Comes Your Man." "Music is important to us, and we wanted the ceremony music to reflect this, and also help creating the mood for each part of the ceremony," note the grooms.
Before they exchanged vows, the grooms placed their rings in a heart-shaped Mr. and Mr. dish and passed them amongst their 50 guests to individually bless. "Our best man was able to get Romeo to bless the rings as well, by placing his paw on the dish!"
The Party
After the ceremony, guests mingled in the gorgeous backyard space and sipped on signature cocktails and Chicago beer and chowed down on delicious passed hors d'oeuvres. Afterwards, they made their way into the reception space, which had been illuminated with cafe lights and blue uplighting to create a classy atmosphere as they dined and listened to a carefully crafted playlist filled with swing, Rat Pack Vegas, and upbeat Motown numbers, as well as a smattering of opera and classic country hits.
The grooms swayed to Kacey Musgraves's "Follow Your Arrow" for their first dance followed by a dance with Stephen's mother and James's sister to Bobby Darin's version of "More," which was also the first dance song for Stephen's parents more than 40 years ago.
Throughout the evening, guests gave their well wishes by signing photographs from the couple's engagement session in lieu of a traditional guestbook. "We've looked through those photos many times since the wedding, and they are a lovely reminder of the day," says Stephen.
Memorable Moment
To pick one, near the end of the night, we had a dozen or so guests left. The bar was closing and our DJ was down to his last three songs. Now to be clear, with a couple of exceptions, our crowd was not a dance-heavy crew. The music was a perfect accompaniment to the evening, but the dance floor had been lightly attended throughout the evening. The DJ elected to play "Islands in the Stream," the Dolly Parton/Kenny Rogers duet. Something about that song struck a chord with everyone in attendance, and we all hit the dance floor. It was perfect, and we'll treasure that moment for the rest of our lives.
Wedding Vendors
Photography: Candice C. Cusic Photography
Venue: Firehouse Chicago
Catering: Hearty Boys
Floral Design: Larkspur
Event Planner: Liven It Up Events
DJ: Style Matters DJs
Ring Designer: DaValle Jewelers
Lighting: Art of Imagination
Tuxedos: Nordstrom
Calligraphy: Penned & Inked
By Brittny Drye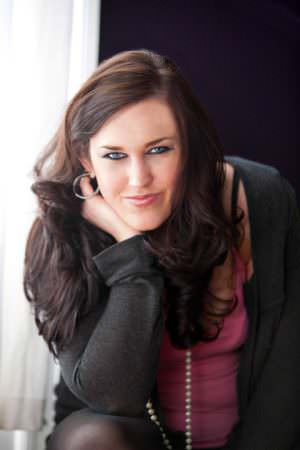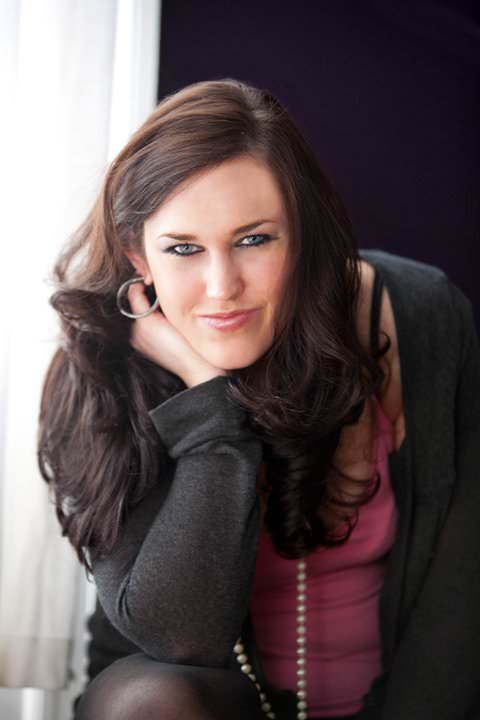 Brittny Drye is the founder and editor-in-chief of Love Inc. magazine. A fierce cheerleader for marriage equality, she launched loveincmag.com in 2013 as a way to to celebrate both straight and same-sex love, equally. She lives in New York City with her husband and their cat, Scout.