Smiles, snow and s'mores — is there anything better? The amazingly talented Love & Perry was behind the lens, and documented a love that is just downright infectious — you can't help but feel your heart warm when you see these sweet moments captured of Chris and Kj smiling at each other, sharing kisses in the snow, roasting marshmallows and snuggling under blankets. Their engagement session took place in their own backyard. "Every glance around me brought up countless memories … the many flower plantings, hosting friends for cocktails by the fire, the lunches with parents under the pergola," says Kj. "Our engagement shoot is yet another amazing memory that I get to access ever time I look out into our backyard."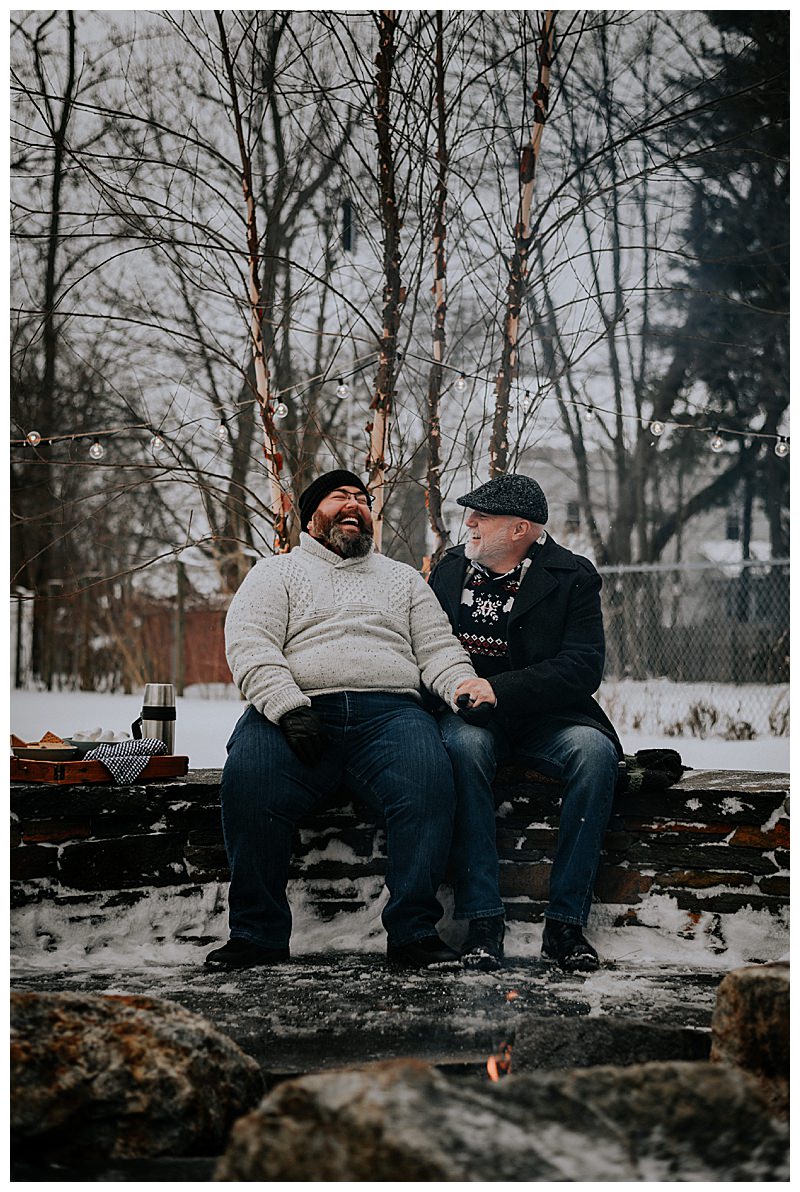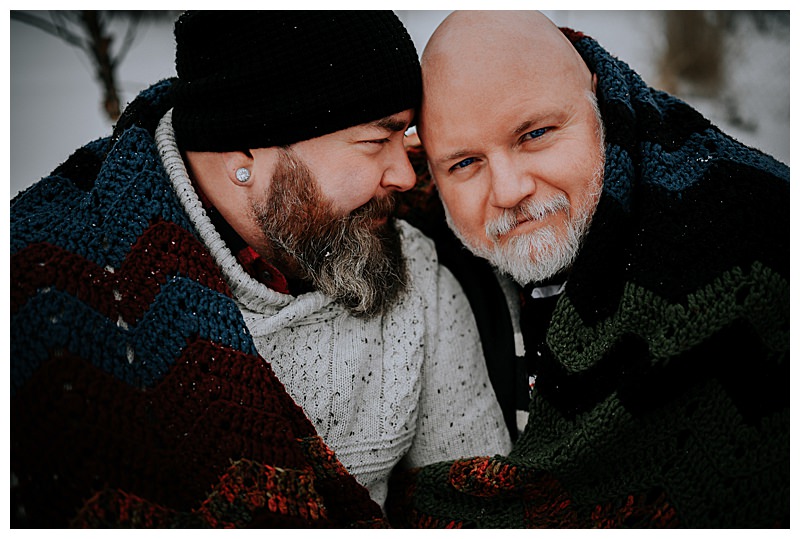 How They Met
It took a few missed opportunities over the course of a few years before Chris and Kj finally got together. "I like to think of it as fate knew that we were going to be incredibly important to each other even before we knew," says Kj. They first connected online, when Kj, drawn by Chris's captivating smile and dimples, messaged him. "I'm a gay transgender male who has always been very out and open about my journey. I have always felt that when engaging with possible partners, I wanted them to be attracted to me. ALL of me. In order to do that, I felt that I needed to be very open and honest," explains Kj of their first interaction. But Chris declined, stating he wasn't interested in transmen. "A few years pass on as Chris and I navigated parallel gay communities in Massachusetts and Connecticut. During those years, Chris did some self-education on what it means to be transgender. At the same time, honestly I was learning who I was when living as my authentic self as an adult AND I was learning how to navigate the world through the gay male community. We were becoming more whole and open minded in our individual lives. We were growing up."
Fast forward a few years, and opportunity number two arose at Providence, Rhode Island's Pride parade. Holding the title of Mr. Connecticut Leather 2013, Kj was sitting atop a float when Chris came to chat … with a friend in tow. "So, as a community title holder, I felt that I had to make sure that I was approachable yet respectful of my incorrect assumption that he was in a relationship," says Kj. Turns out, he wasn't. And Chris mistook his short, nervous responses as a rejection. "Between wanting to be a good community representative and my inability to form complete sentences when exceptionally attractive men try to talk to me, I answered each of Chris' conversational starters with a one-word answer. Poor Chris walked away thinking that I shot him down."
Finally, a year later, Kj was hosting a kickoff event for their local bear community and Chris approached him asking to hang out and talk about the new group. Thinking it was strictly business, Kj said yes and it was until drinks turned to dinner that he even realized he was on a date. "Out of the blue, Chris reaches across the table to caress my hand. I swear, I did the 'confused puppy head tilt' while simultaneously finally understanding that this gorgeous, kind, funny, caring guy had asked me out!" he exclaims. "We ended up closing down the restaurant after hours of conversation and soon found our way to a goodnight kiss that both took my breath away and made my toes tingle and curl."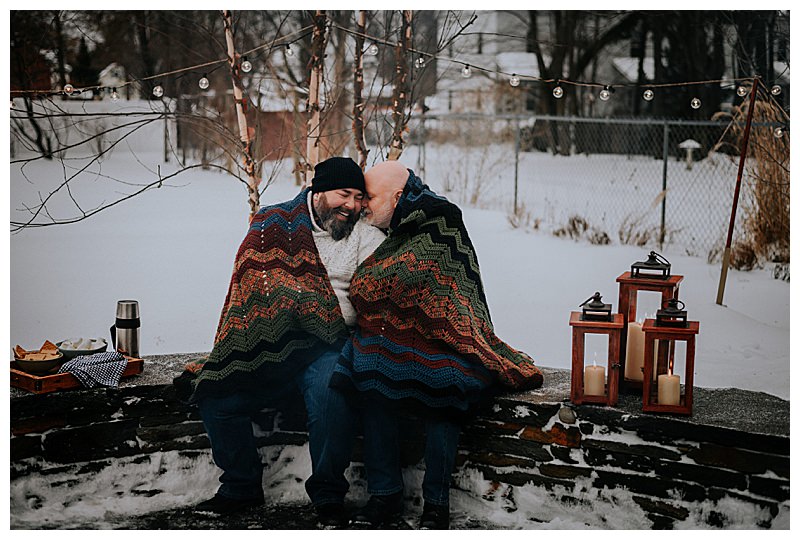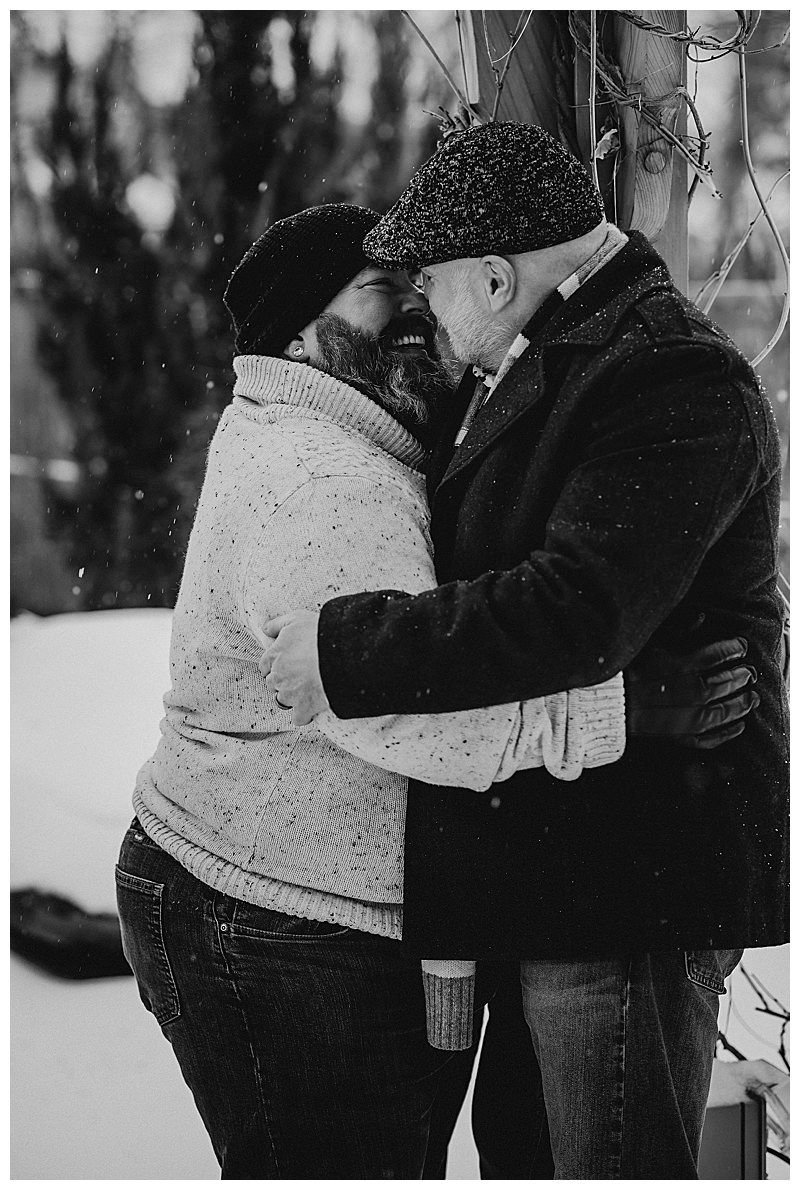 The Proposal
Weather put a wrench in Kj's plans for a romantic walk on the beach to pop the question with a shell ring box he had custom-made for the occasion. After a long day in the sun, the lovebirds laid down for a nap. "I felt the bed move as Kj got up, and then I fell deeper into a nap. Then, I heard Kj start to talk, and I opened my eyes to see Kj sliding down the wall and crying," says Chris.
Their tiny seaside cabin didn't leave much space for walking, much less getting down on bended knee. "I'm a short yet round guy, yet I wedged myself down on one knee between the bed and the wall and held the shell box out towards him. When I tried to start my prepared speech, the emotions of that moment overwhelmed me and suddenly I started crying and was mostly making weird noises. Poor Chris pulled himself awake to a blubbering mess of a man beside him and suddenly went into panic mode thinking that something was drastically wrong! During a barrage of questions from Chris, 'What's going on? What's wrong? What happened?', I was still unable to make words. So instead, I opened up the clamshell box to reveal the rings and shoved it closer to his face."
"Now, to me, the next five seconds lasted approximately five hours. Chris, who is barely awake, looked down at the rings in his confused and stunned and said… nothing! I immediately started to panic and freak out thinking that I was about to get turned down. My inner monologue is screaming 'Abort! Abort!' while I simultaneously realized that I am literally physically stuck, on one knee, lodged between the wall of the tiny studio and the bed and I cannot go running from the rental like my crazy mind was telling me to do. Luckily time returned to normal and at the end of those long five seconds, Chris lets out a long, continuous line of 'yes yes yes yes yes yes' and soon I was hugging the man who just promised to spend the rest of his life with me but also hugging the man who saved me by helping me dislodge myself between the bed and the wall of the seaside rental. My hero!"
"Kj thinks it was a disaster of a proposal. But, I thought it was adorable," says Chris. "It was a wonderful vacation, made even more magical by the perfect man giving me a gorgeous symbol of our love."
"When Kj asked me to marry him, the magnitude of the commitment hit me in the best way possible. I could actually participate in such an important ritual that my community had fought and died for. A new chapter was starting in my life. One I never expected to experience. And I was so ecstatic about our future together," says Chris.