The iconic whitewashed buildings and blue roofs, fresh seafood and plenty of quiet coves to be alone together, it's not hard to understand why the Greek Isles are on the honeymoon hot list for all couples. So if you're dreaming of spending your honeymoon basking in the sun beside an infinity pool that overlooks the Aegean or kissing the love of your life as the sun sets over Oia, you're going to love our romantic itinerary for a Greece honeymoon.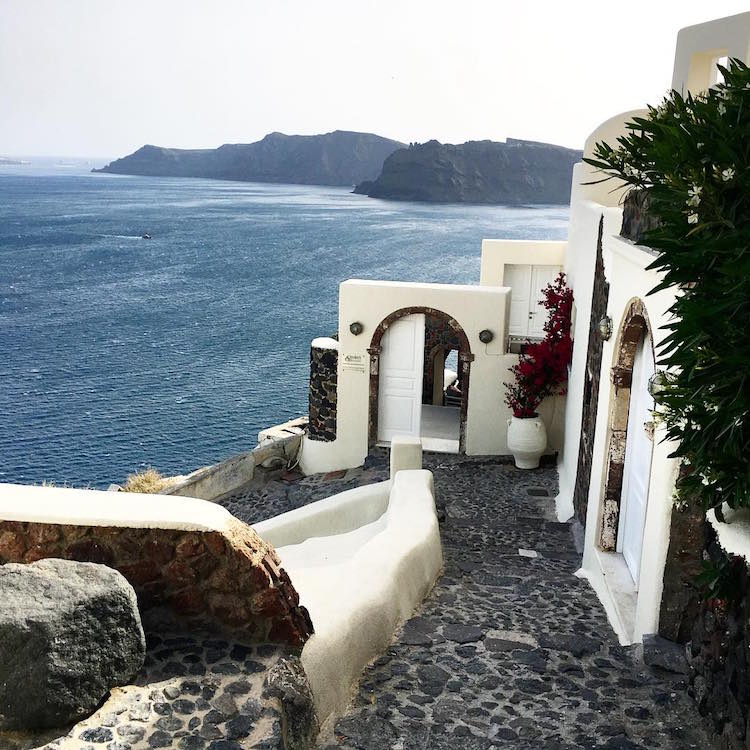 Day 1
Allow yourself to be whisked off to one of the following hotels: the super chic and sexy Bill & Coo which is completely worthy of putting a few InstaStories up even though you promised each other you'd sign off of social media; Grace Mykonos, the boutique hotel that makes you truly understand what five-star service is; or Mykonos Grand if you prefer a resort feel with amazing bathrooms.
After getting settled, walk around "Little Venice" a.k.a. Mykonos Town, eating at Caesar's (say hello to Stefanie for me, please!). The decor and staff literally make you feel like you're in the chicest, beach side house. Post-dinner, meander into cute boutiques including Anamnesia, stopping for some Nutella gelato at Casa Dolce before calling it a night.

Day 2
The next morning, you'll start with a cappuccino at your hotel before departing for a tour of Delos, the supposed birthplace of Apollo. Then make the tough decision to hang out by the pool or beach scrolling through your wedding hashtag photos, or get out to see the sights by exploring the other half of Mykonos town that you missed the night before. Dinner at M-eating will satisfy your need for amazing Greek food!
Day 3
Up for exploring by ATV today? If you haven't pre-arranged a quad bike, ask your concierge to make arrangements. Take your ride over to Kiki's Tavern, where there's no electricity and the owner memorizes everyone's order! You will not be upset about this lunch stop — be sure to wear your bathing suit because the wine and beach will keep you occupied while you wait. If you've been anxiously awaiting a day of party, get to Nammo's by before 11 a.m. and be sure to get on the reservation list for lunch when you arrive.
Tonight, head to the outdoor beach bar set up of Hippie Fish for stunning views of the sea while you dine. For newlyweds who want to hit the dance floor, Cavo Paradiso is the spot to see and be seen.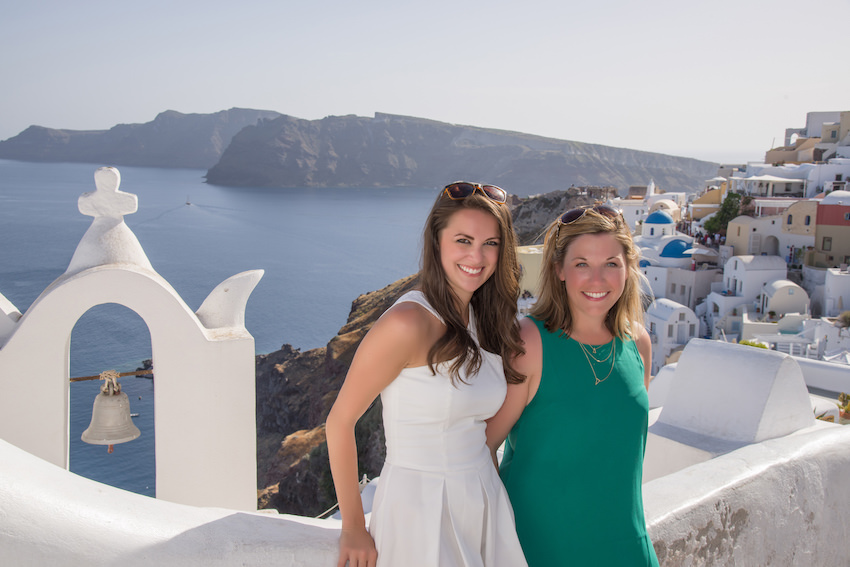 Day 4
It is time to take the ferry from from Mykonos to the next stop, Santorini! After boarding the ferry, kick back and relax. On the high-speed ferry, this will take roughly two hours and 40 minutes. Once you get a taste of it, you'll totally understand why people have this island at the very top of their lists! I'm horribly biased about where you should stay on this island, but for the most honorable reasons. Canaves Oia Suites has accolades such as Conde Naste Reader's Choice award, TripAdvisor's #12 hotel in the world. Let me help you visualize the why: the location. You'll quickly understand why a hotel "close to the beach" would be a horrible downside in Santorini, because there are so many stairs. So the higher the hotel, the closer to the road and the least amount of stairs! Canaves is at the top and a five-minute walk to Oia, even less if you stay the chic new Sunday Suites (p.s. you'll adore donkeys after seeing how well they fit into the decor there!).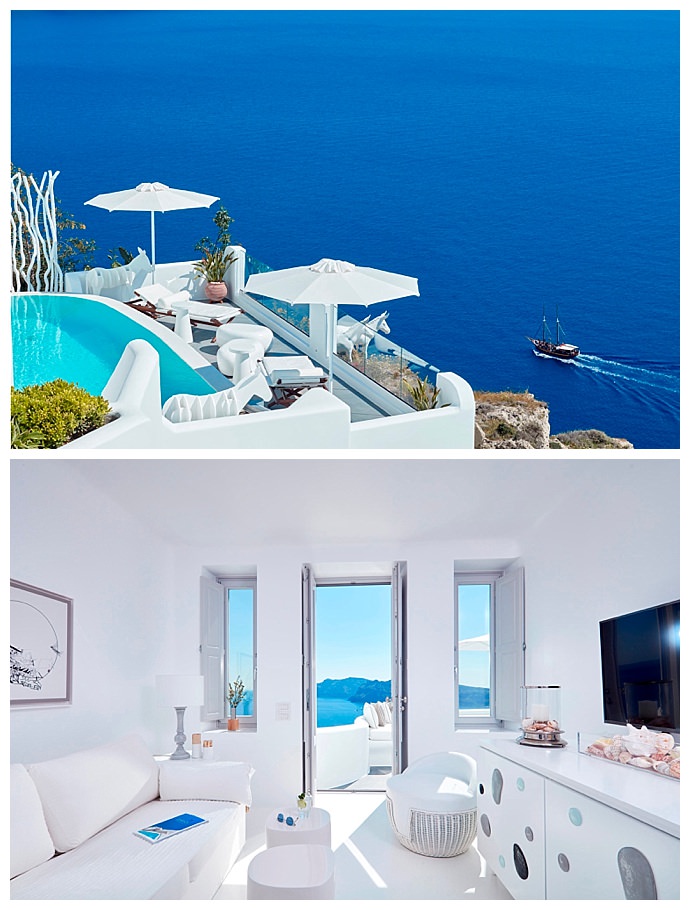 As you're greeted by the impeccable staff at Canaves, try some of their refreshing and not-too-sweet sangria. The jaw-dropping, Instagram-worthy moments come soon after when you see the view from your whitewashed room!
After a travel day, a romantic Grecian dinner is what is needed and no need to go far. Meletini in Oia, a fantastic tapas restaurant that the staff at Canaves can make reservations for, is an excellent start to your Santorini meals. A celebrity spotting of interest? Stay for dinner at the hotel restaurant, Petra, or opt for balcony dining! Cozy up together in this quaint atmosphere with a traditional Greek menu overlooking stunning views. The mixologist loves to show off and is happy to craft your own signature cocktail.
Day 5
Today, let's take a Sunset Oia sail around Santorini. Note: there are options to do a semi-private or private sail, too. Some amenities that are provided in the sail are snorkeling equipment, towels, unlimited drinks (this includes white Santorinian wine) and a meal prepared on the sail. You can have as much as that yummy tzatiki sauce as your heart desires during lunch! I selected daytime as I think the daytime sail is more enjoyable overall and you can see the sunset from other angles, but if its in your time and budget, do both a day and evening sail!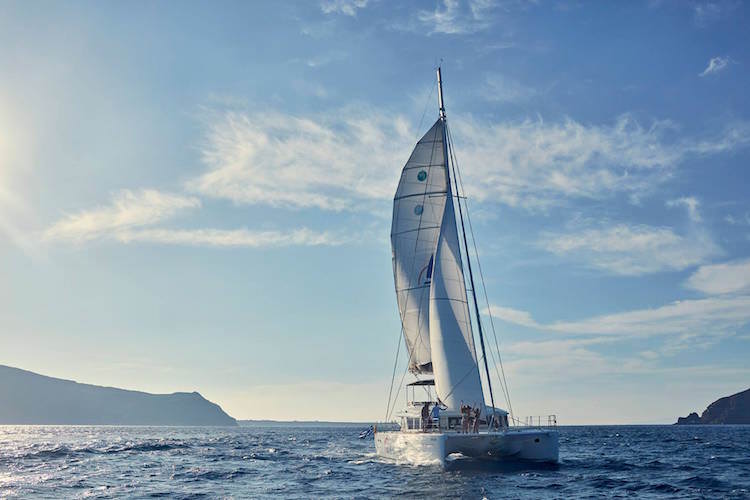 After a day full of sailing, and if you choose against the evening sail, how about a casual dinner full of souvlaki pitas and greek salads? Pito Gyros is the spot for you! Reasonably priced, fresh tasting — it's everything you wish you could find back home.
Day 6
Today, rent an automatic vehicle for the day (that has been booked in advance) to adventure through the Santorini wine trail. There are many tours and tastings offered and they truly have one for everyone. Personally, I would go for the Santorini Wine Lover and Santorini Foodie! In the end, you are wine tasting in Santorini, can you even go wrong? Travel pro tip: parking in Oia is almost impossible which is why I don't encourage car rentals for daily use.
To cap off a great day, swing into Lolita's Gelato to grab a cool gelato! They are constantly rotating their flavors so you could always pop back in tomorrow to see if there is anything new that intrigues you. You can never have too much gelato, right?
Day 7
How about a slow morning with a room-service breakfast as you take in your view? Canaves Oia Suites can also arrange for yoga instructors to put you through a stretch, too!
I recommend walking through Santorini today. Get lost in hilly, curvy streets. Stumble upon locally owned shops that are selling their handmade goods, cute boutiques with mid-luxury clothing lines. This is a great place to find souvenirs to take home to your family, friends or just yourself. Treat yourself! When the sun gets to be too much, stop for a caffe fredo at Flora in Oia — they have the best!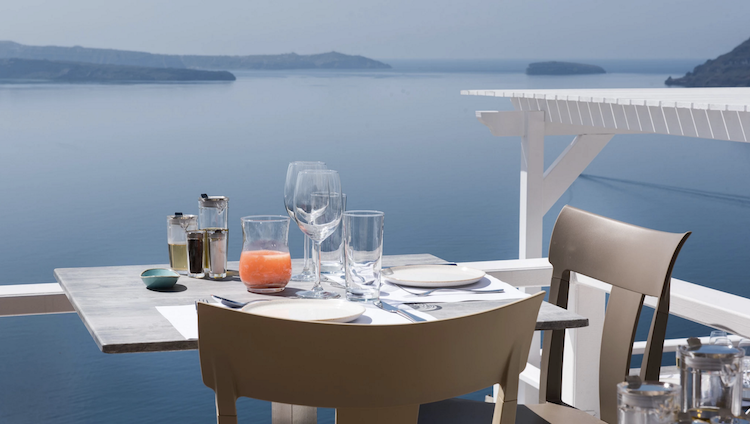 Make sure to wear good walking shoes as eventually you will find yourself trying to find a high point to catch the sunset. The white buildings, blue skies and glistening ocean will take your breath away.
Tonight, have your final dinner at Ammoudi Fish Tavern for a fresh seafood meal with a view and toast to the end of a fairytale honeymoon and beginning of happily ever after.
Editor's Note: **All of our travel accommodations and experiences have been approved for being equality-minded.

*Editor's Note: This post contains affiliate links. Each time you purchase an item via our affiliate links, Love Inc. is receiving a small percentage of the sale, thus you are helping our small, equality-minded business grow and allowing us to provide more content for YOU! Isn't that just fantastic?