When Nicole and Jonna got engaged surrounded by nature at Natural Bridge State Resort Park in Kentucky, they knew they wanted their engagement session to be in a similar setting. A layer of fallen leaves coated the ground at Mount Airy Forest Park in Cincinnati where Cassandra Zetta Photography captured Jonna and Nicole's palpable engagement session. We love seeing the joy and laughter these two share as they danced between the colorful trees and rolled out a blanket to put a puzzle together before sharing a heartwarming kiss as leaves trickled down around them.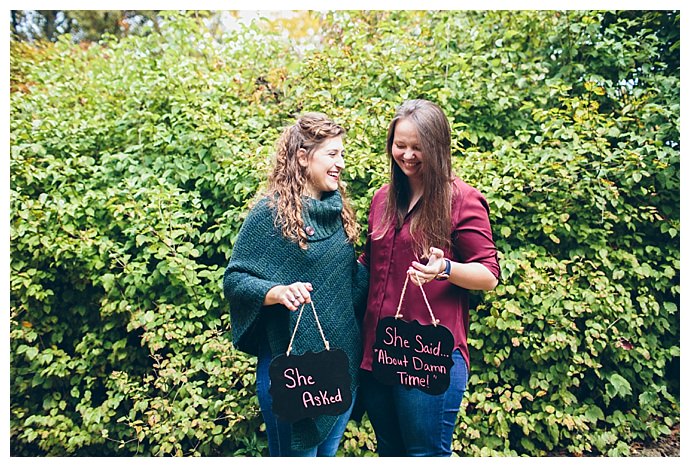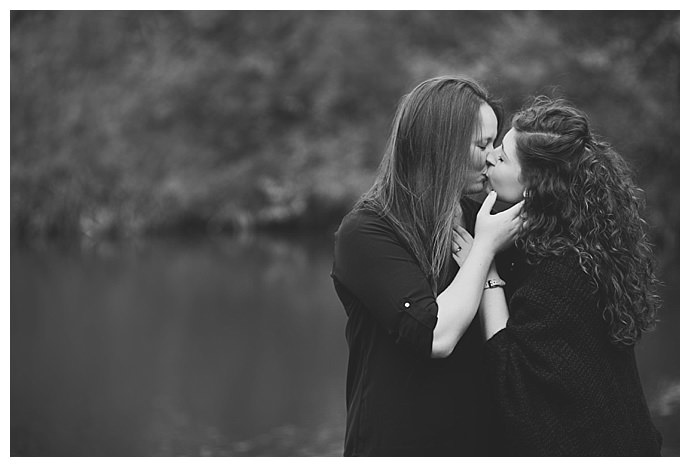 The Love Story
Nicole was a sophomore at Transylvania University in Lexington, Ky., when Jonna joined her sorority, Alpha Omicron Pi. Nicole was scheduled to meet with some of the new members in what they call a panda date to get to know the girls better before choosing a little. Nicole had a panda date scheduled with Jonna, and the moment they met, they both agree it was love at first sight. The two had an immediate connection that sparked a close friendship after Nicole picked Jonna as a little. And six months later, they started dating.
"I don't know when exactly it happened," Jonna says. "I just never connected like this with someone before. I still get butterflies in my stomach every time I kiss her, and I can't help but smile every time I see her. She understands me like no one else has, and I can't wait to see what the future holds for us."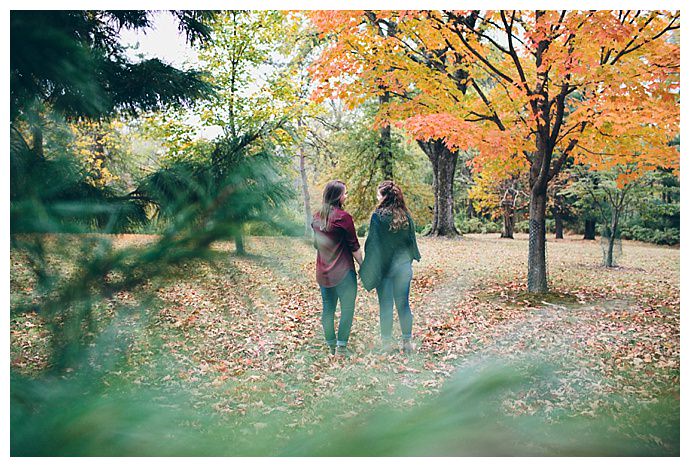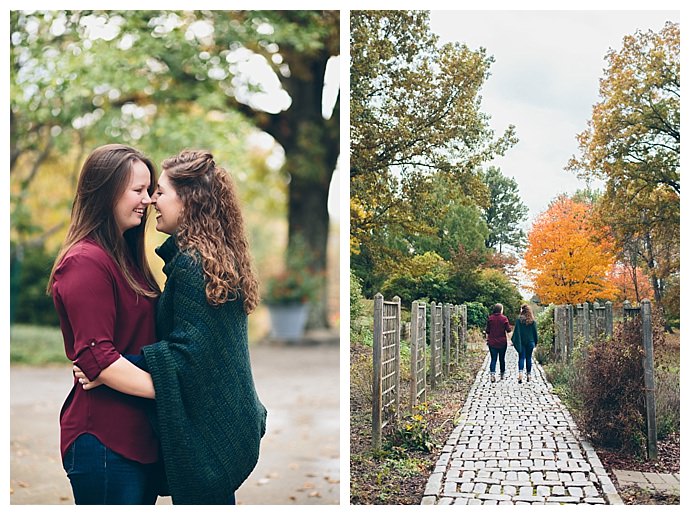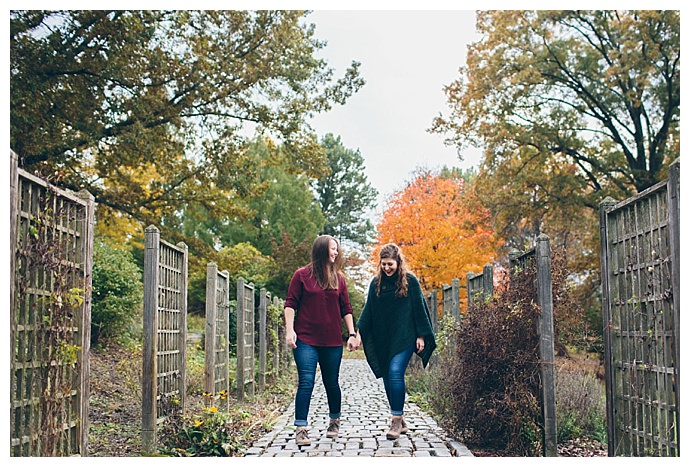 The Proposal
Over the three and a half years that Nicole and Jonna were together, they often talked about getting married, but it was important to both of them to wait until after they graduated from college. After Jonna's final spring semester ended, Jonna took Nicole hiking on a hot June day. Nicole wasn't the least bit suspicious, as they often went camping and on hikes together to get away. "I could remember how hot and sticky that day was," Nicole says. "It was probably close to 90-degree humidity that day." Along their hike, Jonna decided to venture off their usual route and take Nicole to Lover's Leap, a path along Natural Bridge Trail that they've never hiked before that has gorgeous views of the Kentucky state park. 
When they got to the aptly named Lover's Leap, a quick snack break provided the perfect opportunity for Jonna to surprise her soon-to-be fiancee as she was digging food out of a backpack. When Nicole turned around, Jonna was holding the ring. "When I saw the ring box, I just started crying," Nicole says. "Of course I said yes, but after wiping away all the tears, all I could think was where she hid the ring box; I mean, we were in the middle of nowhere in workout clothes hiking. I started laughing when Jonna told me that she had the ring box in her sports bra the entire time."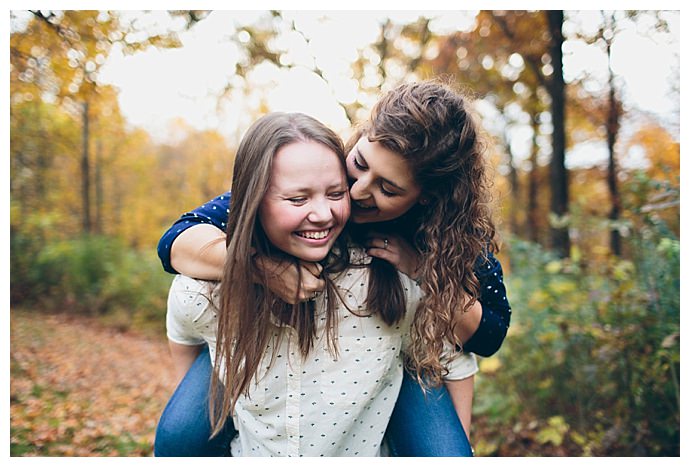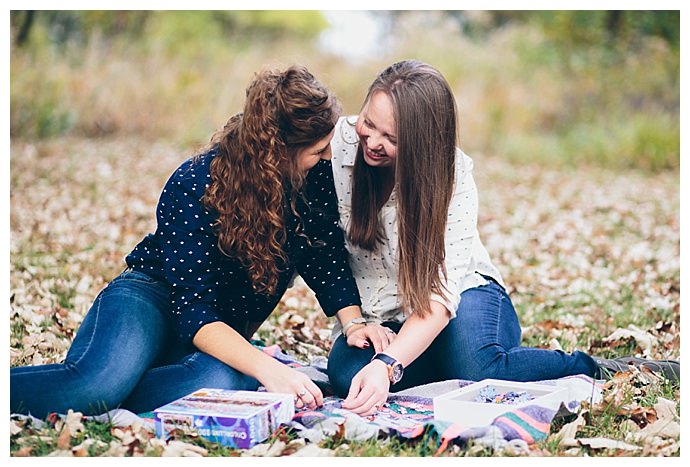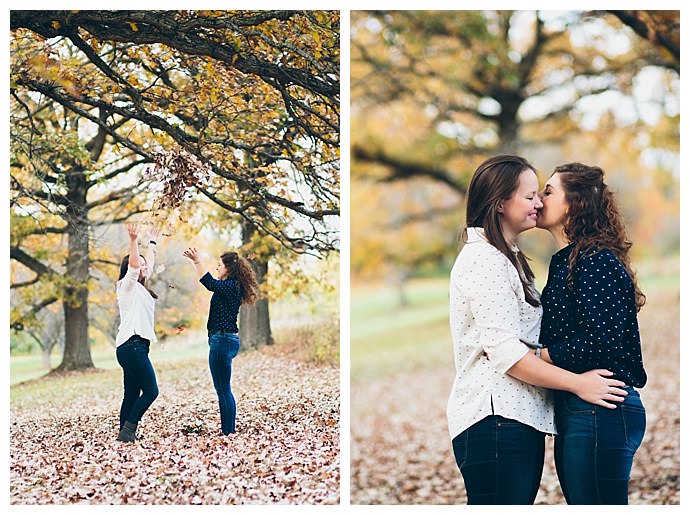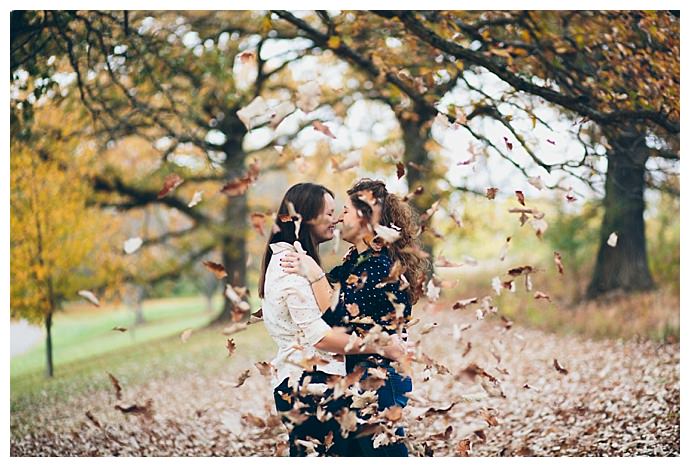 The Ring
Nicole's ring is a cushion cut sapphire stone in an antique setting with two diamonds on either side of the stone with beautiful scrollwork details along the band.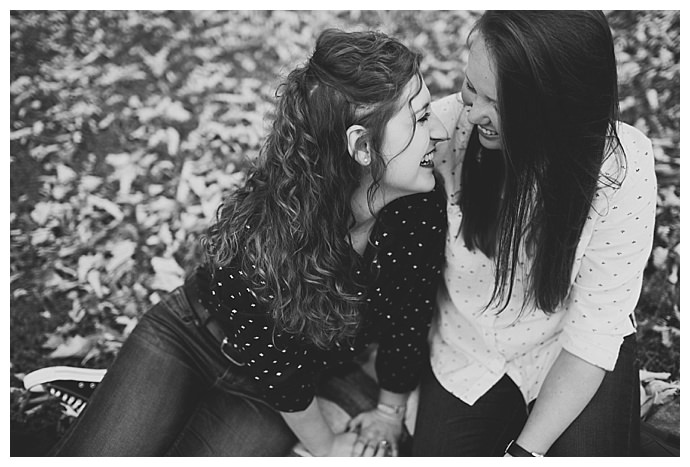 The Wedding Date: June 17, 2018