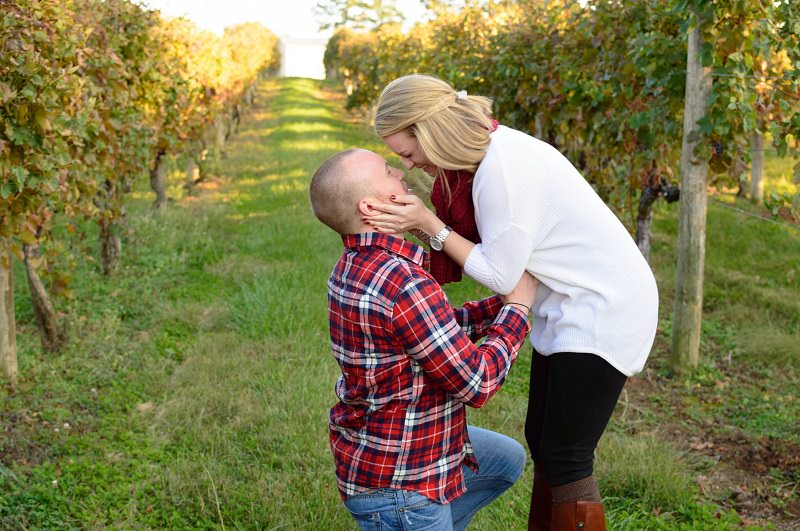 Sneaky, sneaky! Nick plotted with photography team Ben & Sophia to capture that major moment between him and his girlfriend of a year and a half. Disguised as an inspiration shoot, Nick and Laura posed throughout Ingleside Winery in Montross, Va., with their real love so obviously shining through. As the sun set behind the rows of grapes, Laura was instructed to close her eyes and when she opened them, Nick was on bended knee.
From the "inspiration shoot" photos of walking hand-in-hand down a dirt road and kissing underneath fall foliage to the raw emotion of the actual proposal, this engagement sesh is filled with L-O-V-E.
[raw]
[/raw]
The Love Story
They met at a bowling alley and, lucky for Nick, he was getting strikes only on the lanes, not with the girl. "He had the most creative bowling technique I had ever seen and we laughed about it almost the entire time," says Laura. "Later that week he sent me a Facebook message asking me if I had read the Hunger Games — if you don't know us, we're both book nerds — and everything grew from there!"
[raw]
[/raw]
Their relationship escalated to can't-live-without-you status during Nick's mother's 50th birthday party. "Somehow, after a lot of wine, we ended up alone on the back porch. Laura looked at me and said 'I want to tell you something, but I want you to say it first,' and I immediately blurted out 'I love you,'" says Nick. "I knew in that moment there was something special about her and I couldn't imagine spending the rest of my life without her. Since then, not a day has gone by without me telling her that I love her and I will tell her that, every single day, for the rest of my life."
[raw]
[/raw]
The Engagement
"We had done a shoot with Ben & Sophia Photography this summer and Sophia sent me a message about a week before the big day asking me if we would be interested in helping them do a fall styled shoot. I LOVE pictures, so I checked with Nick and responded, 'yes' as quickly as possible," says Laura of what would later be revealed as the proposal scheme Nick had orchestrated. "Closer to sunset we moved out into the vineyards to capture the sun setting between the vines. In the middle of this part of the session, they had me close my eyes, which I didn't find strange because we'd done this pose this summer, but when I opened them, Nick was getting down on one knee! Despite his difficulty getting the ring out of his pocket, he did perfectly and it is a moment that I'll remember for the rest of my life. And Ben & Sophia captured every single moment of it. What more could a girl want?!"
"I was trying to be smooth getting it out, but it got stuck!" laughs Nick. "But really, when I showed her the ring she didn't even look at it and immediately said 'Yes!' When I told her she hadn't even looked at the ring, all she said was 'I don't care, yes!' Talk about a winner!"
[raw]
[/raw]
The Ring
Laura's stunning sparkler is a round cut diamond set in a white gold band and accented with three small side stones on each side.
The Wedding Date: June 12, 2015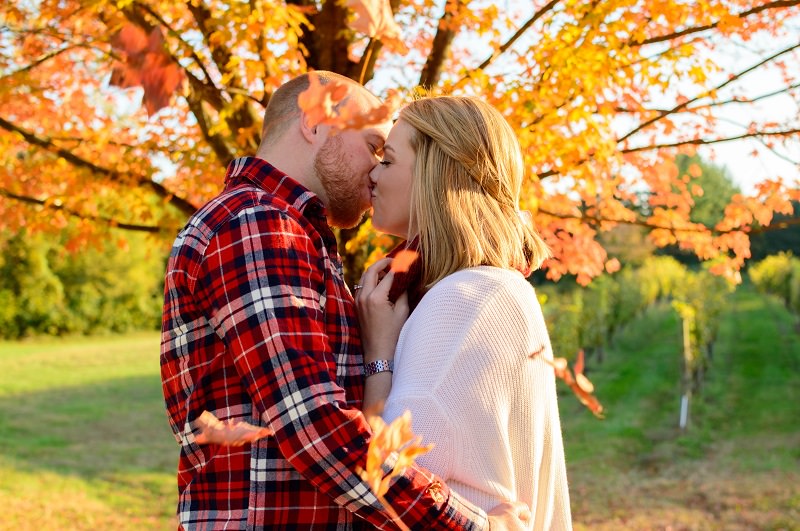 Photography by Ben & Sophia Photography