By Meghan Kennedy | Photography by Angela Cappetta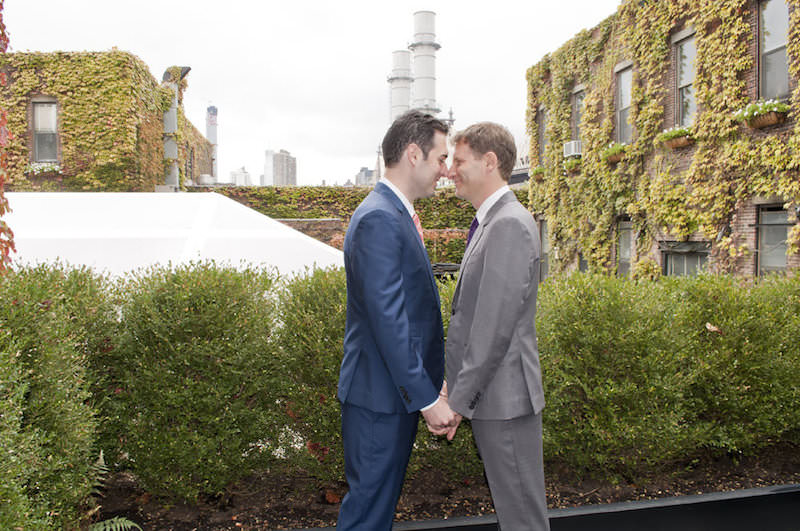 Will they or won't they? It's a common question asked on television shows and movies alike. It drives a romance novel, it makes you root for certain protagonists, but does it ever happen in real life? Nathaniel and Dominick's love story spans years of missed opportunities, wrong timing and even a move to Africa, but the two ultimately get their happily ever after at The Foundry in Long Island City. A gorgeous event space and floral design — and the photos taken by Angela Cappetta — make this event a day to remember.
The Love Story
Nathaniel, a writer and teacher at New York University, needed a research assistant in 2006 for a book he was writing on gays in the military. His former assistant, a cousin's high school girlfriend, recommended Dominick to work in her place. She told him, "he's really smart and interested in gay rights … and he's cute!" Nathaniel set up a meeting with Dominick, and the two began working together: Nathaniel as the writer and Dominick as his part-time assistant. During a "work" dinner at Manhattan hotspot Vynl, where they tell us they "discussed research and had a heated debate about Arab-Israeli conflicts," sparks flew. There's nothing like a good debate to provoke interest in someone, so they continued their conversation into the night at Therapy, a gay bar around the corner from the restaurant.
As weeks passed, they went on a few more dates, but the relationship remained at a standstill — Nathaniel was still in an on-again/off-again relationship and was preparing to spend six months in London with the man he was seeing. The couple didn't speak for a year, until they were both in New York again. However, their reunion was short-lived, as Dominick was headed to the Peace Corps in Morocco. Fast forward about ten months, and Nathaniel ended his long-distance relationship as Dominick decided to return to New York from Morocco.
In the spring of 2008, the two decided to give it another shot — although they maintained that they wouldn't get seriously involved with each other. They quickly learned that you can't stop what's meant to be. Their first serious date was to a New York Rangers game, which, they say, is the quickest way to Dominick's heart. They moved in together a few months later, and have been together ever since.
The Proposal
We can all agree that the road to marriage equality has been quite a ride. When New York legalized same-sex marriage, Dominick knew he was ready to commit, but Nathaniel wanted to test the waters of marriage equality first. Sure enough, DOMA was challenged in 2013, and Nathaniel penned a piece on it for the Los Angeles Times.
Nathaniel wrote a beautiful, touching article on the meaning of marriage and equality, but was able to sneak in a proposal to Dominick at the end of the article. "I prevailed the editors to hold the article until late on a Saturday so I could pop the question, article in hand, in the hours just before dinner," says Nathaniel. "The day it ran, I printed the piece out, asked Dominick to read it, and presented him with a chocolate cupcake with a garden rose sticking out of it. He said yes." Three weeks later, DOMA was struck down, and their marriage would remain legal in both the state and the country.
The Venue
The couple was hooked from the moment they first saw the venue — it was perfect and accommodating for the kind of wedding they were envisioning. "The main appeal was its urban-industrial aesthetic, along with its NYC location—outside Manhattan but very close, and also close to our Brooklyn home," says Dominick. "It seemed to set just the right tone of slightly off-beat New York City elegance and sophistication."
The Ceremony
Nathaniel is non-observant Jewish, while Dom is not religious at all. In order to make both grooms happy, they designed their own ceremony with elements of the Jewish faith along with their friend, maid of honor and officiant. "We wanted to create something non-religious that truly and authentically expressed who we are as a couple, and what we feel is important," says the grooms. The ceremony featured a "gestural" chuppah, a Ketubah, a mini-hora and the breaking of a glass, although as a whole, it was non-religious. Their officiant talked about the meaning of love and marriage, especially to a couple like Nathaniel and Dominick who had worked for marriage equality and waited patiently for it to come.
Nathaniel's brother and family played piano and guitar as the guests entered the building for the ceremony. A family-focused wedding was crucial to them — they had 12 people in their wedding party — and their heartfelt vows touched on how important their friends and family are to them.
The Party
Featuring green, off-white and orange floral design, the reception was urban and chic. Verde Flowers, a Bronx florist, designed beautiful floral arrangements complete with strung glass vessels on each table containing hydrangeas, Queen Anne's lace and orange dahlias. Each centerpiece was flanked by romantic tapered candles to lend a romantic ambience to the reception area.
The couple chose a cocktail hour with passed hors d'oeurves featuring an amalgamation of different cuisines and flavors such as dumplings, mini sandwiches, shrimp, soup and frittatas. The cake, baked by The Chocolate Room in Brooklyn, was a three-tiered chocolate layer cake with chocolate icing (Dominick's favorite!). "Neither of us like traditional wedding cake, and it was prettier and much more moist than most wedding cakes, but also more delicate," says Dominick. "After the car ride from Brooklyn, it showed up as the leaning tower of Pisa!" As for favors, One Girl Cookies in Brooklyn created beautiful personalized favor boxes for each guest. DJ Gaza spun a mix of hip-hop, pop and standards for the crowd to dance to as they celebrated Nathaniel and Dominick's happily ever after. Finally!
Wedding Date: October 11th, 2014
Vendors
Venue: The Foundry
Photographer: Angela Cappetta
Catering: Real Food Catering
Cake: The Chocolate Room
Favors: One Girl Cookies
DJ/Band: DJ Gaza, 74 Events
Florist: Verde Flowers