By Brittny Drye | Photography by Molly Landreth (ceremony) and Michelle Koechle (reception)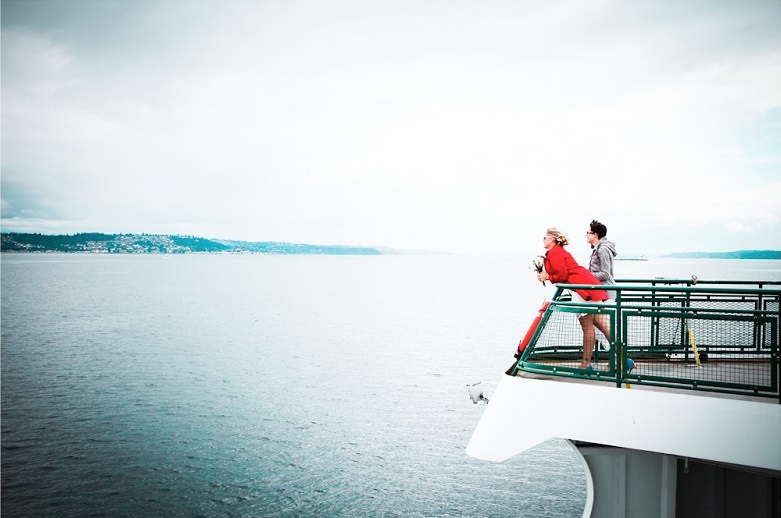 With the Pacific Northwest winds blowing their hair and the Seattle skyline as their backdrop, Arizona-based couple Natalie and Meagan exchanged vows on the very spot Natalie had proposed months earlier. Their intimate ferry ceremony in front of 10 of their closest loved ones was filled with color, love and laughter. Once they returned to their home city of Flagstaff, Ariz., they celebrated with a casual yet classic reception at one of their favorite downtown restaurants.
The Love Story
"Natalie and I met from our exes—which I wouldn't recommend!—but when you meet your Mrs. Right, you don't walk away," explains Meagan of their first meeting. "We fell in love practically overnight and have literally been inseparable for the last seven years."
The Engagement
Each year for a romantic getaway, they would escape to Meagan's hometown of Seattle. Many memories were made as they took the ferry to one of their favorite islands, and it was on one of these trips that Natalie asked Meagan to be her wife. "We found our favorite spot on the top balcony at the back of the boat so we could watch the city as we pulled away … I was already in bliss, my favorite city, with my favorite girl, what could possibly make this better?" says Meagan. "I look over at Natalie who is looking quite uneasy and I start to realize she's pulling something from her pocket. At that point my heart literally fell to the ground. I hardly remember anything except that I was the happiest, luckiest girl in the world."
"Natalie told me she had always planned to ask me to marry her on a ferry and even though it wasn't legal yet, she couldn't wait any longer. I, still being speechless, couldn't even form words so she asked me for a second time, 'Will you marry me?' and I yelled 'Yes!' grabbed her for a kiss while people were clapping all around us."
The Venue
While they were in the midst of planning their Seattle ceremony, the state's marriage equality went into effect. "Washington had passed a gay marriage law just a few months before our wedding and it was huge for us," says Meagan. "We chose the venue because it's exactly where Natalie proposed and it was the most incredible day of our lives and we wanted to re-create that for our actual ceremony."
The Ceremony
With colorful Bella umbrellas in hand, the brides and their guests walked the few blocks to the ferry from the Renaissance Hotel where they were staying. "We knew it would rain and loved the idea of colorful umbrellas for pictures," says Meagan.
As the ferry began sailing across the Puget Sound, music started playing and they walked down the "aisle" together toward their favorite spot on the top balcony. Meagan's brother officiated a ceremony that brought everyone to tears and the brides shared vows that they had written individually for each other. "We didn't rehearse; we wanted it to be straight from the heart. That's exactly what it was," says Meagan. "I feel kind of silly every time I say this, but the feeling with us on that day was beyond incredible. A feeling of floating without a care in the world and full of a different kind of love than I've ever felt before and it was legal."
The Party
After tying the knot (legally!) in Seattle, they celebrated with a casual reception in Flagstaff, Ariz., by renting out their favorite restaurant, Criollo Latin Kitchen. Meagan's mother, who designs weddings, kept the decor simple, elegant and classic with white lights throughout the space, white floral arrangements in glass vases and simple tea lights sprinkled along the exposed brick walls. Guests enjoyed a family- and buffet-style meal of pork, carne asada and fish tacos finishing off with mini churros with dipping sauces and a gluten-free wedding cake that was almost too pretty to eat. "Not only was it one of the very best gluten-free cakes I've ever had it was gorgeous and decorated beautifully," adds Meagan.
Memorable Moments
"The toasts were our favorite moments of this night. Our friends wrote them so beautifully and family and we'll remember it forever!"
Vendors:
Photography: Molly Landreth (ceremony) and Michelle Koechle Photography (reception)
Reception venue: Criollo Latin Kitchen
Cake: Lauren Menona
Floral design: Susan Pugh