High above the busy streets of Seattle in front of the courthouse's floor-to-ceiling windows, Shawna and Lacey were surrounded by the love of their two close friends and Shawna's kids as they tied the knot in an intimate ceremony. "I love that we chose to elope!" Lacey says. "It was very simple, and there was no stress. And at the end of it all, I ended up marrying my best friend, my queen, and partner in life."
Willow Creek Studios was behind the lens to document their magical day, and we couldn't love the photos of these two stylish newlyweds any more. Dressed in vintage sourced from a local shop, Shawna and Lacey are absolutely radiant, proving that no matter how large or small, a day dedicated to love and commitment is a day worth celebrating!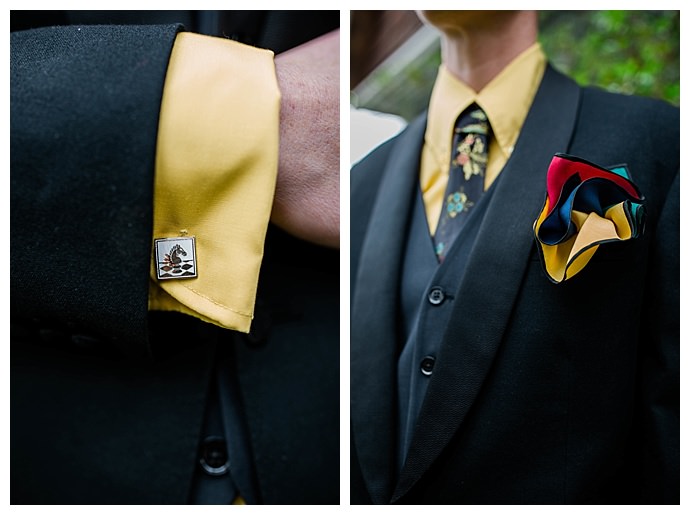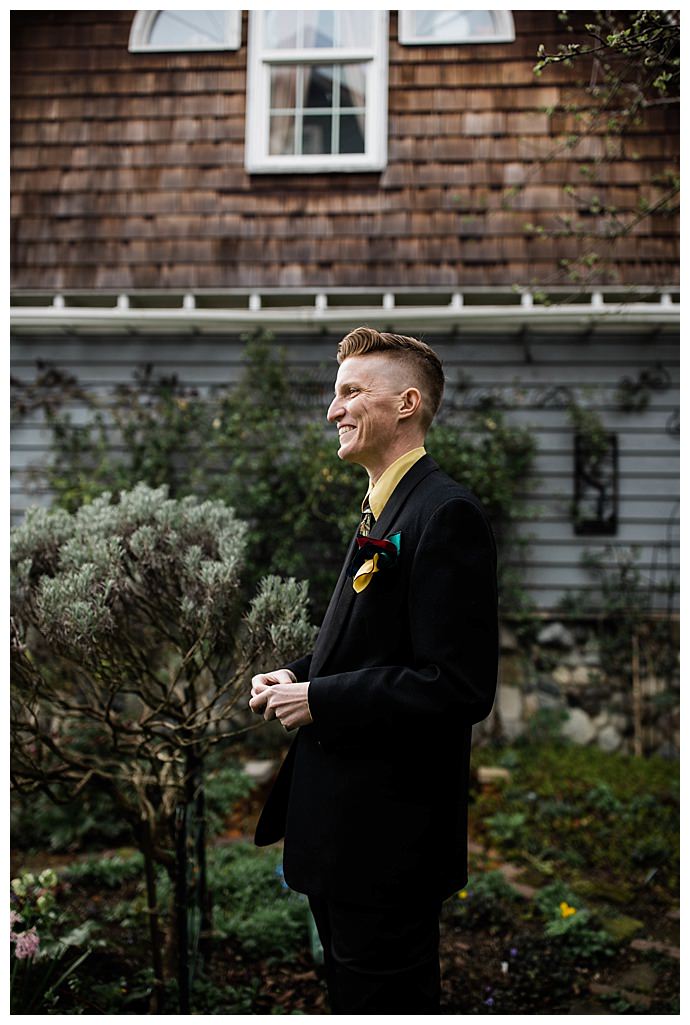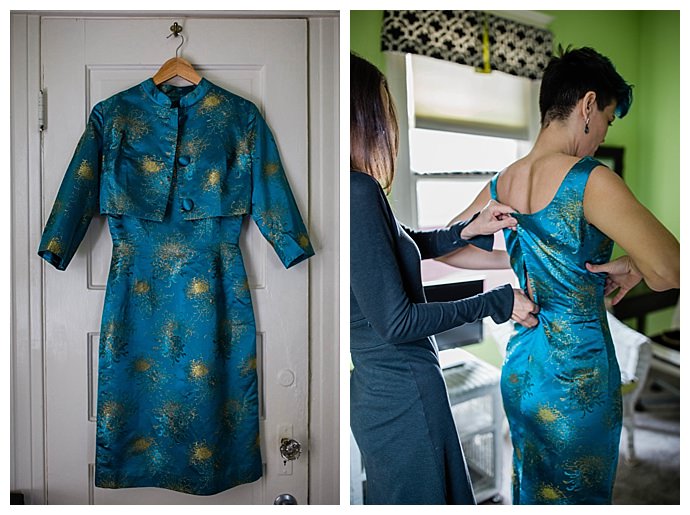 The Love Story
Timing isn't always perfect the first time around. Lacey first met Shawna when she went to see a burlesque show where Shawna was performing. Shawna caught her eye, and they briefly said hi, but it would be another seven years before the stars aligned for them. At a time when they were both single, Shawna and Lacey were working at a local LGBTQ event where they reconnected, and they immediately hit it off.
Later on, Lacey took the opportunity during their morning ritual of coffee and conversation to ask Shawna an important question. "I purchased a vintage 1920s ring and a coffee cup with 'Will you marry me?' at the bottom of it," Lacey says. "I was nervous and anxiously waiting for her to take the last sip." But before she reached the bottom of the cup, Shawna had had enough. She told Lacey she could have the rest, to which Lacey had to persuade her to finish the cup. When she finally read the message at the bottom, she was completely shocked.
"When Lacey proposed, it totally surprised me," Shawna says. "I was excited and scared at the same time. It took 12 hours to say yes. I wanted the opinion of family; they were unanimous with me — yes!" A year later, Shawna proposed to Lacey while they were working an event. " I took her to the dance floor while I had our song playing," she says. "There was no doubt Lacey was my partner for life, and I pulled out a ring. Even though I knew she would say yes, I was a nervous wreck trying to get the words out of my heart without breaking the dam of deep feelings."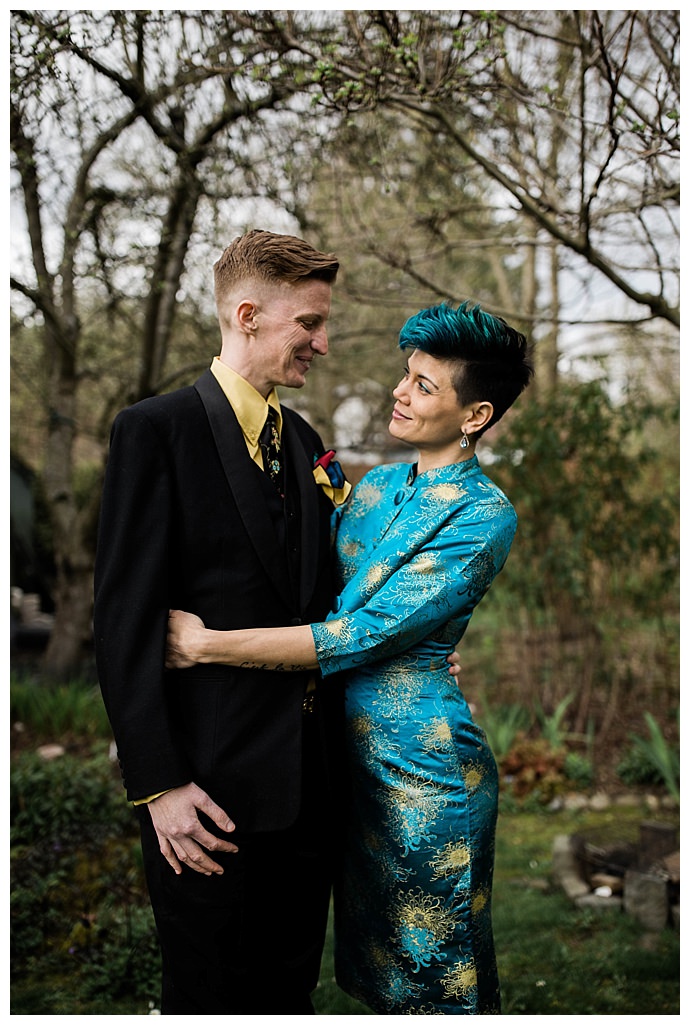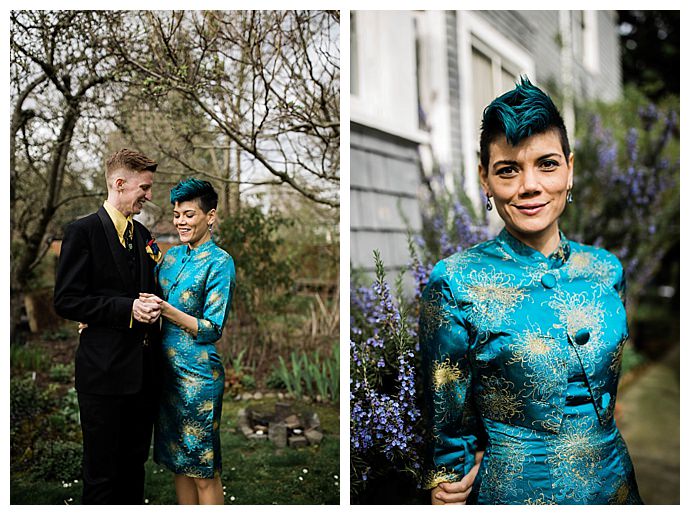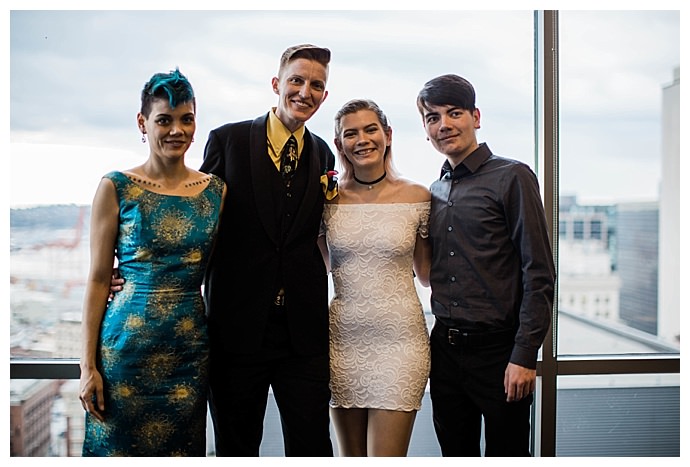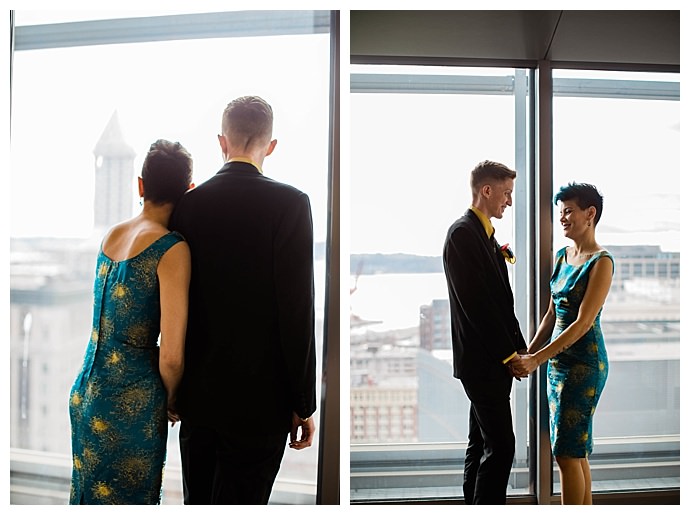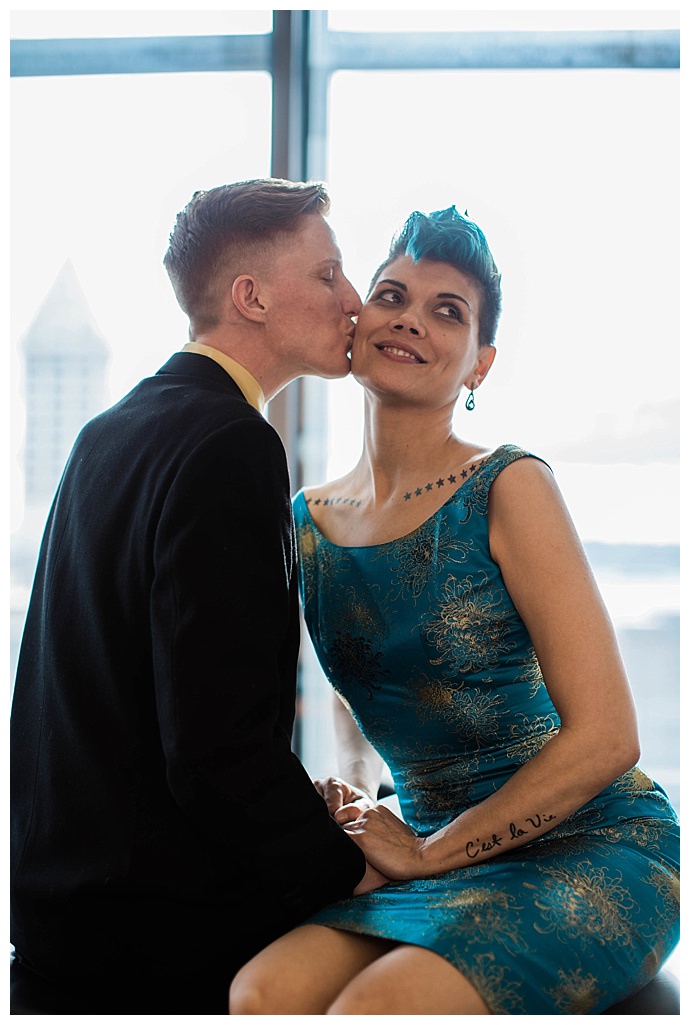 The Fashion
On a previous vacation to Seattle, Shawna and Lacey stayed at a bed and breakfast that also had a charming vintage shop. "We became friends with the owners and decided we would shop there for our wedding attire," Lacey says. "We are intentional people, and we love vintage styles and unique clothes." With the help of the shop owner, Melissa, Shawna fell in love with a striking blue dress that she said suited her perfectly. "I am 42 and mother of two teens, no longer a princess but more like a queen," Shawna says. "Vintage is a great way to find something unique and environmentally friendly. It was the only dress I looked at — it fit me perfectly."
Lacey ended up going with a vintage black tux with a yellow shirt, pocket square to match and a black floral tie. "I wasn't sure what I would wear when we walked in. Once Shawna found her dress, our friend Melissa found the perfect vintage tux for me that would compliment her," Lacey says. "We are intentional people and we love vintage styles and unique clothes.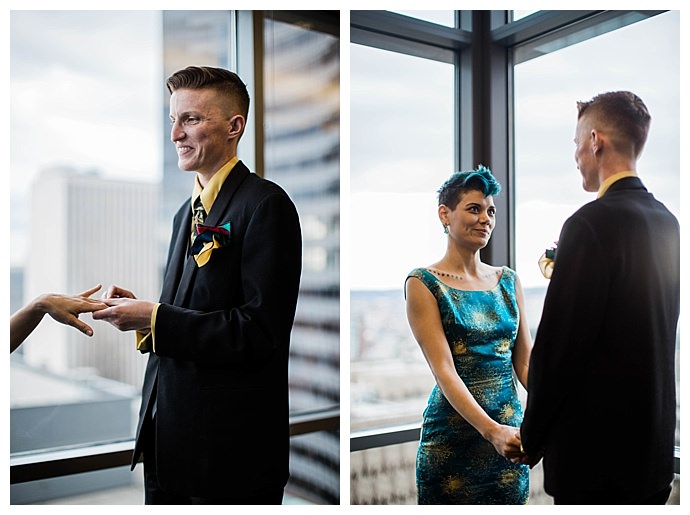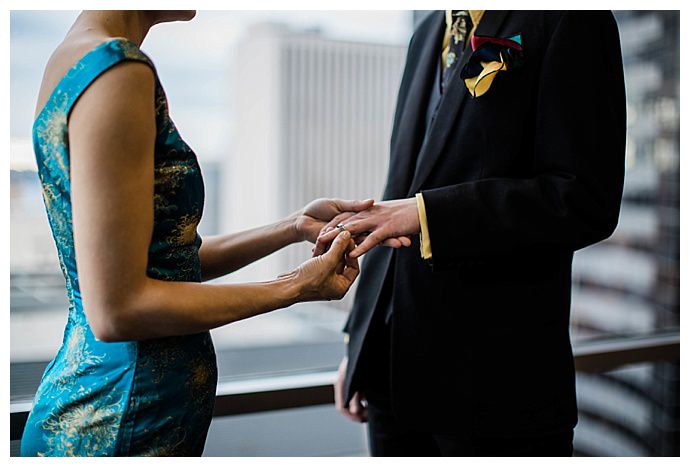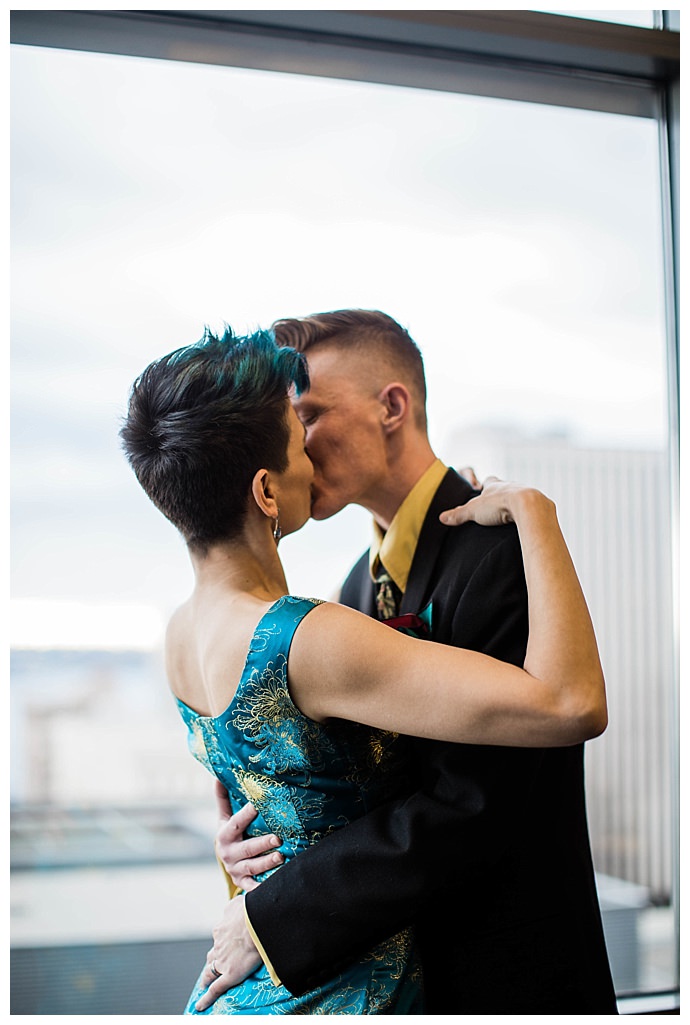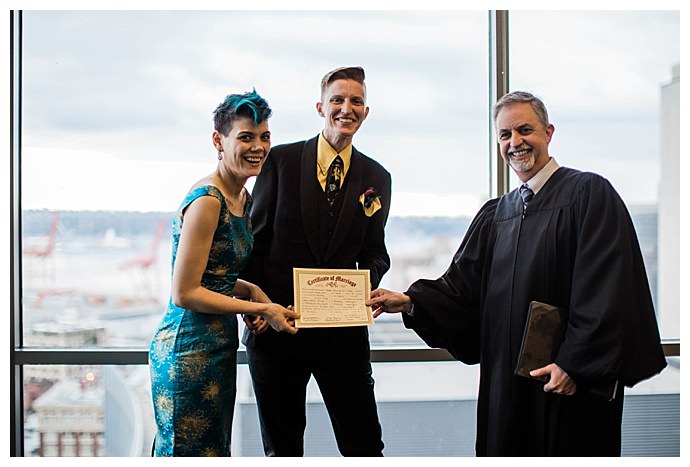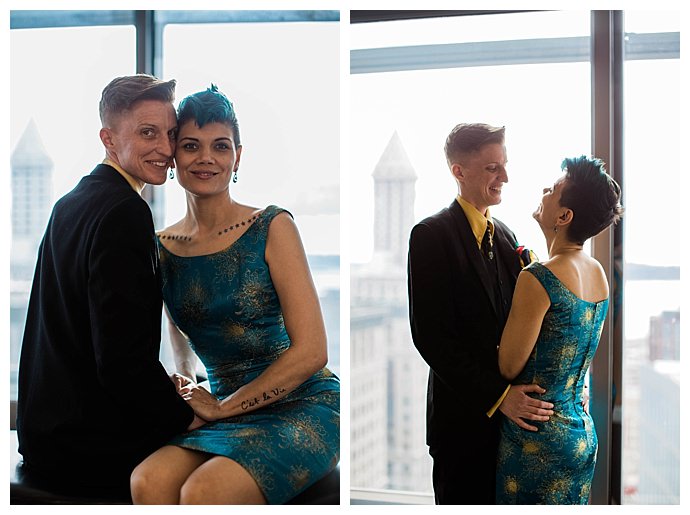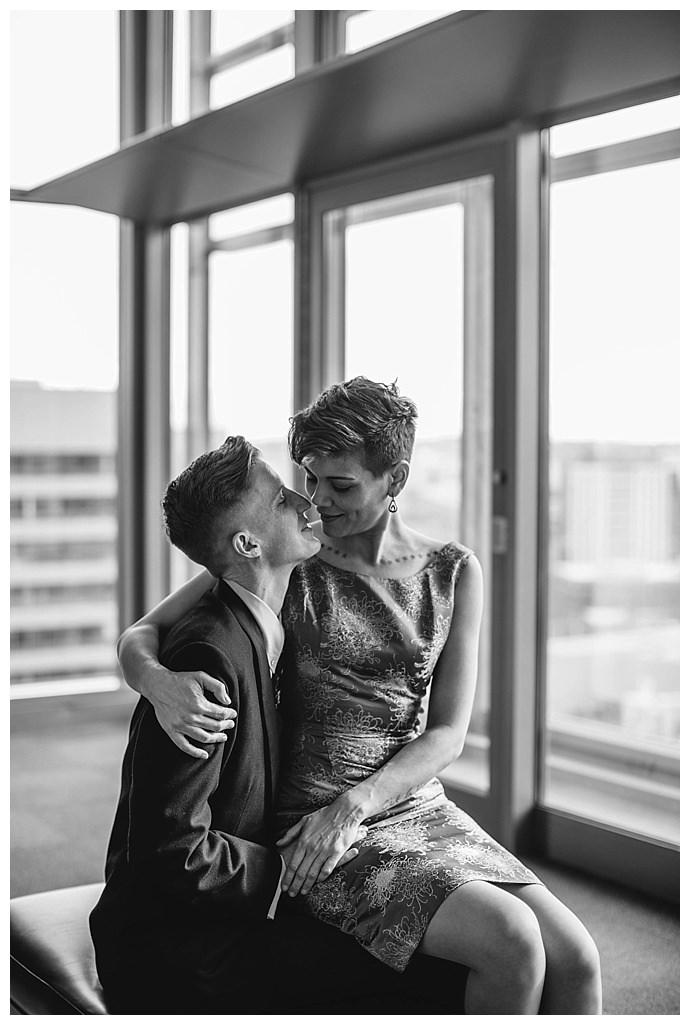 Memorable Moment
Looking back on their wedding day, Lacey says there were two moments that stood out to her the most. "One was knowing that I had the love and support of her kids," she says. "I would just take moments to glance over at them to see how they were enjoying themselves." And the other was simply getting to call Shawna her wife at the end of the night.

Submitted via Matchology
Written by: