For their Veterans Day wedding, Meg and Alicia ditched the frigid November New England weather and jetted off to Sarasota for a wedding underneath the warm Florida sun. They brought their family and friends along for the occasion along with Cat Pennenga Photography who captured the details of their day beautifully.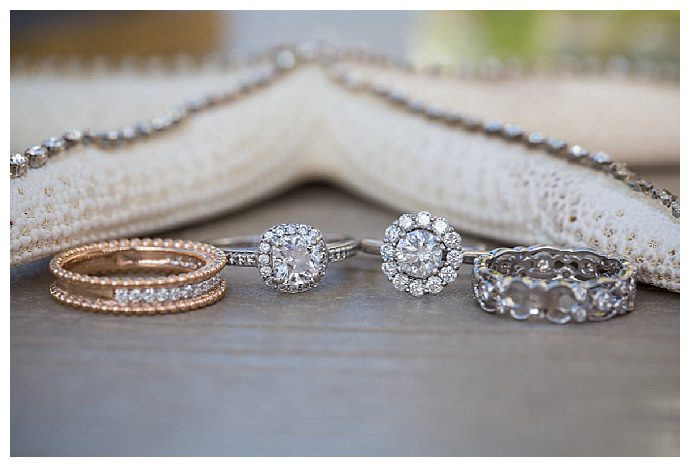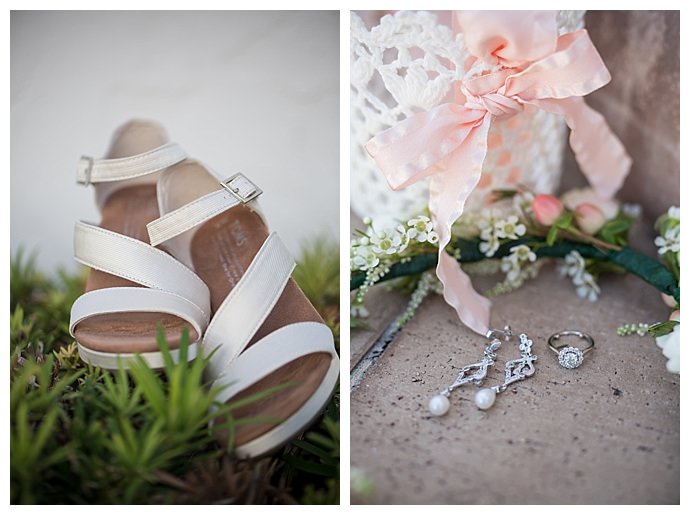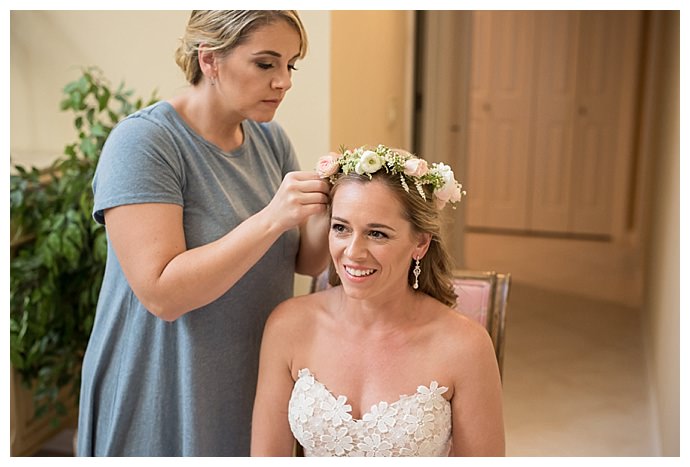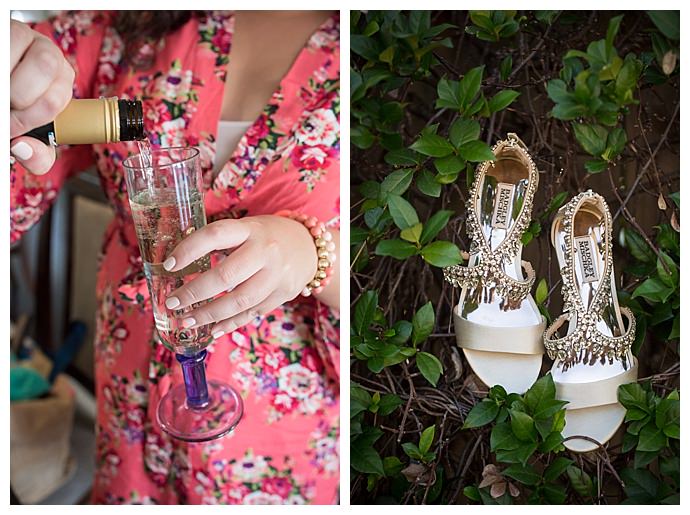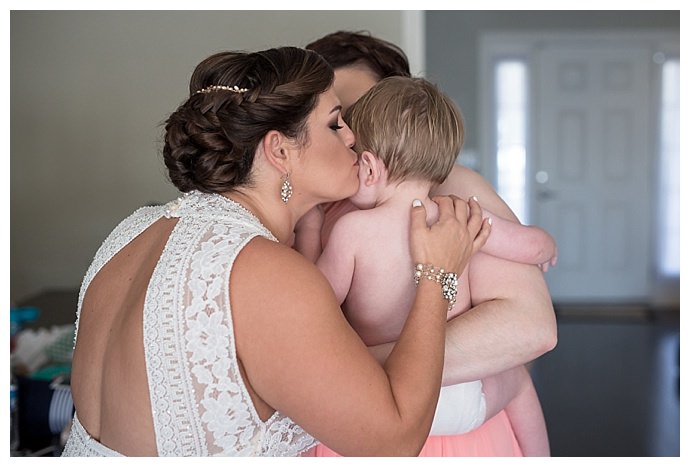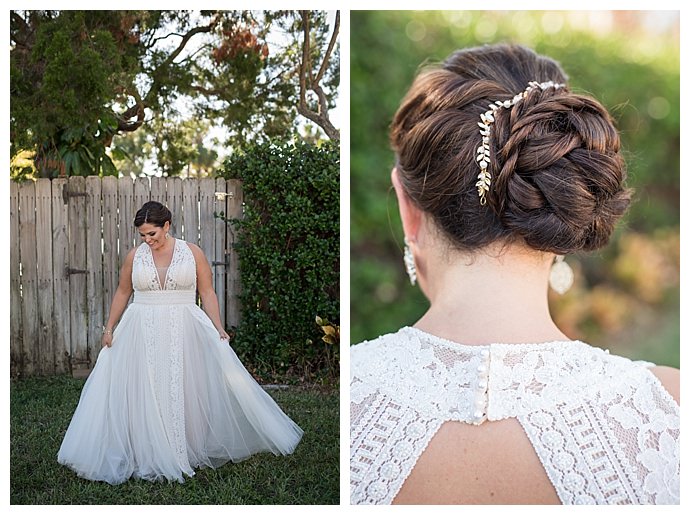 The Love Story
Both Meg and Alicia were ready to toss online dating to the curb when Meg decided to send one last message. Alicia happened to be on the other end, and from the very beginning, there was a spark. "Conversation flowed easily from the start," Meg says, "and we had our first date over dinner and drinks."
Dinner and drinks lead to many more dates, and soon Alicia had the surprise of a lifetime in store for Meg. It was Friday evening, and Meg had just gotten home from work. She walked inside to the sound of their song filling the house, and Alicia greeted her with champagne. After the ring was on, the brides-to-be walked outside to see an incredible double rainbow curving over their house. That night they went out to celebrate the engagement with Meg's family, but there was one more thing Meg had to do. "I immediately went out the next day and bought Alicia an engagement ring," she says. "I wanted her to have an engagement ring and enjoy the engagement process as well."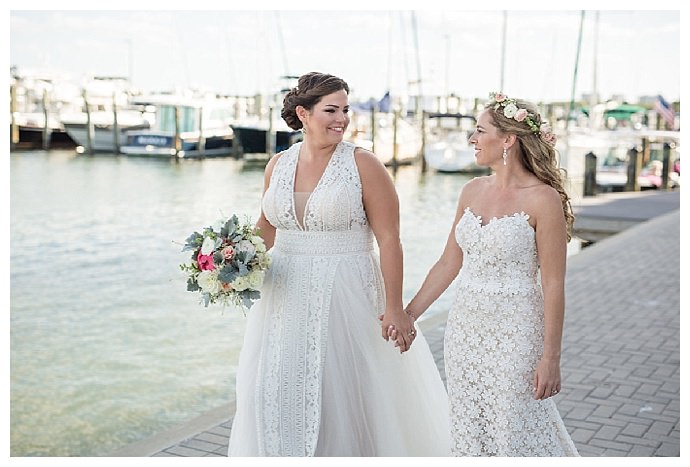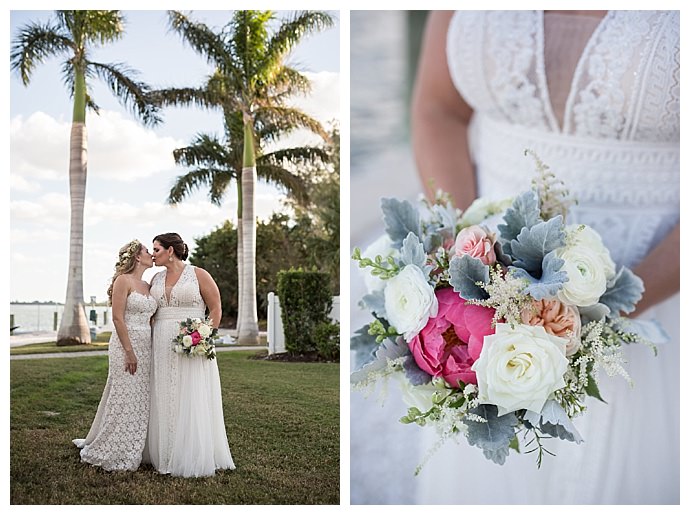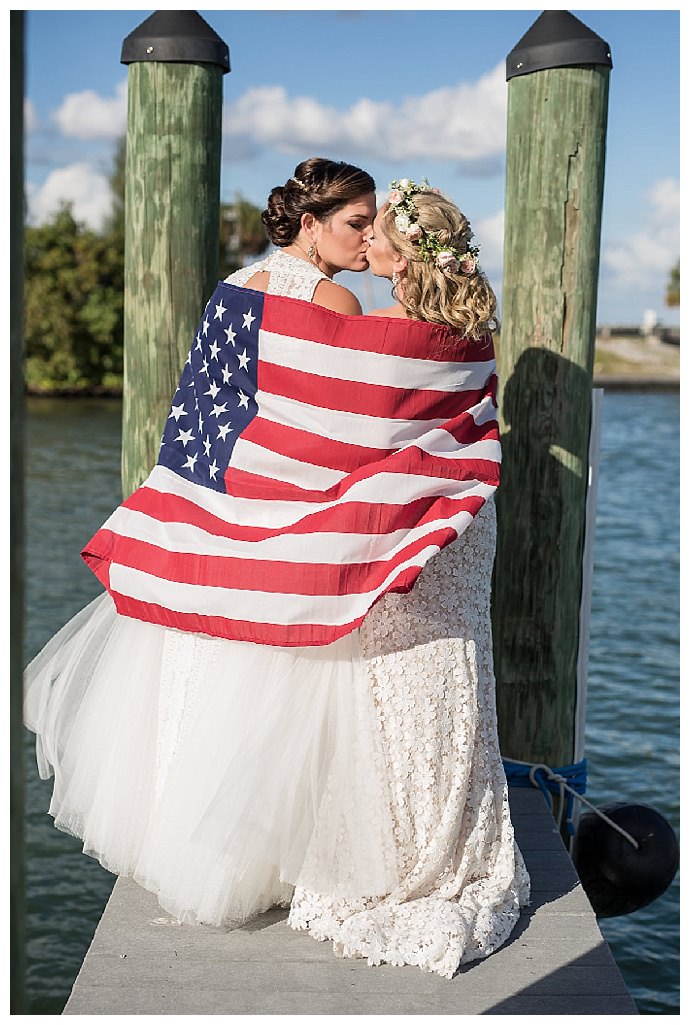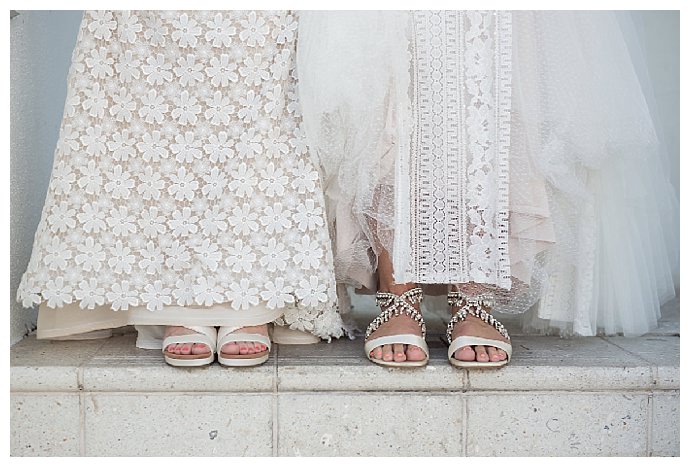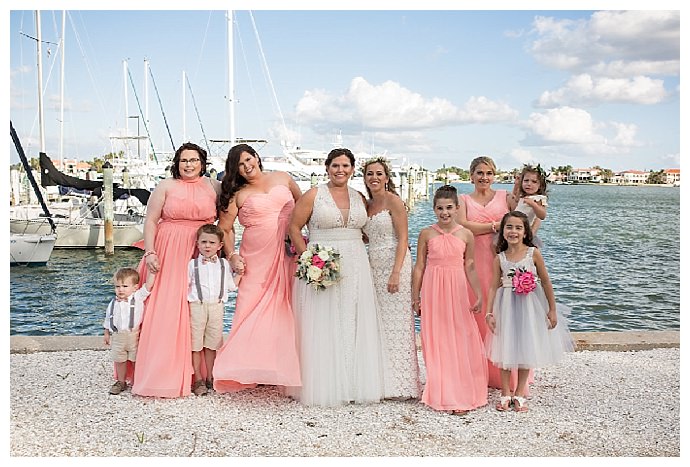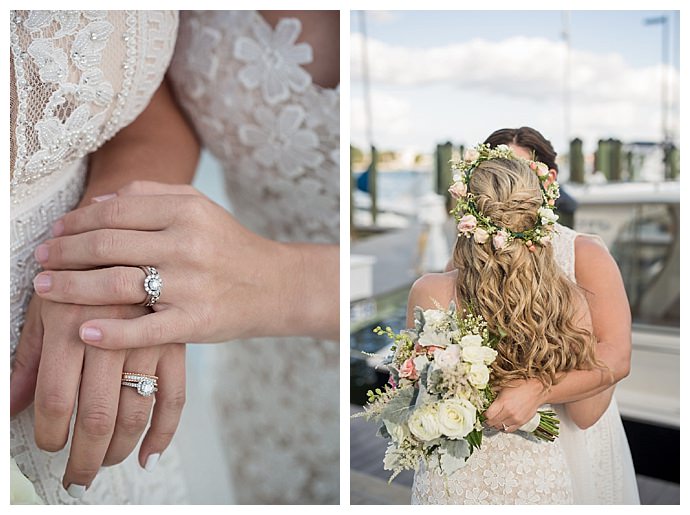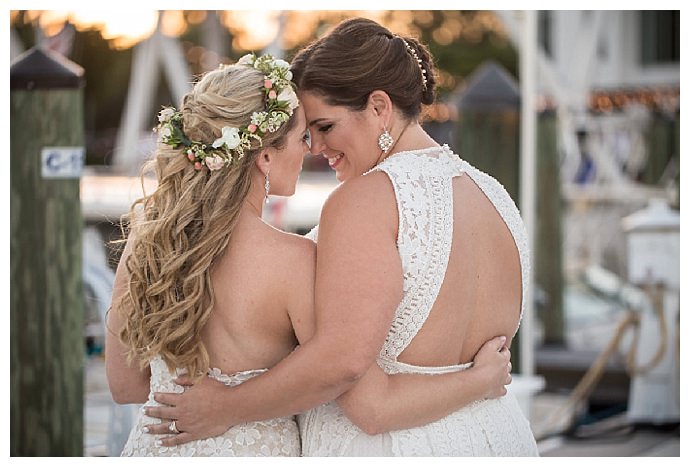 The Ceremony
Ever since Alicia was a little girl, she's been going to visit her family in Sarasota, Florida, and once her and Meg started dating, Meg joined in on the tradition as well. So when they began to talk about where to hold their wedding, it seemed like the perfect place. "We both have always dreamt of getting married somewhere warm and near the water," Meg says. "It's also a far cry from Massachusetts, and we wanted our guests to experience the magic and beauty of the area."
They fell in love with the Sarasota Yacht Club, where they could exchange vows on the docks with the water and boats in the marina behind them. As important as it was to them to find the perfect venue, the date they selected for their wedding day was also significant. "Alicia is active guard Army and is a veteran," Meg says. "We thought a Veterans Day wedding would be both fitting in honor of her and a great three-day weekend for people to make the trip!"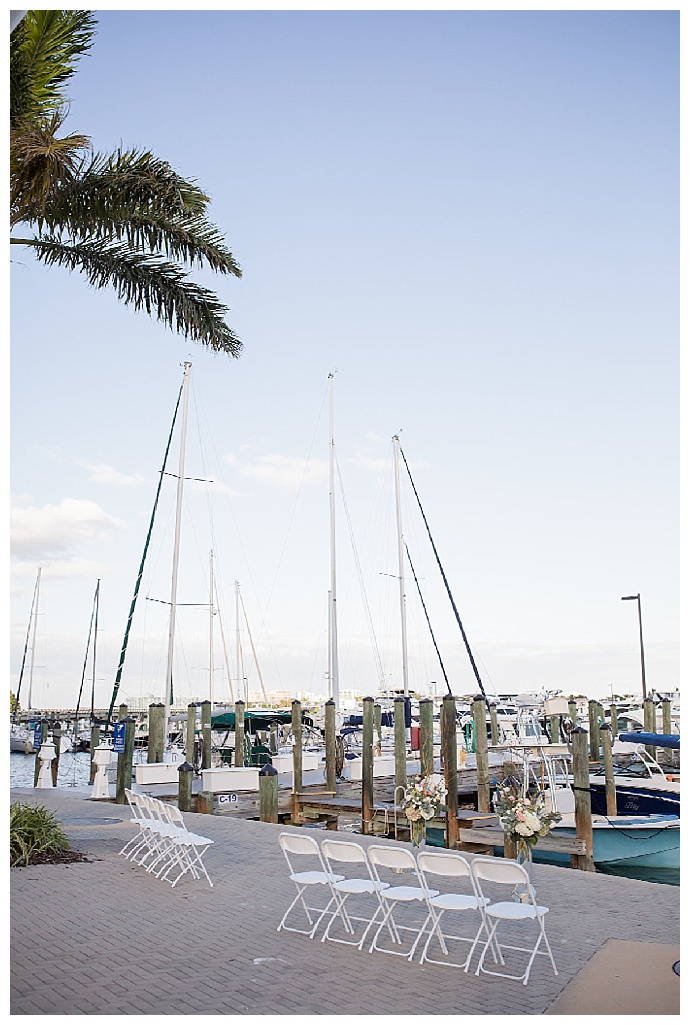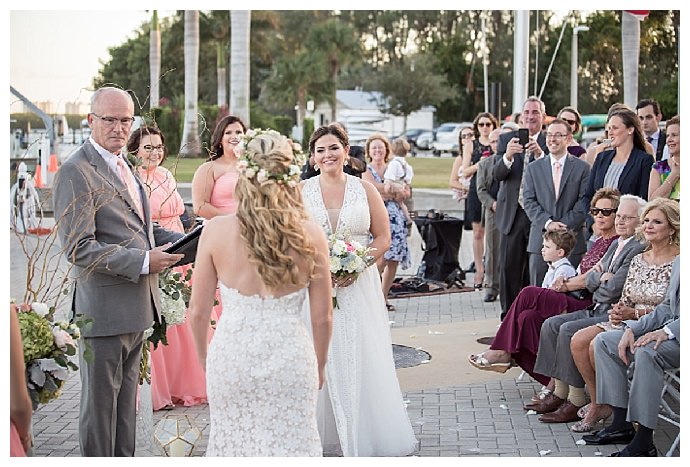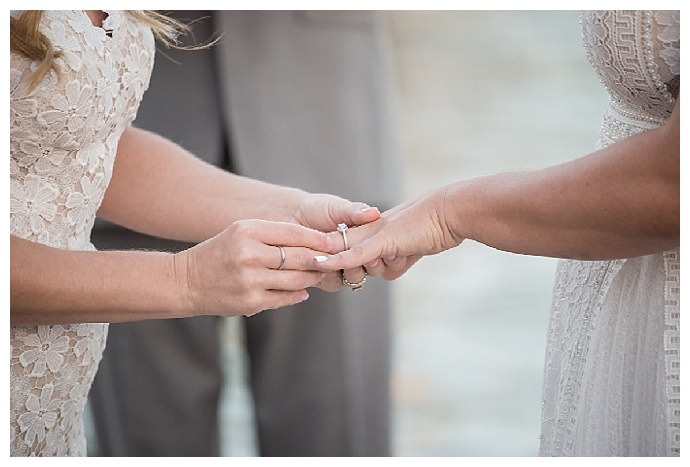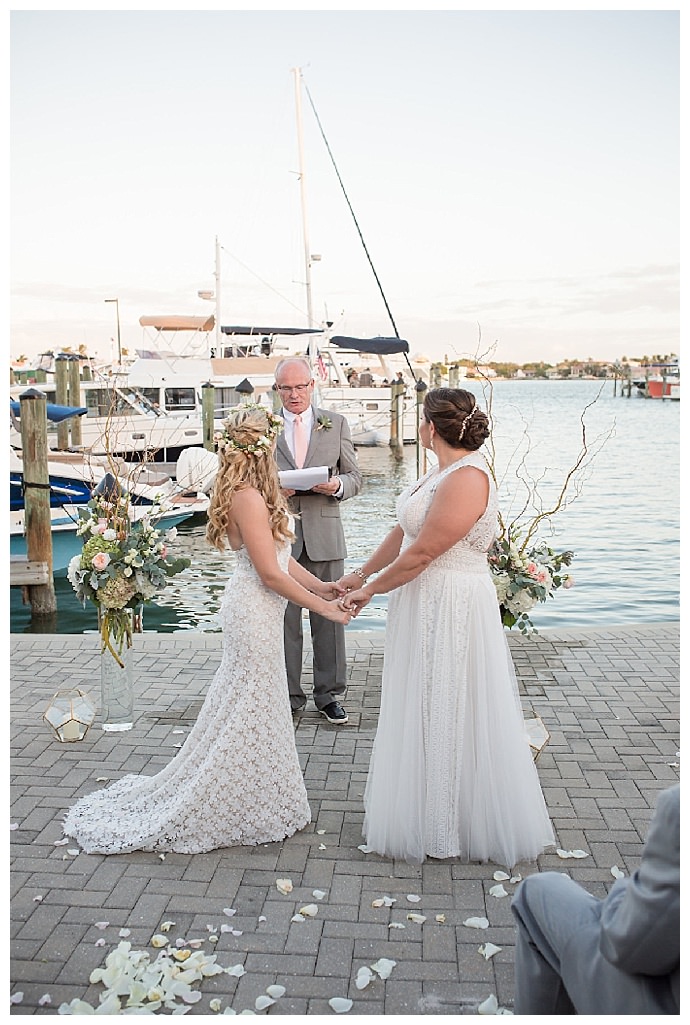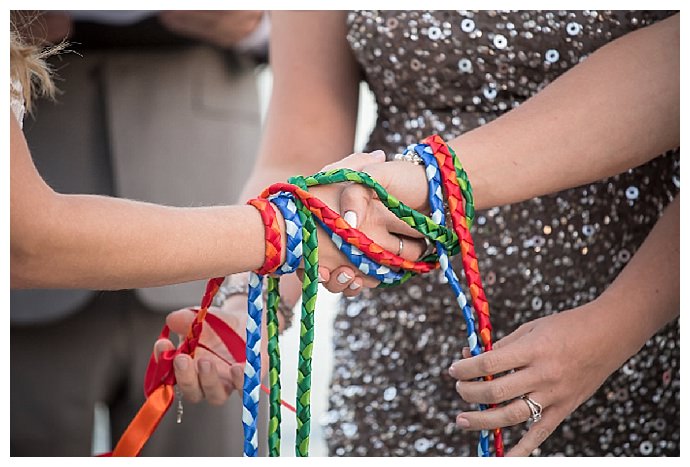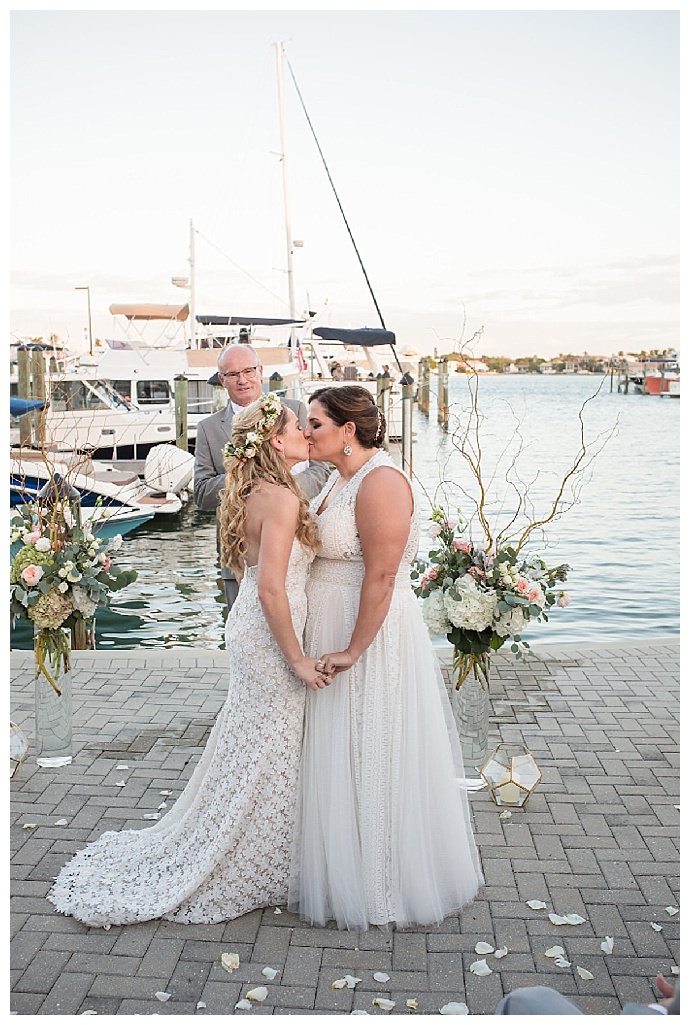 The Party
Creating a memorable experience for their guests who traveled a long way for their celebration was at the forefront of Meg and Alicia's minds as they planned their wedding. They immediately knew they wanted a live band to provide the ultimate entertainment that kept them on the dance floor with their friends and family all night long.
Inside the reception, a romantic peach and gold color palette was accented by incredible lush florals with coral peonies, garden roses, ranunculus and dusty miller. After dinner, the brides sprung for donuts instead of cake and then spent the rest of the night on the dance floor. "Our favorite part of the day was the reception and the band," Meg says. "We both hardly left the dance floor and had the time of our lives dancing with family and friends."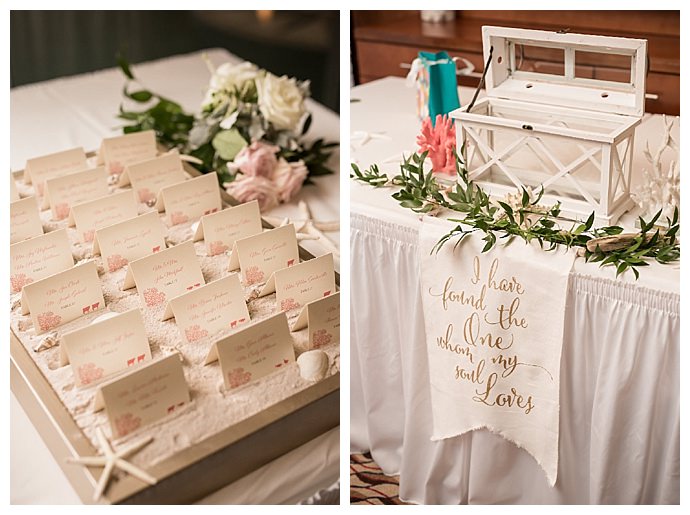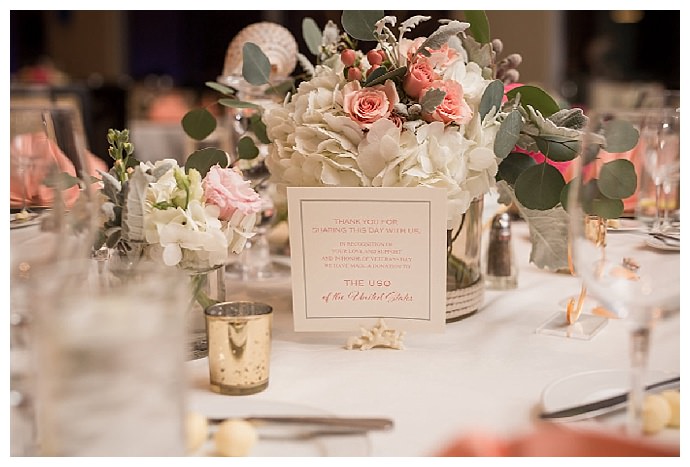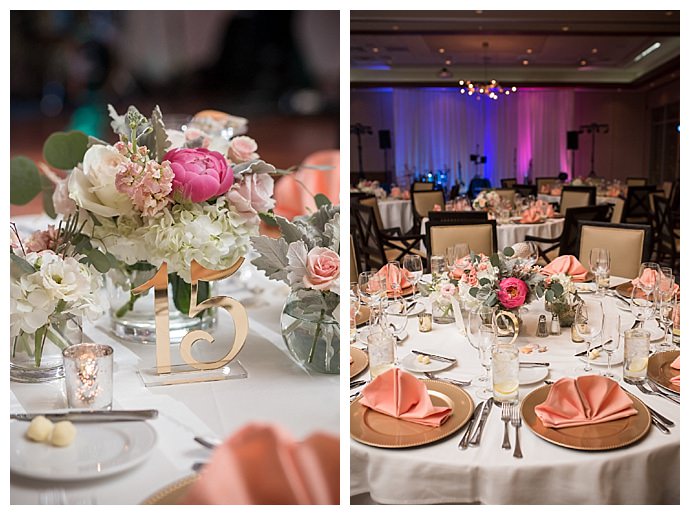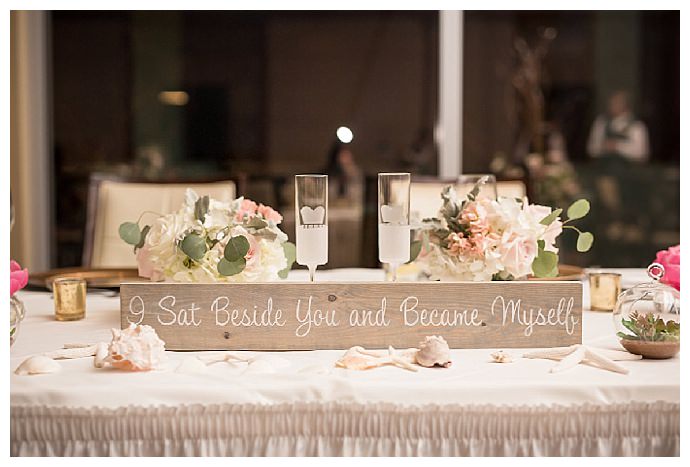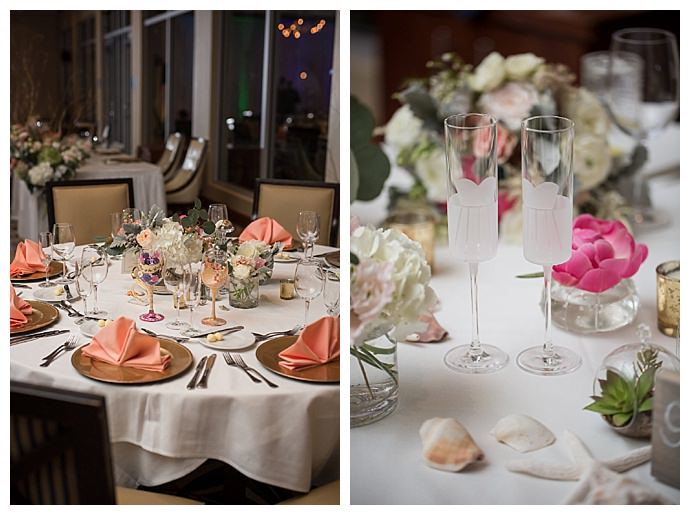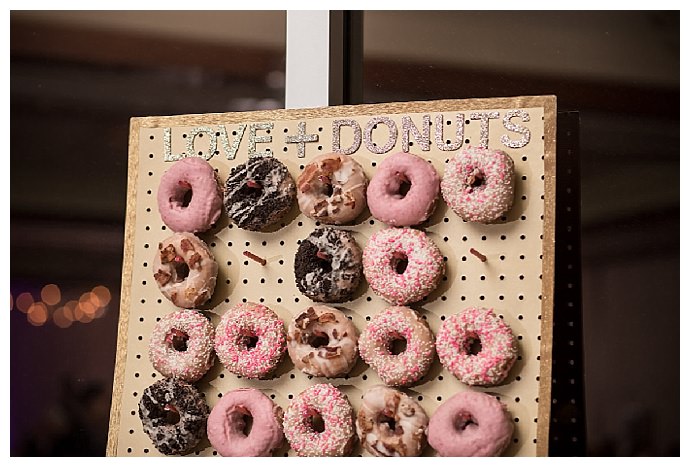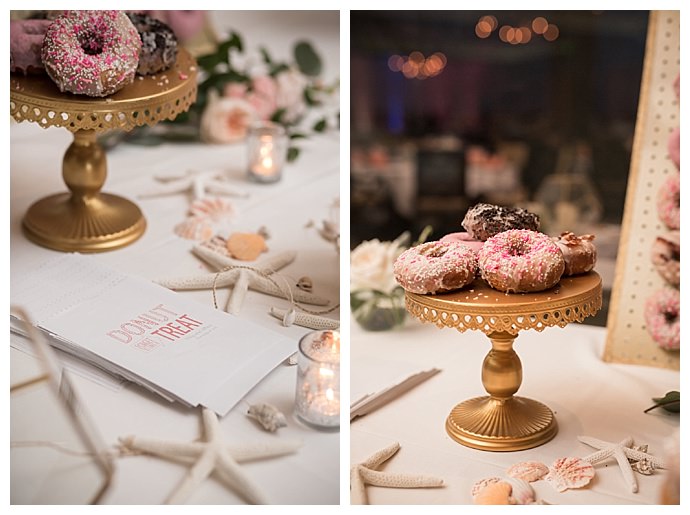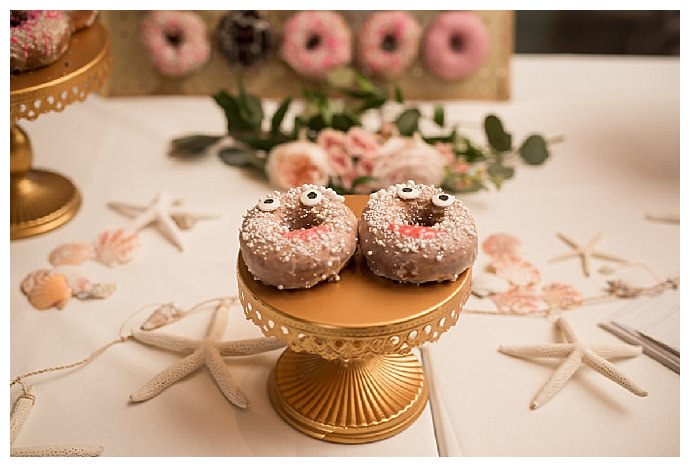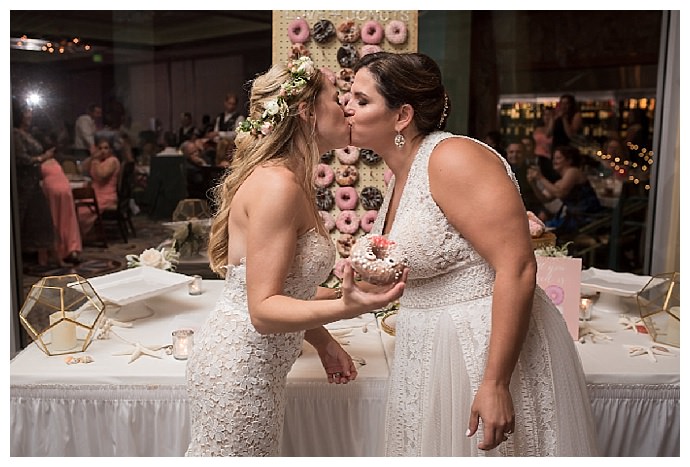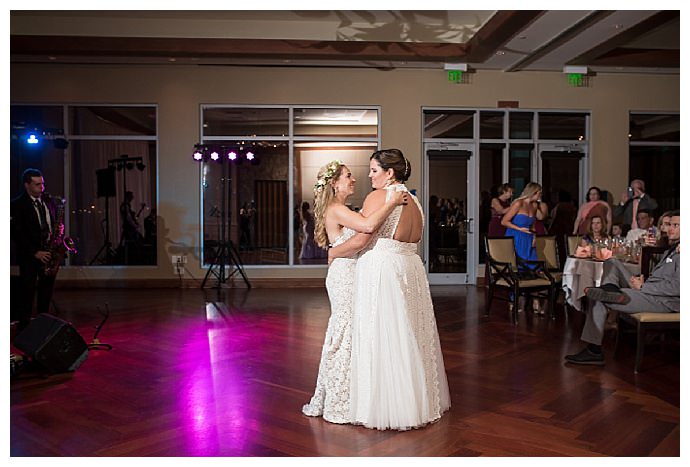 Memorable Moment
"We loved the Donut Truck!" Meg says. "We had a donut food truck come on site to make delicious hot donuts to serve to our guests. Alicia and I were able to sneak away for a fresh warm donut outside by the truck, and it was single-handedly the best donut we have ever had! It also was one of our favorite moments. We may have even had a few more later that night!"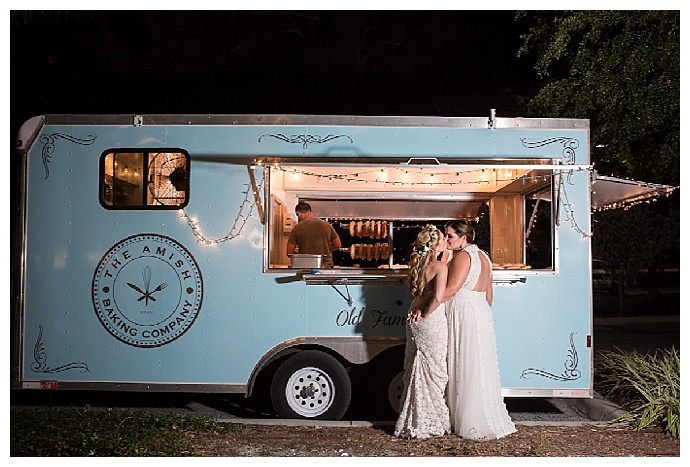 Submitted via Matchology
*Editor's Note: This post contains affiliate links. Each time you purchase an item via our affiliate links, Love Inc. is receiving a small percentage of the sale, thus you are helping our small, equality-minded business grow and allowing us to provide more content for YOU! Isn't that just fantastic?
Written By: