By Brittny Drye | Photography by Melissa Mercado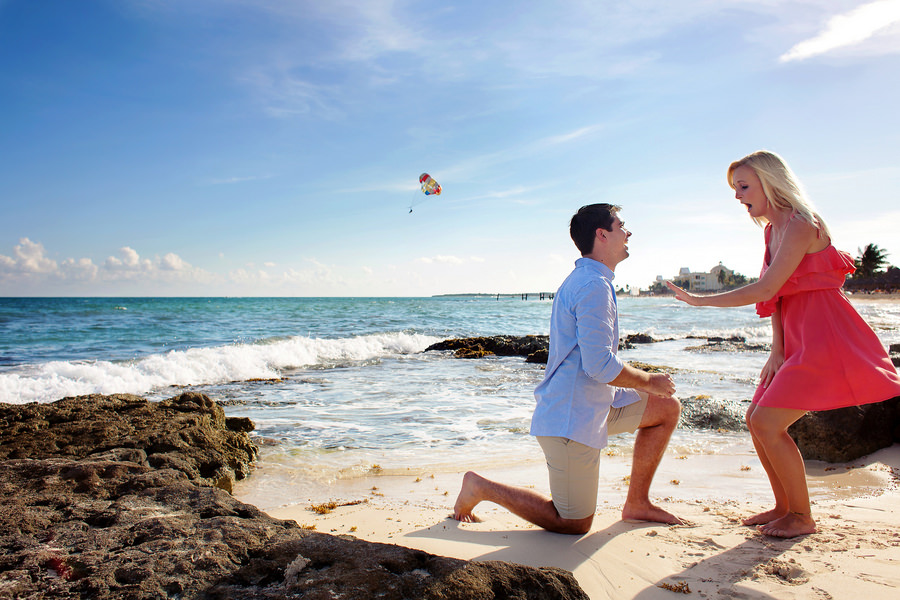 March 20 is National Proposal Day (my kind of holiday) and I'm so happy that we can share this amazing, emotion-filled proposal with you today. Ryan planned the perfect proposal in paradise and lucky for us Melissa Mercado was there to capture Meagen's amazing reaction.
After Ryan popped the question, they popped the bubbly and had an impromptu engagement session right on the beach, complete with a color-filled sunset and their post-engagement glow.
The Love Story
Meeting through mutual friends in college, Meagen found herself questioning during their three years together not if he could be The One but how could he not be The One? "From the very beginning of our relationship we just knew we found each other to conquer life with and it was only a matter of time before those four little words made it official," explains Meagen.
The Engagement
Ryan surprised Meagen with a trip and it wasn't until she boarded the plane that she find out they were headed to Puerto Morelos, Mexico. On their second day in paradise, Ryan suggested they take photos on the beach with a professional so they could remember their first international trip. "After the first couple snaps, I turned around and he was on one knee! My heart dropped and mind went blank as I gazed into his eyes promising me forever. When I finally looked at the dazzling ring on my finger, I couldn't help but be in complete shock," exclaims Meagen. "I have been dreaming about my engagement ring for as long as I can remember, so when I saw what he chose, my jaw automatically hit the floor. I couldn't formulate a sentence at that time, and still at this moment I can't … it literally takes my words and breath away."
The two celebrated with an impromptu engagement session with Melissa capturing their raw, post-engagement glow. They then ended the best day ever with a romantic, private four-course meal on the beach. "It was such a blissful setting with the waves crashing and us being the only two on the whole beachfront to share our excitement and soak up the best night of our lives with, hand-in-hand as a newly engaged couple."
And the surprises didn't stop there. "When we came back to the U.S., we walked off the plane and into a surprise engagement party planned by Ryan so we could celebrate with our loved ones!"
The Ring
Meagen's three-stone diamond setting features a round-cut center diamond with princess halo flanked by two other diamonds. The band is embellished with more than 70 other small diamonds (!!!) creating a swirling detail that resembled Cinderella's carriage. "My favorite Disney princess and probably life inspiration," Meagen adds. It's truly a ring that's princess-worthy. 
Memorable Moment
The most memorable part of the proposal was the moment he got down on one knee and peered up at me. The look on his face, the utter sincerity and pure look of enduring love is something I will never forget.
Wedding Date: April 9, 2016