By Brittny Drye | Photography by Mathew Irving Photography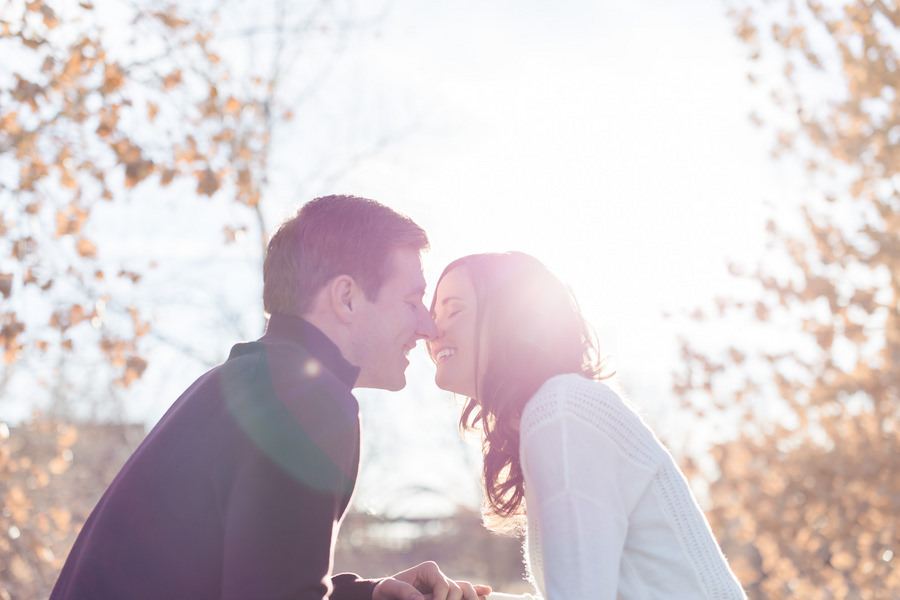 This cute Colorado couple headed to downtown Denver for their engagement session with Mathew Irving Photography. Their love shined bright as Christie and Chase shared skyline kisses, a couple of pints at their favorite bar and handheld strolls through the downtown area (complete with Broncos gear!). "We both loved the idea of a downtown Denver photo shoot to capture some of the iconic locations throughout the city," says Christie. "We already had the wedding venue set in the mountains so we were able to get the best of both worlds."
The Love Story
The initial flirtation began from afar. Chase was partying on his friend's rooftop when he spied Christie and her friends walking on the streets below. Calling out to them, he encouraged them to join the party. "I started heckling and they passed by without even a look," grins the groom. "About five minutes later, I looked down to the courtyard and what would you know, they were there. My plan had worked!"
"My friend and I decided to go a party our friend Kevin was having in downtown Denver. As we approached the townhome, this guy from the rooftop starting yelling at us to come party. We didn't know who he was so we decided to ignore him. After we got to the party, we were talking to the host in the courtyard and we heard that guy yell 'It worked! You guys really came!'" laughs Christie. "We kindly informed him that we knew the host and didn't come to the party for him. He ended up coming down from the rooftop and we talked for a long time. We actually had a lot in common and really clicked right from the start."
The Proposal
"It wasn't hard deciding how I was going to propose. We both had some 14ers under our belt and it was something Christie really loved to do, so I had to ask her on top of the world," says Chase. The avid hikers set out on their 14er (hiking above 14,000 feet of elevation) in the early morning hours hoping to catch the sunrise. "We didn't quite make it to the top in time for the sunrise so we stopped to take some pictures," explains Christie. "As soon as we got to the peak he grabbed my hand and spun me around. He dropped to a knee and asked me to marry him. He said some other things before the big question but I don't know what he said, I was too busy thinking 'Oh my gosh, this is really happening!'"
The Ring
Christie's beautiful three-stone ring features a cushion cut center diamond flanked with pear-shaped diamonds. The platinum band boasts smaller diamonds, giving it extra sparkle. 
Memorable Moment
Chase: Trying to get the ring on her finger that was swollen from the hike.
Christie: Enjoying the beautiful sunrise and scenery on the top of the mountain with my new fiancé.
Wedding Date: September 26, 2015