On the east shore of Lake Tahoe, across the state line and opposite the lake from where they'll tie the knot at the Gatekeeper's Museum next summer, Mandy Ford Photography captured Trevor and Maura's gorgeous engagement photos just as the sun was setting. They walked hand in hand along the sandy beach as orange slowly consumed the sky above the lake. With a magical backdrop, easy smiles and plenty of laughter, this sweet engagement session is one of our favorites.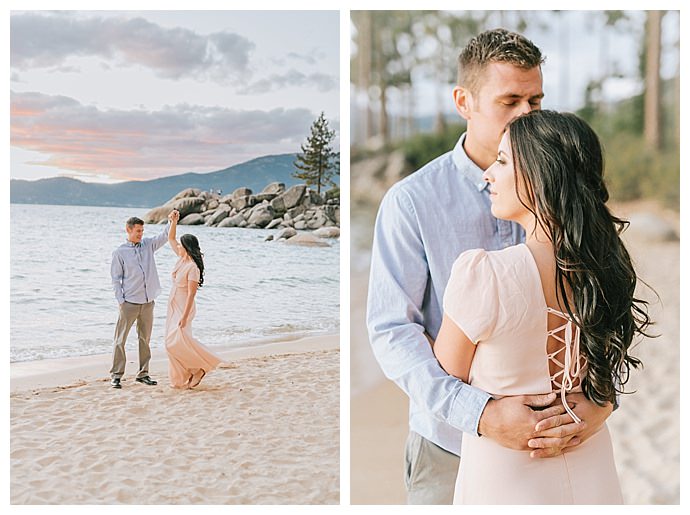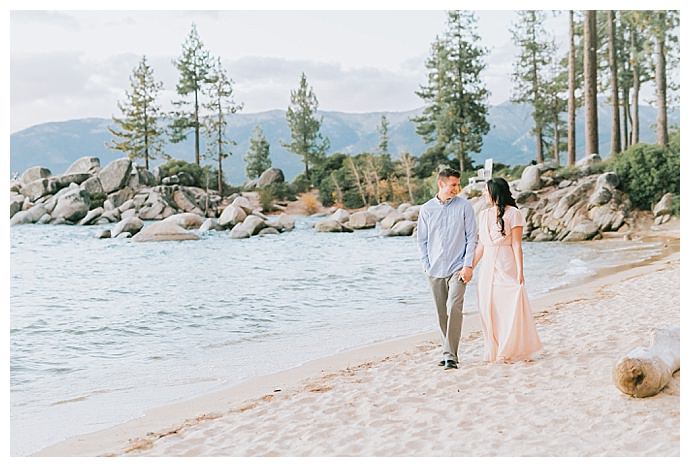 The Love Story
When Trevor and Maura first met at a mutual friend's game night, they bonded over their love for the outdoors and spent most of the evening talking about Maura's recent backpacking trip. Maura admits that she was surprised when Trevor asked her out after game night, but she said yes anyway. "Our first date was a ton of fun," Maura says. "The conversation felt effortless and comfortable — the rest is history."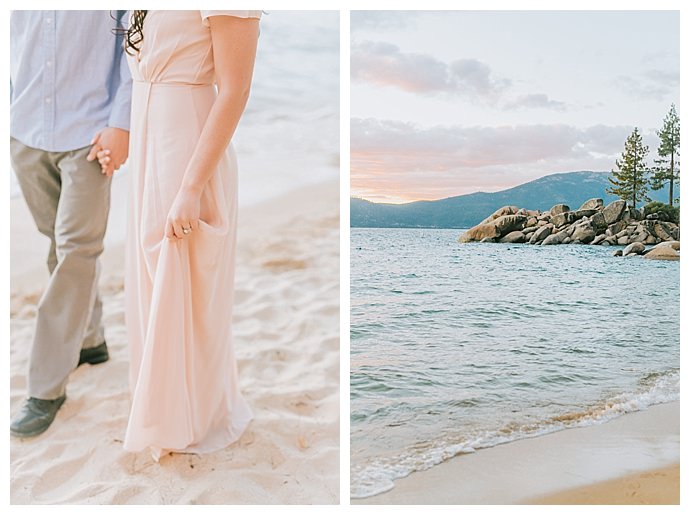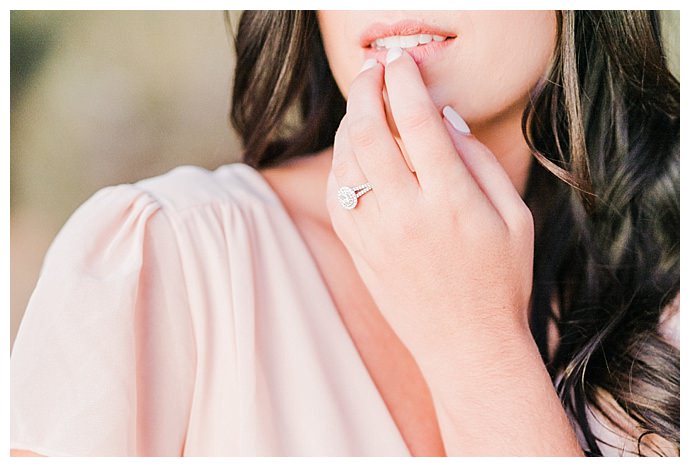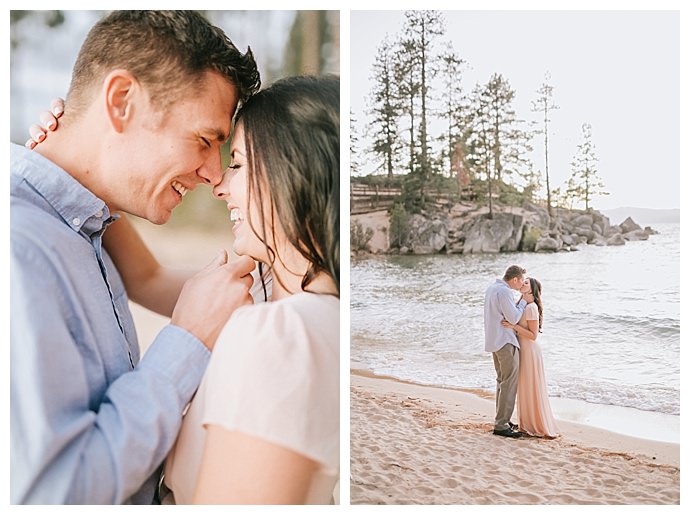 The Proposal
Trevor and Maura were on vacation in Bali and had just spent the day exploring the island's beaches and local temples and even made a few monkey friends along the way. "When we got back to our villa, Trevor said he would return the scooter while I rested," Maura says. "He was gone for a long time, but I didn't think much of it. Little did I know, my life was about to change forever." When Trevor returned, he suggested they take a walk down to the secluded beach that accompanied their private villa. "It was just before sunset and absolutely gorgeous," Maura says, remembering that the glow of the sunset against the water created the perfect conditions for a romantic swim. But when she asked Trevor if he wanted to get in the water, he suggested they spend some more time taking in the view. She had no idea he had a ring hiding in his pocket.
Only a few moments later, Trevor turned to Maura and said, "The real reason I wanted to bring you here is because I love you so much and want to know if you'll spend forever with me." Trevor then dropped to a knee, pulled out the ring and asked Maura to marry him. After Maura said yes, Trevor revealed he arranged for a photographer to capture that very special moment. "He congratulated us and presented us with a bottle of wine," Maura says. "We toasted to our future and enjoyed our wine and the beautiful Bali sunset. It will forever be one of the best nights of my life."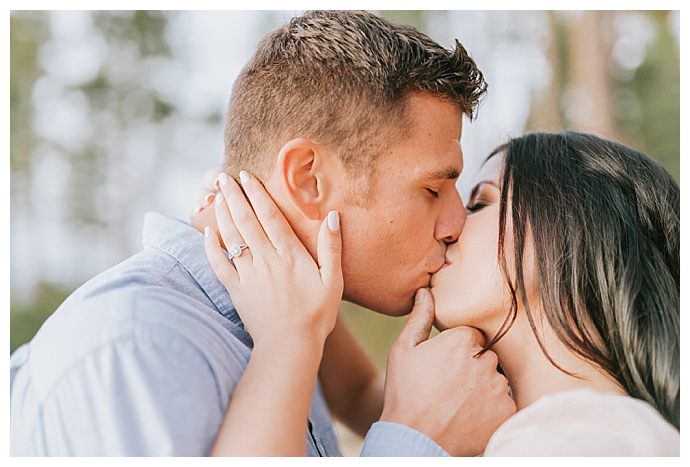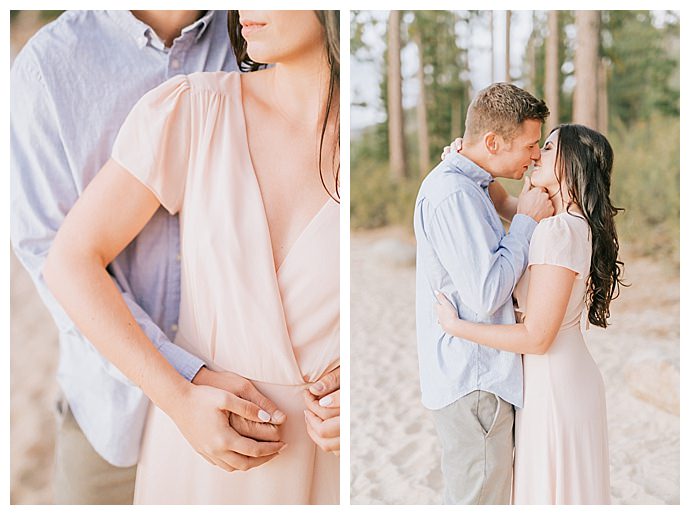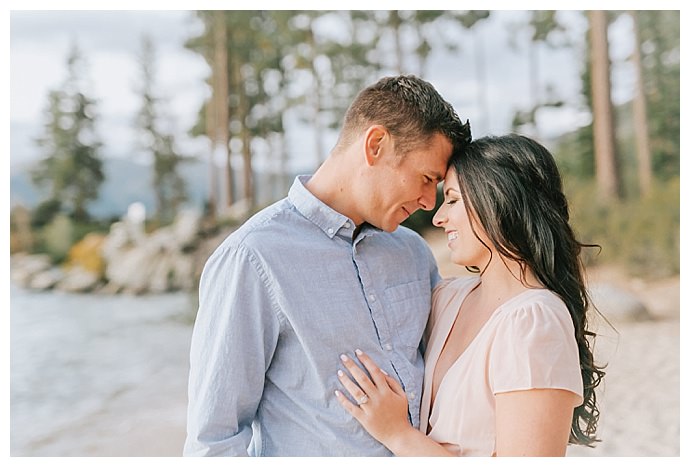 The Ring
Maura's gorgeous ring was designed by Kenny G & Company Fine Jewelers and has an oval center stone that is surrounded by a double halo in a split shank setting. "It has a classic look, and I love it," Maura says. "Trevor did a wonderful job picking it out with my best friend and maid of honor."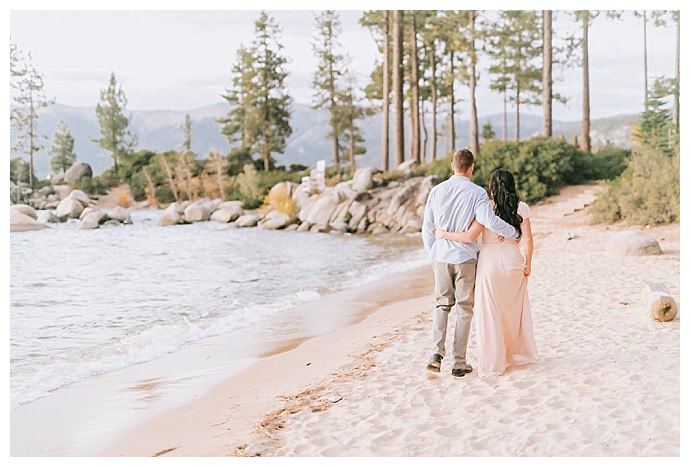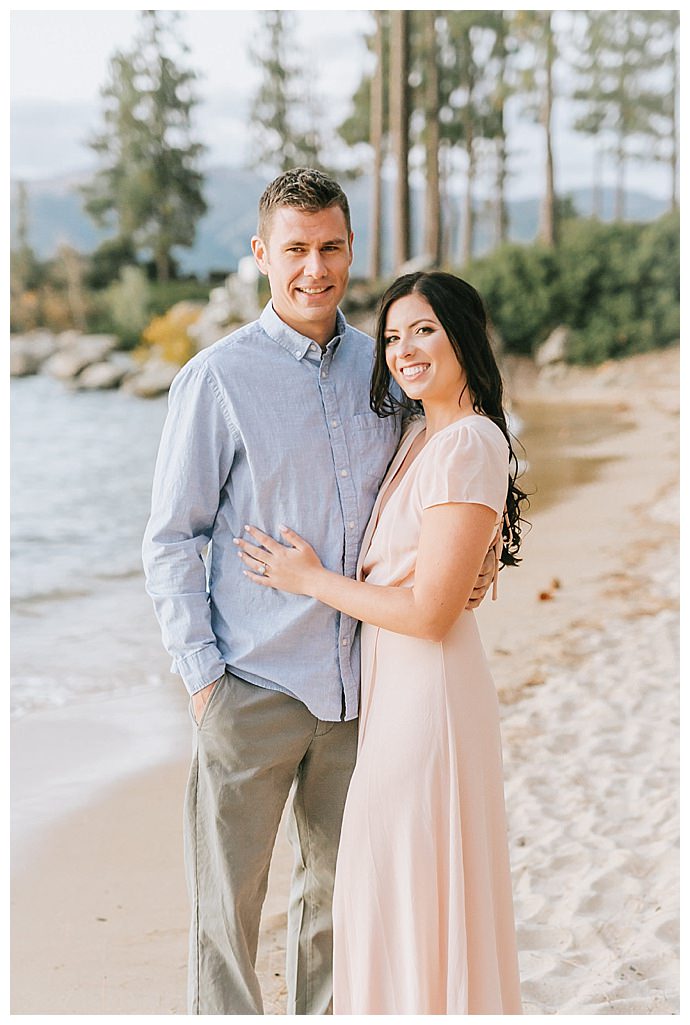 *Editor's Note: This post contains affiliate links. Each time you purchase an item via our affiliate links, Love Inc. is receiving a small percentage of the sale, thus you are helping our small, equality-minded business grow and allowing us to provide more content for YOU! Isn't that just fantastic?