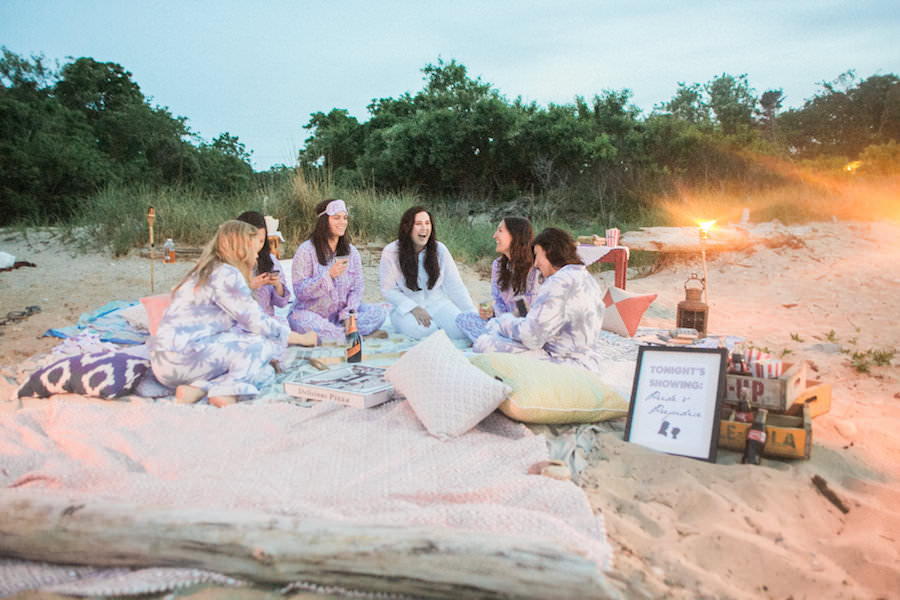 Not all of us are the bar-hopping, boa-wearing, shot-taking types when it comes to bachelor/ette parties (not that there's anything wrong with that!). Our V4 issue went in-depth on making sure the pre-wedding parties reflected the personality of the VIP (flip to page 21!), so I wanted to take the opportunity to share my own bachelorette party, which was nothing short of magical. My maid of honor, Krista, produced a movie-on-the-beach experience in the Hamptons, filled with details that were very Brittny-esque, from my favorite Champagne to matching "cozies" (a term I endearingly use for my fiance and I's pajamas) and my favorite flick on the big screen ("Pride and Prejudice" FTW).
Vintage props from Octavia & Brown helped set the enchanting scene, while Hamptons-based Movies in the Moonlight provided the portable cinema (which you can also DIY yourself if you don't have a vendor in your area). Roey Mizrahi Events helped pull the entire event together that was flawlessly captured by Christina Zen Photography. A beachy color palette was created by simply layering blankets, held down by what the girls found around the beach — driftwood, shells and rocks. Vintage boxes, baskets and tables were used to create the multiple stations for popcorn, candy and drinks (how adorable are those "Soulmate" Coca-Colas?). And of course, what's a bachelorette party without a drinking game? Roey made chic "Pride and Prejudice Principles" signage that had us sipping Champagne every time there was a marriage proposal, whenever there was dancing or when someone curtsied (plus many, many more instances to look out for!). I'll be sharing the rules they came up with next week, as well as a FREE printable download of our signage for you to use for your own movie night!
To my amazing friends … I can't begin to describe how unbelievably loved I felt that day and the entire weekend. You blew me away with the festivities that you planned, all of which went above and beyond anything I could ever dream. I'm so blessed to have you in my life and don't know what I did to deserve to call you my best friends. Thank you for knowing me so well that even the smallest details were done with intention. Thank you for loving me so much to take time away from your incredibly busy schedules to plan this for me, I'm in complete awe of your capabilities. Thank you for memories that I will hold dear to my heart for the rest of my life. Just, thank you. I love you so much.
*Editor's Note: This post contains affiliate links. Each time you purchase an item via our affiliate links, Love Inc. is receiving a small percentage of the sale, thus you are helping our small, equality-minded business grow and allowing us to provide more content for YOU! Isn't that just fantastic?