By Kaitlynn Moquet | Photography by Christina Karst Photography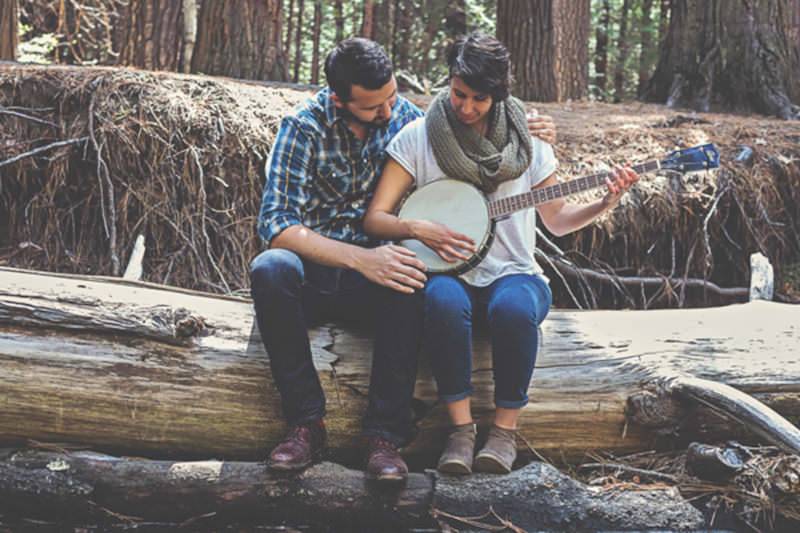 Lauren and Corey's love story began at Disneyland where they had their first date, so it was only fitting that their engagement story also had a little magic involved (spoiler alert: it's one of the most unique proposals we've ever heard!).
For their engagement session, they made a trip to Yosemite to visit their dear friend and photographer, Christina Karst. Of course being able to visit a friend is always an upside of making a trip but as Corey says, "It's Yosemite! It is the absolute perfect place to have an engagement shoot. We couldn't pass up the opportunity."
Under towering redwoods, their personalities and love positively glowed through Christina's lens. Vintagey props that give nod to their rad style, such as old books, a banjo and a pipe, paired with Christina's unique angles make this a truly magical engagement session.
The Love Story
Lauren and Corey first met while sipping wine amongst their friends. The conversation the couple had and the laughs that they shared that evening left a lasting impression on each of them that bloomed into happily ever after.
Lauren knew early on that this relationship was the real deal and smiles as she remembered the exact moment when she knew that Corey was the one for her … "When he held my hand at Disneyland on our first date."
The Proposal
On November 24, 2013 Lauren and Corey headed over to the nightclub Magic Castle in Hollywood for a night of entertainment with friends. Although Lauren knew she was in for an evening of magical fun, there was no way she could have ever predicted just how special this time would be.
Lauren remembers how cool it was that, for once, the the magicians decided to perform at their table. Lauren quickly became captivated with the transformative tricks and in no time, she was being asked if she could be photographed for a magic feature in an upcoming newsletter for the venue.
"There are no pictures allowed in the Castle except for when the photographer is taking them," Lauren recalls. "And a magician asked if they could do a magic trick and take photos for their newsletter, which I'm not sure even exists!"
During the magician's second act, Lauren was asked to lay her left hand flat on the table and say some magic words. Although Lauren to this day cannot remember exactly what she said to make this truly magical moment happen, the next thing she saw was a ring falling into her palm from one of the dollar bills the magician was holding and her sweetie dropping to one knee to ask for her hand in marriage.
Lauren was in complete shock upon seeing the ring in her hand but remembers thinking, "YES!!!! FINALLY! THIS IS AMAZING! MAGIC!"
The Ring
"My ring is extremely special," Lauren says. "Corey helped design it so it is a one of a kind."
Lauren's vintage-style engagement ring has filigree throughout and is lined with small triangles of four diamonds on each side. To balance out the sharp triangle edges, the top of the ring is composed of tiny diamonds in a circle shape which surround a larger circular stone that sits in the center of the breathtaking jewel.
Wedding Date: August 16, 2014