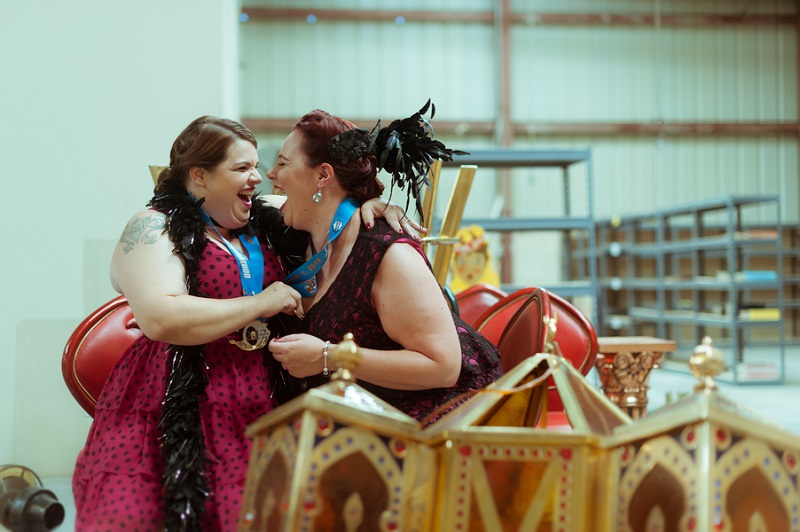 Falling in love is one of the most magical human experiences. It's also one of the scariest. Opening your heart completely to another person makes you extremely vulnerable, but also magnifies how truly special it is. "I actually wrestled with the relationship for quite a while, I wasn't sure I wanted to be in another romantic relationship in my life again," admits Di. "I was afraid of loss. I was bitter about relationships. I remember telling one of my friends I was nervous about it all, and she pointed out that I'd likely feel regret for the rest of my life if I didn't just try it. I consciously made a decision in my mind and my heart that I wasn't going to be ruled by fear, that I was going to embrace this, and it was like everything clicked. It felt like I'd known she was The One forever, and I'd just been waiting for that moment when I admitted it and embraced it."
Di and Julie met online through a storytelling/gaming group. "It sounds so ridiculous, but it's certainly a sign that we're both geeks," laughs Julie. Their friendship slowly progressed from online to the phone and then, finally, in person. "From the very first moment of meeting Diana in person, there was a deep connection."
[raw]
[/raw]
"We'd talked online and on the phone and I knew we were the sort of people to be good friends, but when we met there was a very real moment of feeling like I'd known her forever. We were both in other relationships then and I thought of it as just a very deep and special friendship, but I also knew pretty early on that I pictured her in my future, always," adds Di.
For their engagement shoot, captured by the talented Ron Dillon, they chose an antique warehouse to tell their love story. "The venue was full of interesting and unique items to take photos among, and we really feel as though our personalities came through," says Julie.
[raw]
[/raw]
The Engagement
Knowing Diana was up to something, Julie pressed her for information to which she admitted she had been planning something. "As we travel together a lot, I just assumed it was some fantastic trip somewhere, so there was quite a bit of surprise when she grinned a bit and told me she wanted to take me to Venice and have a wedding ceremony there. I did, of course, say yes, and we have been planning it together happily ever since."
"The whole issue of gay marriage is such a political storm that we didn't really address, so when it came to her actually wanting to face that storm together, I was pretty floored in the most wonderful way possible," adds Julie.
[raw]
[/raw]
The Rings
"The rings we got for the engagement shoot are actually costume jewelry. We are so indecisive about the bands we want to wear and have been trying a few things out before settling on something in March, but we wanted to have something that symbolized the whole Carnival-of-Venice thing, the romance of costumes and masked balls. We're still looking for the perfect rings and bands, the ones that we know we'll stick with forever," says Di.
The Wedding Date: March 3, 2014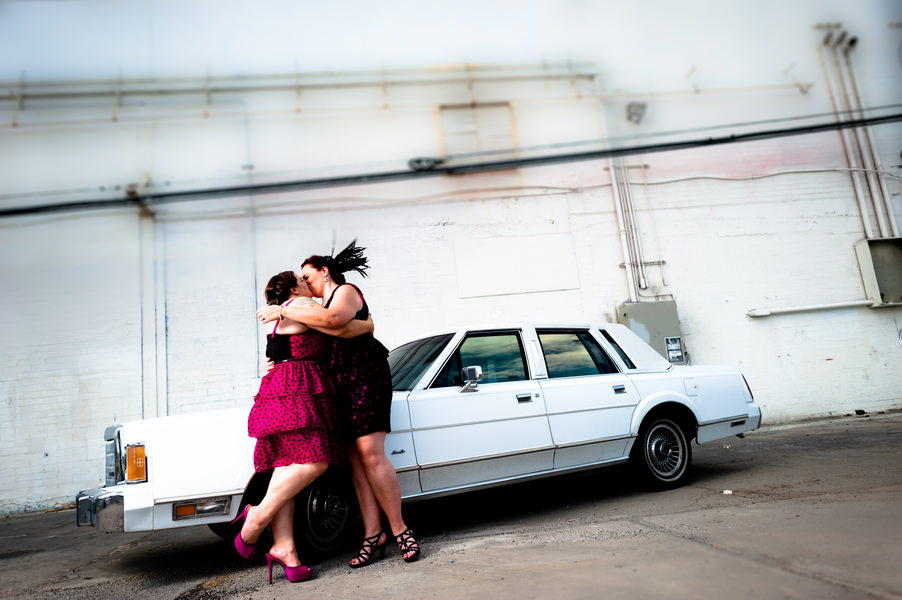 Photos by Ron Dillon Photography