They call it a big day for a reason. Weddings are one of those events that you'll fondly remember for the rest of your life, and Jocelynn and Cristian had that thought at the forefront of their minds as they began to plan their wedding, creating a day that reflected their cultures, included their loved ones and celebrated their love in a way they'll remember forever. "Cristian and I wanted to look back at our wedding years from now and still love every detail, so we wanted to keep our theme classy and timeless," Jocelynn says. "We also wanted to focus on our love for each other, so the traditional Catholic ceremony and intimate reception setting, beautifully decorated with drapery and candlelight, helped to highlight the romantic and dreamy feeling of the whole day." Kristen Weaver Photography was there to capture all the swoon-worthy details of their big day, but it was the authentic love between the newlyweds that truly stole the show.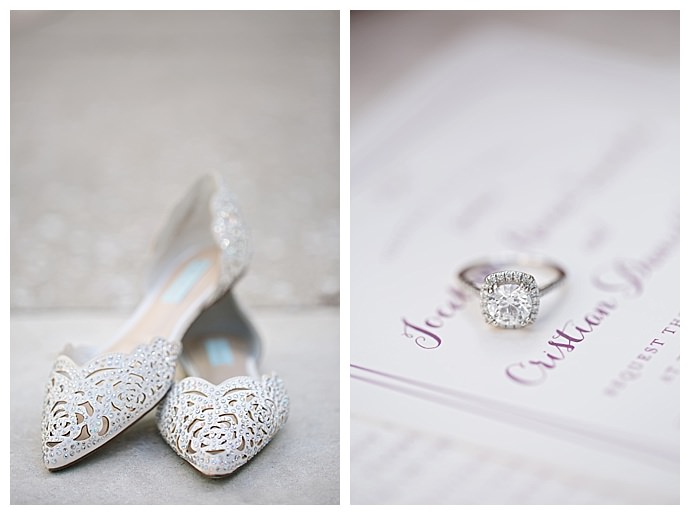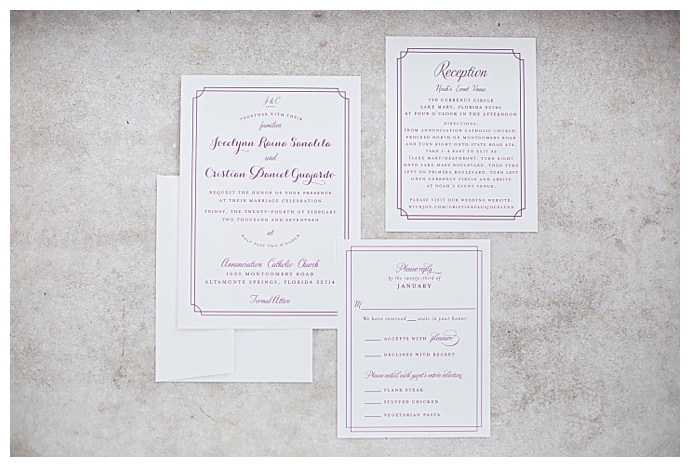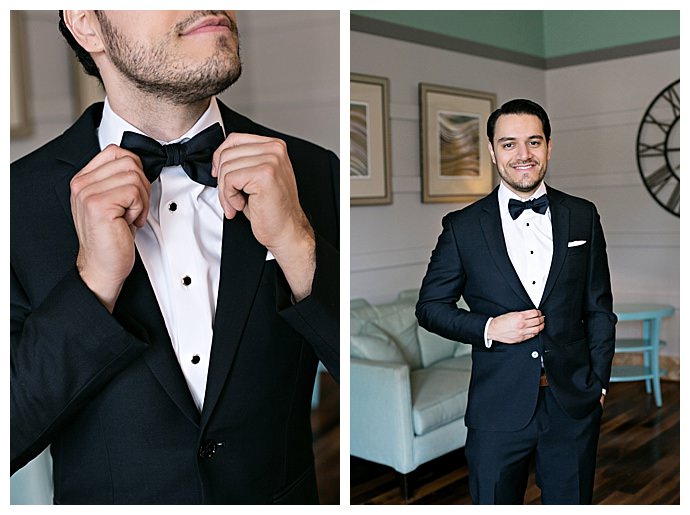 The Love Story
Cristian and Jocelynn knew each other through work, so when Cristian invited Jocelynn to happy hour, she gladly accepted and was looking forward to a social event with her coworkers. But when Jocelynn arrived at the restaurant, she was surprised to find that Cristian was alone. "Confused, surprised and slightly impressed by his tactics, I figured an innocent happy hour wouldn't turn into much," she says. "We enjoyed drinks and great food, exchanged cheesy jokes and laughed well into the evening." But after a memorable night, a few months passed before Cristian's next invitation. "He asked me to join him and a few friends for dinner," Jocelynn says. "I show up at the restaurant and discovered the 'few friends' were just another couple — a double date! I'm usually stubborn about going on dates, so I couldn't help but laugh and commend him on his creative strategy — intentional or not." After the double date, Cristian took Jocelynn on an official first date at a delicious Italian restaurant, and two quick years later, they knew they wanted to spend the rest of their lives together.
So when Jocelynn was planning her annual girls trip with her closest friends, Cristian enlisted their help to propose when they decided to visit Jocelynn in Dallas for the yearly vacation. The happy couple had just signed a lease to move into a new apartment together, and because it wasn't yet ready for them to move into, Cristian convinced the leasing office to send a fake email about a required inspection that needed to be completed before they got the keys. So Jocelynn broke away from her friends and their hour-by-hour planned itinerary and met Cristian at the apartment. "As we walked into our empty apartment, inspection form in hand, Cristian led me into what would be our first future home together. To my surprise, the bedroom was adorned with flowers, pictures of us, champagne and desserts, and Cristian fell to one knee and asked me to spend the rest of forever with him." The newly engaged couple then went to a nearby steakhouse where all of Jocelynn's friends were waiting to congratulate and celebrate with them.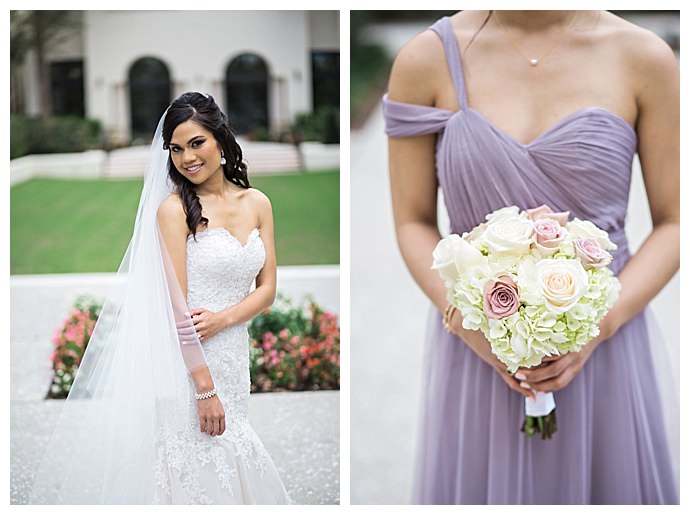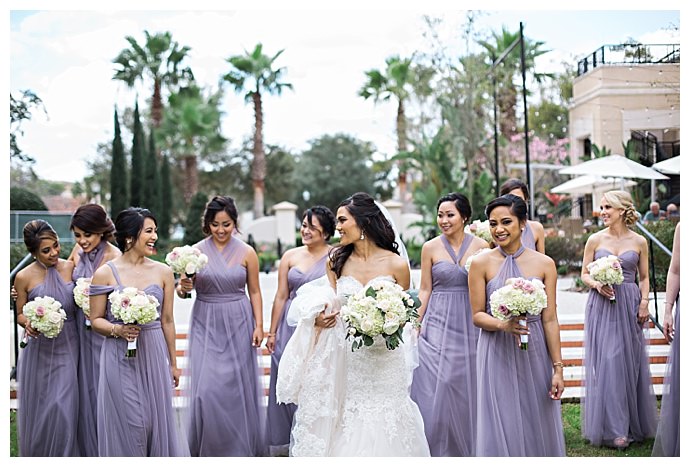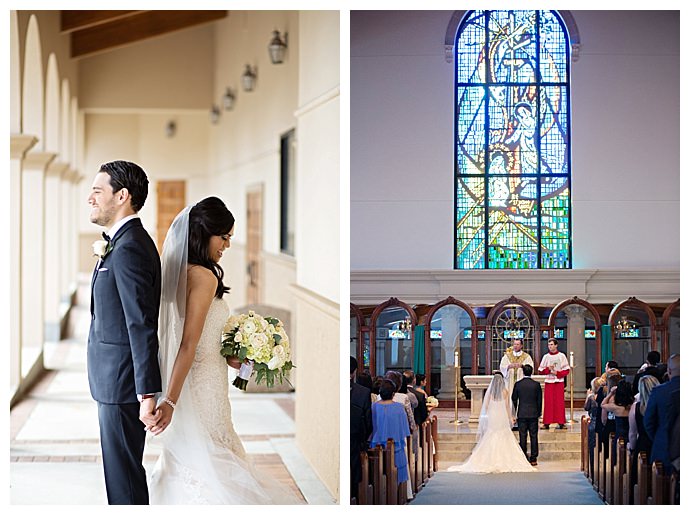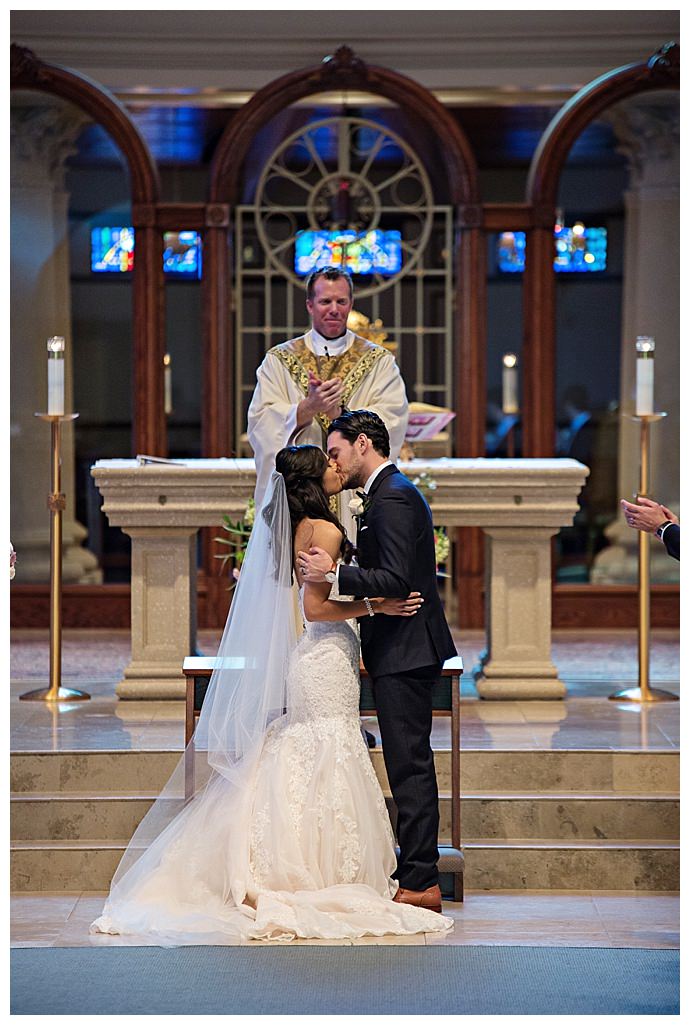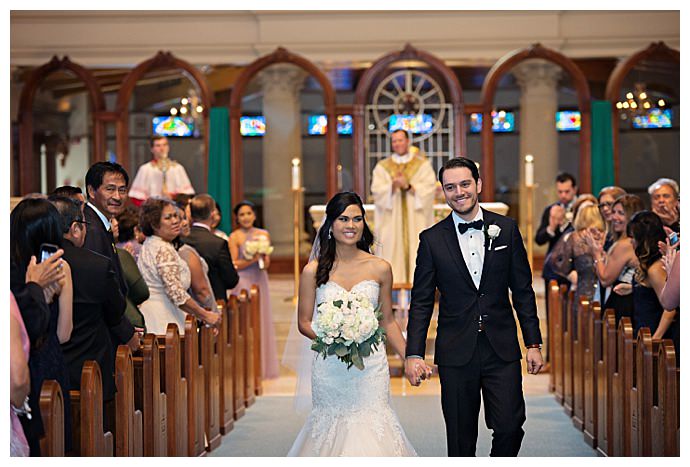 The Ceremony
Growing up catholic, faith has been an important part of Jocelynn and Cristian's lives, so they were excited to have a traditional catholic ceremony surrounded by their closest family and friends. "In addition to our already large wedding party of 20, we had six wedding sponsors process down the aisle," Jocelynn says. "In Filipino culture, it is customary to select older couples as sponsors, whom the bride and groom will look to for guidance and support throughout marriage."
During the ceremony, they incorporated other Filipino traditions, including a unity ceremony in which a cord was draped over their shoulders as a symbol of unity and they also exchanged coins to symbolize the sharing of prosperity. "The priest also added his own special touch by singing 'All of Me' by John Legend as part of his sermon," Jocelynn says. "He sang sweetly but horribly out of tune, which had the whole crowd laughing." And to honor her mother, who passed away three years ago, Jocelynn's sister walked down the aisle carrying a single white rose, which she laid on her seat at the front. "I also had her jewelry and a charm with her picture pinned to my bouquet so I could have her close to me throughout the whole day," she says.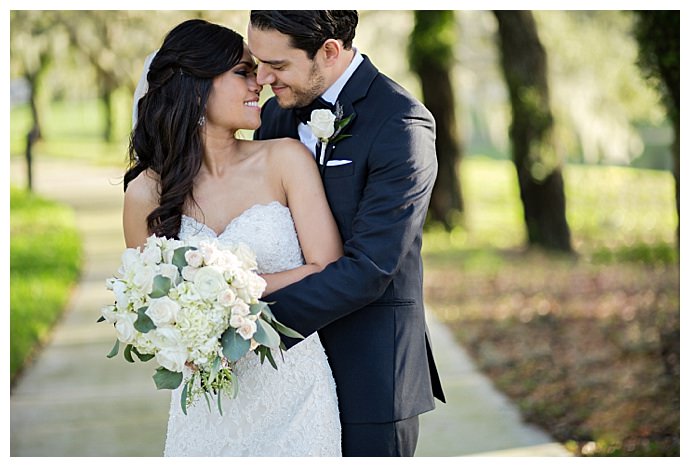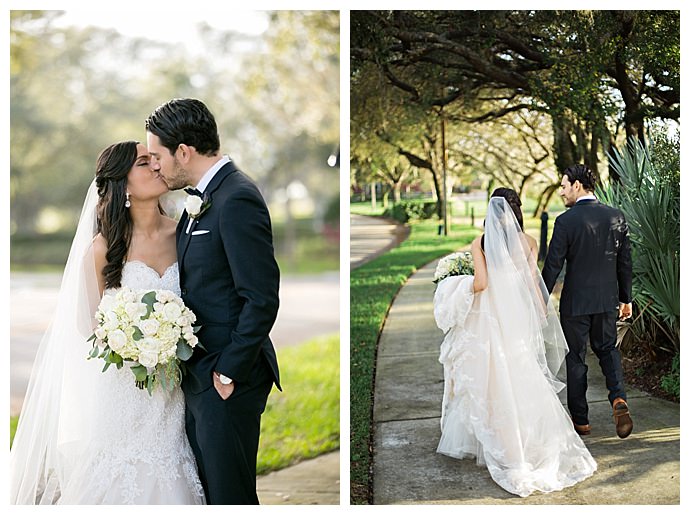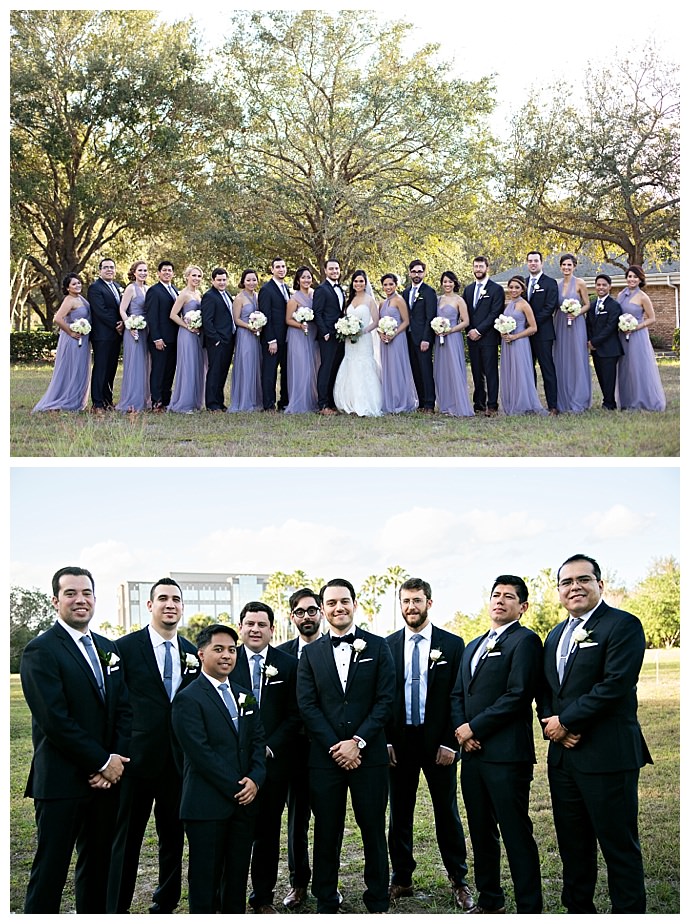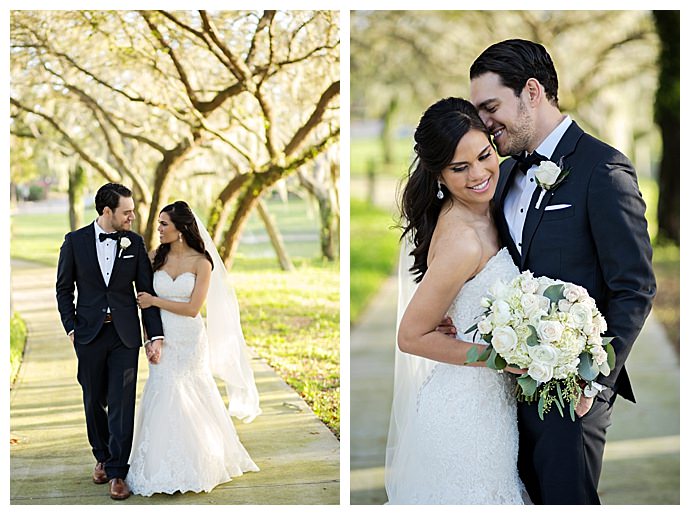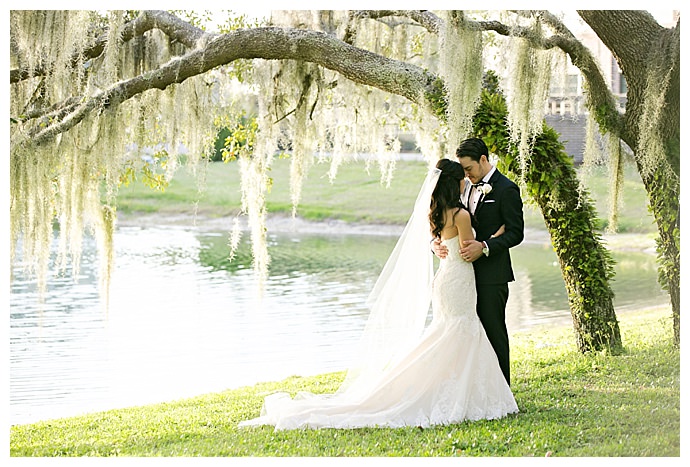 The Party
While the ceremony largely reflected Filipino traditions, the reception took on a Latin flare in celebration of Cristian's culture. Peruvian-influenced hors d'oeuvres of ceviche and asparagus and asiago phyllo wrapped bites were passed around before an elegant seated dinner with tender flank steak, spinach and cheese-stuffed chicken breast or vegetarian pasta blossoms. Lush garlands lined the long rectangle tables while white and dusty roses decorated the round tables beneath the sheer fabrics that were draped elegantly from a four-tier chandelier in the center of the room. And following in suit with their color palette, a lavender uplighting created a soft and romantic ambience throughout the reception space.
"Our favorite details of the wedding were the ones that made the wedding uniquely us," Jocelynn says. "Being able to personalize certain aspects of our wedding day was our way of sharing a part of our cultures and love with our guests. Cristian is known for his love of coffee, and I've always been known for my sweet tooth. We were able to share our love with our guests by having a dessert bar and coffee bar. Both were a hit!" Boston cream puffs with a chocolate frosting towered high above a decadent spread of macarons, cake pops, cupcakes and pecan pies in delicious flavors from salted caramel to strawberry champagne. And their three-tier wedding cake with vanilla, chocolate and marble flavors featured a rippled texture with fresh flowers as a stunning garnish. The newlyweds shared their first dance to Michael Bublé's cover of "Can't Help Falling in Love," a meaningful choice dating back to their first official date when they listened to Michael Bublé together. And to close out the night, they ended with a traditional Hora Loca, a Latin wedding tradition meaning the crazy hour, when guests hit the dance floor with fun props for an eventful end to the evening.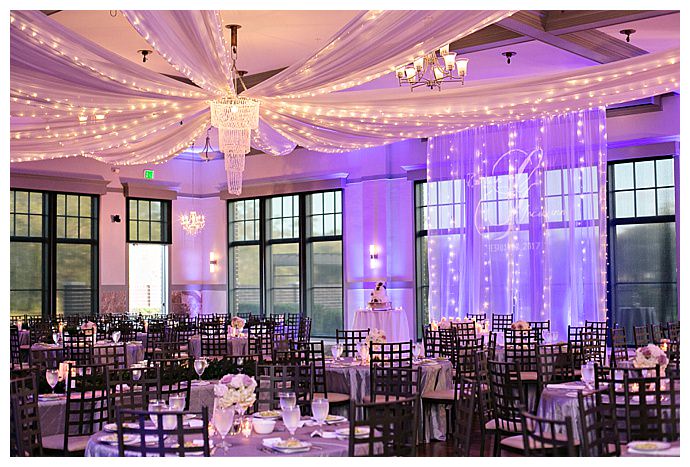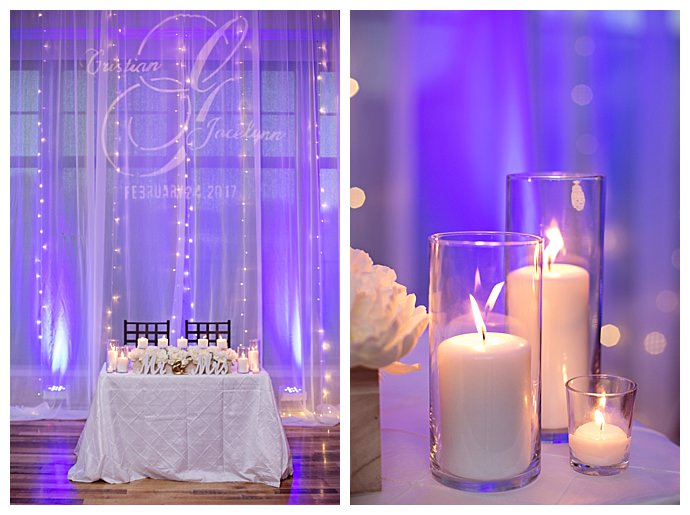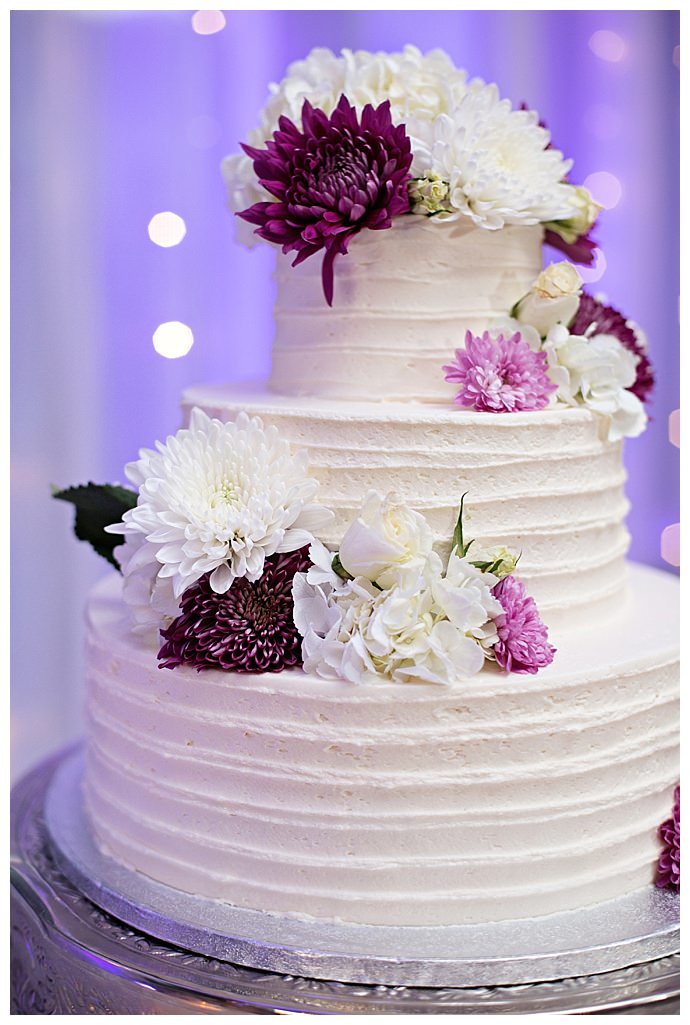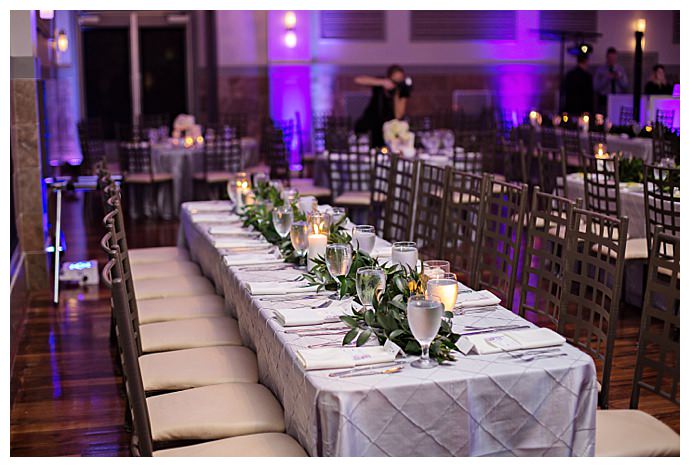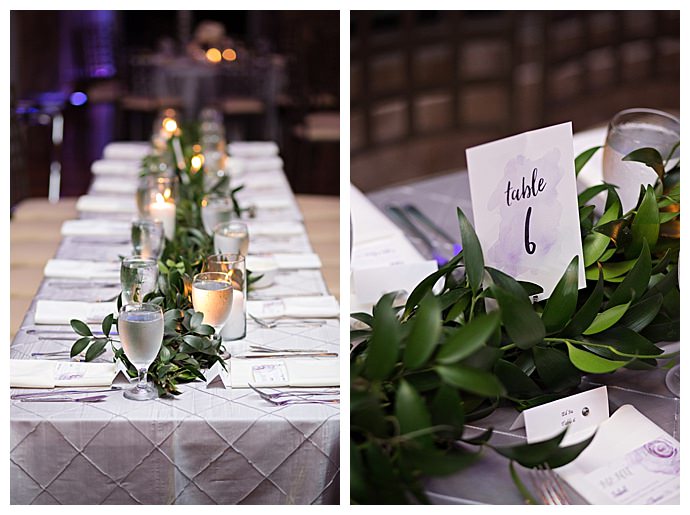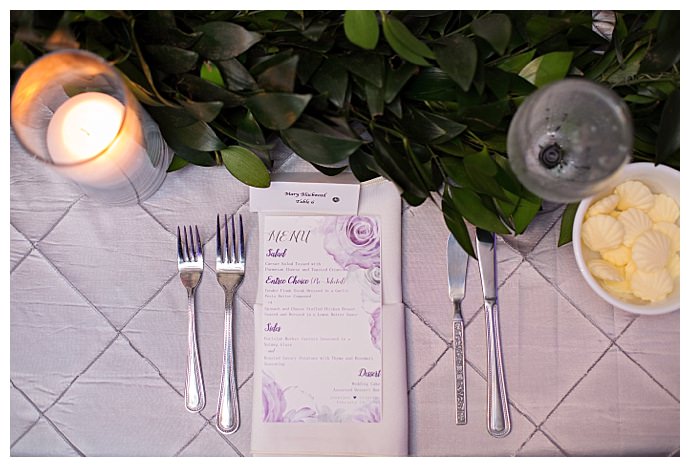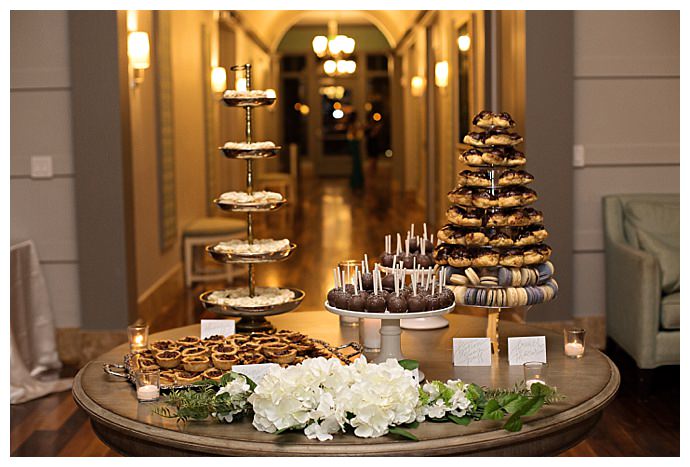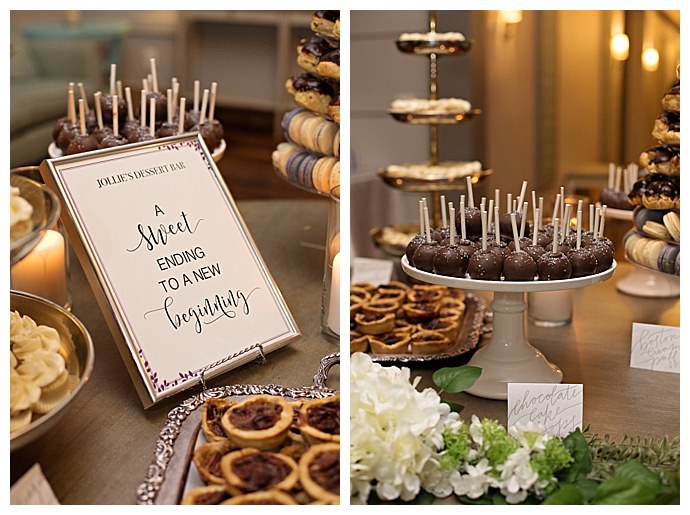 Memorable Moment
"My most memorable moment was seeing my bride walk down the aisle with her father," Cristian says. "It's such a surreal feeling where it feels like the world melts away and all I can see is my beautiful bride-to-be walking down the aisle. It's funny, we'd picked all of the music for our ceremony, including what was to play during her walk down the aisle, but I don't even remember hearing anything during her walk. It's like the world stopped and all I saw was her. When I saw her break her smile with joyful tears, I couldn't help but look down briefly to wipe away my own. It was something that I'll never forget and easily one of the happiest moments of my life."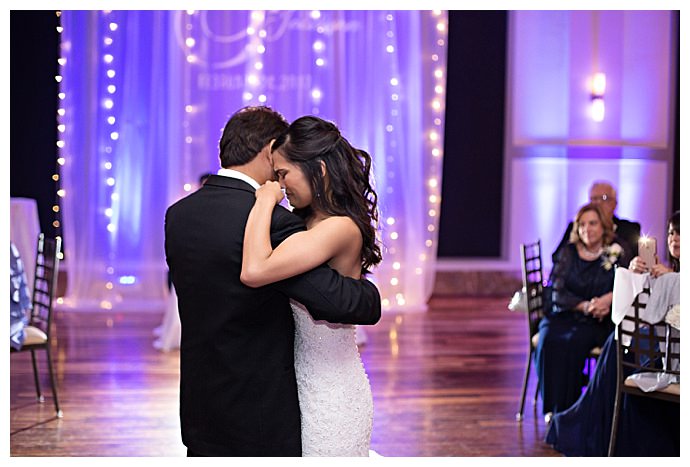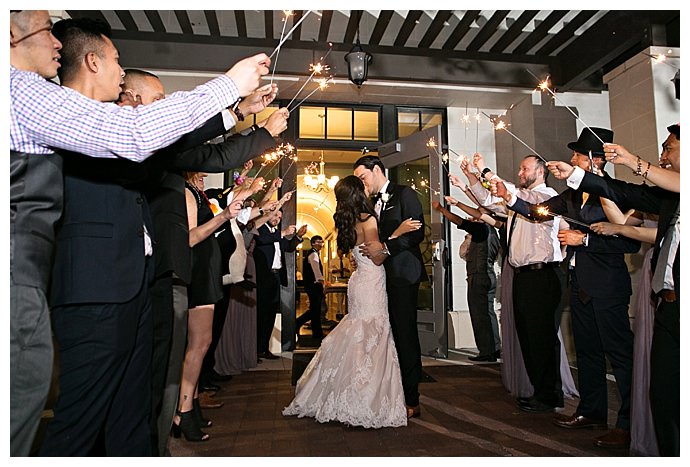 Christian & Jocelynn Teaser from Brandon Kari on Vimeo.
Team of Talents
Venue: Noah's Event Venue
Photography: Kristen Weaver Photography
Second Shooter: Jessica Friend Photo Design
Cinematography: Brandon Kari
Event Planner: Runway Events
Floral Design: Florida Orchids and Flowers
Stationery: Minted
Wedding Dress: David Tutera
Dress Store: Lulu's Bridal
Wedding Suit: The Black Tux
Wedding Shoes: Betsey Johnson, Aston Grey
Wedding Rings: Etsy, Coast
Makeup Artist: The Misses MUA
Hair Stylist: Michele Renee The Studio
Bridesmaids Dresses: Watters
Catering: Wishful Concepts
Cake Design: Publix
Dessert Bar: Le Petit Sweet
Mixology: Premier Bartending
Coffee Bar: Aroma Espresso
DJ: DJ Meister Productions
Transportation: VIP Wedding Transportation
Babysitters: Sunshine Babysitting
*Editor's Note: This post contains affiliate links. Each time you purchase an item via our affiliate links, Love Inc. is receiving a small percentage of the sale, thus you are helping our small, equality-minded business grow and allowing us to provide more content for YOU! Isn't that just fantastic?