Mourning a loss while preparing for what's supposed to be the happiest day of your life is a difficult space to occupy. The cognitive dissonance created by the joy of getting married and acute sadness that a loved one is not there to experience it, can be overwhelming.
Your grief doesn't need a spot at the head table, but involving the memory of someone important to you makes them a real part of your wedding, sharing in your happiness. Joy and grief are not mutually exclusive, and allowing yourself to feel one doesn't diminish your capacity for the other. This is especially true if the person you lost is a foundational figure who helped you become the person you are, ready to make this commitment.
There are so many ways to honor a lost loved one without losing focus on the wedding. One or two small gestures brings them into the celebration in a tangible way, while still keeping your wedding at center stage where it belongs.
As a couple, decide if you'd like to make these gestures overt to invite the guests into the experience, or if this will be a private tribute only you see. Remember, there's no wrong way. Find what feels most natural and comfortable to you.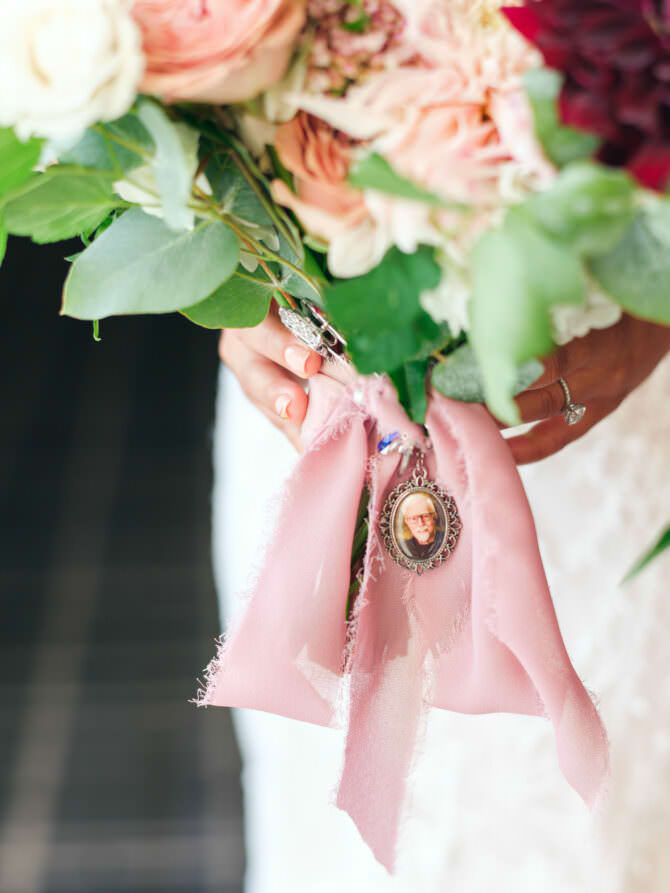 Carrying a memento with you on your wedding is a great way to keep a person's memory physically close, without necessarily making it a public display. A vintage locket, or even secret photo jewelry can do double duty, looking great and giving this person a subtle place of prominence. A pocket square with monogrammed initials literally keeps the person close to your heart. A tie tack, or cufflinks with a decoration that reminds you of your loved one, or a handkerchief with a phrase or name of significance, all make great keepsakes.
When you're planning the ceremony, there are so many places to gently include someone who has passed, beginning with your music. Explore artists of particular importance, maybe you can find a melodic version of a favorite song to walk down the aisle to. Or go the other direction, an upbeat dance party hit they loved as you exit the ceremony can be an energetic and fun way to remember someone and the joy they still bring to your life. When selecting your readings, think about authors or poets that were special and have a mutual friend do the reading. Guests who were also close to the loved one will see the reference, but the focus will still be on the ceremony.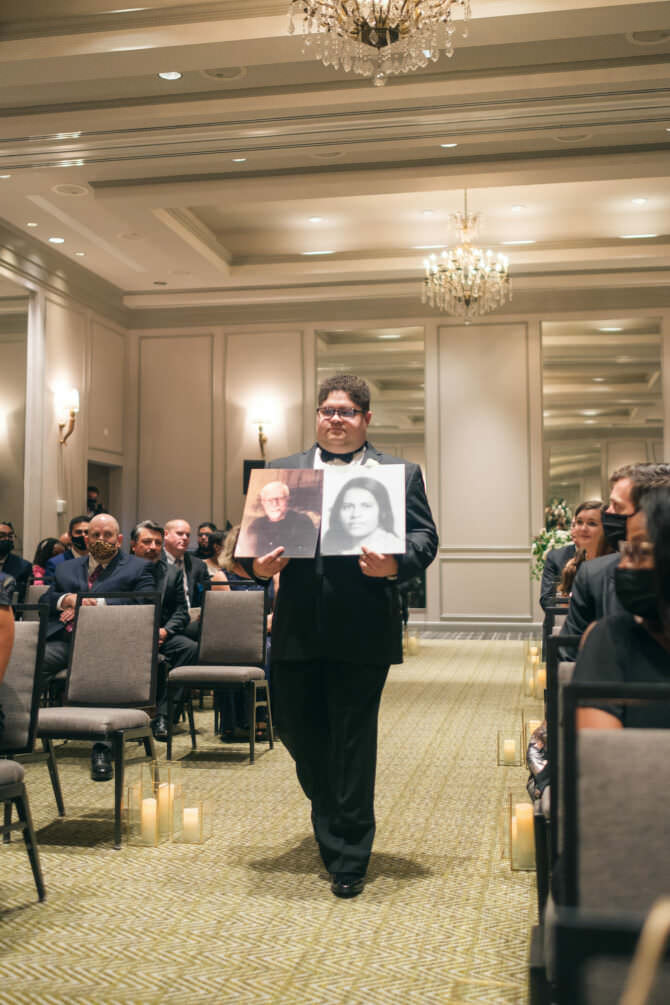 There are more direct gestures as well. Some couples have quite literally held space for departed loved ones, laying a flower on a chair at the start of a ceremony to signify the place they still occupy in their lives. If you're printing programs, consider a small note at the end; something as simple as, "Thank you to our family and friends for joining us in our celebration today. We are so lucky to be surrounded by so much love from all of you here in person, and in a special way from those we have lost including…"
There are even ways to weave acknowledgement into your décor. When choosing your flowers, think about the birth month flower, or perhaps the month when they passed away. These blooms can be used in bouquets, boutonnieres, or table decorations. A small photo display at the reception, maybe near a gift table or guest book, with framed photos honors those who have passed in a prominent way, without shifting the energy off the celebration. Photos, especially of funny moments, are an excellent way to bring wedding guests into the experience without dwelling on sadness.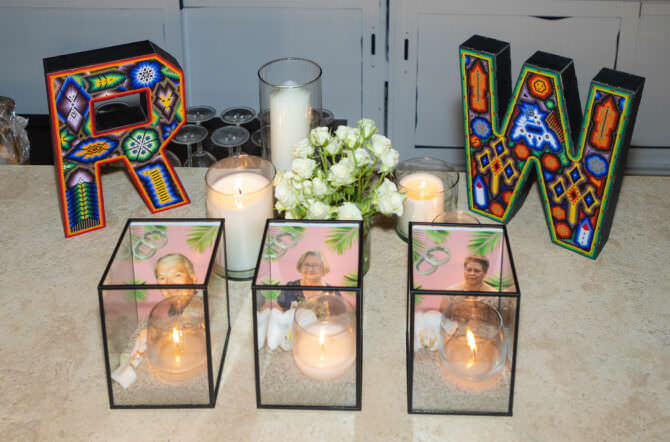 Food can so often unlock core memories. Talk to your catering manager to brainstorm ways to incorporate a dish into your appetizers or dinner menu, or even serve a specific cookie or small treat with coffee toward the end of the reception.
Holding space for a lost loved one doesn't mean you sacrifice celebration. Grief can play an important and beautiful part in your wedding day. Honoring this part of you deepens the overall experience whether you are remembering a friend, family member, or mentor.
Written by Erin Sernoffsky | Photo credits: Clane Gessel for Ross Mathews and Wellinthon Garcia's Destination Wedding and Cody Kurtz Photography for Sabrina and Samuel's Emotional Family Focused Wedding