Amazon … what ever would we do without you? To be honest, when I was planning my wedding, Amazon Prime was a godsend. I ordered decor, thank you notes, welcome bag necessities, bathroom amenities and more, and when I was scrambling to make little hangover kits for all of my guests literally days before, Amazon Prime to the rescue!
You'd be surprised what you can get Prime'd and I always recommend to couples if you haven't signed up for Prime yet, do so before you dive into the planning process because it'll save you time and money.
Since today and tomorrow is Amazon Prime Day, while you're online shopping and scoring your deals, be sure to check out these 10 wedding decor items that you can get Prime'd.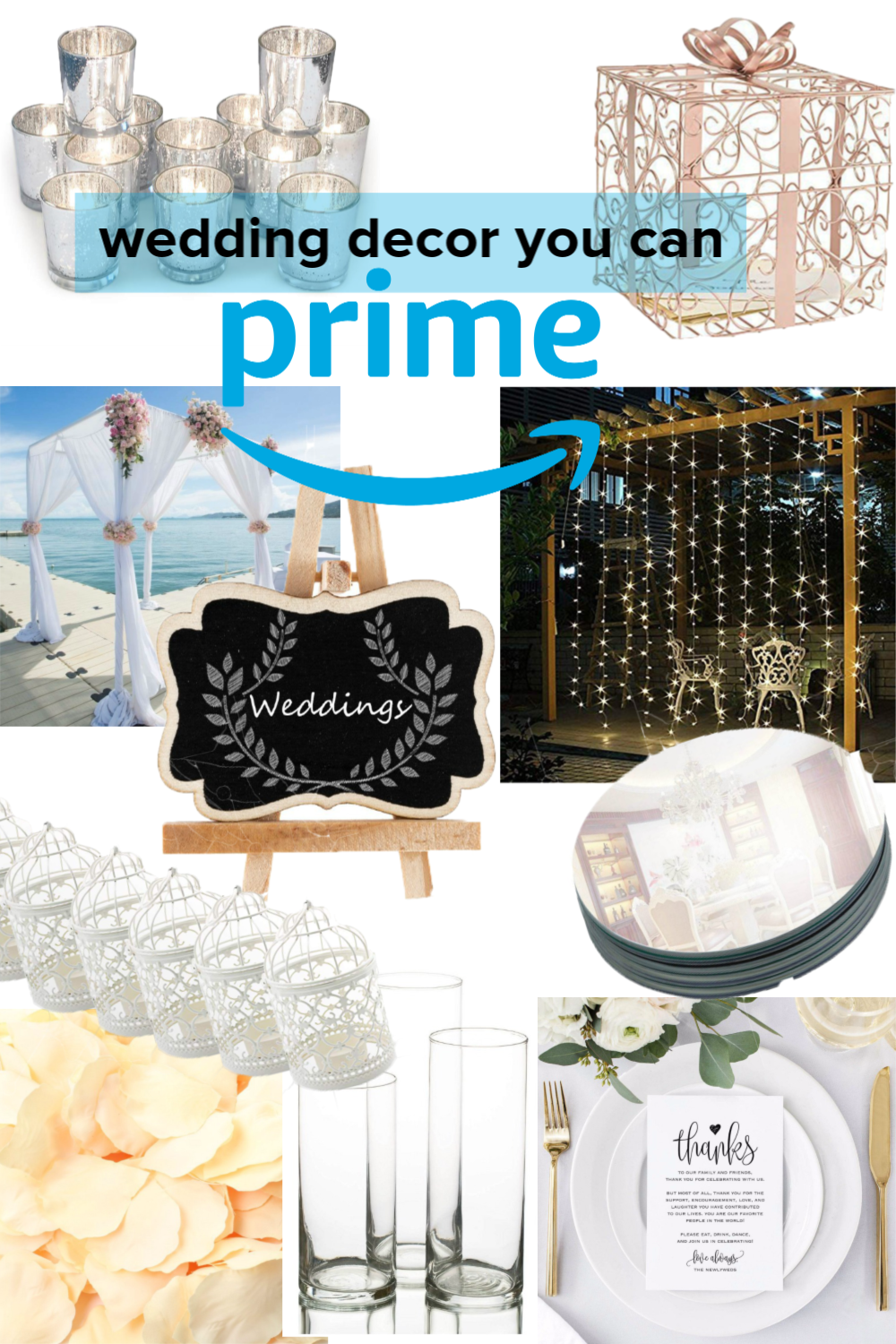 Mercury Tealight Votive Holders Set, $16.99: Available in silver of gold, these chic mercury candle holders will enhance the natural light of your votive candles, making them the perfect table centerpieces.
Gift Card Holder, $49.00: This ornate gift card holder is an eye-catching way to let your guests give a gift card for your special day. The front card slot allows for envelopes and gift cards.
Twinkle String Curtain Of Lights, $17.99: Create your wedding wonderland indoors or outside with these versatile curtains of LED lights. Hang them, drape them, or tie them back to create your own stunning lighting display.
Round Mirror Candle Tray Set, $27.99: This set of beveled edge round mirrors are the perfect accompaniment for your wedding table centerpieces. Set your votive candles on them to create an even more dramatic and romantic tablescape presentation.
Thank You Place Setting Cards, $14.99: This set of 50 cards is a unique way to express your gratitude and thanks to your friends and family. Cards can be placed on a plate or tucked in a napkin at each table place setting.
Glass Cylinder Vase Set, $14.99: These tri-level glass vases are perfect for flowers or for pillar or floating candles. You could also fill them with beads, pearls, or even fairy lights.
Silk Rose Petals Confetti, $12.99: This bulk package of loose silk rose petals can be used as scattered rose confetti on your aisle runner, in the flower girl basket, as table confetti or anywhere you need a sweet shower of rose petals. Many colors from which to choose.
Mini Metal Tealight Hanging Birdcage Lanterns, $23.98: These sweet birdcage tealight holders add a touch of romance to your wedding decor. Available in other colors to match your theme.
Mini Chalkboard And Base Set, $15.99: This set of 20 mini chalkboards are stylishly curved with a Victorian shaped border and each comes with its own mini easel. Use chalk or liquid chalk, which wipes off easily. Perfect for table numbers, food menu items, guest seating names and more.
Organza Fabric Swags, $12.99: This silky organza fabric, available in your choice of colors, has many uses from table runners, to swags, to arch drapes. Create a soft, flowy ambience with this fabric.