If you've returned from your honeymoon and thought, "What the hell am I going to do with all of these mason jars?" you're not alone. In fact, so many of their former clients had similar storage dilemmas that Eutopia Events, a New England-based event planning company, created Eventiques, a wedding and events flea market for newlyweds to sell their wedding wares to the engaged and eager.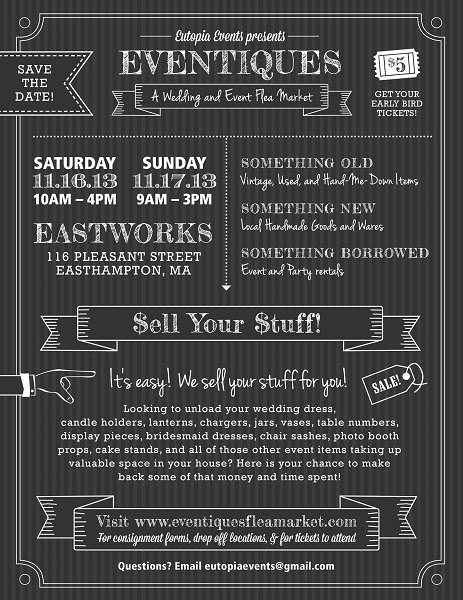 "We wanted to create a centralized, fun-filled place where people could buy and sell such items, all artistically displayed to inspire and help people create a distinctive look for their wedding or event," says the company's founders, Lauren and Ruthie. "Décor from past events is given new life by being reused or repurposed for someone else's wedding, shower, even a birthday party."
For those in the Easthampton, Mass., area, this market, which will be held on November 16-17, is definitely not to be missed. Browse to find your something old, new or borrowed amongst carefully selected used event décor, vintage goods, wedding gowns, unique rentals and handmade pieces from local artisans. For those who want to get rid of those photo booth props, dessert table banners and medley of candles, they're organizing a drop-off on Friday, November 1 and can arrange pick-ups between now and November 12. For more information, check out the website, eventiquesfleamarket.com.
Happy shopping!