By Brittny Drye | Photography by MeewMeew Studios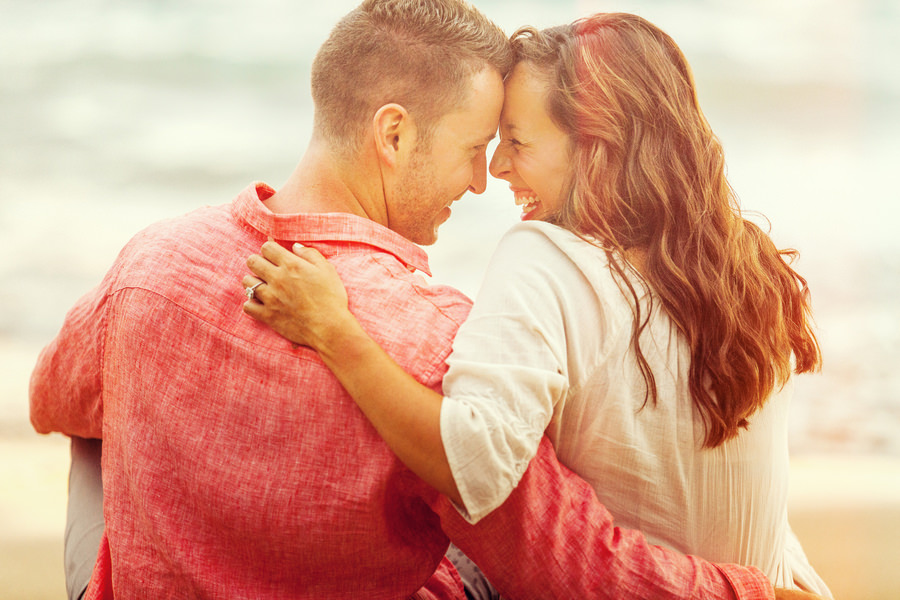 We know the majority of you have been bundled up in layers this week, so we feel this romantic Hawaii engagement session couldn't have come at a better time. New Yorkers Ryan and Taylor were vacationing with Ryan's family in Hawaii and figured they'd take advantage of the breathtaking scenery. Not to mention, it was his parents' honeymoon spot — how appropriate! The warmth from these photos from MeewMeew Studios makes us forget the weather outside — and not just because of the golden sunset hues. The love this couple so clearly has for each other is heartwarming. From the looks they give (you know the ones — those special looks you give to the person you know you're going to spend the rest of your life with) to their playfulness on the beach, this engagement session immediately transports us to paradise. 
The Love Story
Their story begins in high school when they met through a mutual friend. Teenage boy nerves kept Ryan from pursuing this girl he found so intriguing so she slipped away without knowing his feelings (which were clearly mutual). "In my brain, honestly, even back then, I was smitten by him and knew that even if it wasn't him, I was going to find a 'Ryan' to marry someday," says Taylor.
Fast forward to their college days when Ryan was bartending a party for his fraternity. "As I was making a drink, I happened to look up and, as cliché as it sounds, I noticed Tay right away from across the room through the sea of people," he explains of what has now been dubbed as the day they "re-met."
The Proposal
Ryan and Taylor had celebrated their anniversary at Niagara Falls for the past six years, taking hikes, playing at the casino, having dinner and relaxing. Admittedly, after eight years together Taylor was bound to have her Engagement Alert on high. "We woke up on the Saturday morning to get ready to leave. I gave Ryan a card, he gave me a card and flowers, we got ready and off we drove to Niagara Falls. Now mind you, Sunday was fantasy football playoffs … and in no way would Ryan ever miss this and I already had it set in my head, no proposal," Taylor says.
They checked into their hotel as normal and bundled up for their annual Niagara Falls walk. "The walk was about 10-15 minutes down a hill in the freezing cold. I remember getting a thought — as I often did at times, imagining a proposal — as we approached the Falls. I kept looking at people thinking that they were looking at us … which made me think 'I wonder if they know something!?' Then the thoughts vanished and we continued to walk," explains Taylor. "We approached a little groove in the sidewalk. Ryan and I stopped in front of the horseshoe falls for a picture and this time Ry said, 'Let me ask a someone to take a panoramic shot of us.' This girl was walking by and he went up and asked her to hold the camera for a 'pano' picture –turns out she shot the video! We backed up and I was all ready to smile for a picture and then Ryan turns to me, unzipping his jacket… 'Baby, you know you're the love of my life, my partner in crime and my best friend …' AND I lost it! So surprised and happy and shocked!"
The Ring
"The ring was custom designed and purchased from a close friend of mine who owns a jewelry shop, Battisti Jewelers," says Ryan. "I had a general idea of what she wanted thanks to Pinterest but still learned a lot more about diamonds than I ever thought was possible! The overall process of finding the stone and designing the setting took a few months but was well worth the wait."
A halo of 20 round brilliant diamonds surround a gorgeous center stone, in addition to 13 diamonds set around the platinum band. Another sweet personalized detail is when the ring is flipped upside down, you can see the soonlyweds' initials cut out from the setting underneath the the diamond.
Memorable Moment
From Taylor: Everything. The look on Ryan's face, the fact that he was so ready and excited and happy and that it was in such a beautiful place.