By Shannen Hofheimer | Photography by Sarah Brianne Photography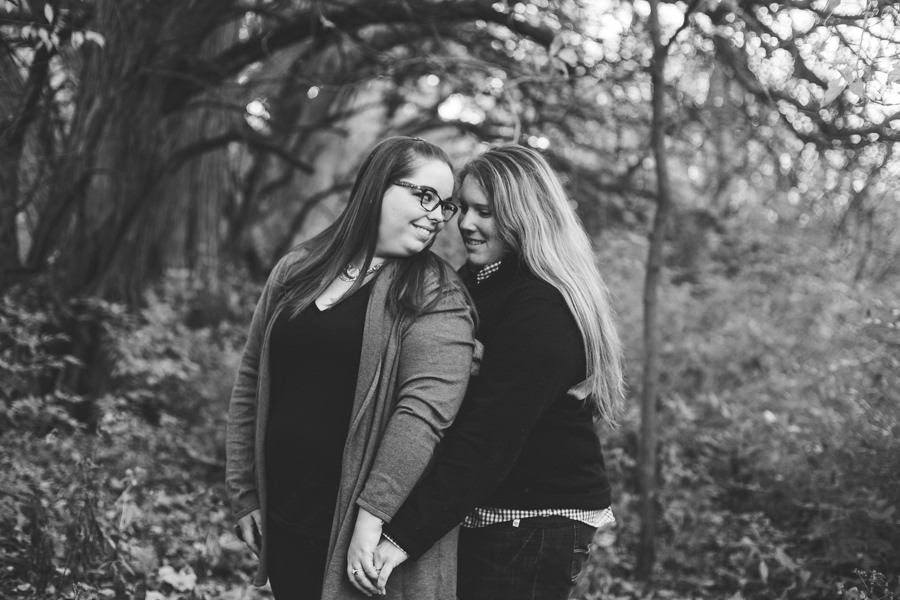 There is something so captivating about discovering why people resonate with what they do, and it always varies from couple to couple. At Ewing II Park in Bloomington, Ill., Val and Jean enjoy a relaxed engagement shoot, surrounded by wooded nature and beautiful memories of dog walks and romance. The couple also incorporated some photos at Uptown Normal, one of their favorite stomping grounds for shopping and entertainment. "It was simply the most perfect location to show off who we are as a couple," Val explains. With the assistance of Sarah Brianne Photography, Val and Jean open their hearts to us, exuding their incredible, loving warmth and the palpable connection of their souls.
The Love Story
Before getting engaged on May 15, 2014, Val and Jean had dated for close to four years, "Even though Val always said it would be seven years until we would get engaged," Jean enlightens us with a laugh. "We met through a mutual friend," Val begins, "but didn't really start getting to know one another until Jean got brave at a Wailers concert — and by 'brave' I mean that she implored junior high tactics in having her friend plant the seed in my mind that Jean liked me." Hey, no shame in that! Sometimes it takes the meddling of a good friend to stoke your love flames.
"I knew that Val was the one when about two weeks after dating, we took a car ride to the wind farm for a picnic, complete with Subway sandwiches and listened to Michael Franti's 'Say Hey.' That was just it."
The Proposal
Val proudly declares to us, "I've made a habit of letting Jean know that she is absolutely my favorite person, ever." While on a week-long Caribbean cruise, Val took advantage of their stop on a private beach in the Bahamas, Half Moon Cay, to sweep Jean off her feet as she had always envisioned. To make Jean's "favorite" status even more abundantly clear, Val compiled a photo book for two months leading up to their exotic vacation, chronicling their previous three and a half year bliss together. On every page, Val provided concrete evidence as to why Jean is her "favorite person ever" (favorite person to go camping with, to be an aunt with, etc.) in the form of heartfelt, meaningful words of affirmation, "with the last page having a picture of the ring and the iconic question." Val's photo book concocts the perfect recipe for a magical proposal: Words + Photographed Memories = "Yes!!!"
The Ring
Val presented Jean with a 14K white gold Neil Lane rectangular cut diamond ring, surrounded by a diamond halo and diamonds traveling halfway around the band. However, Val ensures that we are alerted to the ring's most vital feature: "It is incredibly shiny — like, distractingly shiny. Jean has had to collect herself on a few occasions due to the nature of her ring." Well, Jean, you're not alone – I'm sure we would have to collect ourselves too if we received rings as staggeringly gorgeous as this description. So, Val, can we stare directly at it without being blinded? Or are sunglasses advised?
A few months after the proposal took place, Jean reciprocated with a 14K white gold engagement ring for Val, featuring a princess cut center diamond, traced by a small diamond halo. "The band comes to a point near the setting, but doesn't actually connect, giving the illusion that it's kind of floating." Of course, Jean's ring for Val also came complete with her own personal touch and sentiment. "On our four year anniversary, Jean surprised me with a series of cards that corresponded with songs on a mixed CD for our road trip to our anniversary get-away. The songs/cards eventually led to her giving me the engagement ring when we got to our destination!"
Memorable Moment
"The location was amazing and beautiful, but the most special part of it to me was the book. It was very touching that Val took all of that time to gather the photos and write everything to me."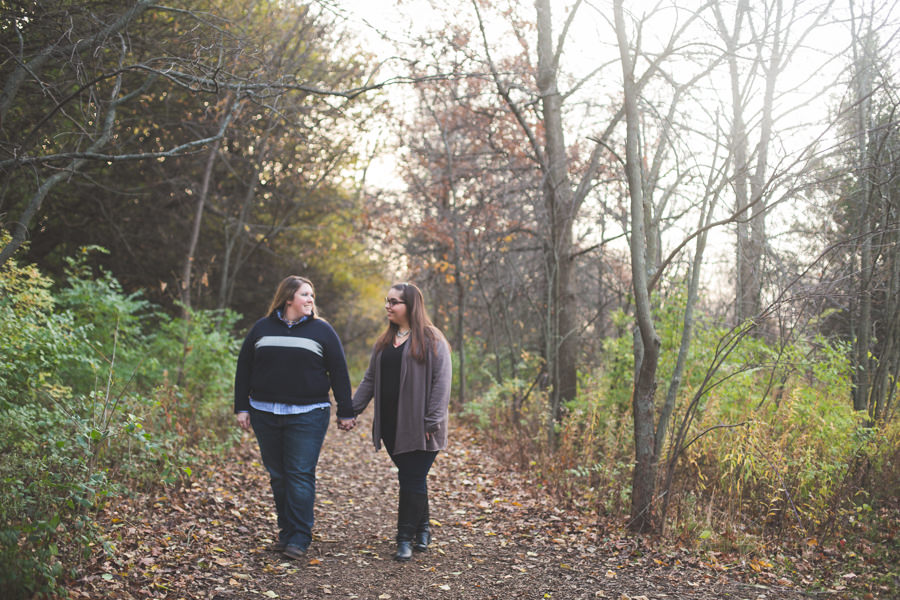 Wedding Date: October 17, 2015