By Meghan Kennedy | Photography by Rebecca Silenzi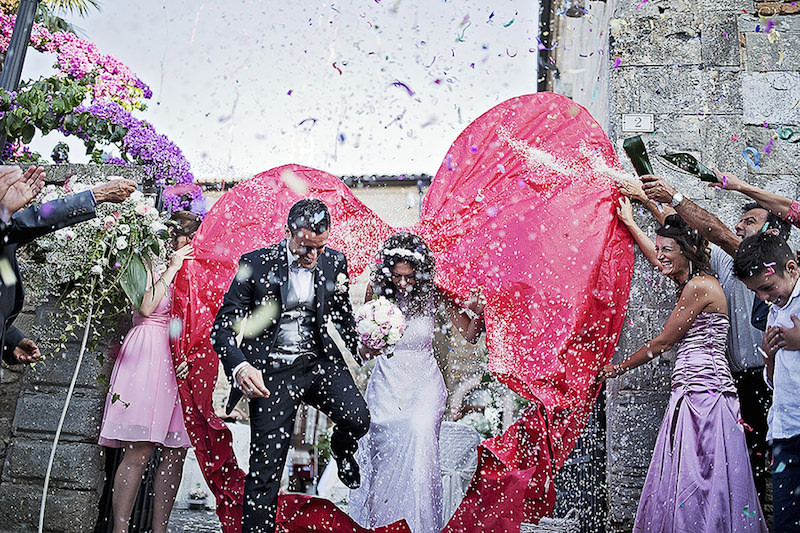 Giulia and Claudio's relationship can be summed up in one word: passion. The two have been in love since they were teenagers and have never fallen out of it. They even married in the town where they met, showing how significant their bond is to one another. Their wedding was a romantic Italian affair and was captured beautifully by Rebecca Silenzi.
The Love Story
Giulia and Claudio are absolutely wild about each other, evident not just from their pictures but from the way each speaks about the other. The couple were high school sweethearts, and have 10 blissful years together, they decided to get married because they finally realized that they would be together forever—and they wanted to start a family. In their own words: "No other way was possible—we are one, each other's best friend, passion and love."
The Venue
The ceremony took place at a church in Torre di Palme, Fermo located in Marche, Italy. Fermo is a little town overlooking the sea; the reception, naturally, took place at the Ristorante Coba Beach, a chalet on the Adriatic Sea. Giulia and Claudio chose this venue because that's where they met, and their love story is "inextricably linked with this town."
The Ceremony
Since outdoor religious ceremonies in Italy are usually difficult to make happen, one of the most special things about Giulia and Claudio's ceremony is that they did just that! They had a traditional Catholic wedding in the church's garden, and at that church, it was the first time they allowed a couple to do so.
As Giulia walked down the aisle, she was showered with flower petals as she made her way to her incredibly excited groom. No theme was needed for this wedding—the love Giulia and Claudio shared was more than enough. Their ceremony was pure and simple: nature-inspired with pink and cream colors similar to the Bougainvillea flowers in the church garden.
Giulia's bouquet featured soft pink and white peonies which matched the witnesses' corsages and her husband's boutonnière. The aisles were flanked with tiny arrangements and as the bride walked down the aisle, guests showered her with petals. After they were pronounced husband and wife, they celebrated by bursting through a giant heart installation as guests threw rice over them in celebration.
The Party
In traditional Italian style, Giulia and Claudio's wedding menu featured seafood and a lot of it! The seafood lunch featured shellfish and crudités; afterwards, a bigger entrée was served with fish, pasta, shrimp and local white wine. After cake, the couple treated their guests to even more dessert, buffet-style, with cigars and rum for the older crowd.
The wedding, even deeper in tradition than usual, featured a dance called the Saltarello, important to the town and so, to the bride and groom. A DJ spun tunes late into the night, which was romantically capped off with releasing of lanterns and fireworks.
Memorable Moment
"Cutting the cake on the beach under the fireworks, it was so romantic and a very emotional moment."
Vendors:
Photography: Rebecca Silenzi Photography
Venue: Torri di Palme; Coba Beach
Event design: Claudia Mazzaferro
Floral Design: Roberto Monaldi
Catering: Coba Beach
Ceremony music: Eleonora de Angelis
Wedding Dress: LeSpose di Francesca
Wedding Suit: Gazzarini