Along Puerto Rico's beautiful coastline, Bree and Erica walked hand-in-hand as they explored La Cueva del Indio, which means Cave of the Indian. Puerto Rico's beauty is on full display at this magical place where the clear Caribbean water crashes into the rocky cliffs surrounding the cave. Its gorgeous landscape served as a pristine backdrop as Rincon Images captured Erica's surprise proposal to Bree, the pictures proving the emotional moment was just as beautiful as the scenery surrounding them.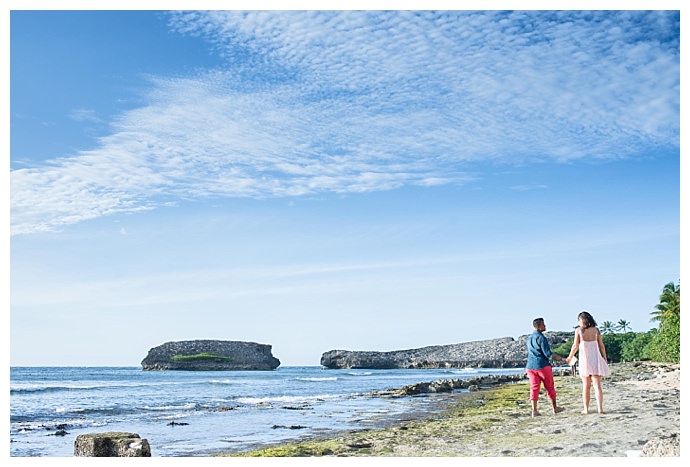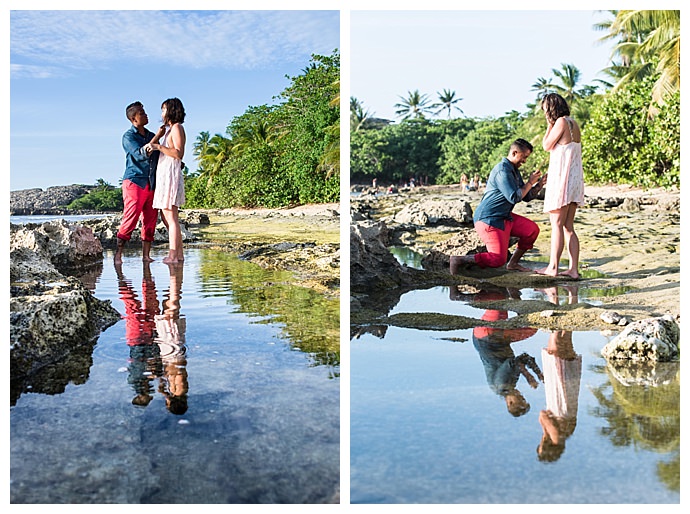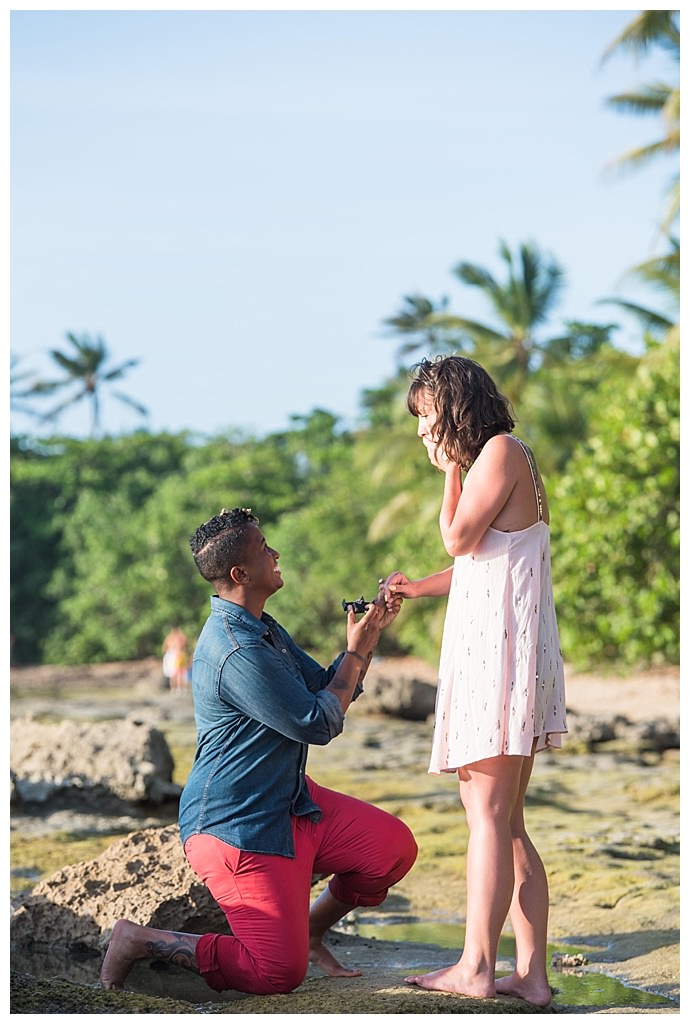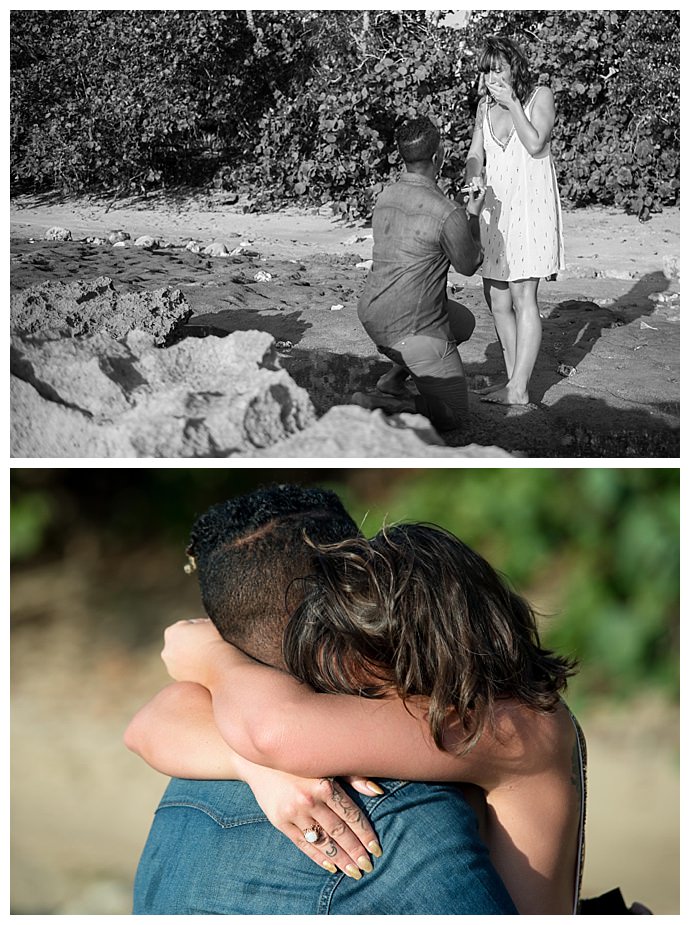 The Love Story
For Bree and Erica, it was love at first sight. Erica, a police officer, worked in the same building as Bree who was a social worker. "I instantly became enamoured," Erica says. "This magnetic force happened when we first made eye contact and had our first conversation." Their instant connection grew into a bond that strengthened over the next two years as they dated. And as Bree's birthday approached, Erica was determined to make it a birthday they would never forget.
Erica booked a trip to Puerto Rico, a place Bree had always wanted to visit. "She thought it would be a great idea to have professional pictures taken while we were there," Erica says. "I thought this would be the perfect time to propose!"
The Proposal
Bree coordinated secretly with the photographers beforehand, and they chose everyone's favorite photobomb — bunny ears — as the signal that Erica was about to pop the question to an unsuspecting Bree. As they walked barefoot along the coast with beautiful Puerto Rican scenery all around them, Erica knew it was time. "I put the bunny ears behind Bree's head, letting the photographers know I was ready to propose," she says. "I then dropped on one knee and asked Bree to marry me." Bree was completely taken by surprise. "After my shock, it immediately turned into excitement," she says.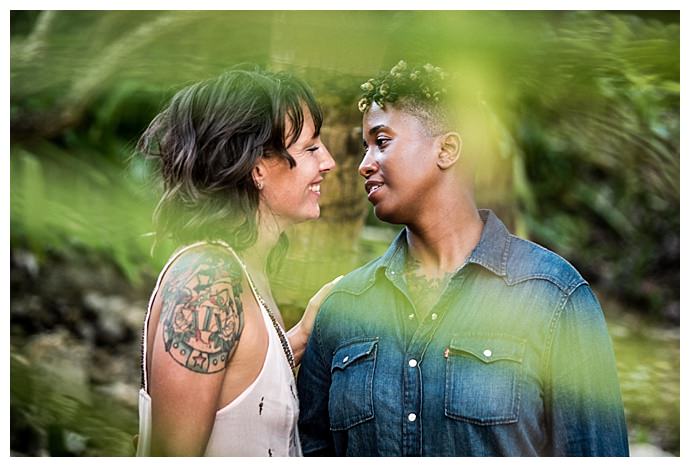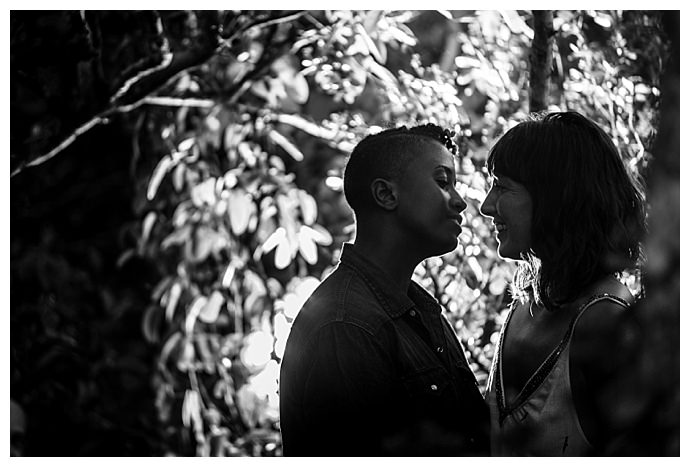 The Ring
"The ring is custom made," Erica says. "It is a rose gold ring with a moonstone in the center and two accented labradorite gemstones."