Colin's work as a pilot in the Navy became a major source of inspiration for Colin and Devon's military wedding. They infused navy blues and golds into the color palette, incorporated fun plane details that the bride and groom made themselves and participated in Navy wedding traditions during both the ceremony and reception. The entire wedding day was filled with meaningful moments, from exchanging vows only steps from where they got engaged to the moment when all of the Navy active duty guests came together to serenade the bride with an epic rendition of "You've Lost That Loving Feeling" during the reception. It was an unforgettable day with swoon-worthy details that was beautifully captured by Courtney Bowlden Photography.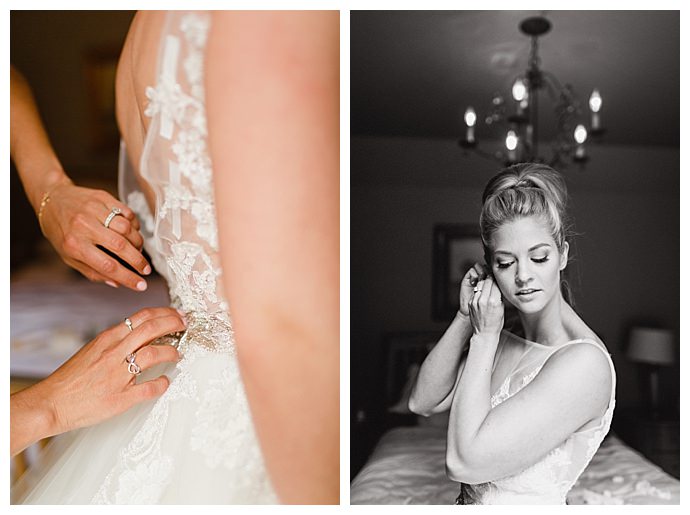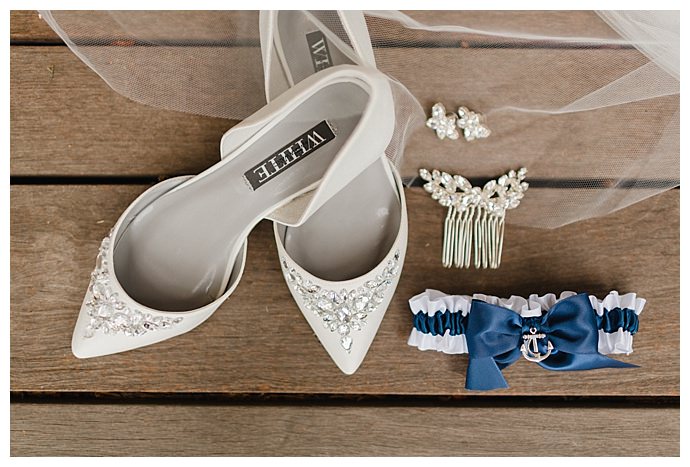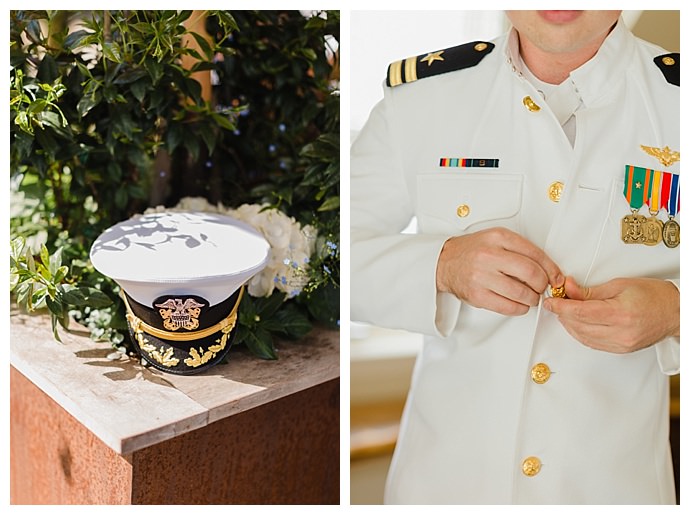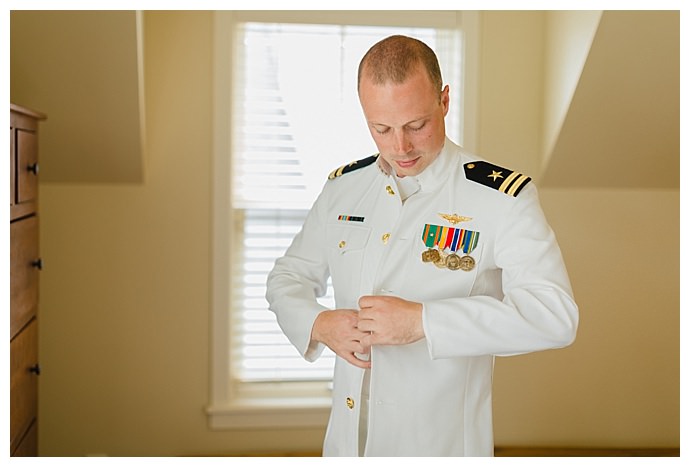 The Love Story
Before Colin and Devon had ever met, the stars had already begun align. Within the same week, they had both decided to download Bumble, and when they matched, they struck up a conversation not foreseeing what it would lead to. "We met for dinner the following Wednesday at Boundary Bay Brewery in Bellingham, Washington, and had the best first date getting to know each other," Devon says. We quickly discovered we have several mutual friends through the Navy, and we topped off the date with dessert at Pure Bliss Desserts in Bellingham, and by that point we were both smitten!"
After numerous blissful dates, Colin had purchased a ring for his bride-to-be and whisked her away for a romantic weekend at Roche Harbor on San Juan Island. After they checked into their room, Colin suggested they take a walk down on the dock. "We were having fun looking at the yachts and enjoying the sun walking down the long dock," Devon says, remembering the moments just before her life changed forever. "When we reached the end of the dock, Colin pulled me in for a hug and told me he loved me, and then suddenly he was down on one knee! He was holding a gorgeous rose gold solitaire, and I will never forget the look on his face." Devon enthusiastically said yes, and Colin stood up to kiss her before slipping the ring on her finger. They celebrated that night with a romantic dinner on the waterfront and decided then and there that they wanted to get married at Roche Harbor.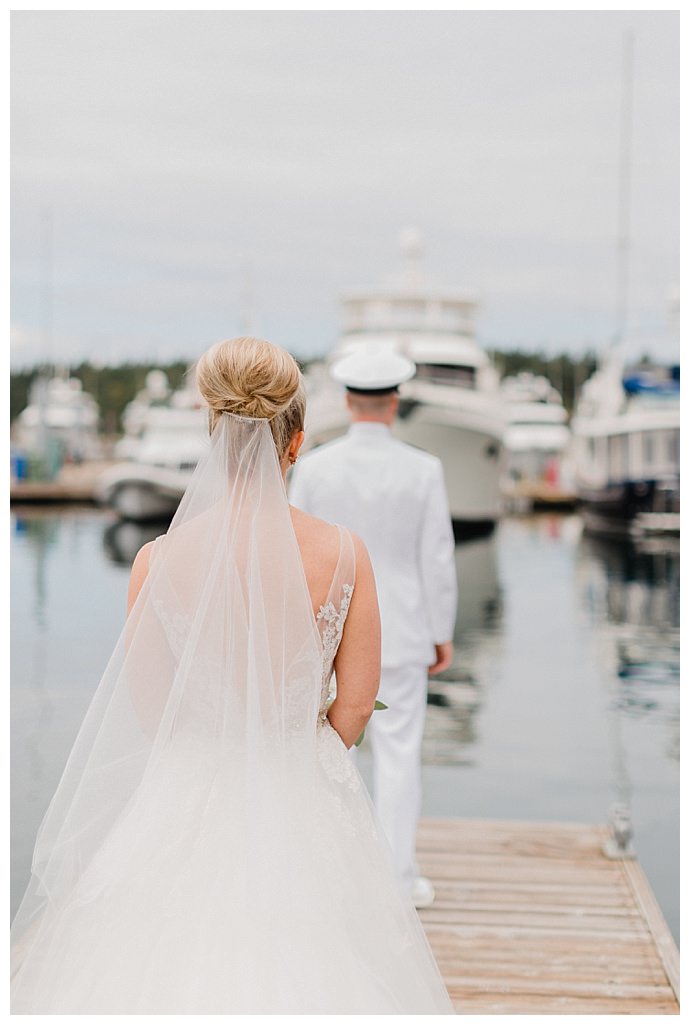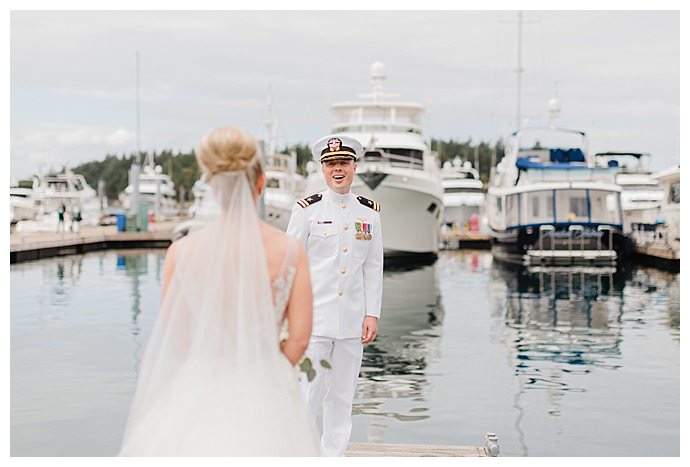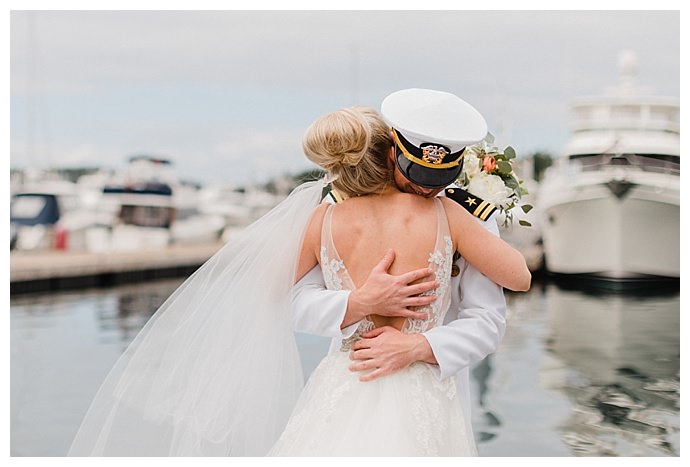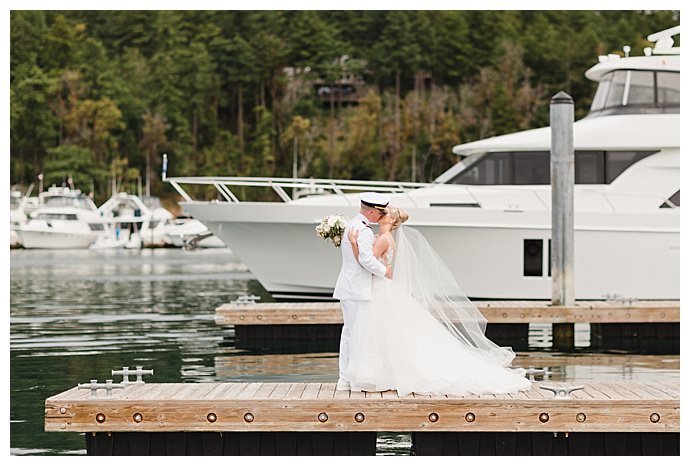 The First Look
As a proud member of the U.S. Navy, Colin dressed in his choker whites and put on his cap before heading out to the end of the dock to wait for his bride. Devon stepped into a Lazaro ball gown featuring a sheer top with intricate lace detailing, a floral inspired belt and a full tulle skirt, and with help from her bridesmaids and her mom, she made her way to her groom. "Colin was waiting for me at the end of the dock in the main harbor, and I remember feeling so excited and anxious as I walked down the dock to find him," Devon says. "When I saw him in the distance looking toward the water in his uniform, I couldn't believe how handsome he was; walking up to him was an exciting moment, and when he turned around, the look on his face said it all."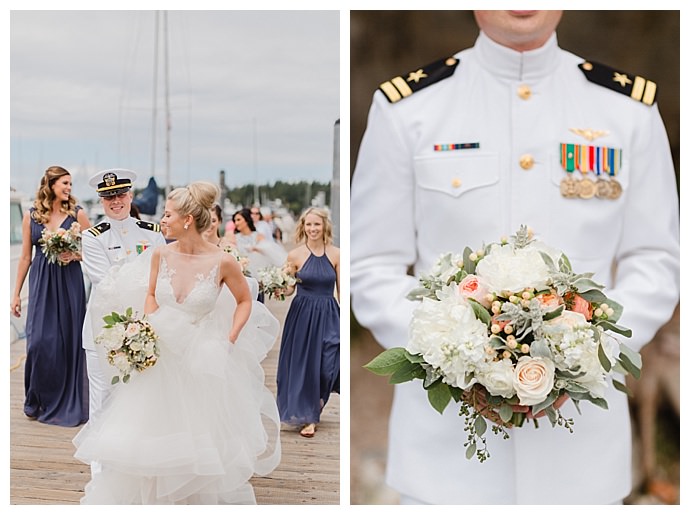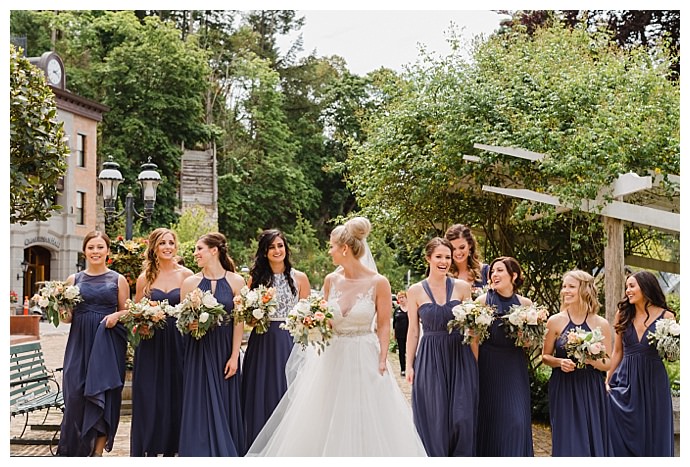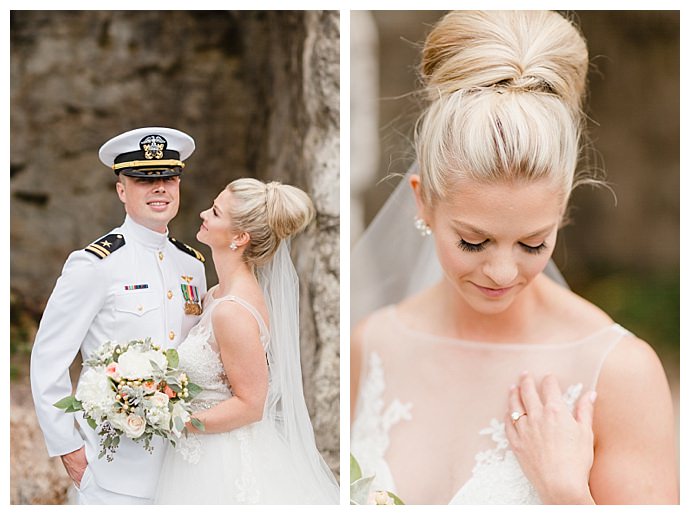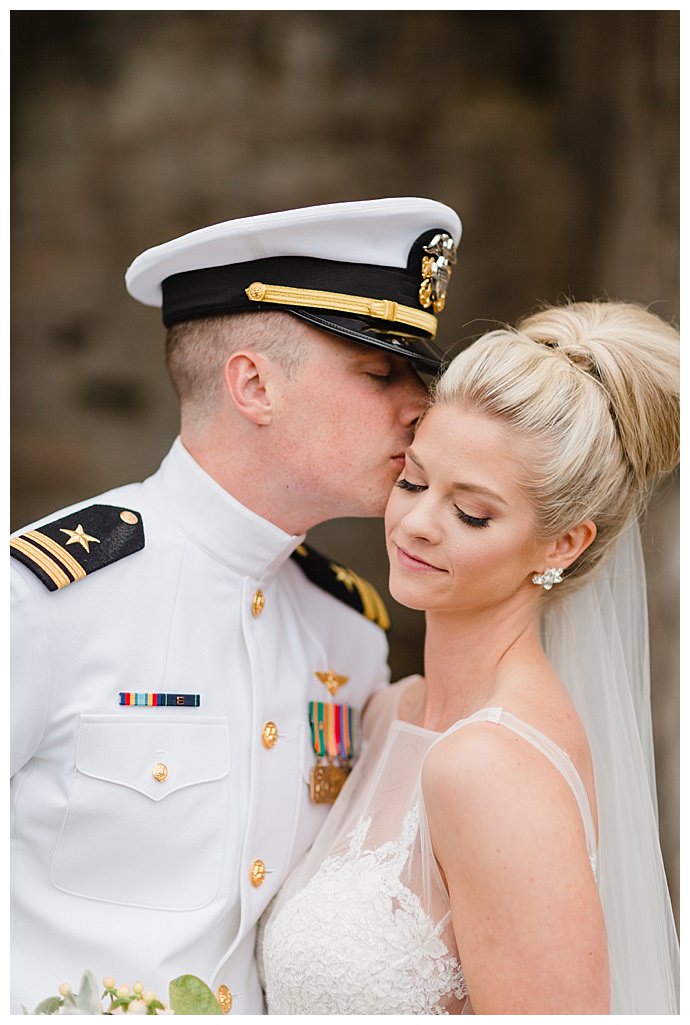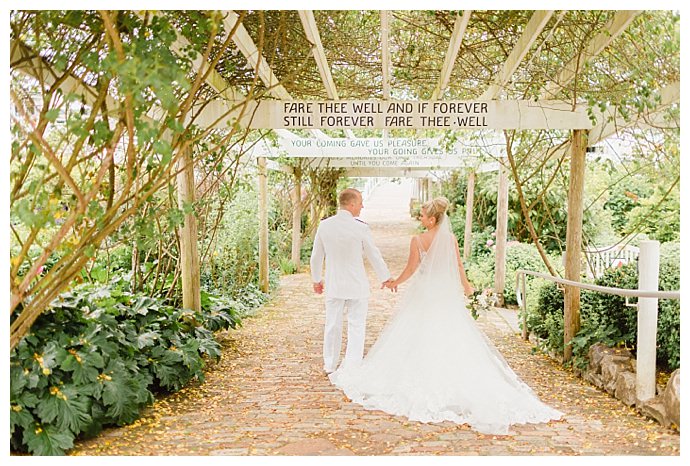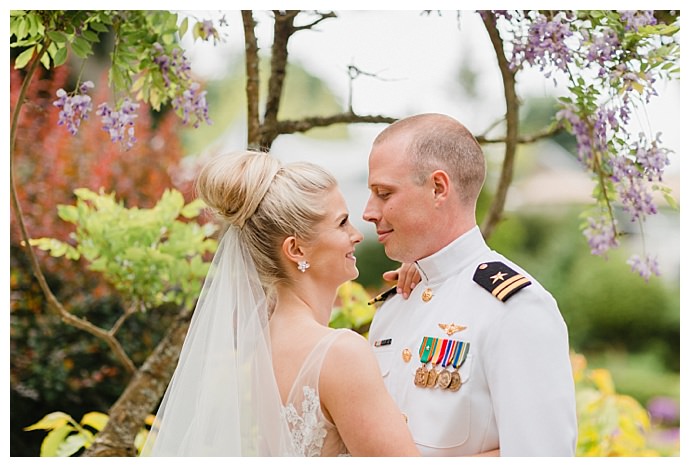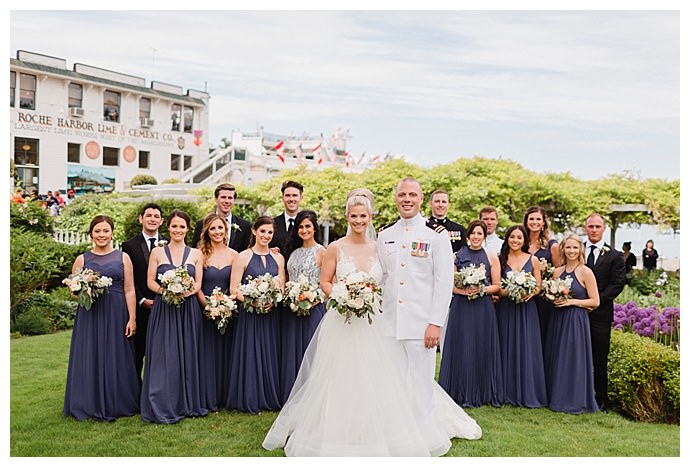 The Ceremony
The ceremony was held in the main garden that overlooked the harbor. Because it was mid-June, the lush garden was in full bloom, which eliminated the need for any added decor. White chairs were set out on the manicured lawn for the ceremony, and at the end of an aisle lined with white rose petals, a cedar arbor was festooned with peach garden roses, white delphinium and silver dollar eucalyptus. Before guests found their way to their seats for the ceremony, they each took a paper plane, which they tossed into the air when Colin and Devon shared their first kiss as husband and wife!
But before the newlyweds recessed back up the aisle, they partook in a post-ceremony Navy wedding tradition where eight swordsmen created four arches with their long swords for Colin and Devon to pass through. "At each arch, they would say, 'The price of a passage is a kiss,' and we would kiss before moving to the next one," Devon says. "After passing through the last arch, the head swordsman swatted me on the booty and said, 'Welcome to the Navy, Mrs. Caines!'"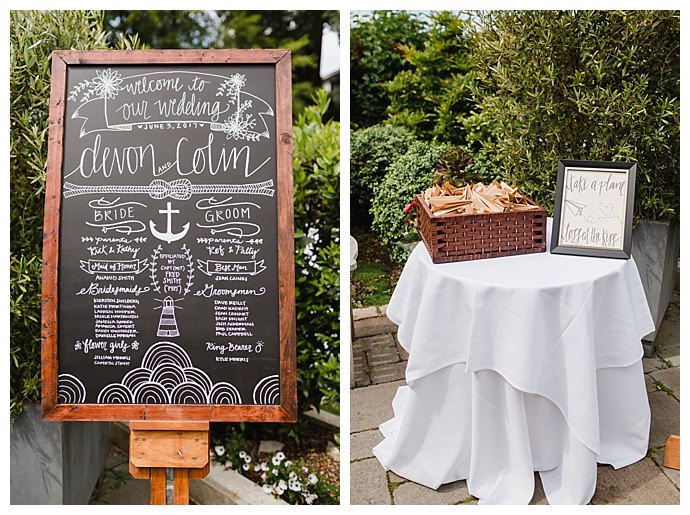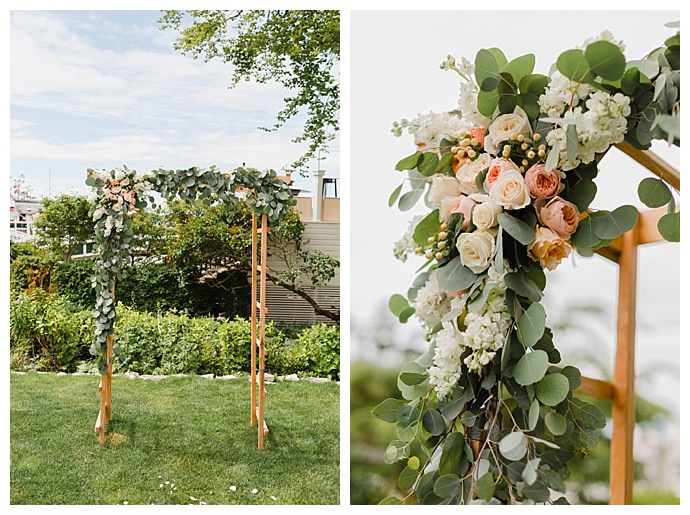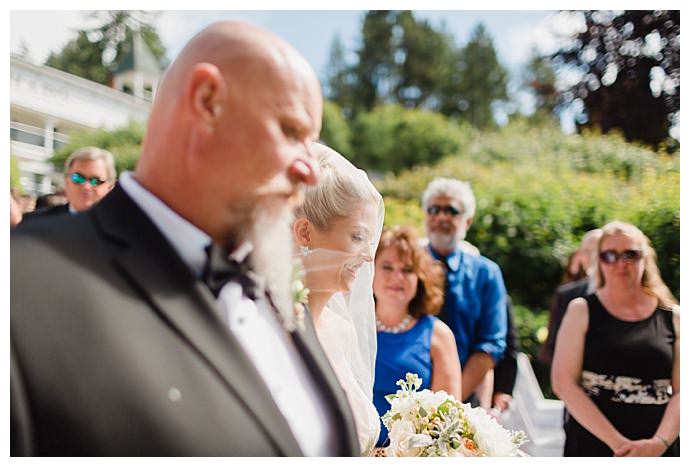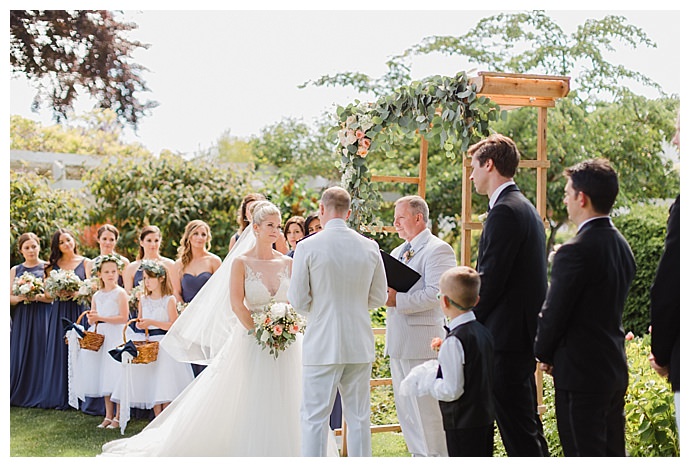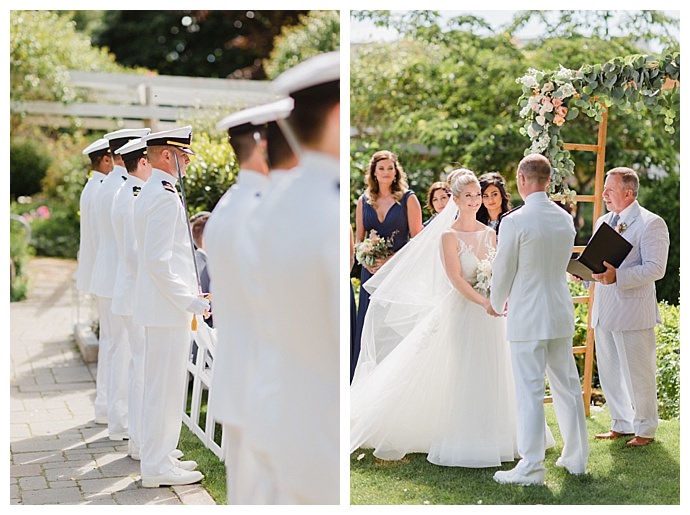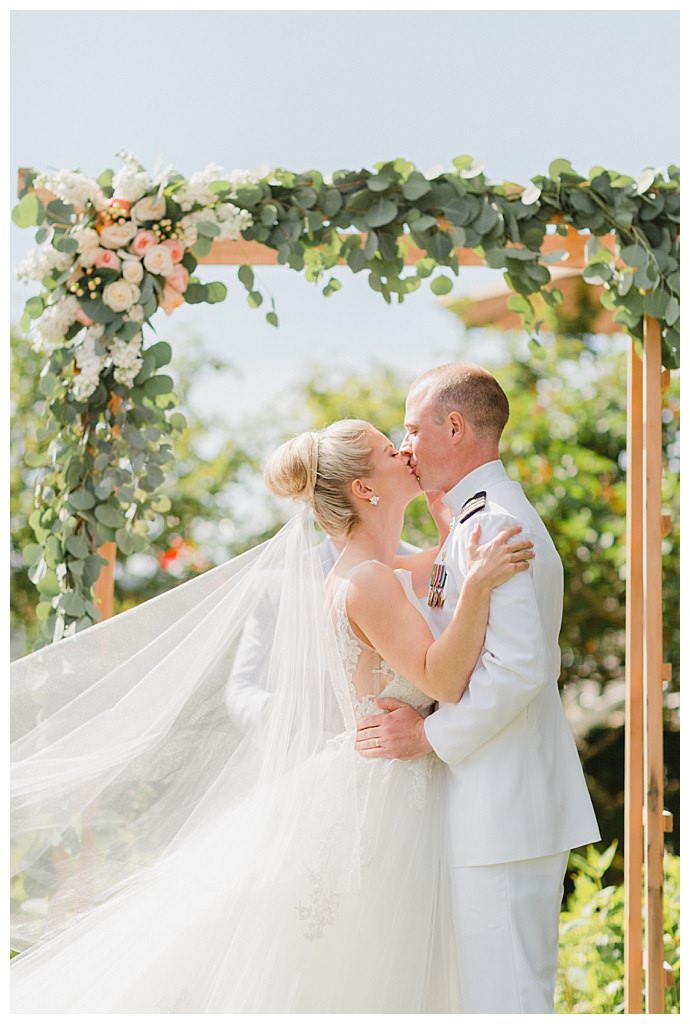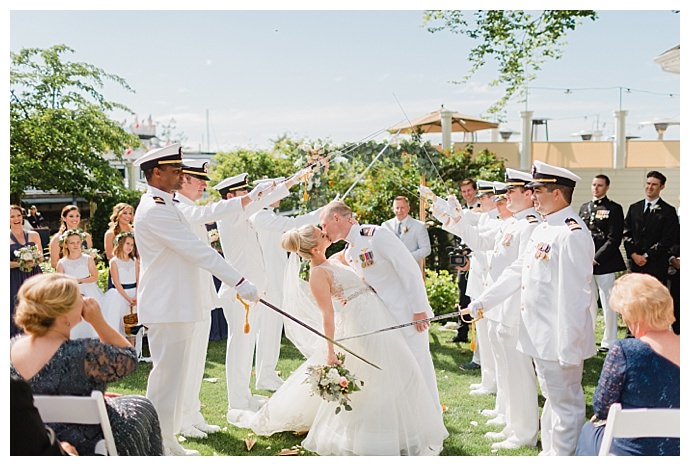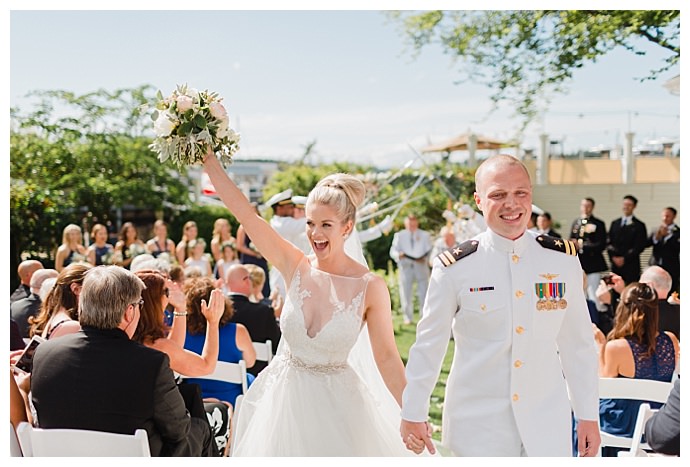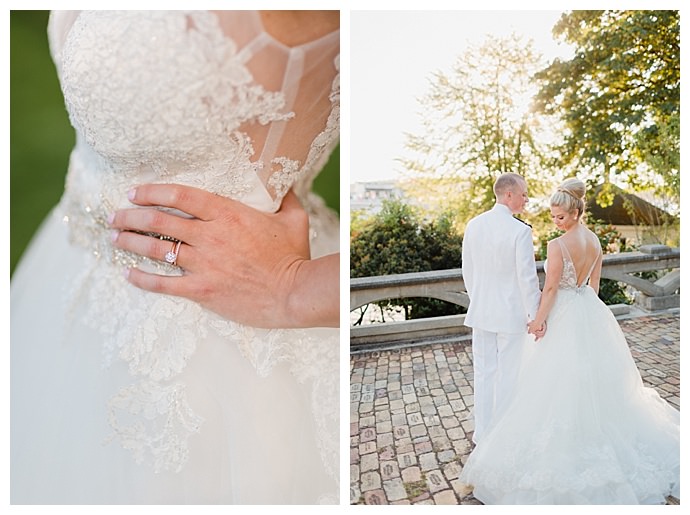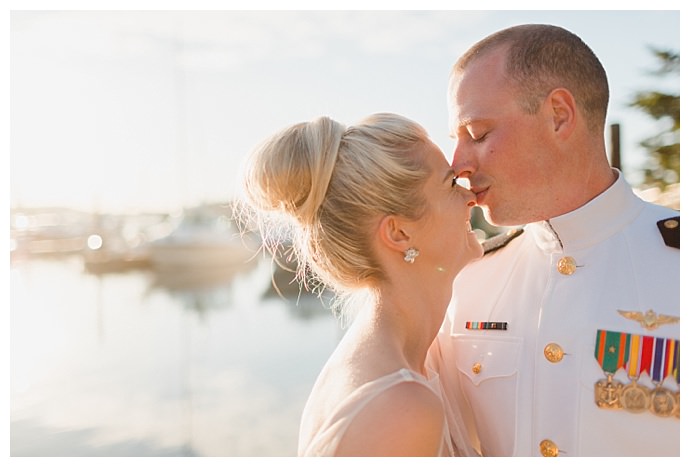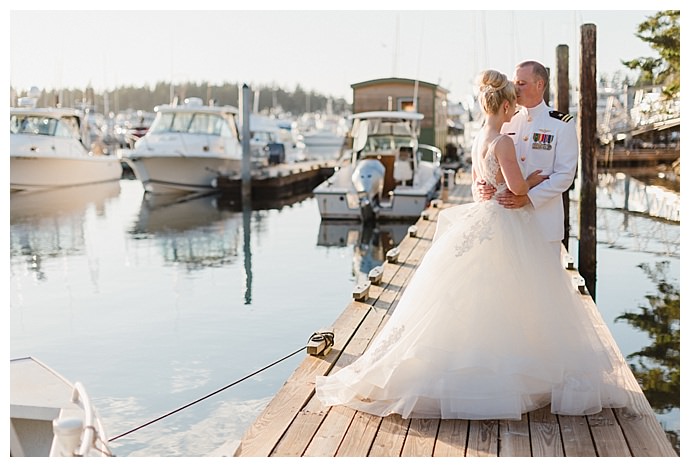 The Party
The reception room inside Roche Harbor was decked in a Navy color palette of navy blues and gold, and Edison light bulbs hung above the tables lined with garlands of eucalyptus. "We  both have a simple style, so we tried to keep things classic and timeless," Devon says. For decor, the newlyweds tapped into their creativity and DIY'd many elements for the wedding. "We folded hundreds of paper planes for our wedding day," the bride says. "One batch was used to toss at the kiss at our ceremony, and the other batch was used as place cards for our guests at the reception. I hand wrote each guest's name on the plane wing, and they were set on top of gold chargers at the reception tables."
The night Colin and Devon got engaged, they went to Pure Bliss Desserts to share a celebratory cupcake, so they, of course, had to get their wedding desserts from there, too. "We had peanut butter chocolate — Colin's favorite! — and salted caramel cupcakes for guests," Devon says. "We also had a petite round almond cake to use for cutting; the cutting cake was frosted in a stormy blue color, and gold sprinkles on the cake and cupcakes tied everything together." The cake table ended up being one of Devon's favorite elements at the reception. They made the wooden cake stands themselves and decorated the table with lush greenery and string lights, which was a beautiful backdrop for the moment they cut into their cake with Colin's Navy sword.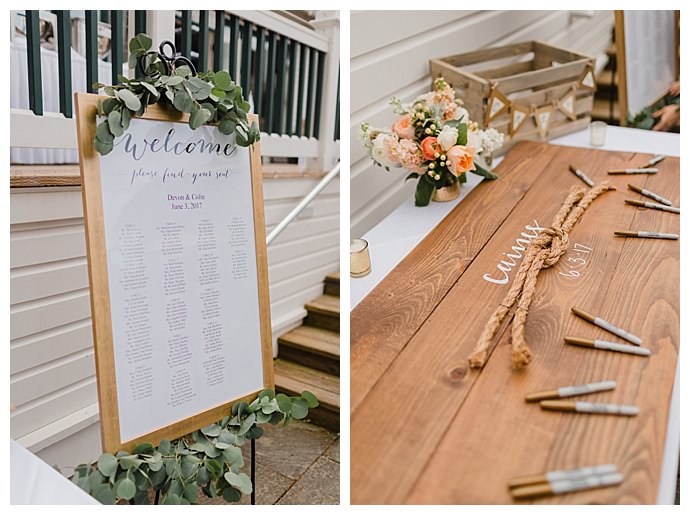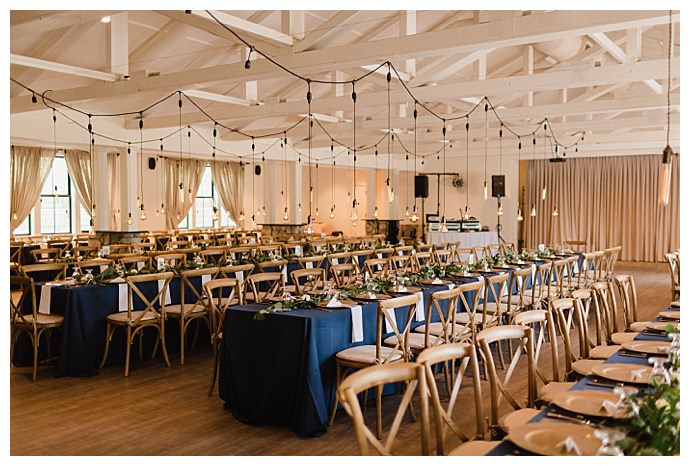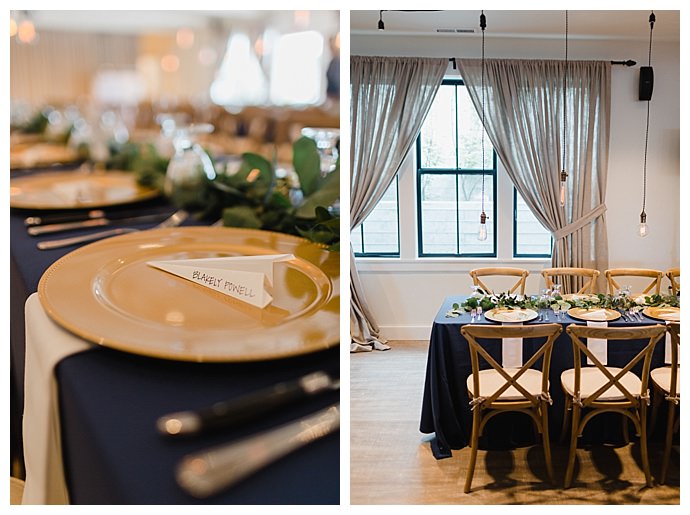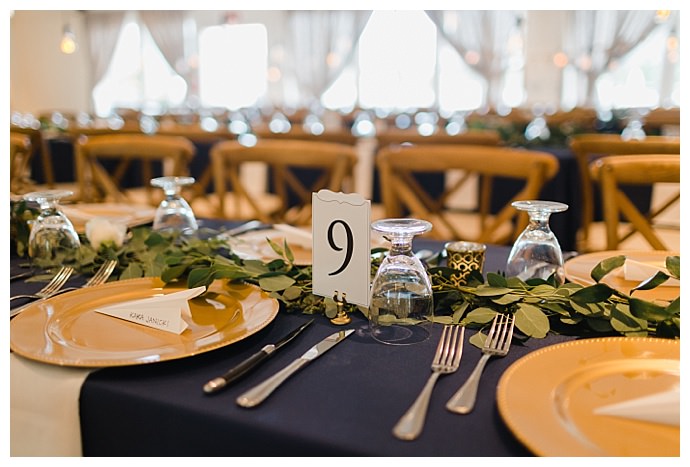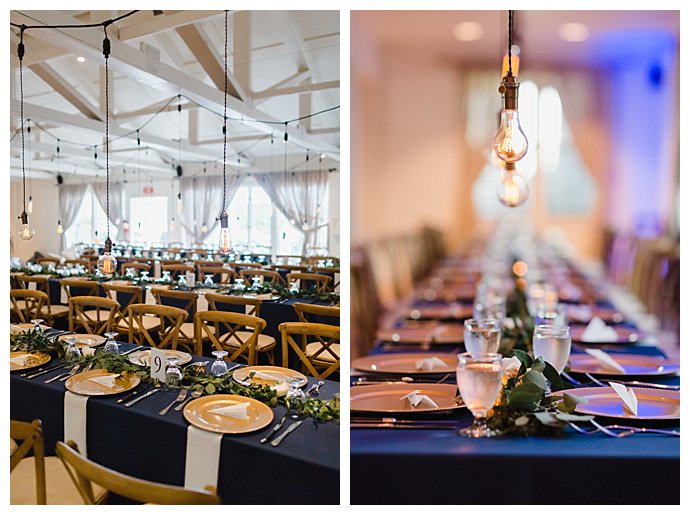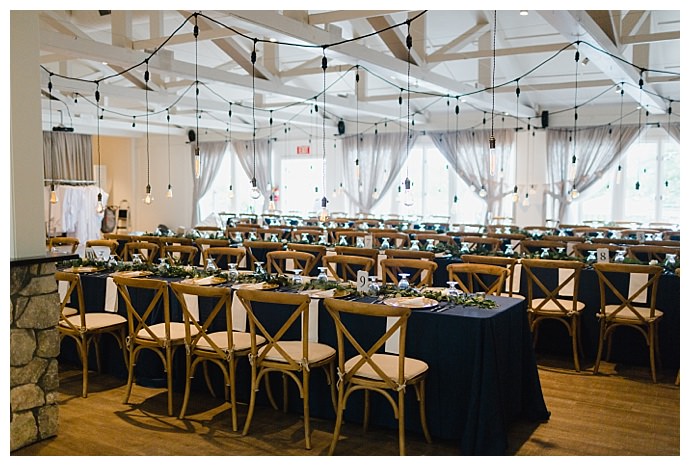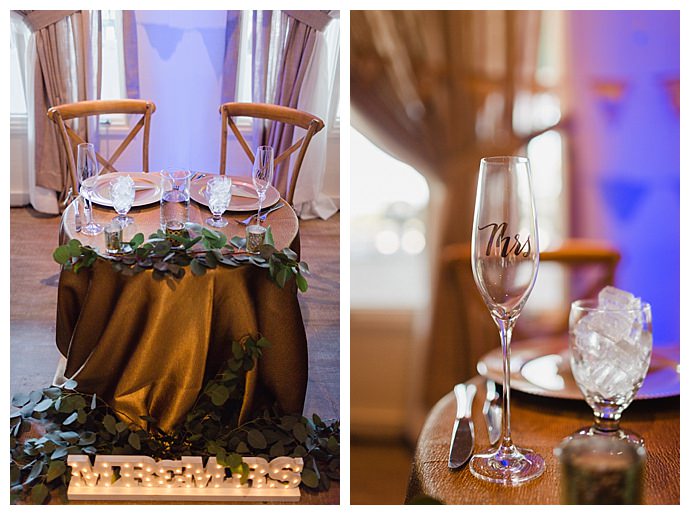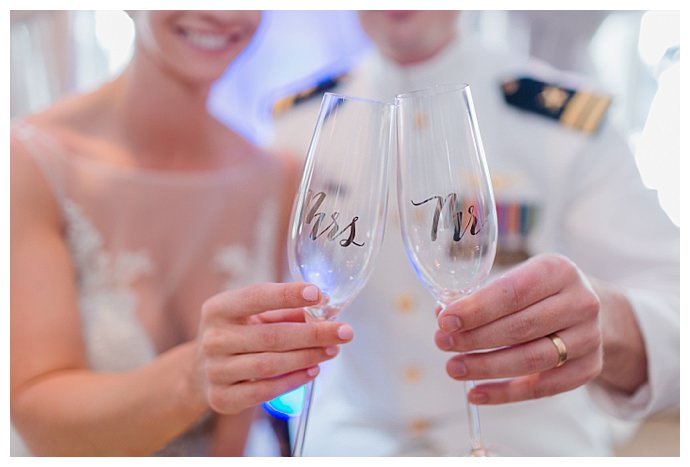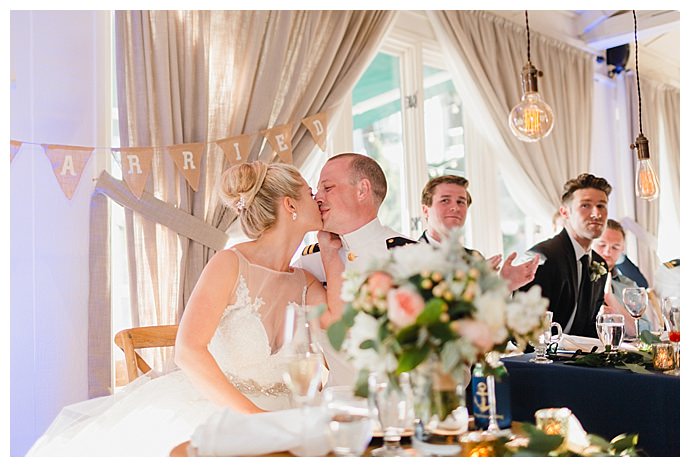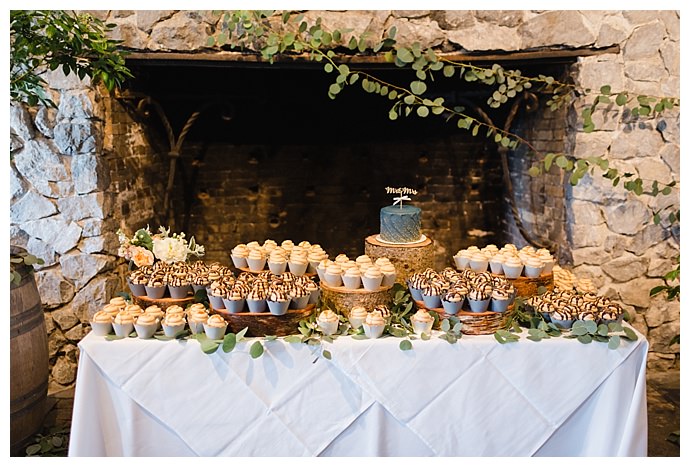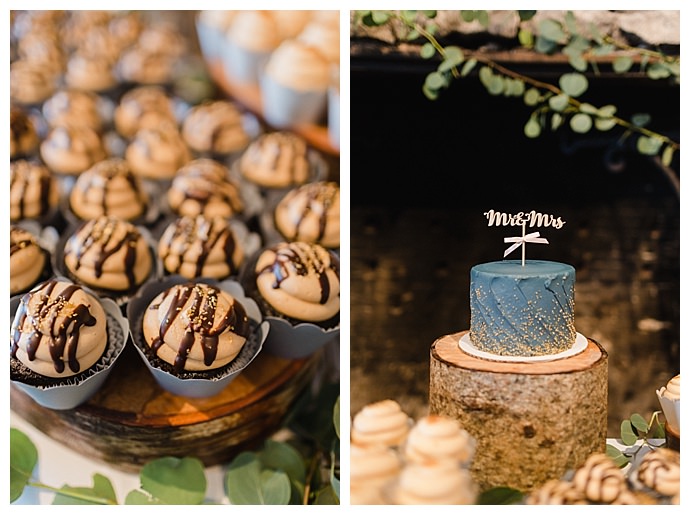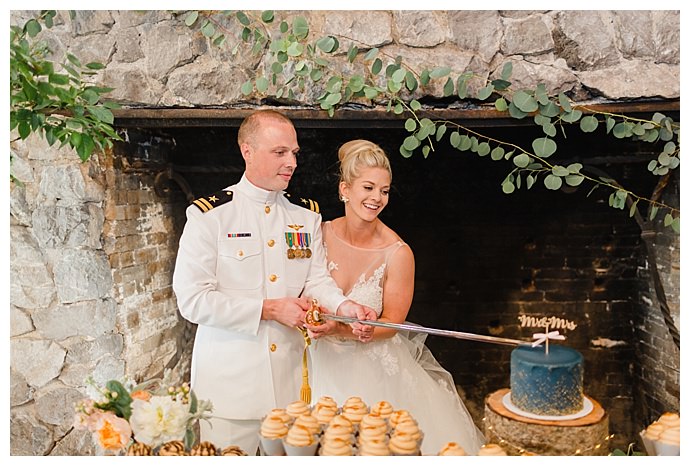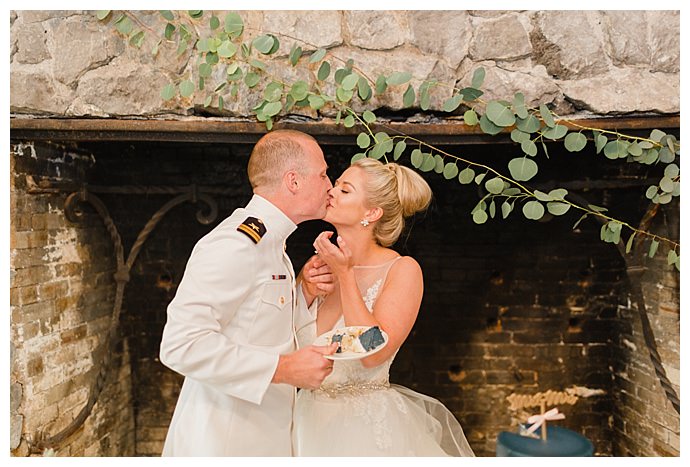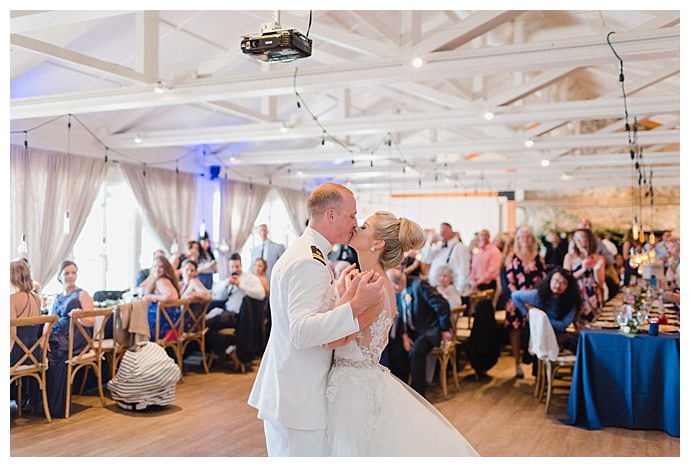 *Editor's Note: This post contains affiliate links. Each time you purchase an item via our affiliate links, Love Inc. is receiving a small percentage of the sale, thus you are helping our small, EQUALITY-MINDED™ business grow and allowing us to provide more content for YOU! Isn't that just fantastic?
Submitted via Matchology
Written by: