By Brittny Drye | Photography by Heirloom Collective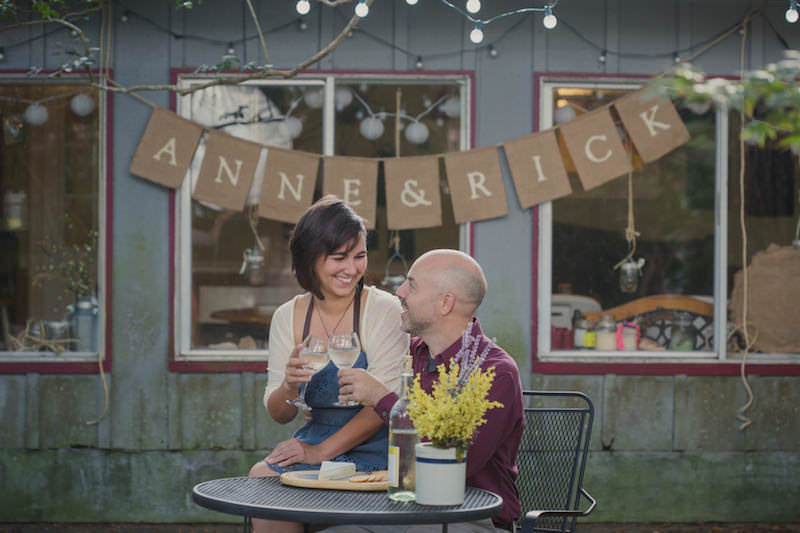 For Anne and Rick, it was a no-brainer to have their engagement session in the comfort of their own backyard. "We figured it was a great way to make sure that our dogs Summer and Flash were included, too," says Anne. "We let them just run around and photobomb us as they saw fit."
The pups paired with stylized signs, a cute camping setup and a game of Scrabble led to one amazing backyard e-sesh, perfectly captured by Heirloom Collective. 
The Love Story
When Anne's alma mater (and the university where Rick taught) decided to discontinue the philosophy program, Anne took action, organizing a campus campaign to help save it. "I thought to myself 'This woman is leading a charge to save philosophy?  I've got to get to know her better!'" laughs Rick.
At a Philosophy Club party following a successful win, Rick got the courage to ask Anne on a canoe trip at a nearby nature conservancy. "She agreed, and the rest is history," he adds.
After a few weeks of dating, Anne knew Rick was The One. "I wrote an entry in my diary about my ideal man. After Rick and I had been dating for a few weeks, I went back and read it. It described him perfectly. That's when I knew."
The Proposal
Rick planned a romantic weekend for the outdoorsy couple at Hodges Gardens State Park in Florien, La. After walking around the park's gardens, they found themselves in a secluded wooded area underneath a very large, old beautiful Japanese maple. "I asked her to climb up on a lower limb so I could get a photo of her looking out over the limb. After taking the shot, I climbed up in the tree with her, but was standing on one limb lower than her. Looking up at her, I asked if she would spend the rest of her life with me," explains Rick.
She of course said yes, and they later went to the park's gift shop where they found a plaque that read, "It began in the garden." "That plaque now hangs in our house!" adds Rick.
The Ring
"My ring is pretty and dainty with lots of little diamonds and a flower in the middle. Rick was at first annoyed with the whole concept of wearing a ring, but he understood the importance of it in our society. He started looking into ring alternatives and figured out how to actually make a ring out of a silver quarter. So he spent an afternoon and made his own ring!" Anne exclaims. "If you look closely on one side of it, it says 'United states of America' and on the other side it says 'Liberty' and '1942.' The quarter came from his deceased grandmother's coin collection, so it's actually a family heirloom."