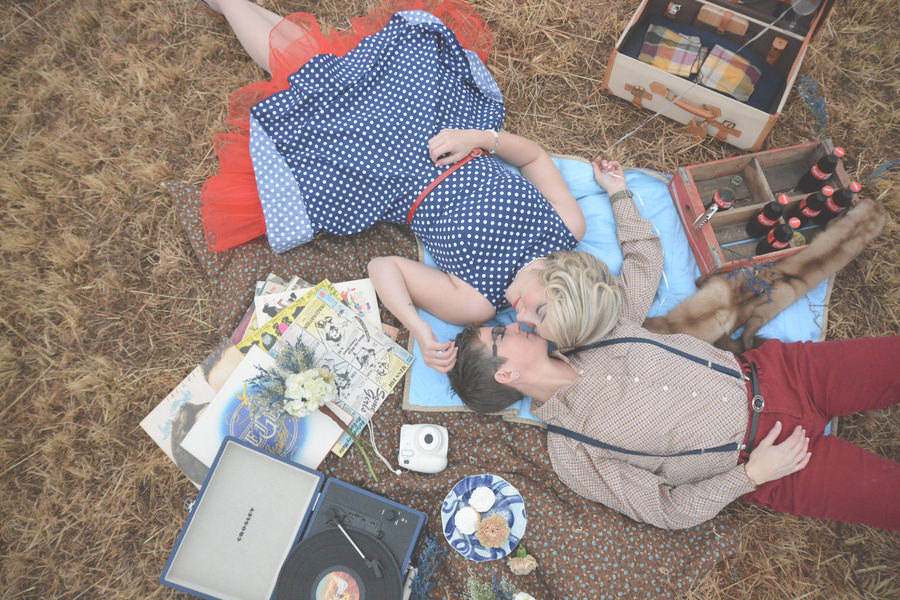 Amanda and Jennifer let their playful personalities shine during their vintage picnic inspiration shoot. Surrounded by retro props, the happy couple snuggled, gave sweet kisses and ate cupcakes (our kind of afternoon!) while Six Hearts Photography snapped away.
The Proposal
For both Amanda and Jennifer, it was a hug that sparked the forever flame. For Jennifer, it was when Amanda met her for just a quick hug on Christmas Eve while Amanda was out running errands and, for Jennifer, it was the first hug they shared when they met.
After six months of dating, Amanda began the hunt for the perfect ring for her beloved. Once the ring was found, proposal plans were put in motion. "Jennifer is super close to her dad and since I was just getting to know her Dad at that time I spent time writing out the perfect letter to her father to tell him how I felt about his daughter and let him know what my plans were," says Amanda. When the special night came, Amanda decked their home out in twinkly lights, set the mood with music (a Katy Perry song that would later be played at their wedding) and gave Jennifer a Christmas cookie (a nod to their first date when they made holiday cookies together). Amanda then proceeded to tell Jennifer how much she meant to her and asked her to marry her. "It couldn't have been any more intimate and heartfelt," exclaims Jennifer.