By Meghan Kennedy | Photography by LA Exposures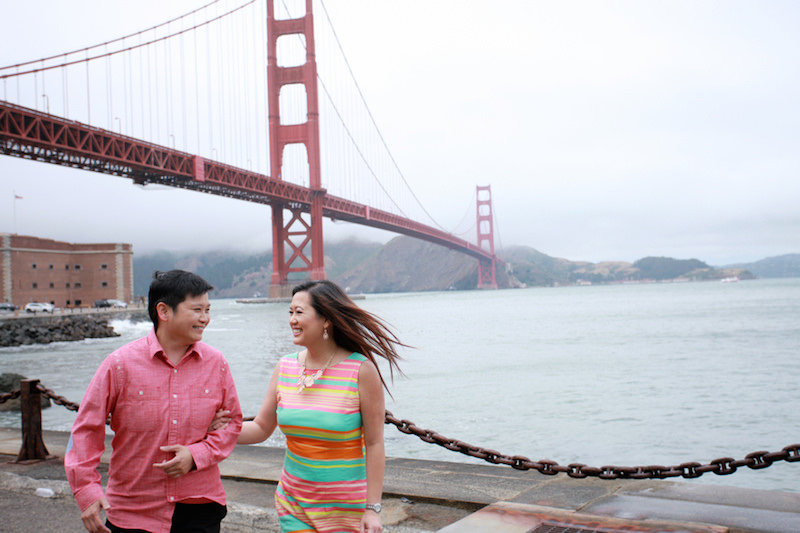 Alpha and Win are the epitome of a cool California couple, and so they decided to travel to San Francisco from Southern California for their engagement photos—it's where all of their "firsts" were! Alpha and Win are by-the-book romantic … "We had all of our 'firsts' in SF. I remember that we watched our first ball game at the Pacbell Park, now the AT&T Park. Our very first 'official' date was at the Sony Metreon for dinner and movies. Our first Valentine's date was at Sinbad's Restaurant overlooking the amazingly beautiful lit up Bay Bridge. Our first July Fourth was on a dinner cruise at the SF Bay. We celebrated our first New Year together watching the fireworks at the Embarcadero," explains Alpha. As the song says, and they agree, they left their hearts in San Francisco—they even lived in the Bay Area for four years—so of course, they had to feature it in their engagement photo session, beautifully shot by Jeremy of LA Exposures.
The Love Story
Alpha had just moved from the Philippines when she was introduced to Win by her cousin Cris in 2000. Since Win and Cris were close friends, Alpha got to see Win all the time, eventually, they just started going out on their own, and have dated ever since. As Win says, they were together for thirteen years before getting engaged—"… must be lucky 13"!
Alpha knew that Win was the one for her when they had to do a long-distance relationship; they were together for four years in San Jose when Win had to move back to Anaheim, where she's originally from. They dated long distance for four months, at which point Alpha realized she couldn't do it anymore, because she couldn't live without Win. "I knew she was the one when I decided to leave my family behind, pack all my stuff and follow her to Southern California without knowing what the future would bring … I just followed what my heart was telling me."
Win knew that Alpha was the one before they even started dating: "Year after year, my love for Alpha has grown profoundly. She's never faltered even the years when life's troubles challenged our relationship. She kept the strength and became my rock. Without a doubt, I knew she was the one, the only one I'd like to wake up to and spend the rest of my life with."
The Proposal
Win planned out a surprise proposal on their 13th anniversary, because the couple traditionally does something special for it every year. Alpha and Win traveled to San Diego to spend their anniversary weekend at the Loew's Coronado Bay Resort. The evening of August 10, Win took Alpha out to dinner, and with a view of the San Diego skyline, Win asked Alpha to marry her.
No one could tell the story as romantically as Win, so we'll let her fill you in: "For some reason, my palate that night wasn't working right. It must have be the anxiousness killing most of my senses. She kept asking if I was alright and had to excuse myself several times to go to the restroom and take a deep breath. I looked at the ring that I have been hiding in my pocket for a few hours now and the time has come. With my heart pounding fast and throat drying out, I told her how much life has been wonderful with her beside me and asked her if she can be my partner for life."
Alpha was awestruck, and never thought the day would come where she would get engaged to the love of her life. The two set a wedding date for a year in advance, and it certainly made their 13th anniversary the luckiest one by far.
The Ring
Alpha and Win's rings are as different in style as their personalities, and similarly, the two complement each other well. Alpha's ring has three diamonds that symbolize the past, present (being the biggest stone) and future. The three stones are surrounded by mini diamonds and she explained that they represent the people who surrounds them with love and support, like their families and friends. Win's ring, however, is more significant to their relationship specifically, as she says, "It is a 14K white gold band with three round shaped diamonds with the center stone being the largest … I chose this ring to signify my life with her. She will be my past, present and future."
Wedding date: August 10
,

 2014