Food trucks have long been a part of the wedding scene, but it's exciting to see the trend spread to small businesses as shops sprout wheels and hit the road for an alternative to storefront retail. Unique jewelry lines, trendy clothing boutiques and tasty coffee shops are finding homes in retrofitted vintage trucks and trailers and are spreading the word of their whereabouts through social media, allowing them to explore new territory and seek out customers they couldn't otherwise reach through a stationary location. And it's their on-the-go business plan that makes them a great fit for weddings or private events. So whether you're looking for a fun addition to your reception or to put a unique spin on a bach party, check out these six mobile shops who are changing the game.
Circa1910
Kayla uses an exquisite blend of vintage components and antique pieces to craft her one-of-a-kind jewelry line, Circa1910, which she sells from her adorably named 1985 Chevrolet C60 minibus, Melvin. Hardwood floors, a whitewashed wood ceiling and lush florals transformed Melvin into a chic, rustic home for Kayla's designs. And for wedding season, she's partnering with a local catering company to transform the minibus into a dessert bar for receptions! If you're on the hunt for some unique wedding jewelry, you can buy her stunning pieces online, too! We love the Have a Little Faith Earrings with crystal and agate stones and the Tiny Blooms Earrings with gold vintage leaves. Keep an eye out for Melvin who will be making his way all over the Southeast this summer!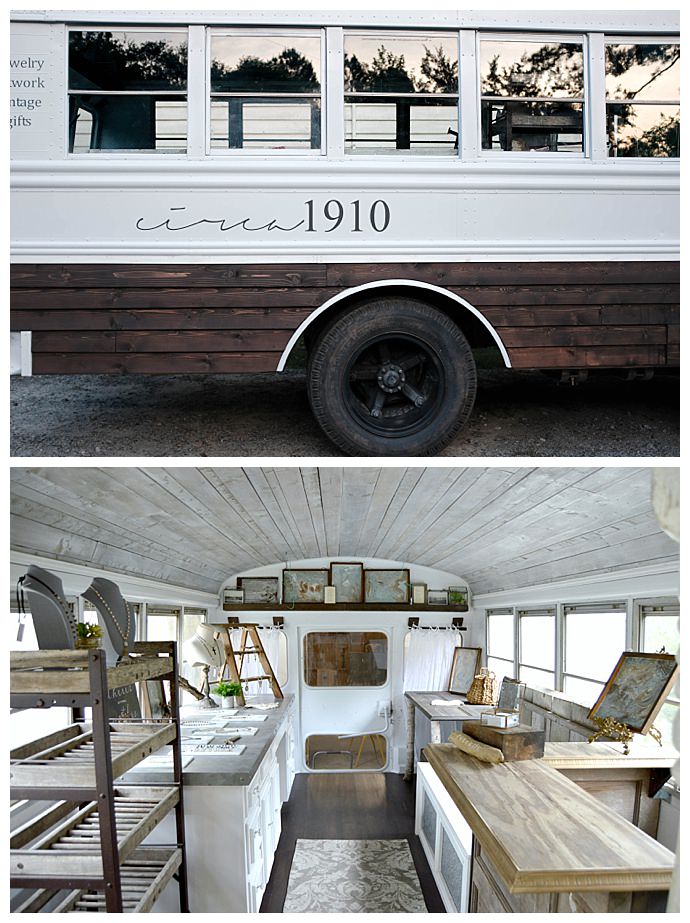 Cellar 82
We can't think of anything more fun for a wedding than a bar on wheels. A beautifully renovated 1967 Airstream Ambassador is the home of Cellar 82, a full-service mobile bar and lounge, rolling throughout the Ottawa area in Canada. Elevate your reception and take your wedding cocktails to the next level with owner Kasey's expertise and deliciously crafted cocktails. From creative cocktail classes and wine tastings to private events, you simply can't go wrong with a vintage camper and some tasty spirits.

Patterns & Pops
The ladies behind the aptly named Patterns & Pops are sprinkling the streets of Denver with bright and bold fashion, and their hot pink truck, Patsy, is leading the way. Inside the truck, a splash of rainbow polka dots cover the walls where eye-catching trends and vibrant fashion hang among some of the sweetest accessories you'll ever see. They've recently expanded to a storefront in Denver that's dripping with the same '60s candy shop vibes they brought to life in the truck. But Patsy still keeps busy, spearheading what co-owners Brittany and Lindsay call Sip & Shops — fun private events where gals can get together with their friends for an evening of wine and plenty of shopping. If that isn't the best idea for a bach party, then we don't know what is!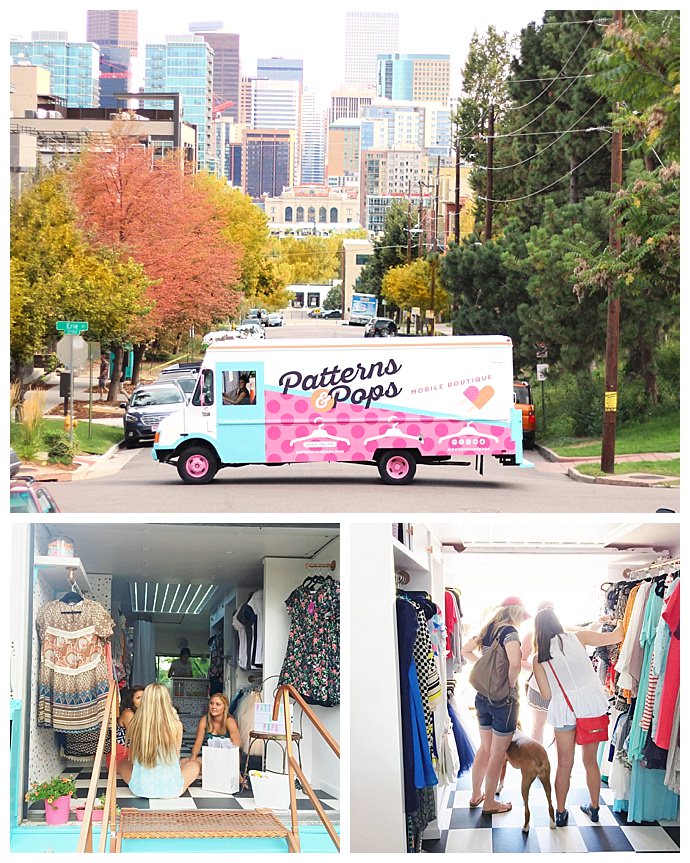 Gypset Collective
A honeymoon in Nicaragua sparked an unexpected adventure in the jewelry business for Samantha. She fell in love with the stunning stones that washed up on the beach and started turning them into jewelry for fun, which ultimately lead to the launch of Gypset. Two years later, with a flourishing Etsy shop and a seriously chic renovated Shasta trailer, Samantha takes her jewelry on the go, popping up all over Florida and hosting workshops along the way. We're swooning over the Swarovski Crystal Choker and the delicate Scallop Collar, both of which would make beautiful wedding accessories!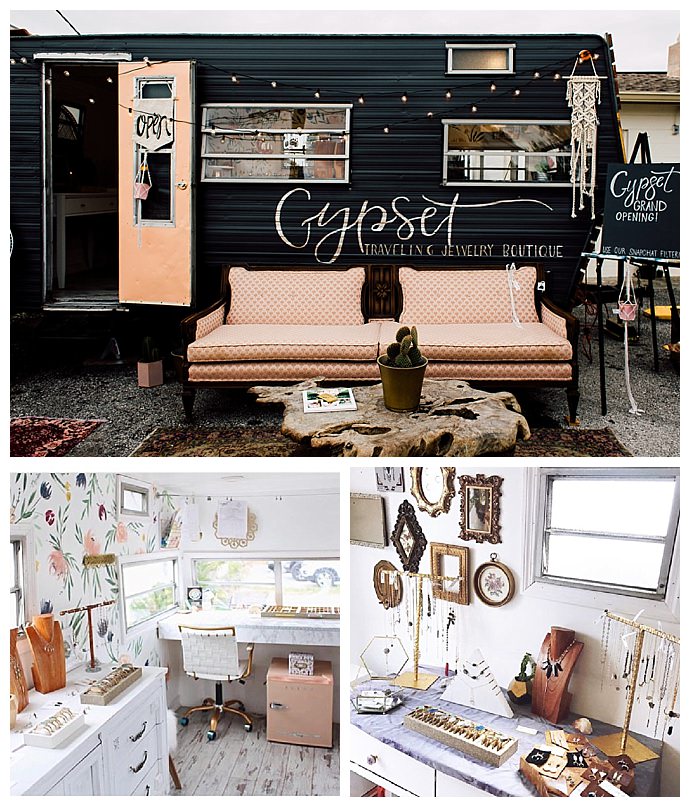 Nomad Coffee
Husband and wife Andrew and Nicole rescued a 1970s travel trailer from an apple orchard in Ithaca, New York, and transformed it into a rustic coffee shop that proudly caffeinates remote areas of Vermont. With locally sourced coffee and a tasty, modern menu that boasts the likes of cardamom rose lattes, strawberry coconut smoothies and an immune booster called fire cider that's sure to wake you right up, this mobile coffee shop is brewing up something special. Andrew and Nicole are in the midst of expanding Nomad's offerings for weddings and private events with the addition of a mobile espresso bar and coffee catering services that are perfect for any black-tie affair.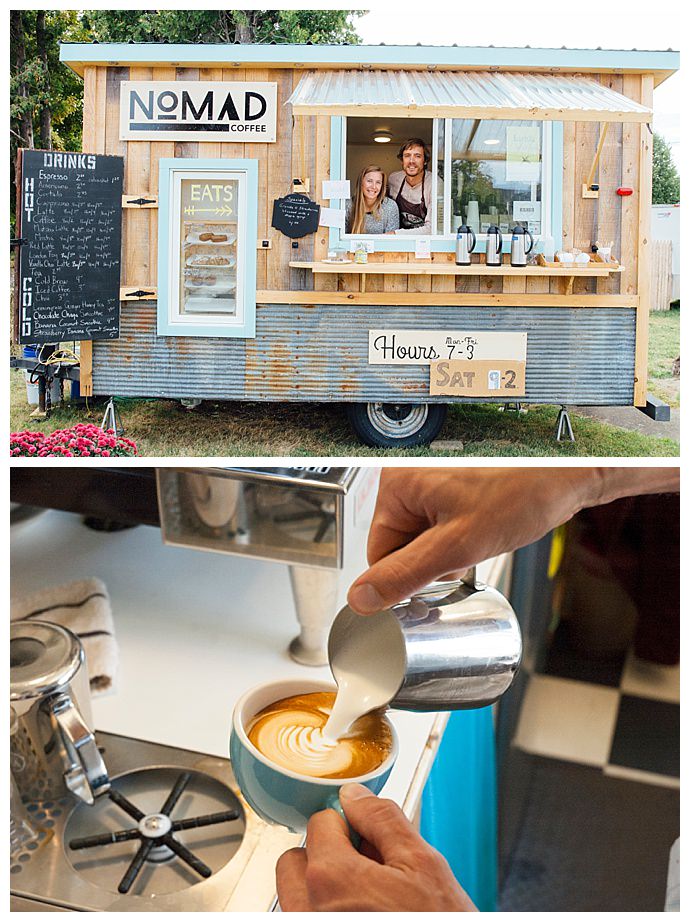 Hair & There Mobile Salon
Finding the perfect place to get ready before the wedding can be tricky. But with Hair and There Salon, which services areas around Katy, Texas, no longer do you have to worry about finding a space big enough to accommodate everyone and all the tools needed to get you picture-perfect for the big day. Inside the silver bullet, a full-service hair salon equipped with modern mirrors, white salon chairs and teal accents awaits. With services covering everything from a bang trim and eyebrow wax to specialty styling and makeup application, this vintage airstream salon is everything the wedding industry has been missing.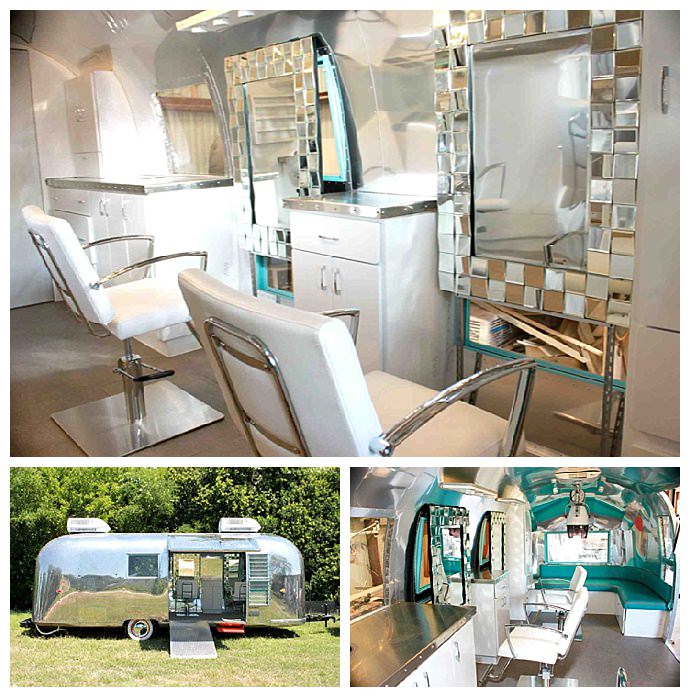 *Editor's Note: This post contains affiliate links. Each time you purchase an item via our affiliate links, Love Inc. is receiving a small percentage of the sale, thus you are helping our small, equality-minded business grow and allowing us to provide more content for YOU! Isn't that just fantastic?