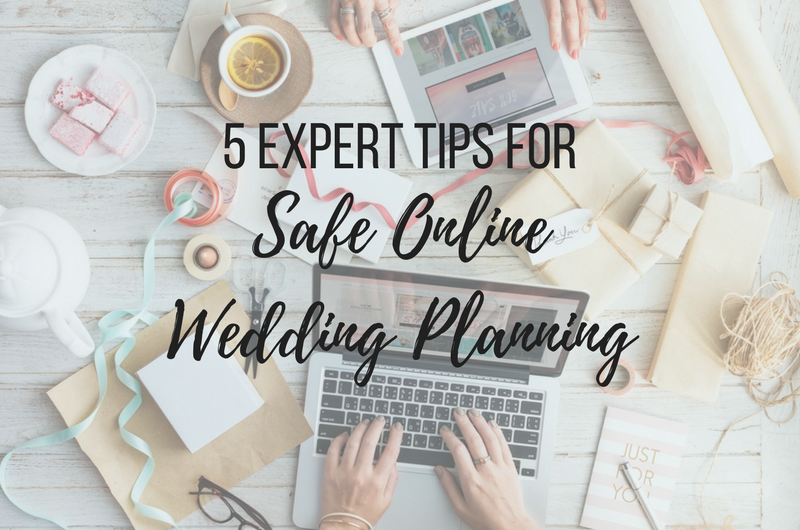 A New Kind of Wedding Crasher: Cyber Criminals and How to Avoid Them
There's a new wedding crasher in town. But these guys aren't just on the hunt for a good time. According to McAfee, couples in the throes of wedding planning have become an easy target for cyber criminals, and with the swath of available online tools, it's not hard to see why. From wedding-planning apps that help you plan your big day like a pro to gift registries and easy communication channels between vendors, there are so many elements of planning that have gone digital. But it's these reasons that also provide ample opportunity for cyber criminals to strike.
"Engaged couples are opening many new online accounts, sharing loads of personal information on the web and spending lots of time and money in unfamiliar places in a short period of time," explains digital weddings expert Amber Harrison, who has teamed up with McAfee to share safe practices for couples to implement while wedding planning to ensure ultimate safety. "All of these behaviors can put couples at risk." But soonlyweds aren't the only ones who need to be careful. Their guests, too, can easily fall victim to the threat of online hackers. But luckily, Harrison is giving us the inside scoop on how to shape up your online behaviors to shed any extra stress over a potential hack, because if there's one thing we know, it's that there's already plenty to worry about when planning the wedding of your dreams.
Be Alert
Hackers love a tricky scam, and they know the easiest way to suck you in is to disguise the scam as best as possible. If it looks too good to be true, it just might be. As cliché as it might sound, one of the best ways to avoid falling victim to a scam is to stay alert. Harrison suggests being keenly aware when visiting unfamiliar sites and taking extra precautions before booking services or travel and creating accounts that require the sharing of any personal information. "These crooks depend on tricking users into giving up information, often via email, and they are good at it," Harrison adds. "Never click on or respond to any email asking for personal data or account login information." Instead, always type in the URL yourself and go directly to the site before updating any personal information.
Think Before you Tweet
We know there's nothing more exciting than being engaged, and in the era of social media, it's hard to resist gushing about all the exciting things you're planning for the big day! "It's more important to remember, however, that what you share has the potential to be used maliciously," Harrison says. "The riskiest social behavior is sharing too much detailed information in real time." Instead, wait until after the wedding or when you're home from the honeymoon to share any specific locations or identifiable details. You wouldn't want a stranger to catch wind that you're on a three-week honeymoon excursion, leaving your home vulnerable to break-ins.
"Share your joy but protect yourself with a little mystery," she says. "In addition to carefully monitoring the content you post, make sure the security settings across your social networks are set to be as secure as possible. If you are inclined to overshare, make sure your accounts are locked down so only those you know and trust can see your posts." And don't be afraid to ask your guests to hold off on posting pictures or sharing details of your wedding. It's your day after all, and even though they just want to share your happiness with their friends, if you prefer they didn't, it's okay to politely ask them not to.
Don't Forget About Your Guests
You might be shocked to learn that there are many things couples do that put their guests at risk (we were, too!). "Most couples are using wedding websites, apps and online registries, which is super convenient but can also be risky," Harrison says. She suggests taking preventative measures to ensure these sites are only accessed by the people you intend. "Couples can help keep themselves and their guests safe by password protecting these information-rich sites and choosing providers that display a trust mark — a badge displayed on the site that tells you the business you are working with is taking appropriate security precautions."
Skip Public WiFi
The allure of public WiFi has never been more enticing. It's everywhere, and with the sky-high costs of data, we know we're not alone in scouring for free WiFi whenever possible. But Harrison says if you're wedding planning on the go, avoid the urge to connect to a public network. "Don't use public WiFi when doing anything requiring sensitive data or personal information," she says. "Public WiFi is an easy target for hackers and thieves." The best practice is to use your data. It might not be the most cost-effective, but it will be worth keeping your personal information private and avoiding an added stress if you get hacked because we know there's plenty to worry about when you're in planning mode! If you know you're the type of person who will be wedding planning while you're out and about, Harrison suggests investing in a Virtual Private Network (VPN) so you don't have to worry about things getting into the wrong hands.
Take Action
If you haven't taken any preventative measures and you discover you've been hacked, Harrison says to take action right away. "The time immediately following a breach is when you are the most vulnerable, particularly for phishing scams," she says. "Immediately login to the affected accounts and change your passwords and directly contact any and all affected institutions." It's also a safe practice to regularly monitor your bank account activity and look for anything out of the ordinary, and make sure you keep all receipts on hand so you can verify everything matches with the charges on your account.