Kourtney Kardashian and Travis Barker exchanged vows over the weekend in a lavish ceremony in Portofino, Italy, and, true to Kardashian form, her fashion — a lingerie-inspired corset dress paired with a dramatic veil, both designed by Dolce & Gabbana — made headlines.
The designers shared on Instagram that her veil was hand-embroidered using a cross-stitch technique to create the oversized Virgin Mary and the words "family loyalty respect," a nod to her husband's tattoos. Floral lace appliques, inspired by Portofino flowers, trimmed the edges.
While the outfit is usually what plays centerstage, Kourtney shows just how much weight accessories can carry, and how a single statement piece can elevate an entire outfit. Inspired for your own wedding-day look? We've rounded up some of our favorite statement veils for those who want to bring to the wow to the aisle.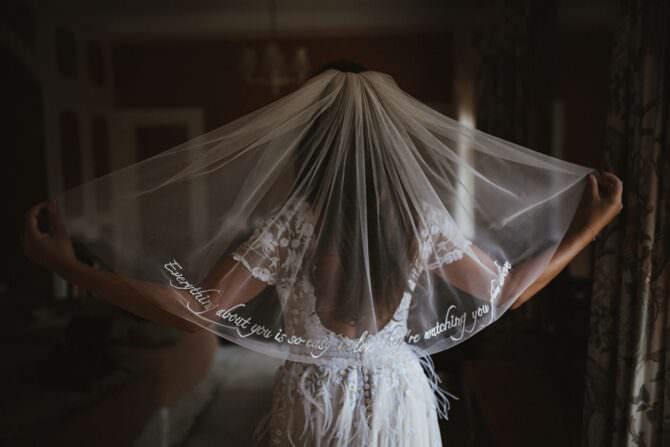 Bespoke Veil, designed by Hermione de Paula, price upon request: Along with her intricate embroidered veil designs, Hermione de Paula offers custom veil services that allow you to have anything your heart desires: vows, a special date, even a design of your fur baby. The options are endless!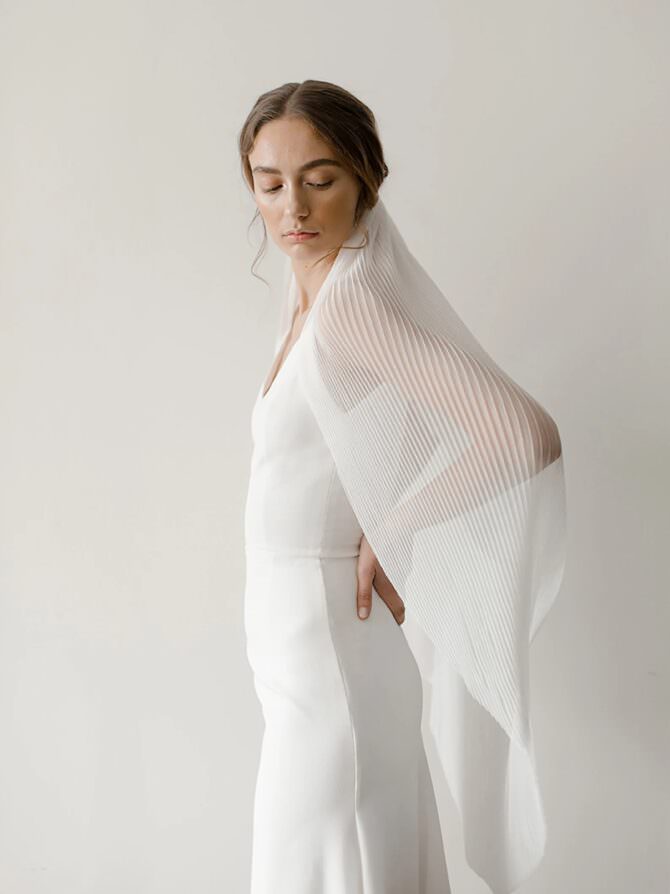 Pleated Veil designed by Davie & Chiyo, $93: A modern take on a classic bridal style, this ivory pleated veil is finished with a gold, rose gold, or silver comb. This unique accordion veil is available in shoulder, elbow, fingertip, and ballet length.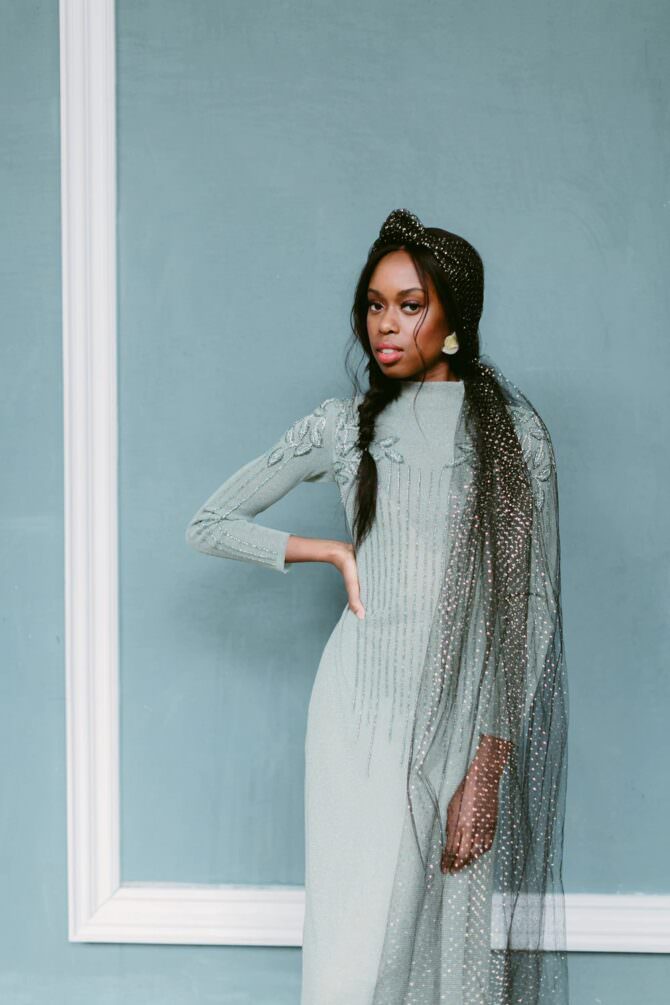 Turban Veil designed by Hushed Commotion, $295: This modern, chic turban take on a traditional wedding veil is fun but sooo elegant at the same time.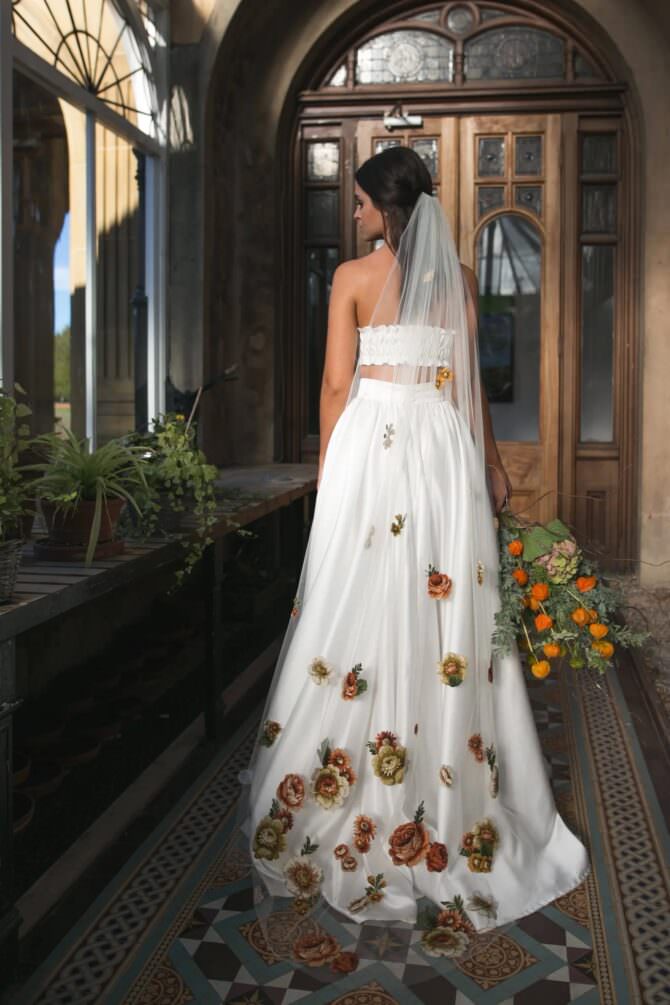 Gardenia Veil designed by What Katy Did Next, $439: A breathtaking floral bouquet taken from a Vintage Sanderson fabric print and embroidered onto a single layer floor length tulle veil. For a truly individual, nature-loving soonlywed wanting to make a beautiful statement on their big day – this veil is a must!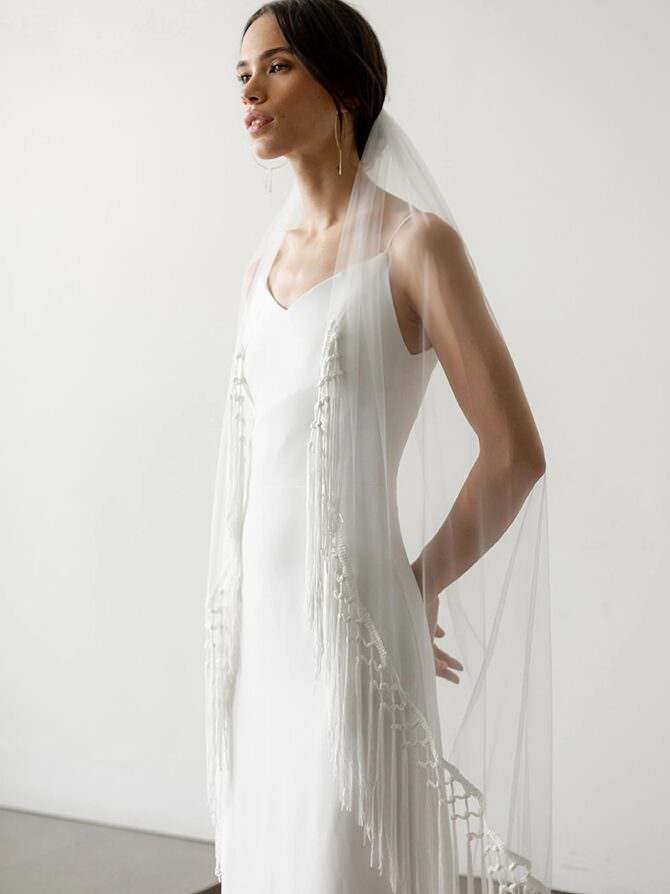 Fringe Veil, designed by Davie & Chiyo, $134: Setting boheme hearts aflutter, this fringe veil is perfect for the wild spirit soonlywed.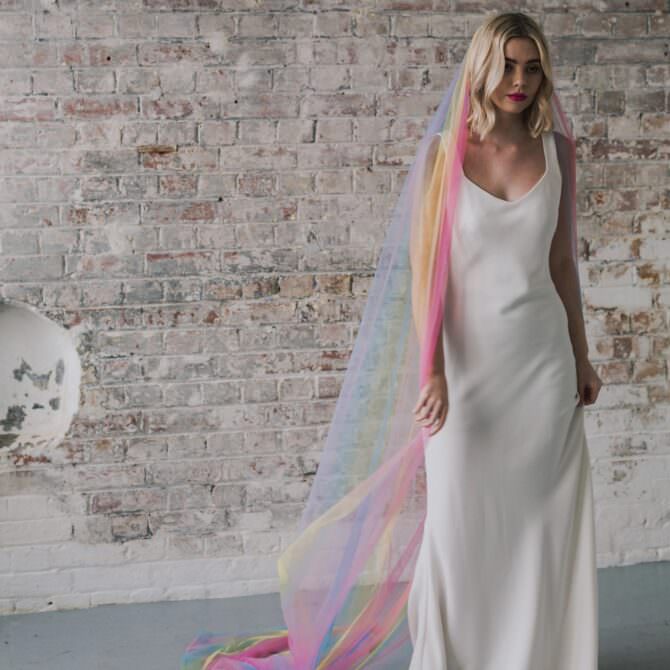 Over the Rainbow Veil designed by Crown & Glory, $156: For those who aren't afraid of a splash of color, this super-soft tulle is dyed in multicolored rainbow hues.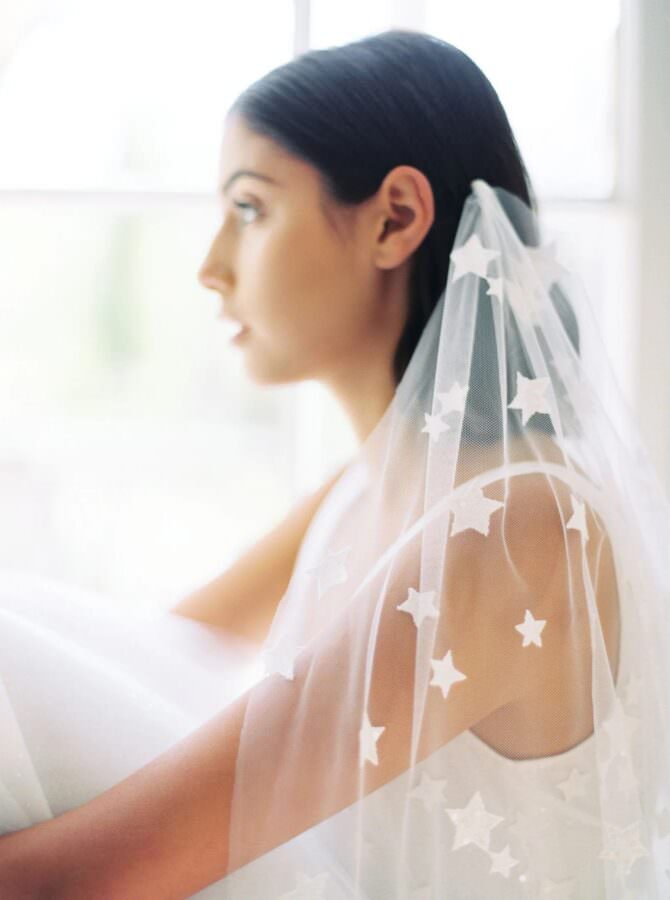 Star Veil designed by Noon on the Moon, $225: Enchanting like the night sky, this draped star veil is adorned with a multitude of embroidered stars for an utterly whimsical finish to a celestial-themed wedding look.
Ombré Feather Train Veil designed by Twigs & Honey, $1,800: This amazing veil is completely handmade with countless hours of hand sewing to create a gorgeous sweeping train of ombre feathers.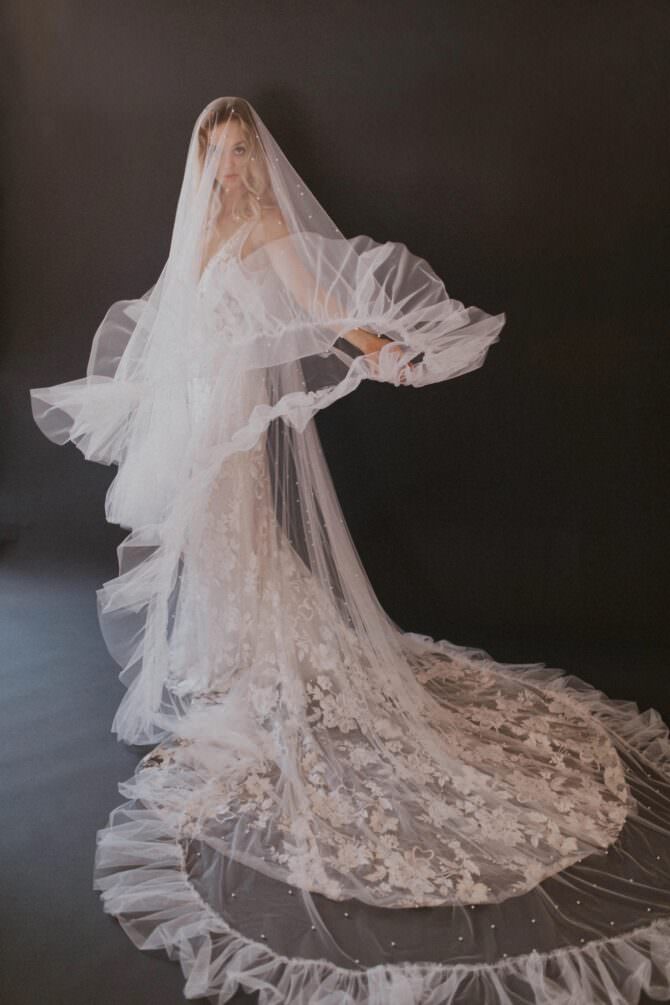 Fiona Veil designed by Untamed Petals, $444: This ruffled, two-tier circle cut veil brings the elegance and the drama.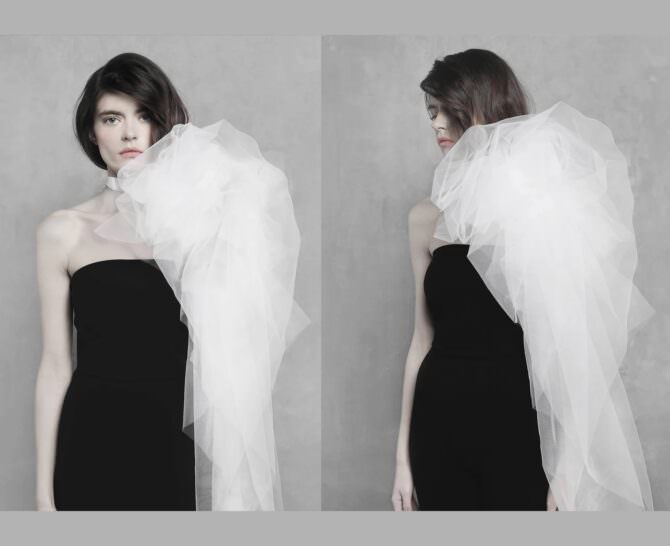 Big White Tulle Flower Choker Necklace designed by Celestial Body Studio, $41: While it may not technically be a veil, we love the idea of styling this statement tulle accessory as one!