10 Helpful Tips for Making the Most Out of a Wedding Expo
**This post is sponsored by Country Club Receptions
With easy access to an infinite number of online tools and applications, we often spend so much of our time behind a screen pinning details and researching vendors for the perfect wedding. However, attending an event that brings you face-to-face with the incredibly talented people who work hard to make weddings a beautiful and special event for everyone involved is an amazing way to plan your wedding. Whether you're simply looking for inspiration for your big day or you're hoping to lock down those last few remaining vendors, wedding shows are overflowing with the hottest trends and most talented pros in the industry. But with a long line of booths filled with vendors anxious to talk to you, different cake flavors to sample and a multitude of decisions to make, attending an expo can quickly become overwhelming. But don't worry! We've got just what you need to ensure your time is well spent and stress-free — who knows, you might even walk away having completed weeks of wedding planning in just one day!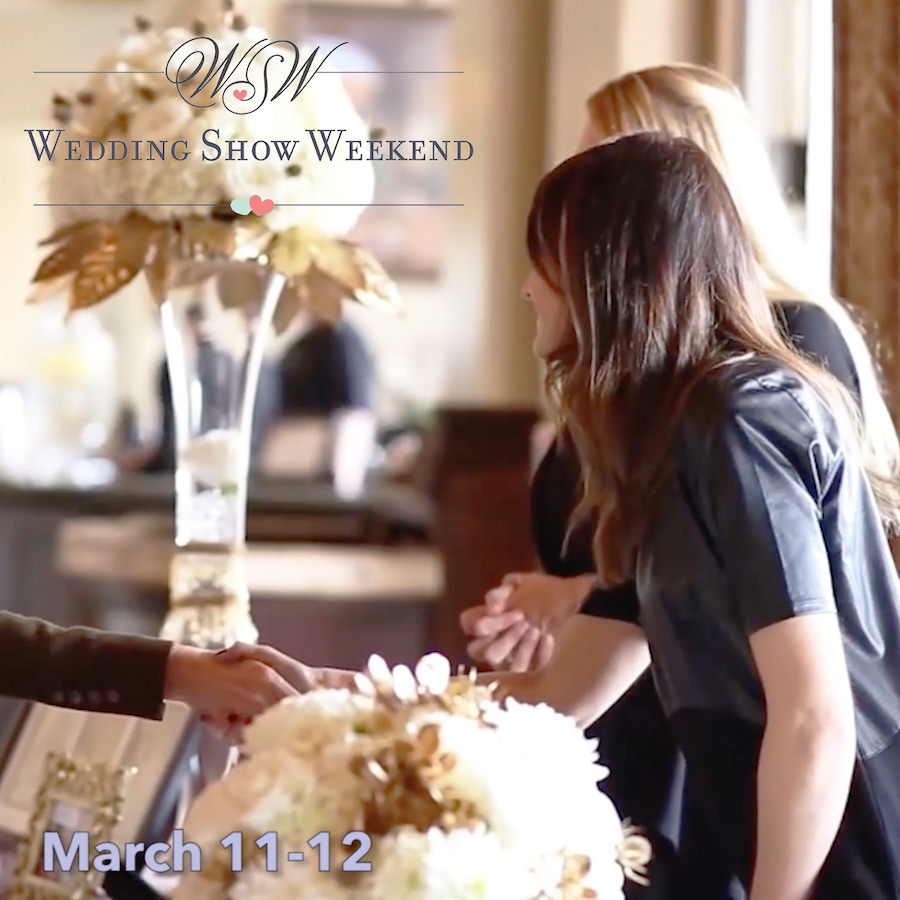 Country Club Receptions is hosting its fourth annual Wedding Show Weekend March 11-12, which will take place at 40 (yes, 40!) different country club and golf course venues across the nation. Aside from wearing comfortable shoes, arming your purse or backpack with snacks and registering ahead of time — RSVP here — here are 10 tips for navigating the Weekend Wedding Show or any wedding expo and making the most of your time while you're there.
Create a wedding-only email address
Create an email address specifically for wedding planning so your important wedding emails don't get lost in the spam and work emails that flood your inbox each day. Give this address to vendors when you share your contact information, but remember to only share your info with vendors you are truly interested in working with. It's always okay to say no! Not every wedding pro is going to be the right match for you, and being honest benefits you both in the long run.

Take advantage of the opportunities
It's free to attend Wedding Show Weekend, and you can even have the chance to win up to $10,000 in prizes by entering Country Club Reception's giveaway sweepstakes. All you have to do is fill out a form on their website, and you could win money toward the wedding of your dreams! Also, make sure you have your credit card on hand for access to special promotions or discounts specifically for expo-attendees. And take advantage of the chance to taste cake flavors, browse tablescapes, flip through photography portfolios and see decor up close that you wouldn't be able to do while searching for vendors on a computer.
Prepare a list of questions
Come prepared with a list of questions for each type of vendor so that you don't walk out of the expo and immediately start thinking of all the things you wish you would have asked. Take some time before you attend to think about the things that are important to you and/or that you need the most help with in regards to flowers, catering, officiants, etc. Write them down on your phone for easy access or scribble them in a notebook that you can quickly reference as you meet with vendors. It bears repeating that there's no such thing as a dumb question, especially when it comes to one of the biggest days of your life!
Take notes
Expos can easily feel like information overload, and with the amount of business cards and brochures that quickly pile up in your hands, it's easy to get your information mixed up. We suggest having a few pens on hand to take notes directly on each vendor's business card or brochure. Draw a star or create a special mark for the businesses that are most impressionable so you can quickly find them once you are home.
Know your budget
As we've already mentioned, make sure you're a bride or groom with a plan. If you don't already have a budget mapped out, come up with a ballpark figure so that you make the most of your vendor shopping. That way, you won't waste your time, or the vendor's time, talking to a photographer or caterer who's way out of your budget.
Preview the venue before you book it
If you're still in search of a ceremony or reception space and you're looking to get married in one of the 10 states hosting the expo, don't miss the opportunity to see a beautiful venue and the potential it holds for your wedding day. Across the U.S., 40 different country clubs, including Pelham Bay & Split Rock Golf Course in the Bronx as well as Dyker Beach Golf Course in Brooklyn, will be hosting shows for the Wedding Show Weekend, where the venue will transform into a wedding-ready event as vendors bring the space to life. In addition to finding talented local vendors, you might just find the venue of your dreams!
Take lots and lots of photos
Make sure your phone has plenty of available space so you can take pictures of everything that catches your eye. From beautiful floral arrangements to the perfect invitation suite, don't be afraid to get a little snap-happy as you peruse the booths. Most importantly, when you see something that you like, don't forget to take a picture of the business name, whether that's a picture of a business card or a banner, so you'll be able to keep everything organized and easily know whose work belongs to who when you're back home combing through all your pictures!
Bring color swatches
We already addressed the importance of asking questions, but be sure you're ready to dish on all the details of your wedding, too. In order fully express the details you've already decided on and to find a team who truly understands your vision, come prepared! If you've already chosen colors, bring swatches of your color palette, your wedding dress or wedding suit, wedding party outfits, reception decor, etc. That way if you find something such as an incredible centerpiece that you simply can't live without, you can ensure that it matches your linens.
Stay focused
Even if you're in the very beginning stages of planning your big day, create a plan to ensure you leave having accomplished something instead of wandering around aimlessly overwhelmed. Stick to vendors you haven't yet chosen. As someone who's an awful decision-maker, I'm the type of person to second-guess everything, and being at an expo with hundreds of vendors would make me question every decision I'd made up to that point. So don't set yourself up for failure — or a meltdown! — and approach the expo as a chance to finish knocking out your to-do list, not re-doing all the work you've already done.
Determine if vendors are LGBTQ-friendly
Country Club Receptions has a list of some of the vendors who will be attending the shows on their website. We know how it can feel like you have to come out all over again every time you talk to a new vendor about your wedding, so before you head off to the expo, take a look at their website and social media to determine whether they're equality-minded, and for guidance on what to look for, check out our helpful post! If you don't have a chance to research the vendors beforehand, browse vendors' portfolios to see if they've worked with both straight and same-sex couples, and as always, don't be afraid to ask!