It might have been raining on both their engagement and wedding day, but there was nothing dull about Callum and Adam's wedding at Pembroke Lodge inside London's Richmond Park. After a tiring search for matching wedding suits, the grooms decided on two stunning but different shades and styles of blue suits. "Most importantly, we both felt like ourselves on the big day," Adam says. "We decided to wear the same tie to give a hint of unity, and on a moment of madness Callum bought bright red glitter socks for us and the ushers to add a bit of sparkle to the occasion." And a grand occasion it was! Babb Photo beautifully documented the colorful details and sheer joy of Callum and Adam's wedding day, which even the gray skies couldn't put a damper on.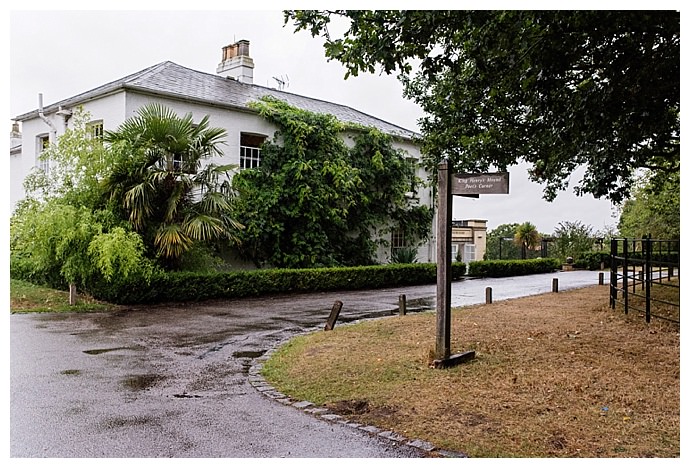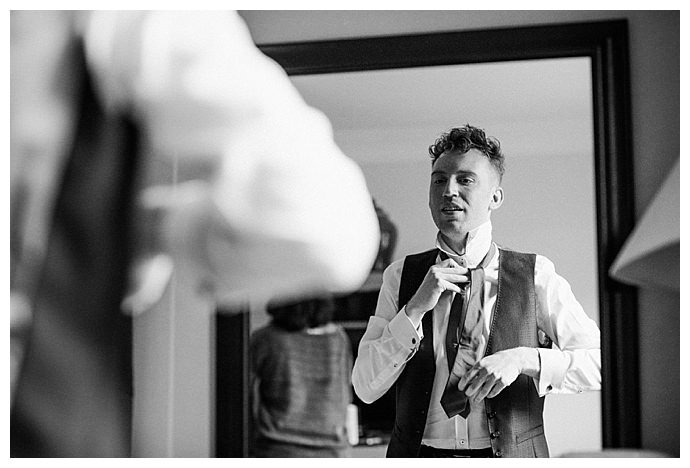 The Love Story
In true London fashion, Callum and Adam met over a couple pints of beer at their local pub, The Antelope, and the rest was history. It wasn't long before Adam was secretly arranging an entire day to propose to Callum, who hates surprises and insists on doing much of the planning in their relationship. Adam was anticipating a sunny day, and planned accordingly, so when the skies opened up and it rained heavily for most of the day, Callum joked as they walked through pelting rain and strong winds that Adam would never be allowed to organize their engagement. Little did he know, Adam was mere seconds from getting down on one knee.
Adam had brought Callum to the historic Brighton Bandstand, a romantic Victorian bandstand with incredible detailing, overlooking the English Channel. Underneath the large dome, safe from the rain, Callum said yes to Adam's proposal, and they quickly hurried out of the rain to their favorite restaurant, where another surprise was awaiting. Adam booked the restaurant for the evening, and their friends and family had gathered to help them celebrate as they ate delectable Mediterranean dishes and sang karaoke until the early morning hours.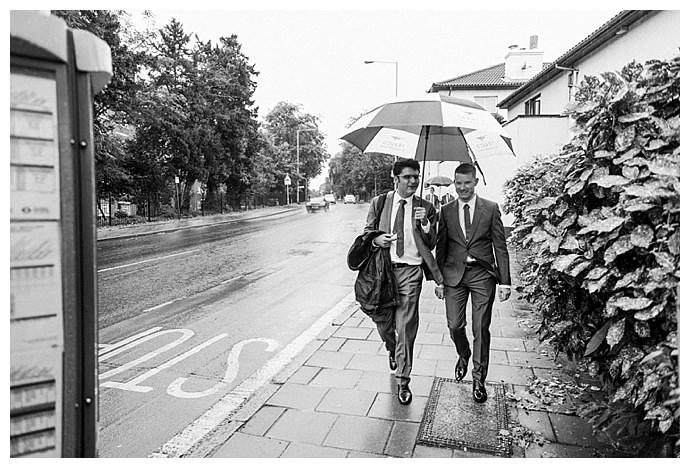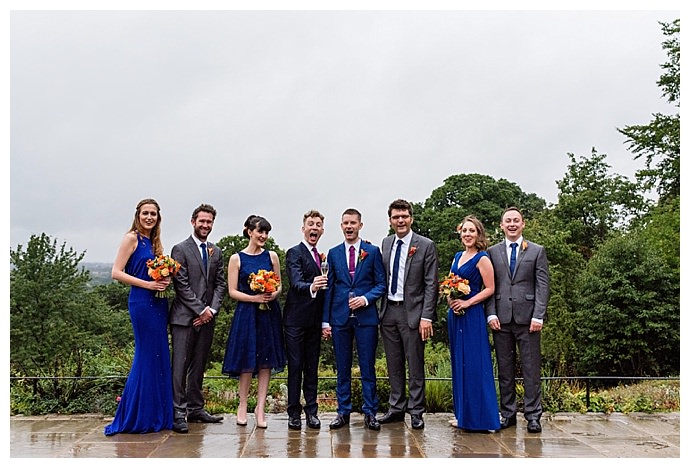 The Ceremony
When Callum was younger, he visited Pembroke Lodge with his grandparents and knew that was where he wanted to get married. They loved that the venue was tucked in the middle of a national park with a lush landscape and towering trees but still near London and close to transportation for those traveling from farther away. Accompanied by their mums, the grooms walked down the aisle to Arctic Monkey's cover of "Baby I'm Yours" and Hall and Oats' "You Make My Dreams," two sweet, upbeat songs that helped calm their nerves.
"We opted to write our own vows, which was a blessing and a curse," Adam says. "There's a lot of pressure to be able to articulate the promises you want to make to your partner, and we both read a lot of online articles offering advice, which helped in some ways; however, it doesn't prepare you for how moving it is to hear your partner's vows for the first time in front of all your guests!" After they said "I do," the newlyweds were met with two glasses of champagne at the end of the aisle, which they sipped on while strolling around the venue just the two of them, taking in the emotional ceremony and relishing in their new journey ahead.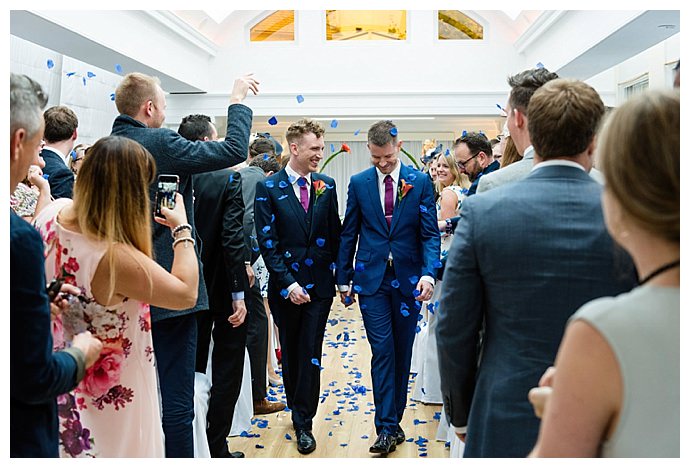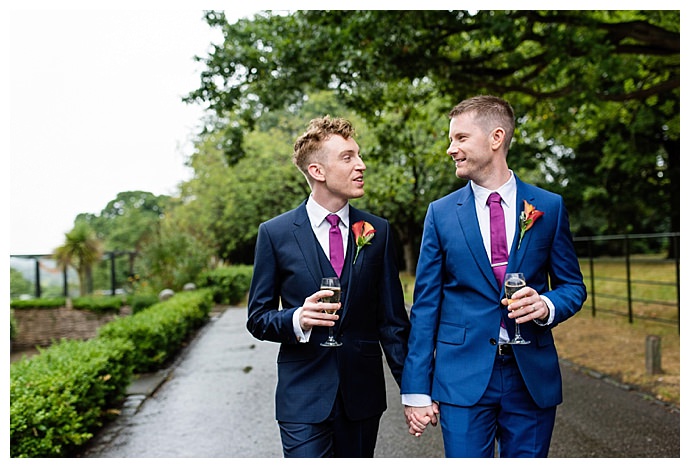 The Party
Callum and Adam were immediately drawn to calla lily's, which they used in the arrangements for the table centerpieces as well as in their boutonnieres. But the birds-of-paradise were the real star, towering over the round tables coated in elegant white linens. In planning the decorations for the reception space, Adam and Callum knew they wanted to do something other than hang flowers in the windows as many couples who marry at Pembroke Lodge choose to do. Instead, Adam took home a beautiful hanging mobile of blue disks from his job at Space NK, where they were being used as a window display, and hung them in the French windows, which added a pop of color to the room.
"We had a DJ in the evening, by which we mean Callum wrote a four-hour playlist and told him this is what you're playing," Adam says. "We honestly had so many comments on how good the music was; that's no mean feat when one of you loves Whitney Houston and the other loves The Smiths." A few of their friends also rewrote lyrics to the infamous song "Footlose" and choreographed an epic performance for the newlyweds.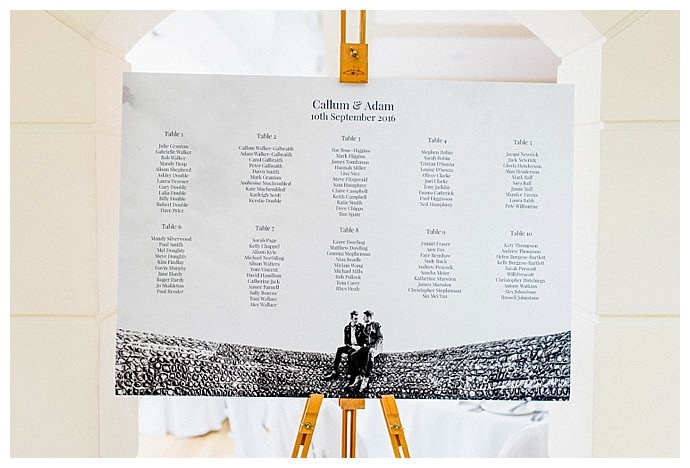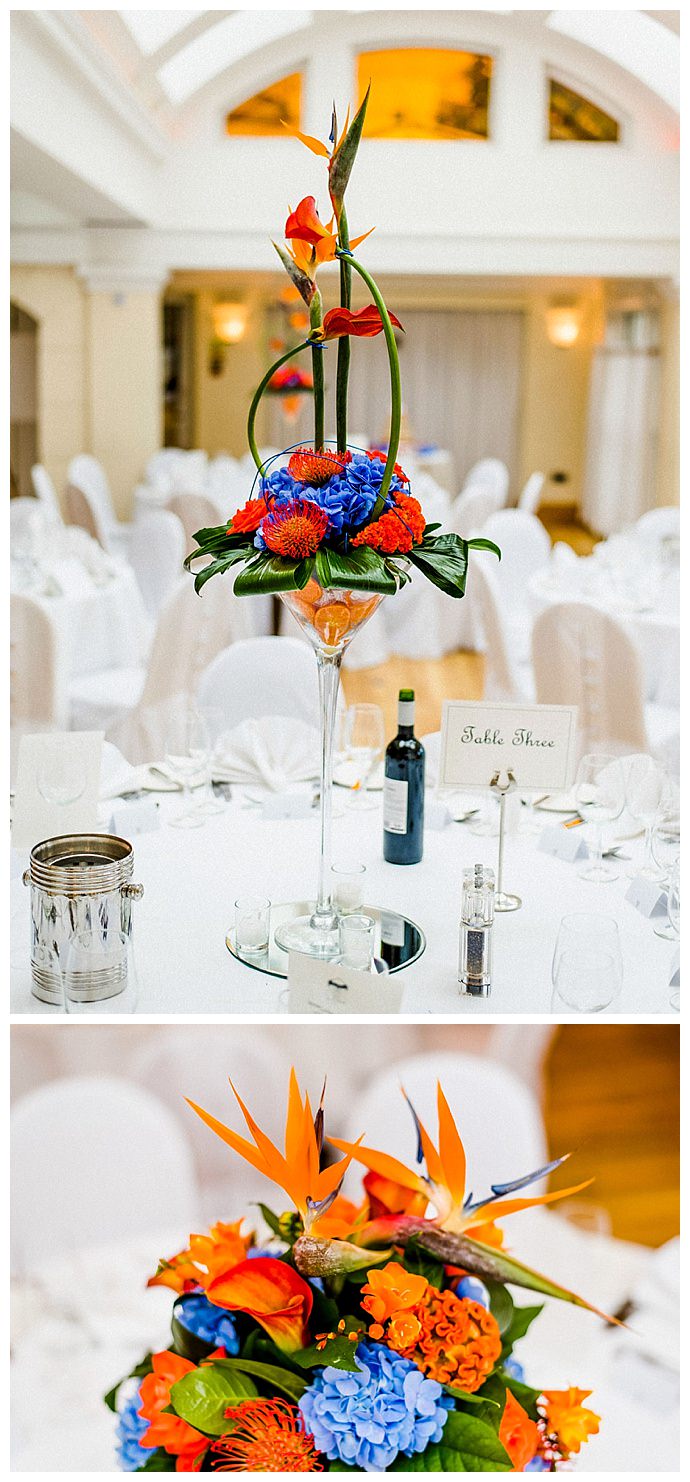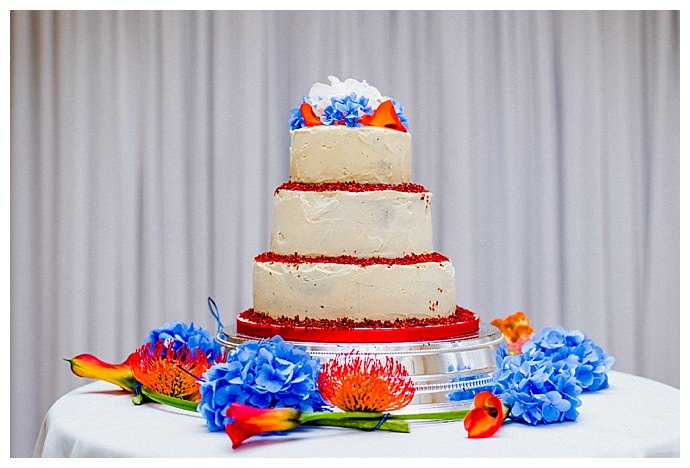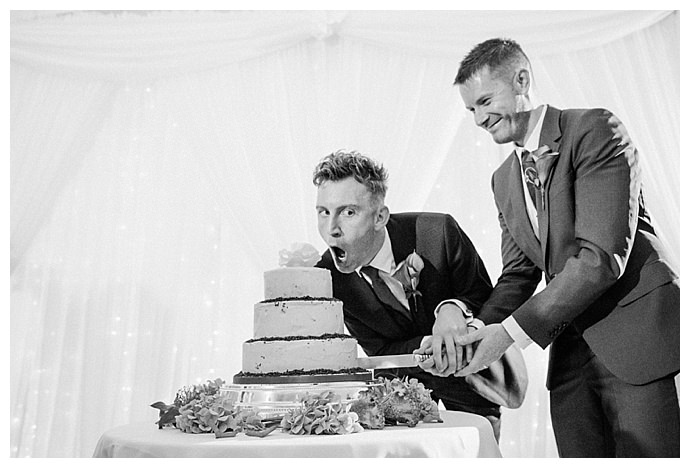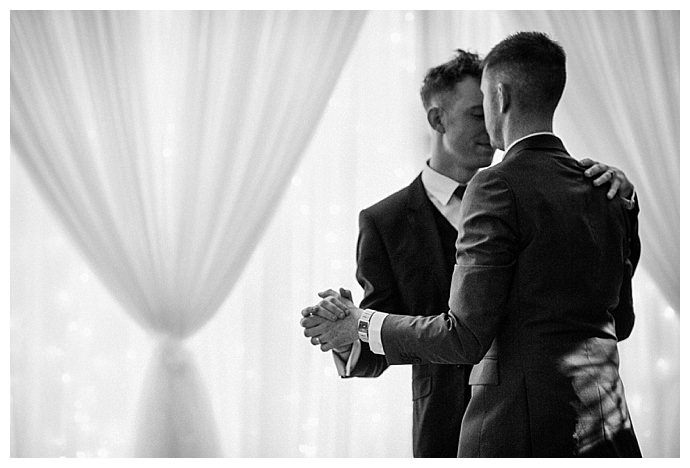 Team of Talents
Venue: Pembroke Lodge
Photography: Babb Photo
Videography: Tim Spatz
Floral Design: Wild About Flowers
Stationery: Eighth Day
Wedding Suit: Paul Smith, Ted Baker
Wedding Rings: Ring Jewelry
Usher Suits: Moss Bros
Usherette Dresses: Coast, Phase Eight, Badgley Mischka
Cake Design: Cake Me On
Lighting: Cable & Cotton
Linens: Host With Style
Place Cards: Matilda Pullin Designs
DJ: Sound Division