It's spooky season aka my absolute favorite time of the year, so I couldn't miss an opportunity to do a little online trick-or-treating to gather some hauntingly beautiful items for those who are fellow Halloween enthusiasts.
From gothic glam to spectral elegance, we've conjured up a collection of wedding decor to elevate your spook-tacular soirée. Whether you're looking to add just a hint of haunt or go full-on vamp, this roundup is brimming with ideas that'll make your love story the most bewitching tale told under the October moon.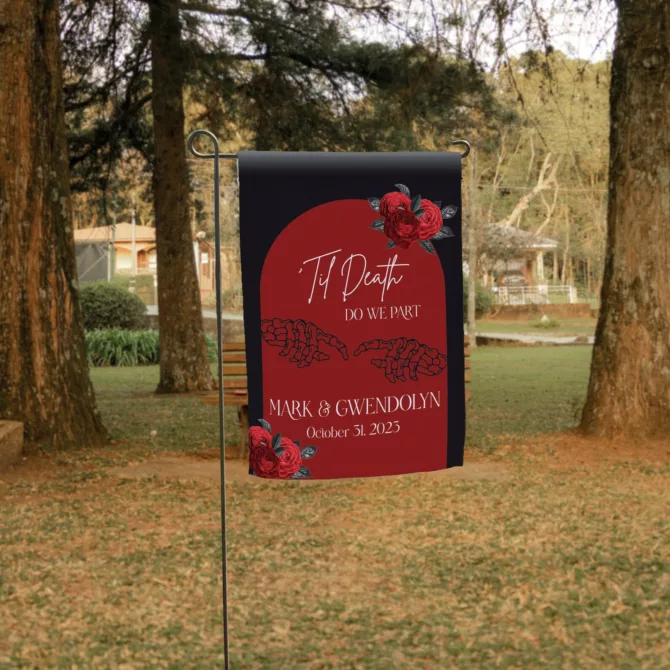 This Halloween wedding welcome sign seamlessly marries the spirit of All Hallows' Eve with matrimonial elegance. The perfect touch for couples looking to add a dash of spooky sophistication to their big day! Available on Etsy for $14.99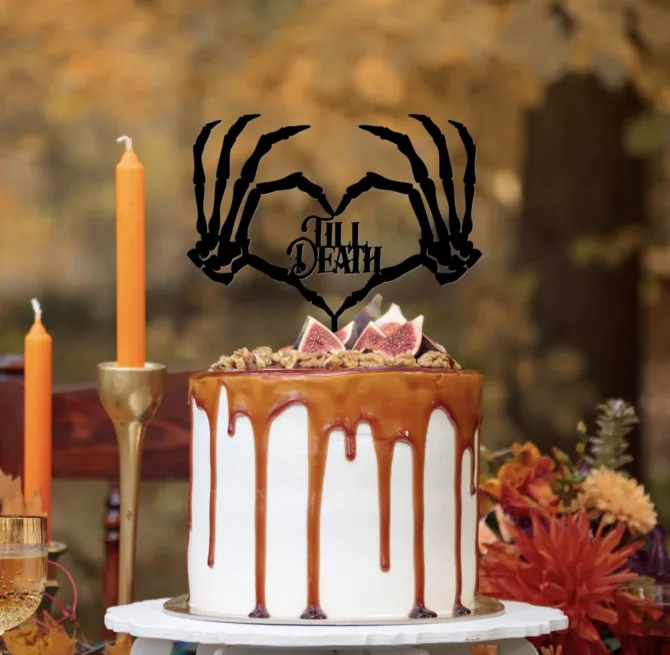 Slice into wedded bliss with this eerily elegant 'Till Death' cake topper! For the lovebirds who revel in the shadowy romance of Halloween, it's the pièce de résistance your spooky soirée deserves. Available on Etsy for $17.72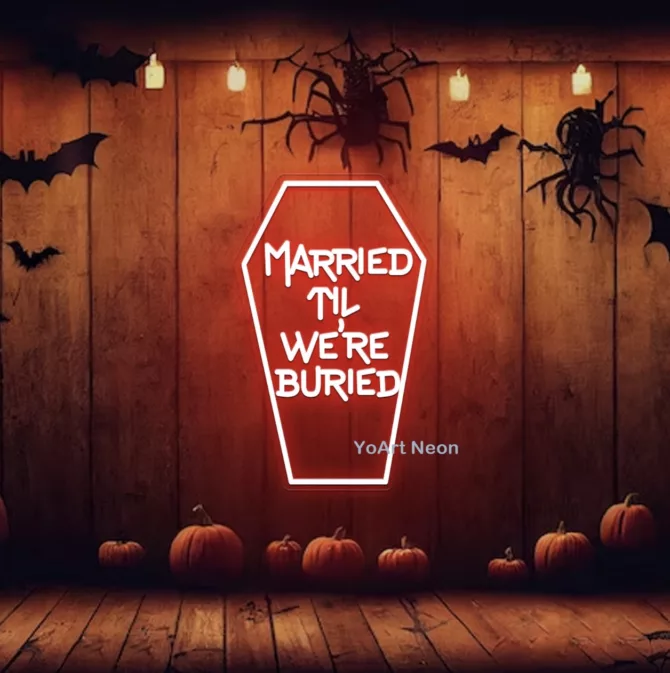 Light up your love with a ghoulishly gleaming touch! The 'Married 'til We're Buried' neon sign adds that electrifying blend of romance and revelry. Perfect for couples who love each other to the grave… and beyond! Available on Etsy for $87.71
Want more? Check out our Halloween Wedding Amazon Finds!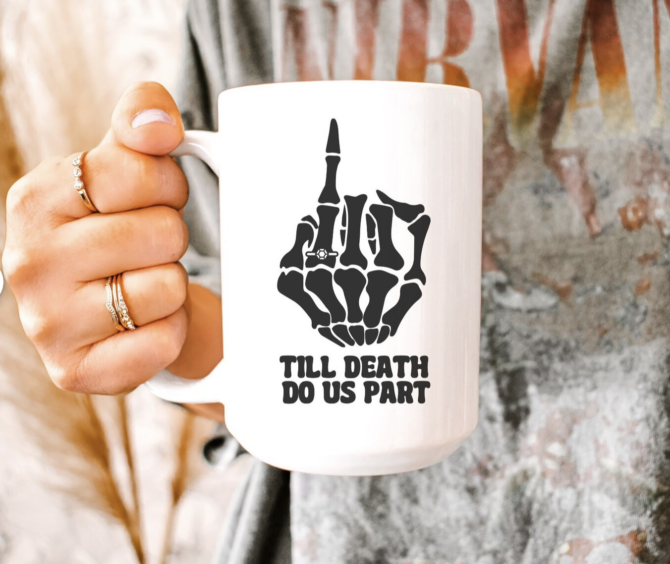 Sip your morning boo (sorry, I had to!) in this 'Till Death Do Us Part' mug, perfect for couples engaged during the spookiest season. Cheers to bewitched beginnings! Available on Etsy for $9.99
A mystical keepsake to capture well-wishes from your dearly beloved guests! Encourage them to write their well-wishes on the wooden bats, and then add to the frame for you to later hang on your wall for a unique and spooky twist to the traditional guestbook. Available on Etsy for $89.95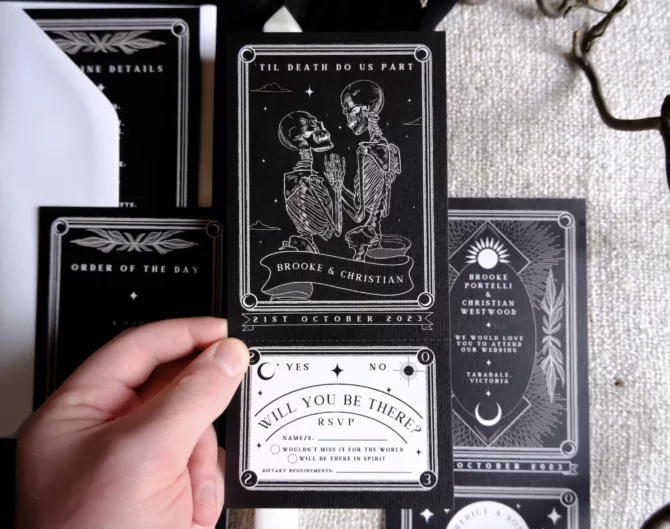 Set the spooky scene with these truly unique tarot card wedding invitations. Perfect for couples who believe love is the most magical spell of all! Available on Etsy for $425 for 100
For those who appreciate the creepy and the kooky, this skeletal heart hands cake topper is for you. Available on Etsy for $17.72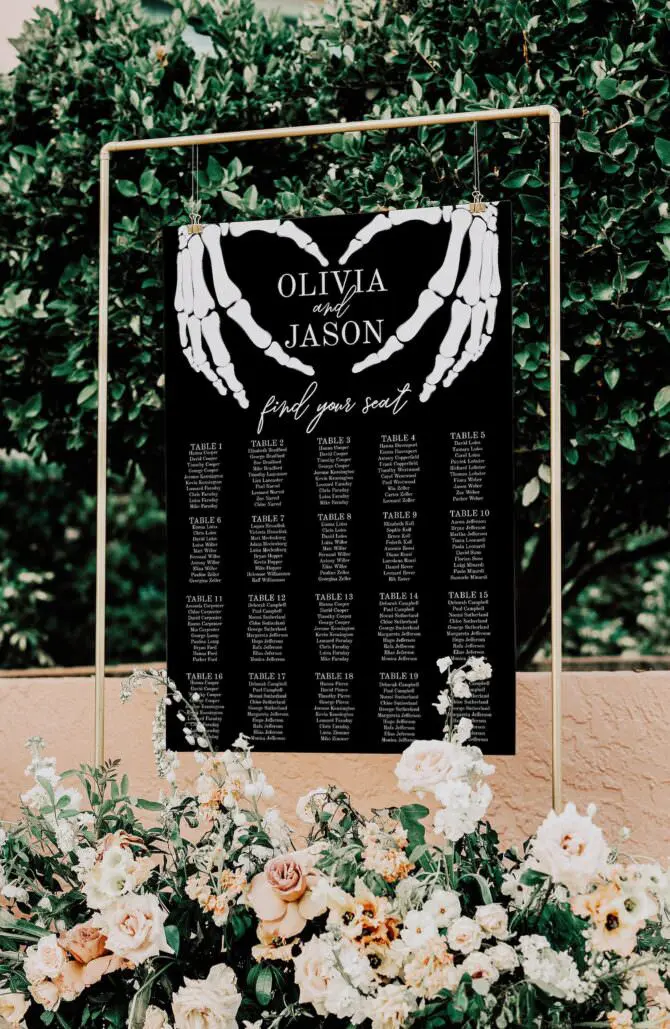 Guide your guests to their seats with a touch of gothic grace! This Halloween wedding seating chart is dripping with dark romance, ensuring every soul finds their spot. Template download available on Etsy for $8.34
A mesmerizing mix of burgundy, black, gold, and ivory, it's the floral fantasy every spooky soonlywed dreams of. These autumnal blooms are available in bouquets, corsages and boutonnieres. Available on Etsy for $17 and up.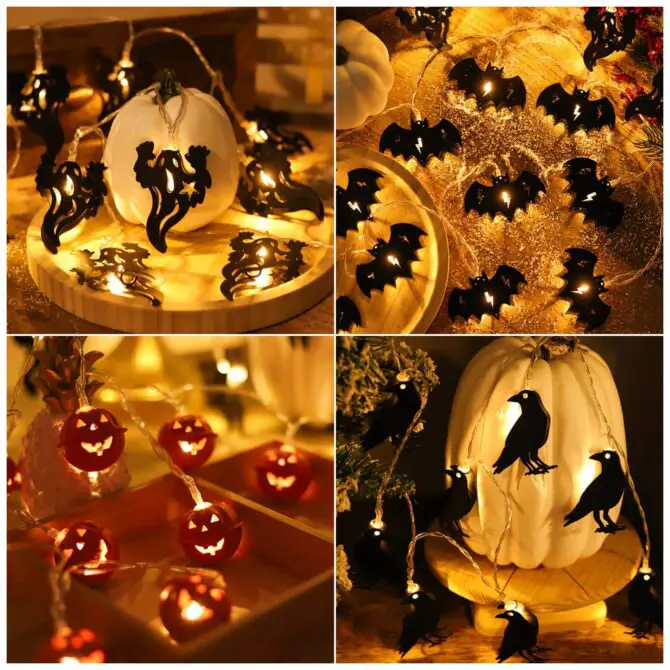 Illuminate your wedding day with these mesmerizing LED Halloween string lights! Choose from pumpkins, ghosts, bats or crows to cast a magical glow over your reception space. Available on Etsy for $13.99
Cover photo from Moody Wedding Inspiration Shoot