Spooky season is finally here. While some may equate fall with ghouls and goblins, it's also a time for elegant gothic styles and celebrating our more morbid curiosities. No matter why you love Halloween, throwing your wedding during this supernatural time gives a fun twist to the standard wedding theme.
If you're a connoisseur of all things creepy and crawly and want to highlight these motifs during your Halloween-inspired wedding, look no further. We've browsed the best Amazon offers, skipping the cheesy decor items to find the chicest and most stylish 10 decorations you'll want on your wedding day.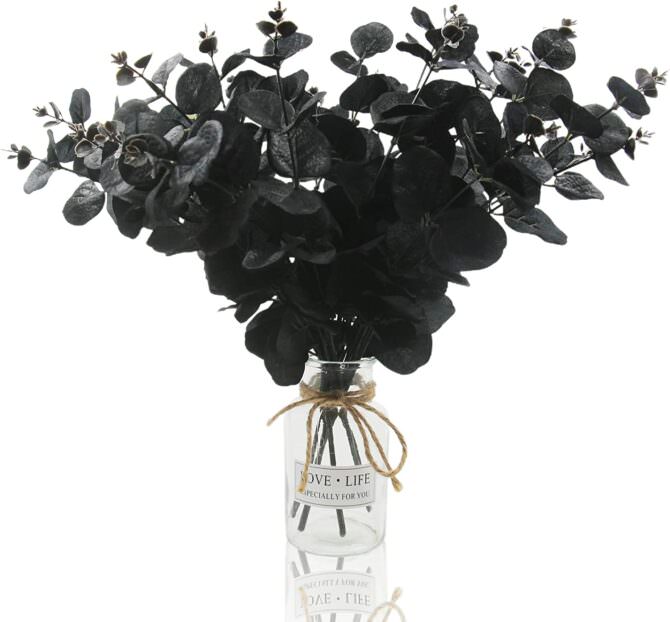 Black florals
Live fresh flowers just won't do it for a Halloween-themed wedding. Instead, opt for all-black flowers like this bunch of dark eucalyptus. They don't come with a vase, but that gives you more freedom to create your wedding vision.
Artificial Eucalyptus by Hananona, $15.99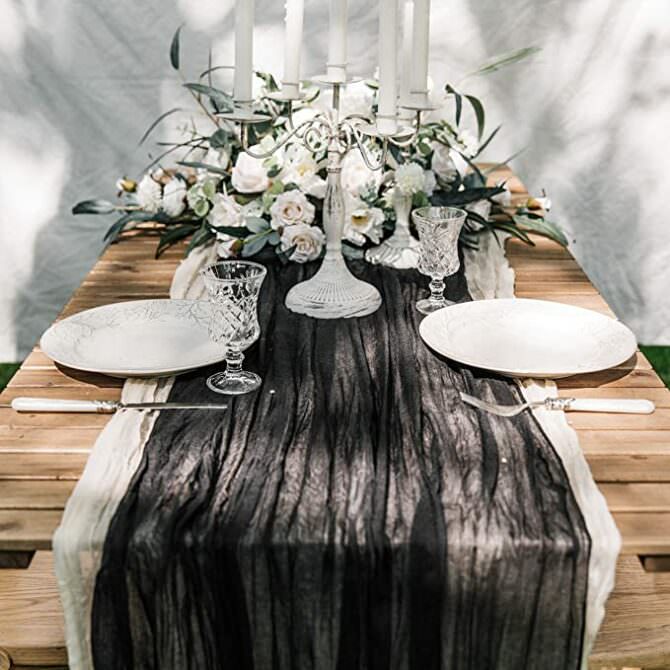 Darken up your tablescape
Tulle is a staple in wedding decor, but usually the traditional white or beige. Go with a gothic look and cover your tables in this black tulle. And while it's perfect for your reception, it's durable and washable, so you can use it again.
Cheesecloth Tablecloth Decoration by Vitalizart, $17.99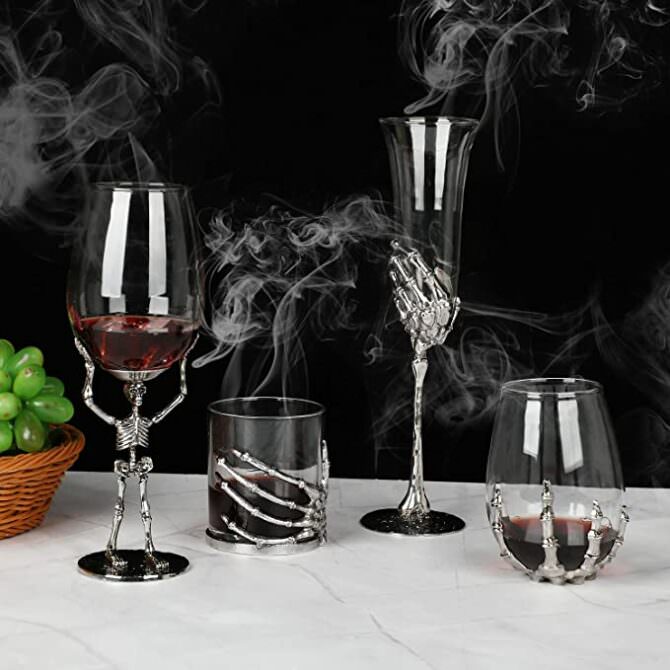 Cheers to the happy couple
Don't drink out of any ordinary wine glass, drink out of this flute featuring a skeleton hand. They have a range of styles depending on your go-to drink, whether it be a cocktail, wine, or champagne.
Halloween Skeleton Drinking Glasses by RHFF, $27.74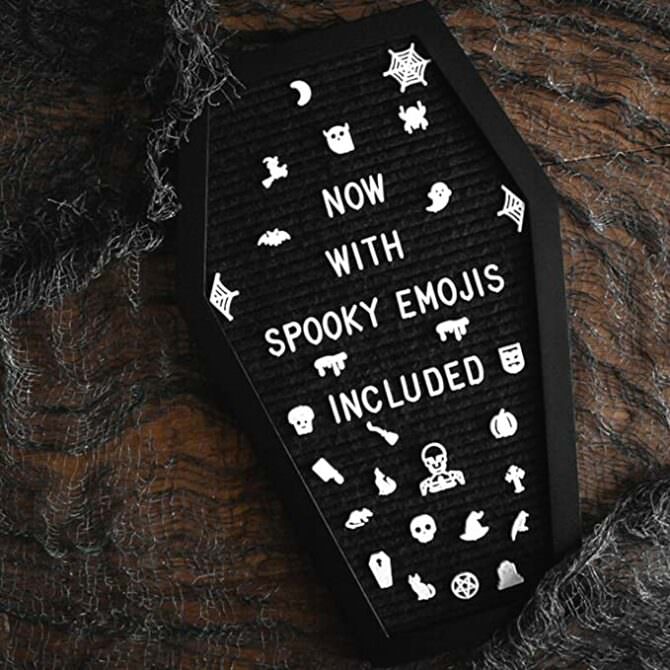 Say it in style
Write a message to your guest, like when the reception starts, or remind them to sign the guest book with this coffin-shaped message board. Not only does it include all the letters your need, but it includes spooky emojis to add some flair.
Black Felt Coffin Letterboard by Nomnu, $36.97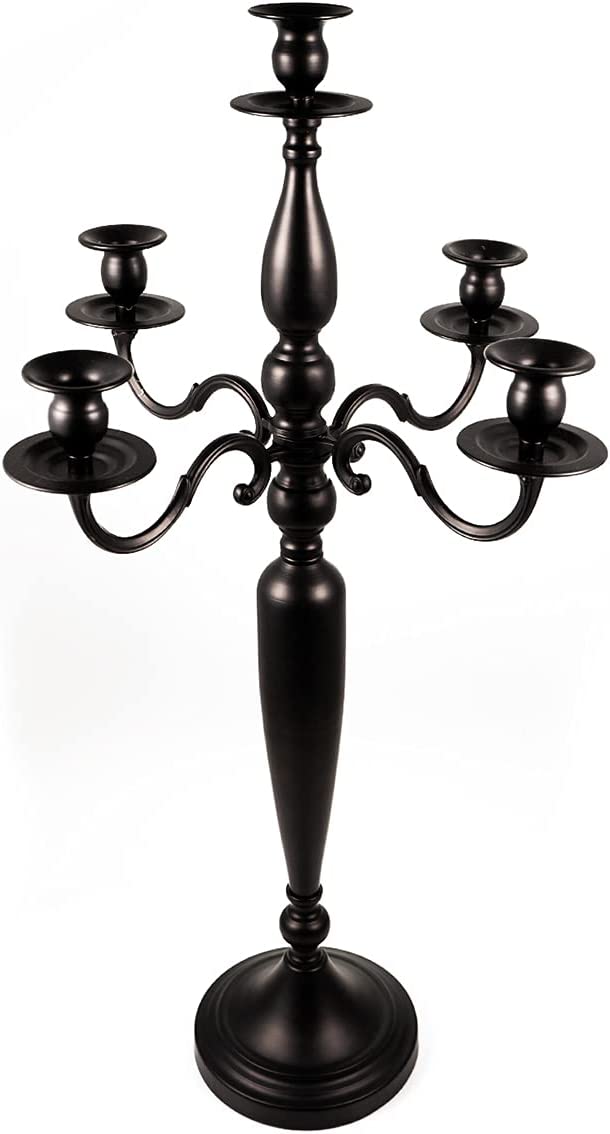 A flickering flame
This vintage-style black candelabra would fit perfectly into any ghostly haunted mansion as well as your spooky wedding. The large height makes it a perfect centerpiece for any table. And the glowing flame will add ambiance to your big day.
Black 5-Arm Candelabra by Vicidern, $25.99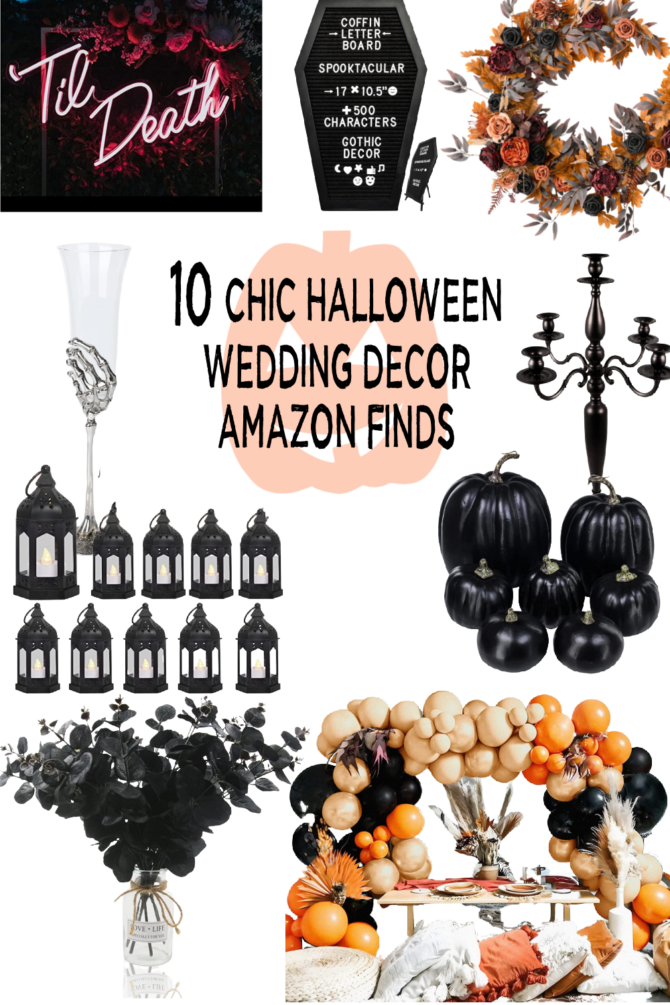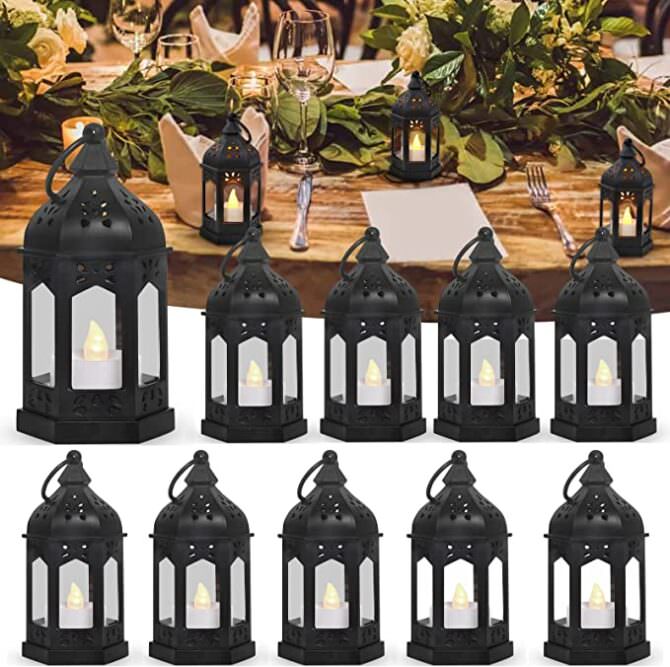 Bring in some light
If you're not feeling the candelabra or want more candles to add to the mix, put out these small black lanterns. They're filled with battery-powered LED candles, so you won't have to worry about an open flame while it stays flickering all night. Just be sure to note the size, as one reviewer, who loved the lanterns, found them smaller than they appeared in the photos.
Mini Lantern with Flickering LED Candles by Shymery, $19.99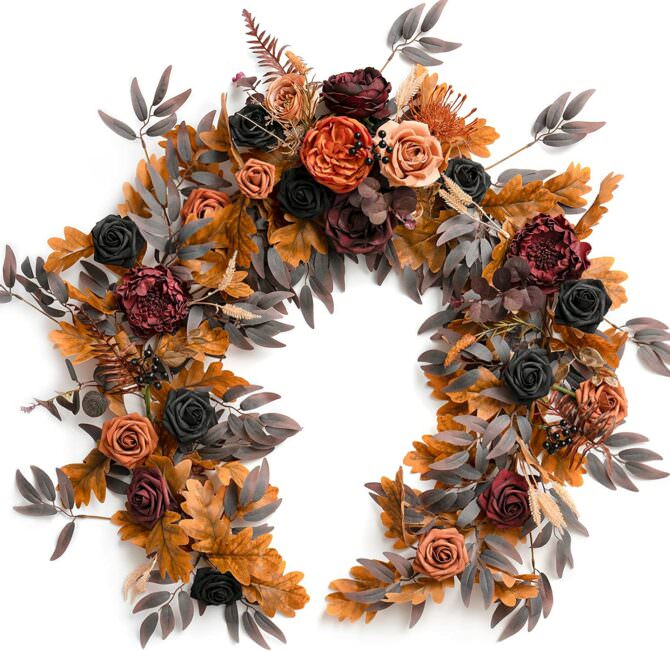 A Halloween-inspired garland
Great for any long banquet table or around an arbor, this orange-and-black flower arrangement is super chic. They have a variety of arrangements in muted tones so you can match them to your personal style.
Halloween Eucalyptus Garland by Ling's Moment, $32.99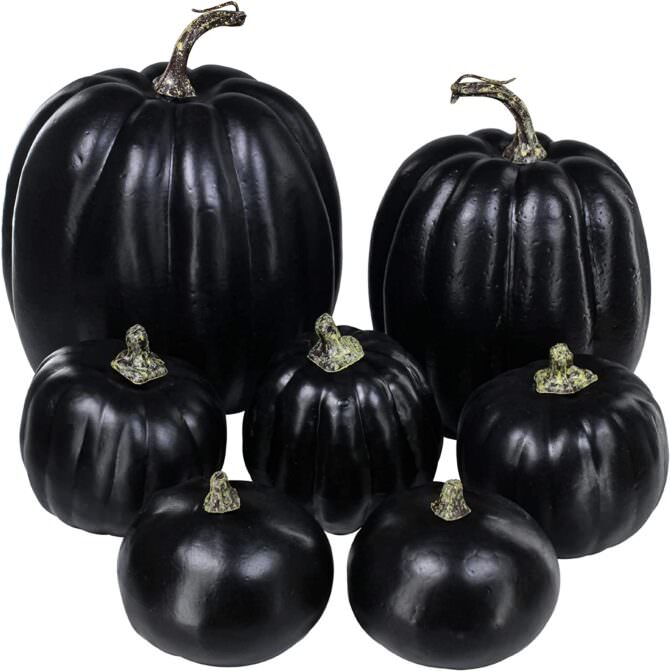 The great pumpkin
What's more Halloween than a pumpkin? Don't limit yourself to the traditional orange, with this set, you can get a creepy black or an eery white, all in a variety of sizes. They also offer metallic options for a fun accent color.
7-piece Assorted Pumpkin Decorations by Winlyn, $16.99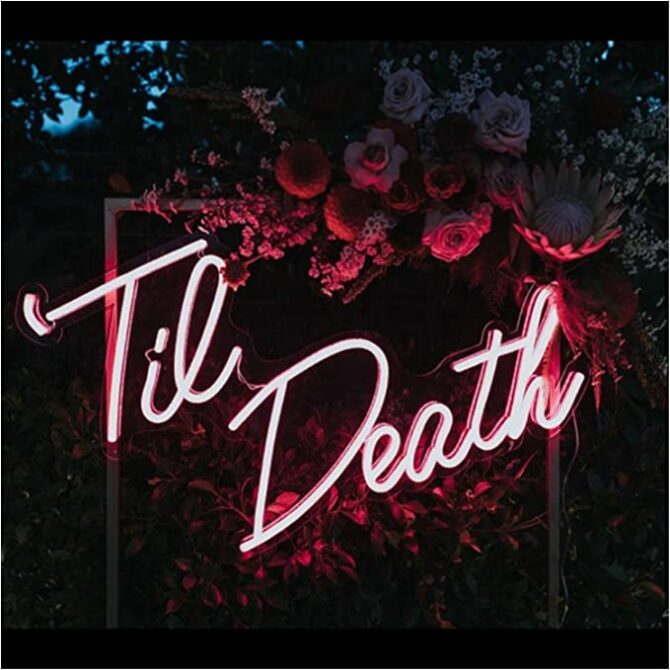 Highlight the vows
The "til' death do us part" section of the vows is sweet but also a bit morbid, making it the perfect phrase to highlight in neon for your spooky celebration. If the pink neon is too delicate for your taste, it also comes in red and yellow options that may better fit your theme.
LED Neon Light Sign by Ideal Custom Shop, $195.59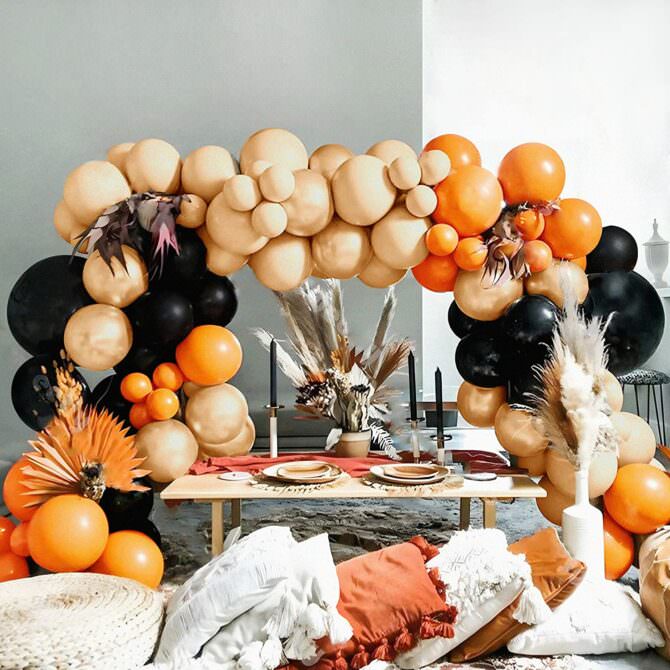 Create a balloon garland
It'll take a bit of muscle work, but if you want to create a photo booth or a whimsical entranceway, consider this balloon arch. The cream colors, in addition to the orange and black balloons, create an understated Halloween look. If you go this route, consider adding an electronic air pump to your cart to make your life easier.
Fall Balloon Garland Kit by Lattua Store, $26.99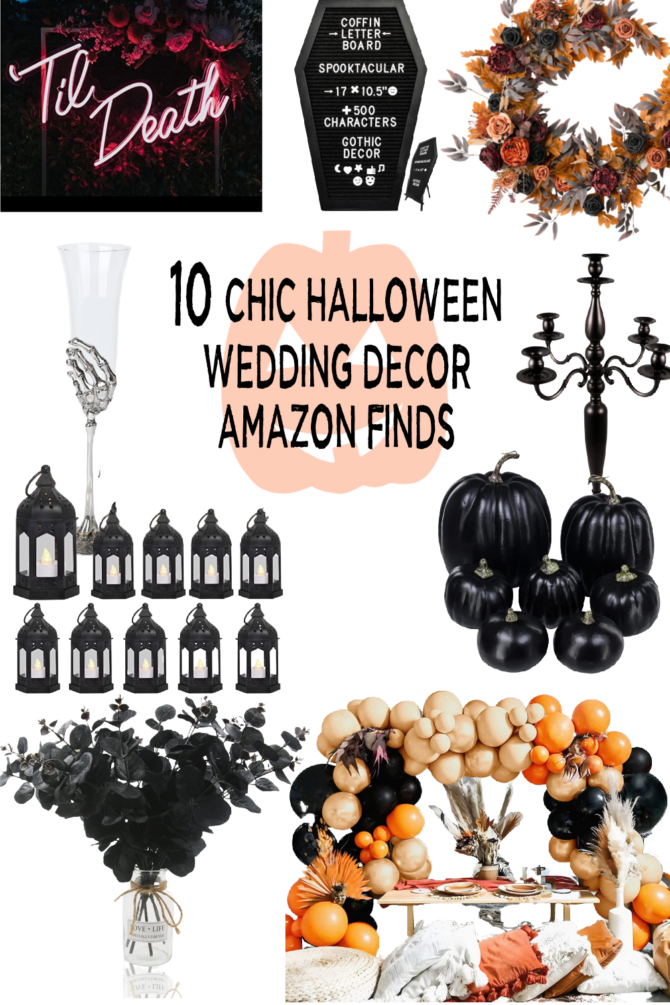 Editor's note: Some of these links are affiliate-based, which means we earn a small commission when you purchase from these links (and helps our small business keep providing free equality-minded® wedding content to you!)
Written by Rebecca Rovenstine | Cover photo by KV Photography from 'Til Death' Halloween Styled Shoot