The holidays might be over but there are quite a few individuals who are sporting some new jewelry on their left hand. So, first off — congratulations to all of the couples who got engaged over the holidays!
Now we know you're itching to start picking out attire and signature cocktails, but before you dive headfirst into wedding planning mayhem, there are a few things that need to be tackled …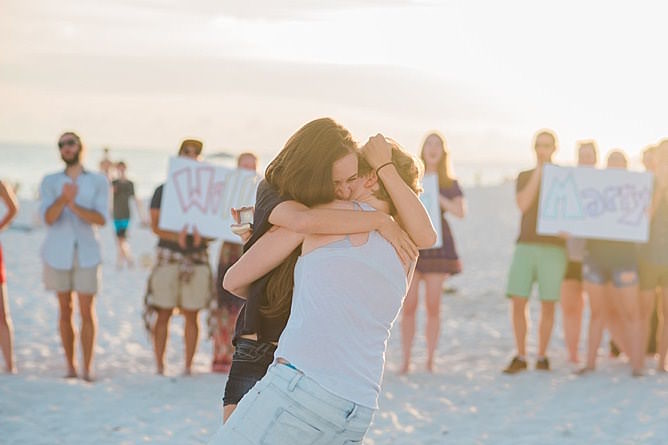 1. Call Your Friends and Family: In this social media-driven world, good news travels fast. Phone your nearest and dearest to tell them the exciting news before Grandma finds out from Facebook.
2. Get Ring Insurance: If it wasn't handled during purchase, be sure you get your engagement ring or band insured stat. While you can add it on to your homeowner's or renter's insurance, we recommend working with a company that specializes in jewelry such as Perfect Circle by Jewelers Mutual Insurance Company.
3. Have It Sized: Your fingers slightly vary in size throughout the day so try the ring out for a day or two before deciding if it needs to be resized. If so, take it to the jeweler where it was purchased if possible (don't worry, you'll likely only have to part with it for a few hours).
4. Set a Date: One of the first things people ask you after oohing over the ring is, "When's the wedding?" so be prepared. While it doesn't have to be the date, you'll want to discuss with your partner beforehand the desired year and season. If a date isn't even on your radar yet, come up with a response such as "We're just overwhelmed with joy about being engaged! We plan on sorting out the details when we come down from Cloud Nine!
5. Go on a Date: Whether the question was popped on top of the Eiffel Tower or in the comfort of your home, you were likely too overwhelmed with emotion to really take it in. Considering the next several months are going to be filled with meetings, pinning and (ahem) browsing Love Inc., take an evening just for the two of you to really celebrate this huge step.
6. Start the Discussion: You may have already talked about your wedding day vision, but if not, now's the time. While you don't have to decide on cake flavors you'll want to get an idea if you are leaning toward a more modern celebration or rustic chic soiree.
Photo by 
Rae Marshall Photography
from
Lauren and Brittany's Epic Beach Proposal