Is there any better greeting to a wedding than a beverage wall? (Spoiler alert: No, there isn't.)
What started as a luxury wedding trend has now made its way into mainstream, and we're now seeing beverage walls become part of the wedding decor on the regular. This interactive and visually appealing display not only quenches your guests' thirst but also serves as a unique decorative element for your wedding that is guaranteed to be in heavy rotation on your guests' social!
Okay, so what is a beverage wall?
A beverage wall is a custom-designed display featuring a variety of beverages, elegantly arranged on shelves or hanging stations, allowing guests to serve themselves. From champagne to cocktails, mocktails, and more, a beverage wall can be tailored to suit your taste and wedding theme, offering a convenient and stylish way to keep your guests refreshed throughout the celebration.
Beverage Wall Inspiration and Ideas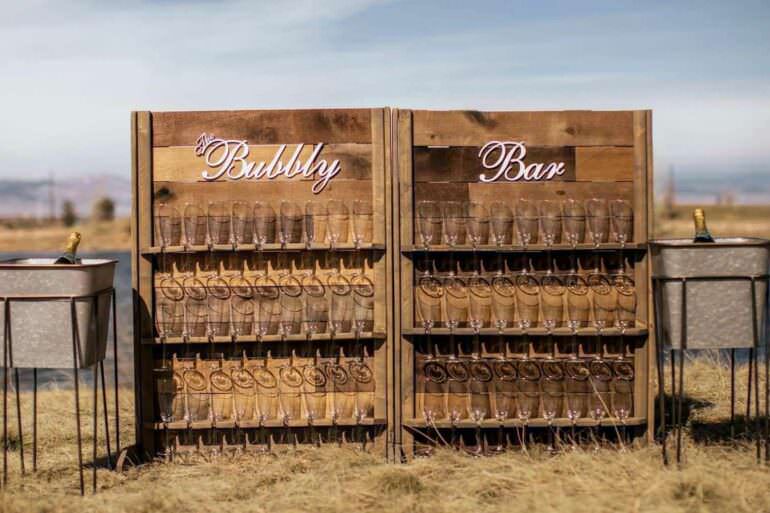 Rustic Charm Wedding Beverage Wall
For a rustic-themed wedding, consider using wooden pallets or a distressed wood backdrop for your beverage wall. You can personalize the display by hanging chalkboard signs with the names of the drinks, adding mason jars, and incorporating greenery or flowers for a touch of natural beauty. To elevate the rustic charm, use vintage-looking glassware and wooden crates as additional decor elements. Pictured: Rustic wedding beverage wall, available on Etsy for $321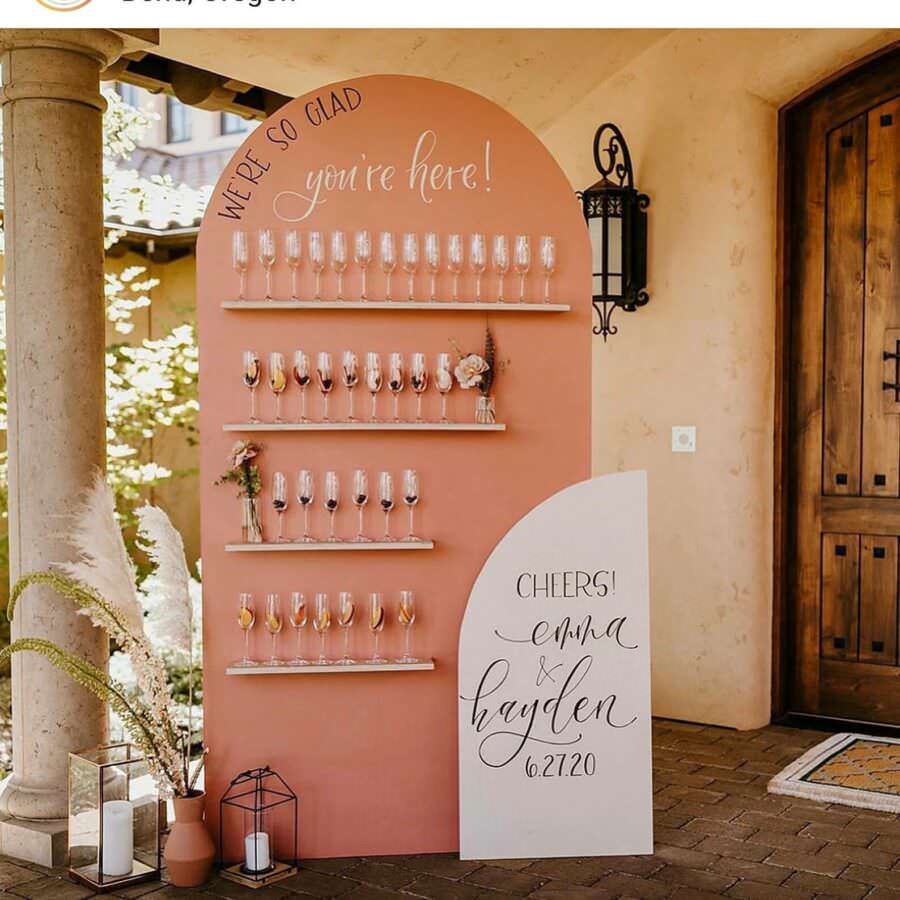 Modern Wedding Beverage Wall
If you're planning a modern wedding, opt for a sleek, minimalist beverage wall. Use a monochromatic color scheme, glass shelves, and metallic accents to create a chic display. Consider offering a selection of fine wines, champagne, and signature cocktails in elegant glassware, and use tasteful signage to label each beverage. Pictured: Modern wedding beverage wall, available on Etsy for $995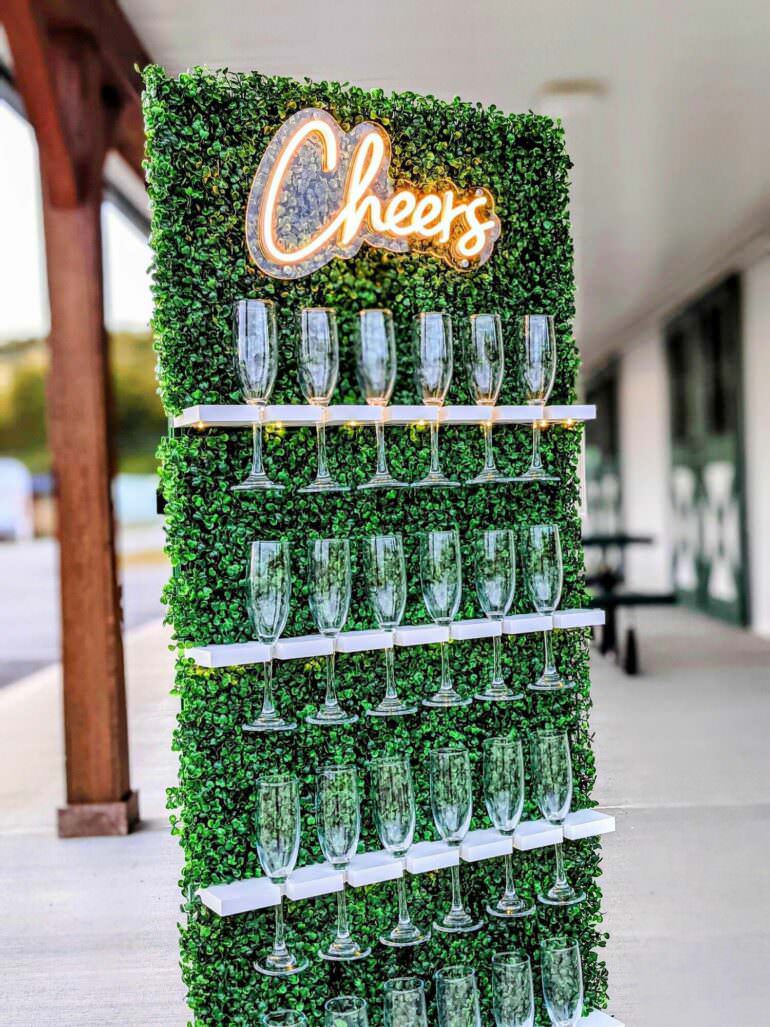 Garden Party Wedding Beverage Wall
For an outdoor, garden-inspired wedding, incorporate a living wall or a backdrop of lush greenery and florals as the base for your beverage wall. Display drinks in clear glass dispensers or bottles, and let the vibrant colors of the beverages, fruits, and garnishes pop against the natural backdrop. Consider offering refreshing drinks like infused water, lemonade, and sangria to complement the garden setting. Pictured: Boxwood Champagne Wall available on Etsy for $595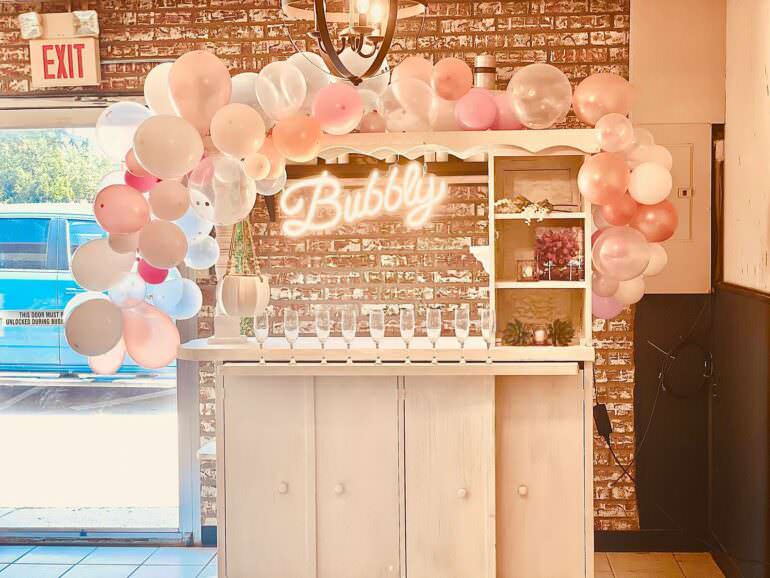 Vintage Vibes Wedding Beverage Wall
Create a nostalgic atmosphere with a vintage-inspired beverage wall by using antique furniture, such as a repurposed hutch or bookcase, to display your drinks. Choose ornate glassware and vintage decanters, and incorporate retro signage and decorative elements like lace or pearls. Offer classic cocktails and beverages that were popular during the era you're drawing inspiration from. Don't forget the "Press for Champagne" doorbell! Pictured: Hutch Champagne Cart available on Etsy to rent for $596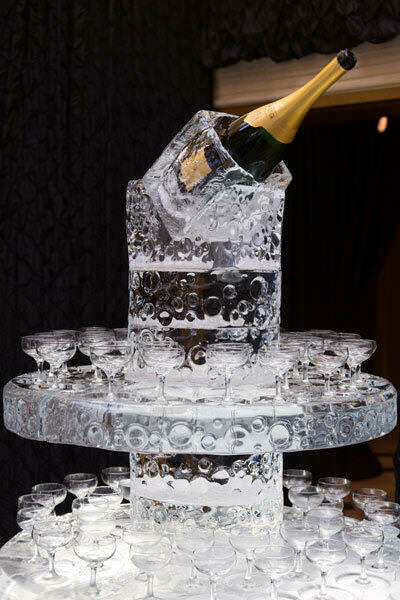 Themed Wedding Beverage Wall
If your wedding has a specific theme, integrate it into your beverage wall. For example, if you're having a beach or tropical-themed wedding, create a tiki bar-inspired wall with bamboo accents, colorful drink umbrellas, and a selection of fruity cocktails. For a winter wonderland wedding, consider an ice sculpture or frosted glass shelves, with chilled drinks and warm beverages like mulled wine or hot chocolate. Photo by Peter Bohler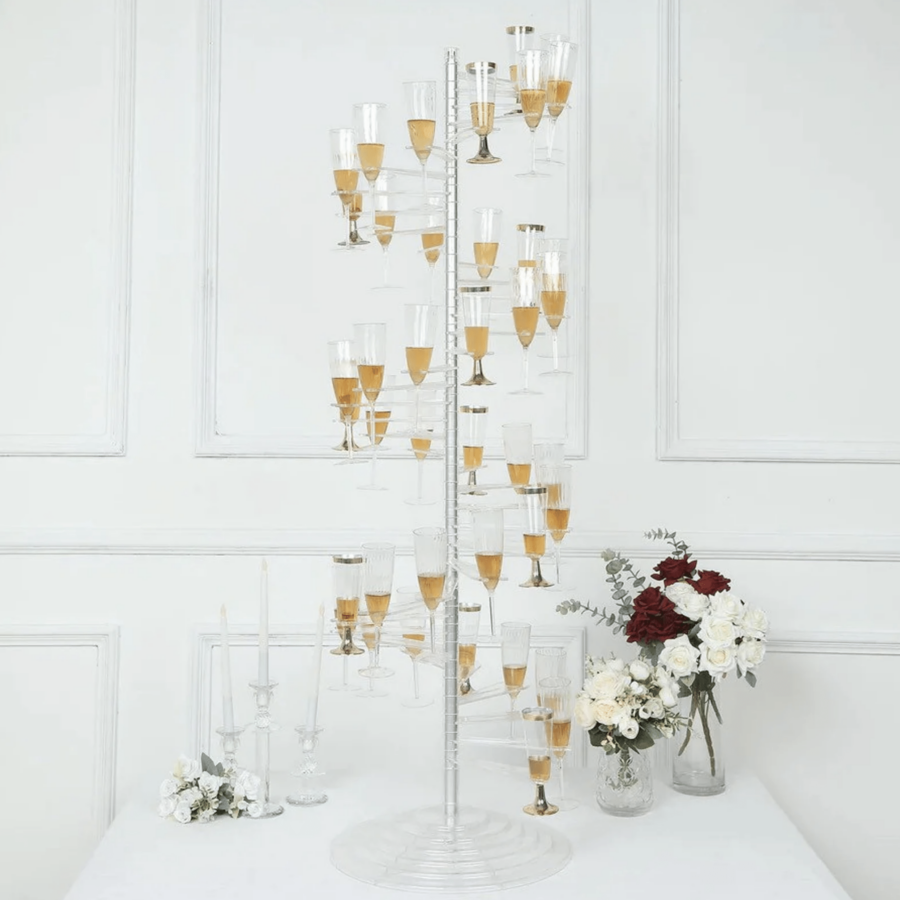 Elegant Soiree Wedding Beverage Wall
If you really want to let the rest of your decor shine, opt for a clear acrylic wall that you can jazz up with neon signage, florals or go for a truly creatively shaped one, like the spiral wall above, for an air of elegance! Pictured: Spiral Acrylic Champagne Wall available on Etsy for $189
Cover photo by Jessica Lee Photographic Art from Anna and Caleb's Mountainside Wedding