Vice President Joe Biden proudly tweeted a photo yesterday, excitedly telling the world that he had the honor of officiating the nuptials of two longtime White House staffers, Brian Mosteller and Joe Mahshie.
The simple ceremony, with only the grooms' families in attendance, took place in the Vice President's home at the U.S. Naval Observatory in Washington.
Biden has long been a supporter of marriage equality, putting his White House stamp of approval on it even before President Obama in 2012, and I had the honor of listening to him speak at last year's Freedom to Marry victory party, where he brought the room to resounding applause multiple times. (Fun fact: Evan Wolfson, who is widely regarded as the father of marriage equality, was Biden's intern back in the 1980s!)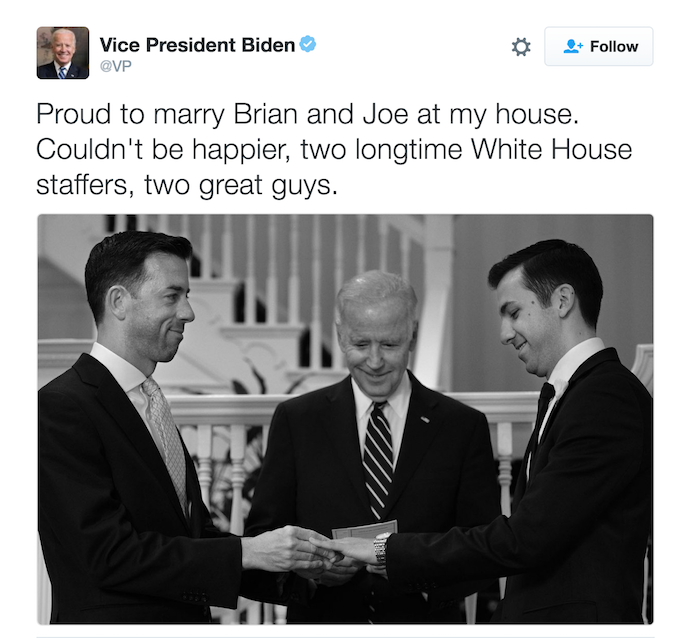 One aspect of his Freedom to Marry speech last year particularly resonated with me:
"This has been a heroic battle, but it has been based on a very simple proposition best expressed at least to me by my dad when I was a 17-year-old kid. My dad was one of those — as the Irish say, the highest compliment you give someone is he was a good man. My dad was a good and decent man.
My dad pulled up [in a courthouse square in Wilmington] to let me run out and get an application for this job in the city, and then I was going to drive him to work and drive myself home. And as we were stopped at the light, two men on the right — very well-dressed men, obviously, business people working for either Hercules or DuPont turned and embraced one another and kissed each other. And they went their separate ways.
I'll never forget. I turned and looked at my dad, just looked at him. And I'll never forget what he said. He said, Joey, they love each other. It's simple. They love each other. It's simple.
That's what this has been all about from the beginning." 
His office said the vice president obtained a temporary certification from the District of Columbia to preside over the wedding ceremony. I don't know about you, but I'm seeing a second career for the Vice President after his White House stint is over!