It's almost that season where the leaves are changing color, the air is crisp, and pumpkin spice is everywhere.
If you get an autumn wedding invite, you may be facing the age old dilemma: what to wear. Update your usual wedding outfit by slipping on a seasonal tweed blazer because when it comes to fall, it's about layering. Check out these jackets to take your look from summer to fall.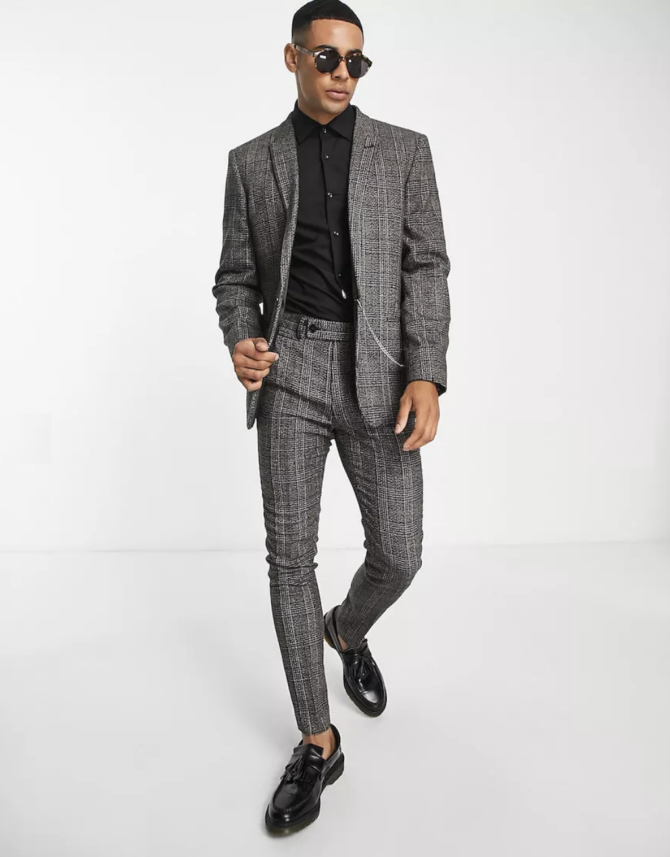 A classic look with a punk element
Show off your style with this dark brown checkered-print jacket featuring an unexpected chain. Not only will you stay warm, but you'll also be one of the best-dressed guests in attendance. For more formal weddings, pair this jacket with the matching pants to complete the suit.
Skinny Suit Jacket in Brown Check With Chain Detail by ASOS, $122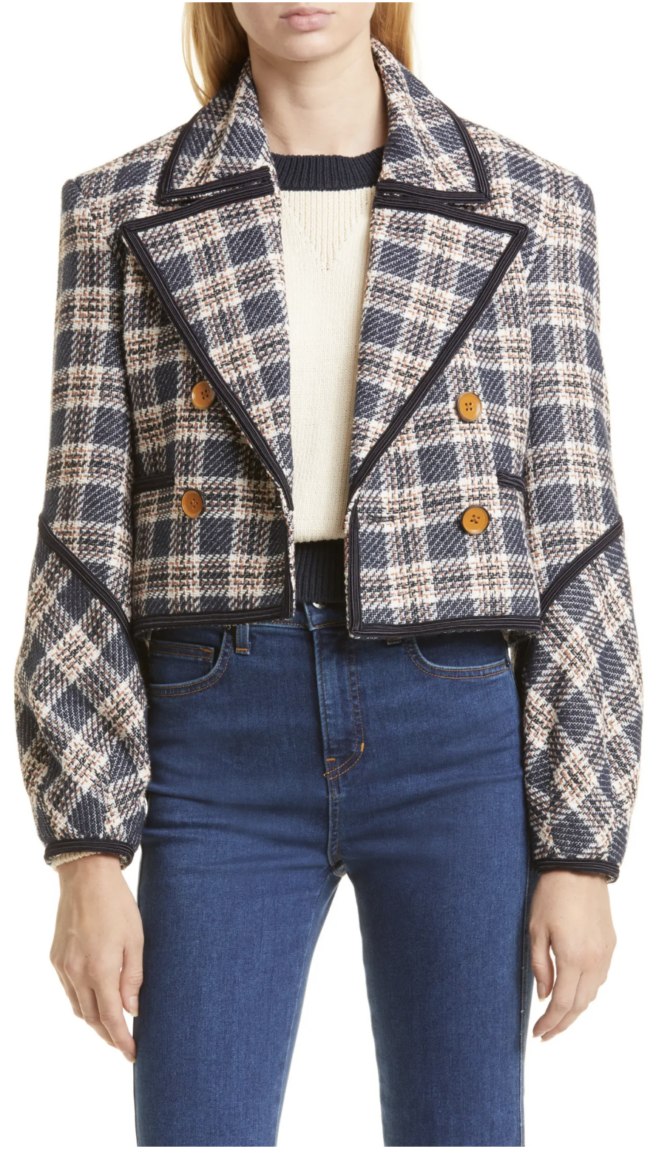 Don't forget to layer
Fall is unpredictable, the mornings may be chilly while the afternoons warm up. Prepare for any wedding weather by adding this blazer to your outfit with its unique silhouette and camel-colored buttons. Not only will this blazer be perfect for special occasions, but it transitions perfectly for everyday wear.
Aise Plaid Cotton Tweed Jacket by Veronica Beard, $648
Consider comfort and style
With a more relaxed style, this tweed sports coat can easily be paired with slacks for casual weddings. The elbow patches, made from vegan suede, give this jacket character and whimsy. Even better, you'll be comfortable wearing this all day — it's made with a soft lining and has unconstructed shoulders that won't feel tight.
Regent Fit Wool Tweed Windowpane Sport Coat by Brooks Brothers, $299.99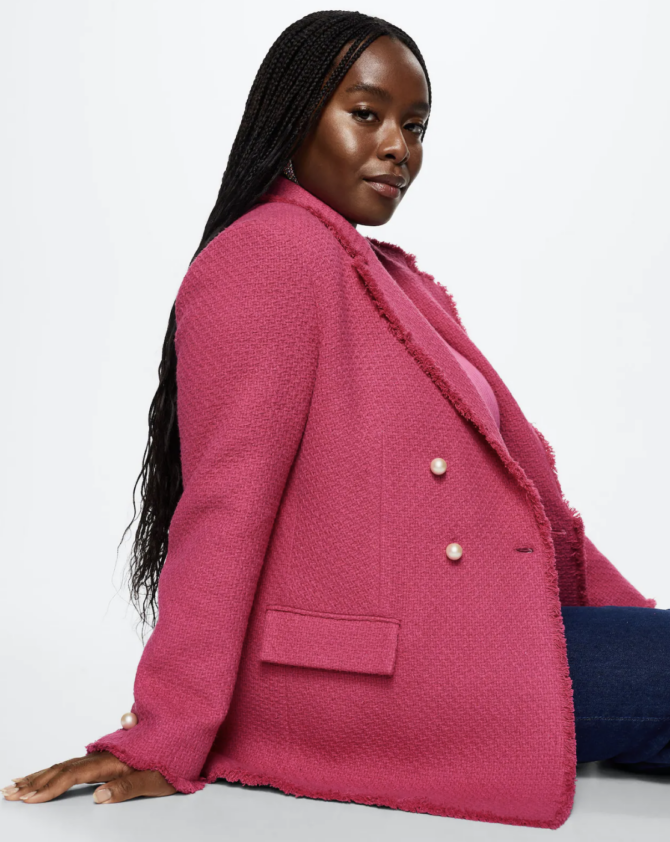 Add a pop of color
You'll want this statement-making bright pink blazer in your closet for fall weddings and for every day in between.
Buttons Tweed Blazer by MANGO, $129.99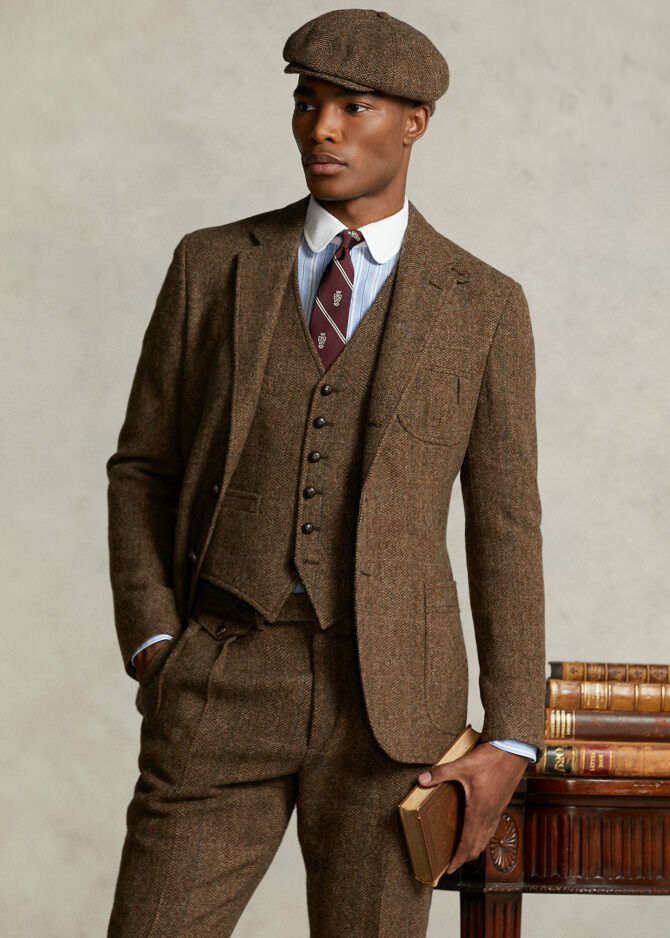 A timeless tweed look
On cold autumn days, this classic tweed jacket will keep you warm and fashionable. Buy this Ralph Lauren blazer alone, or complete suit for more formal weddings by buying the matching trousers and vest. The one item you should definitely add to your cart along with the jacket is the newsboy cap.
The Morehouse Collection Tweed Jacket by Ralph Lauren, $1,200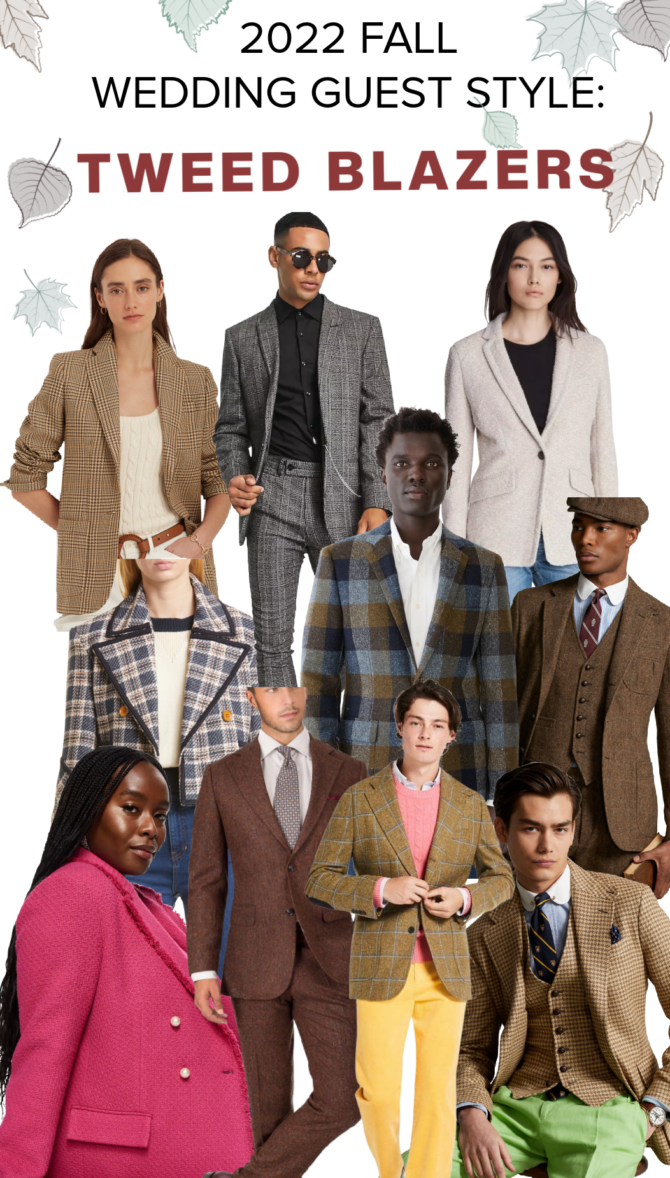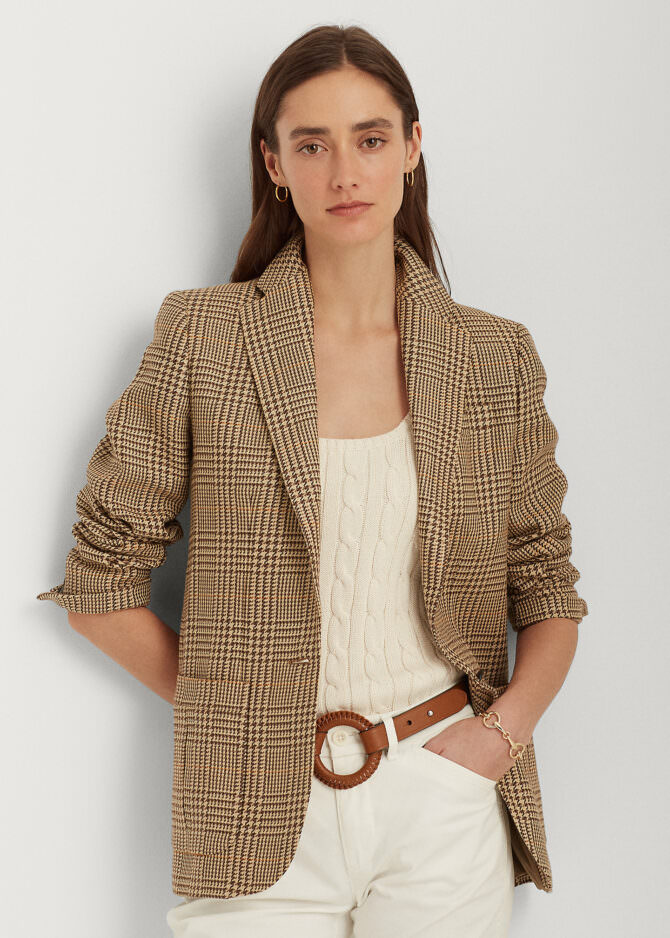 A blazer with versatility
Want a blazer that can be used throughout the season and not just during weddings? Push up the sleeves of this blazer for a casual look, or wear the sleeves down to pair with more formal outfits. With the classic plaid pattern, this blazer will be a wardrobe staple for years to come.
Glen Plaid Linen Tweed Blazer by Ralph Lauren, $254.99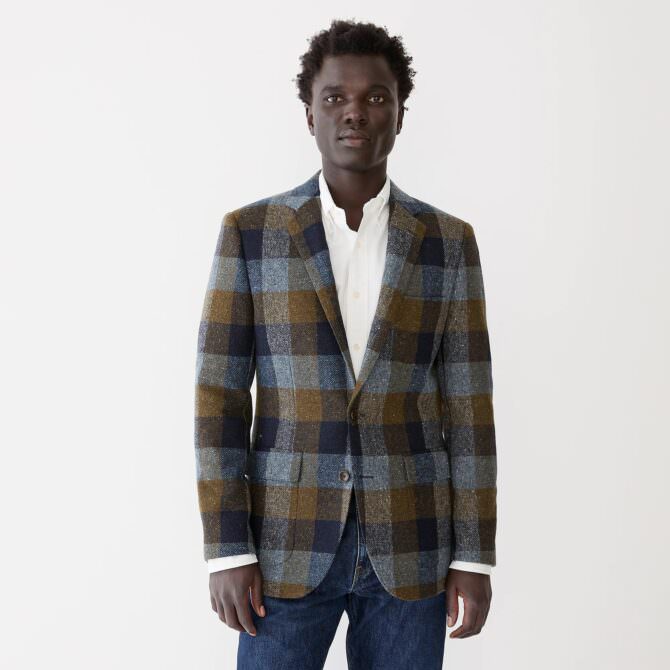 Just a hint of color
Show off your personality in this slim-fit blazer from J. Crew. Featuring shades of brown and blue in a checkerboard pattern, the style of this jacket is timeless. The coolest thing about this tweed coat is that the wool is sourced from an Irish mill, Magee 1866, which has been making tweed for over 150 years.
Ludlow Slim-fit blazer in Irish Donegal Wool by J. Crew, $498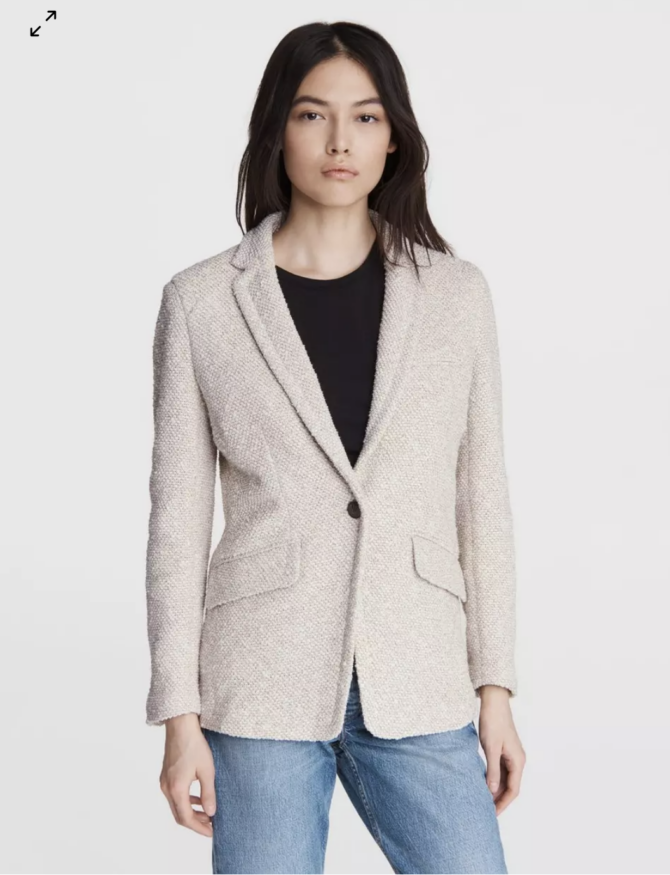 Stay cozy during the vows
While this jacket is technically a shade of white, it was too stylish not to include in our roundup of all things tweed. If you go for this blazer, pair it with a colorful outfit; otherwise, you may cause a stir wearing all white. Made from cotton, you'll also feel warm and cozy all through the ceremony.
Margot Tweed Blazer by Rag & Bone, $440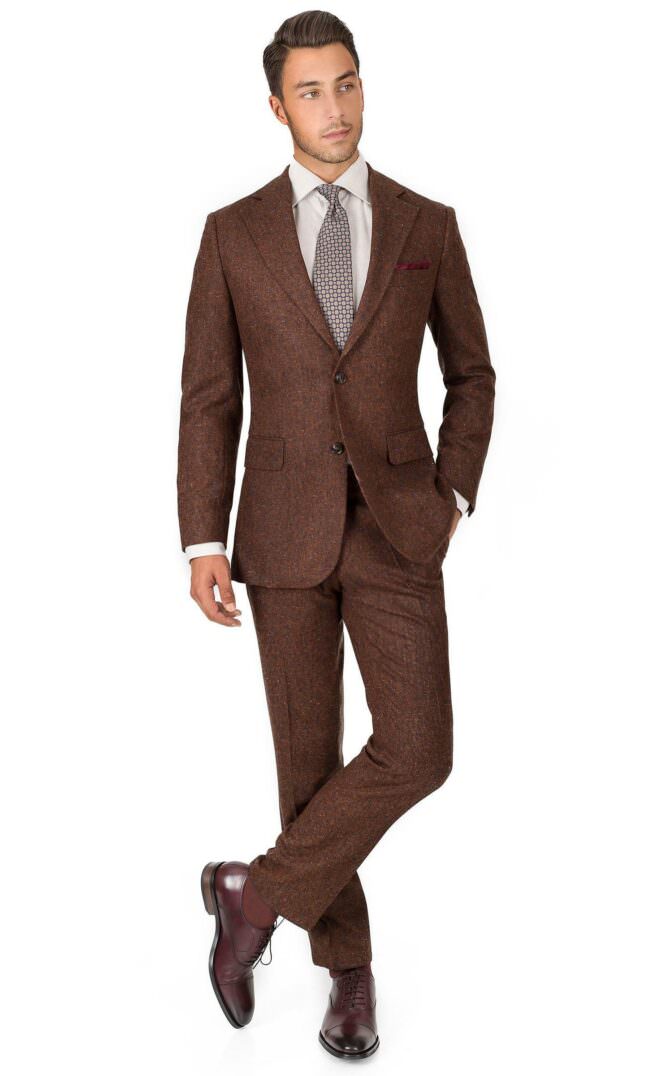 A subtle pop of color
This may look like a plain brown tweed suit, but upon closer inspection, there are specks of color all throughout the suit: orange, blue, green, and red. If you enjoy having a unique style without making too bold a statement, this suit is a great option. If you want the colors to really pop, pair the jacket with a fun-colored tie.
Copper Brown Donegal Tweed Suit by Oliver Wicks, $629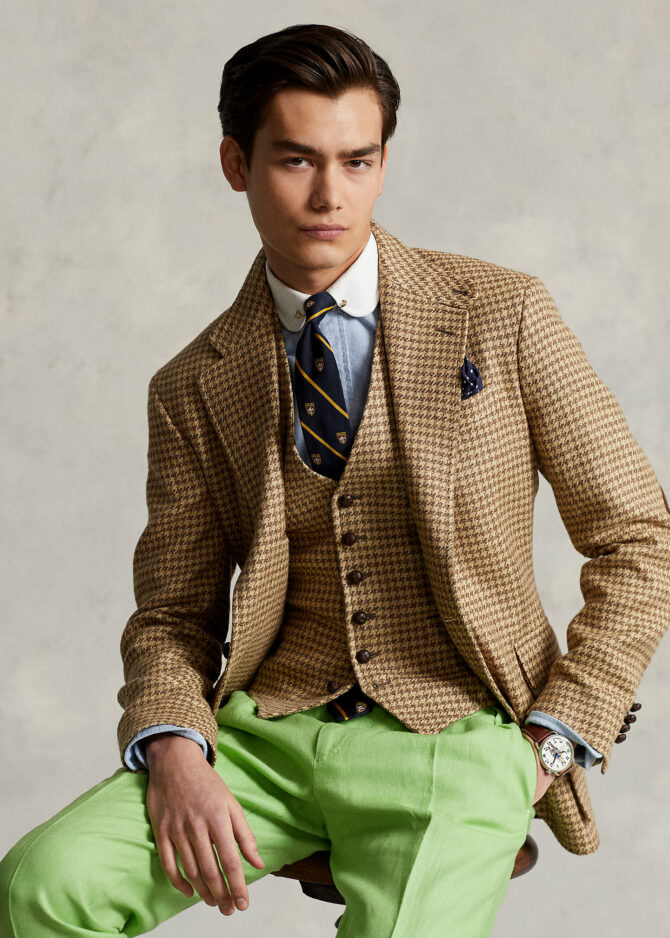 Go for a traditional look
The houndstooth pattern, the elbow pads, and the matching button-up vest make this jacket an instant classic. While this coat may look like something Sherlock Holmes may wear, it was actually inspired by a jacket from Ralph Lauren's own wardrobe that he has worn since 1971. And if Ralph Lauren likes it, you know it's fashionable.
The RL67 Houndstooth Linen Jacket by Ralph Lauren, $719.99

Editor's note: Some of these links are affiliate-based, which means we earn a small commission when you purchase from these links (and helps our small business keep providing free equality-minded® wedding content to you!)
Written by Rebecca Rovenstine | Cover Photo by Claire Penn via Rock My Wedding