On their first vacation together not long after they began dating, Trevor and Richard visited the Weekapaug Inn in Rhode Island. They loved it so much that they often returned for relaxing afternoons lounging on the beach, the farm-to-table meals and the laid-back New England charm that provides a much-needed escape from their busy lives in New York City. "When we realized we wanted to quickly put together a small wedding, it was the only place that we considered," the grooms say. Captured by Dani Fine Photography, Trevor and Richard's elegant wedding celebrated their unbreakable connection in a day that was filled with love.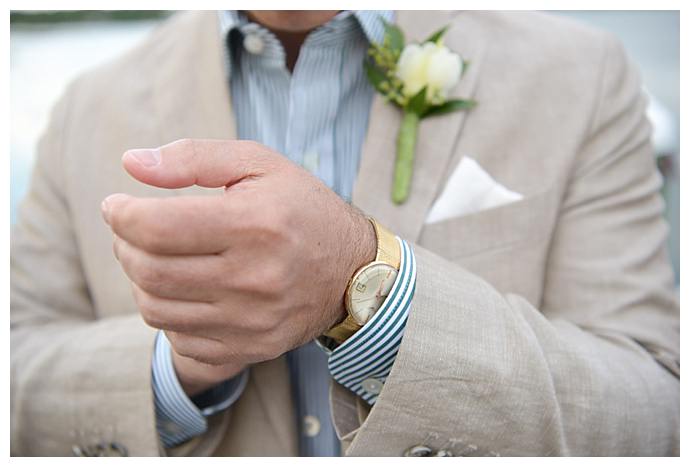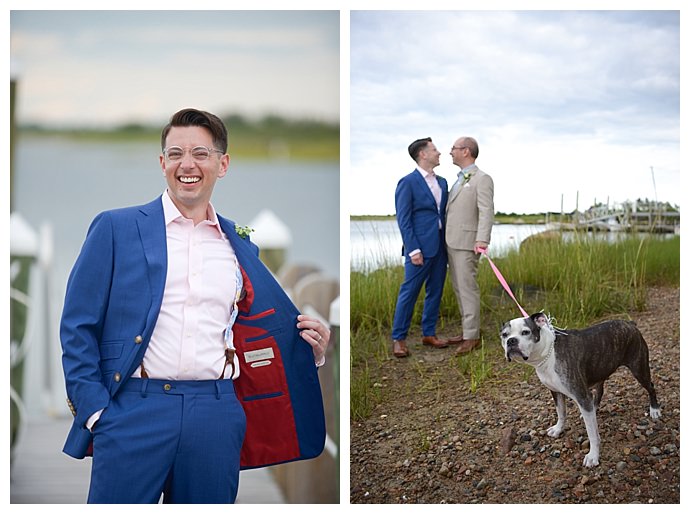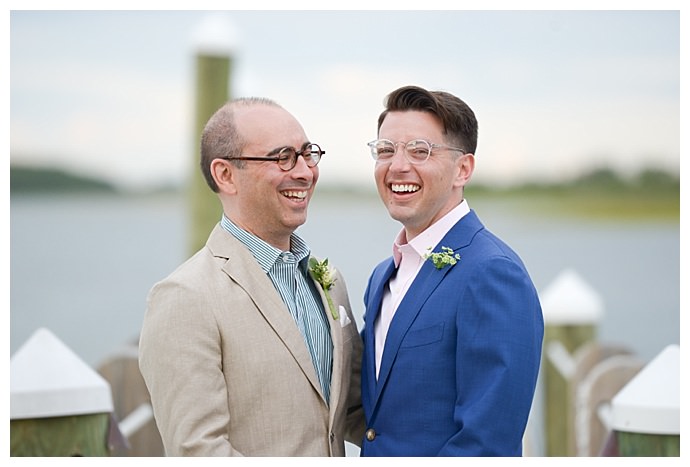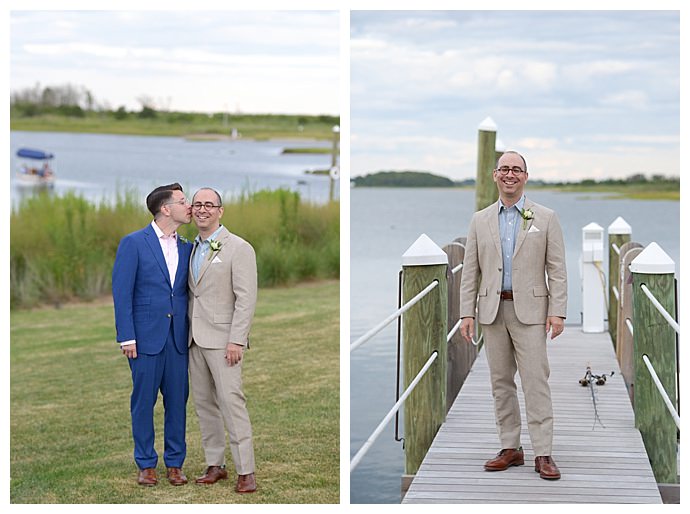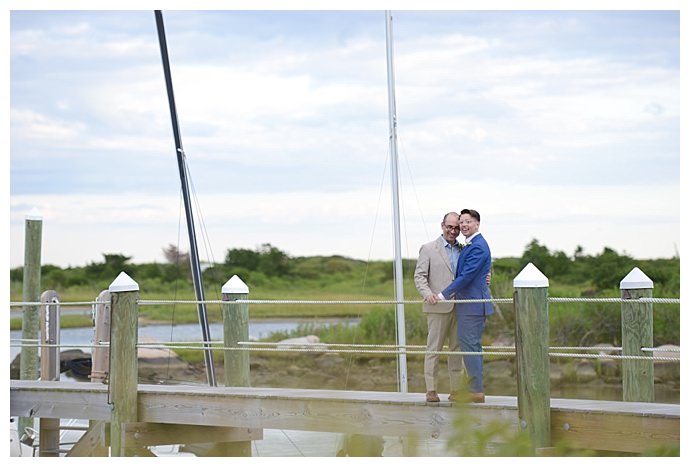 The Love Story
Trevor and Richard could not be more different. Trevor is a DIY-enthusiast who fills his home with collectibles and whose quirky hobbies include ethically sourced taxidermy. Meanwhile, Richard has a minimalist approach to life and finds joy in organization, particularly in spreadsheet form. "We are definitely an opposites attract kind of couple," they say. "But when we met, we felt a strong connection right away." Trevor and Richard had been together for more than a year when a routine late-night walk with their sweet dog, Enid, turned out to be a walk they'd never forget.
As they strolled through Washington Square Park in Manhattan, Richard proposed to Trevor with his dream engagement ring and then surprised Enid with her own engagement ring chew toy! A few days later on a Rhode Island beach, Trevor proposed to Richard, and the newly engaged couple basked in the bliss of soonlywed life for a year until they decided to plan an intimate destination wedding in Weekapaug, Rhode Island.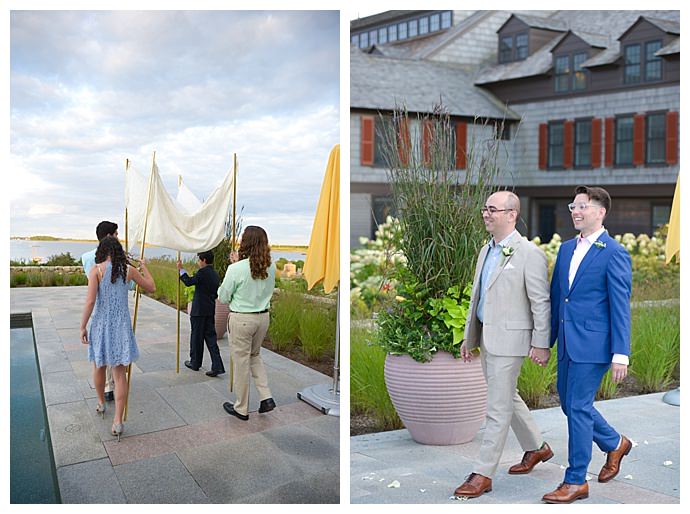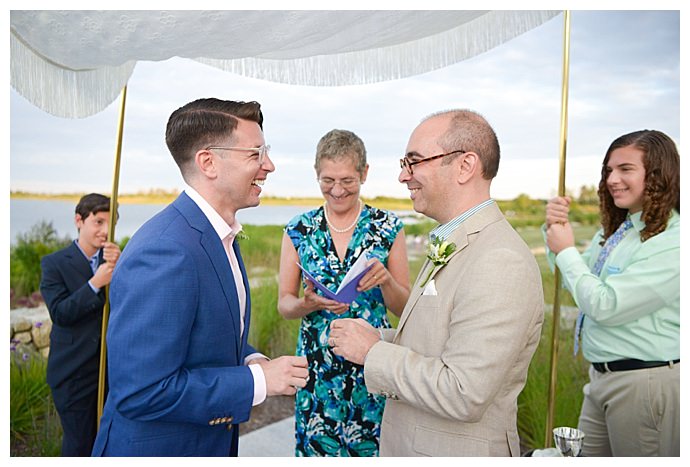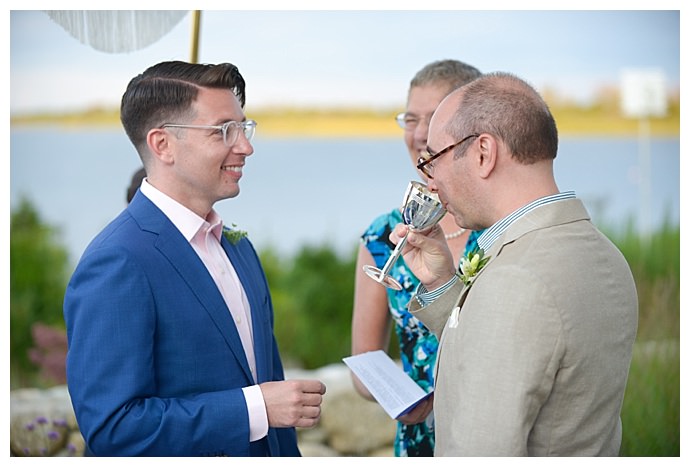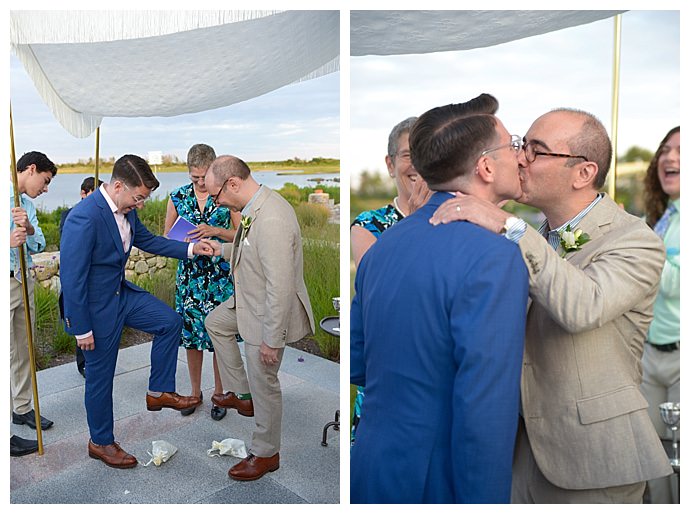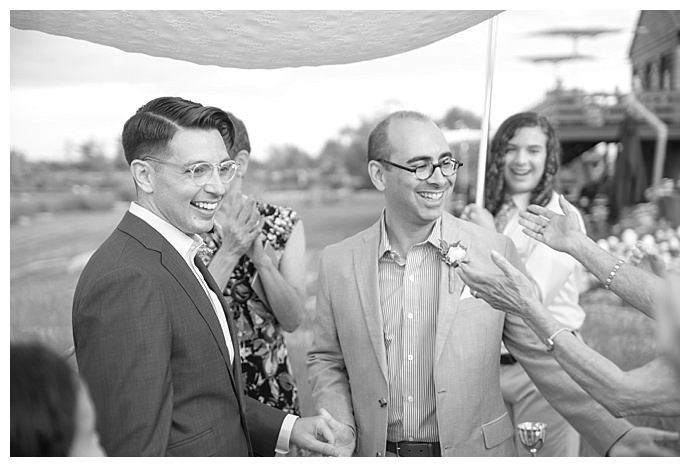 The Ceremony
For their poolside wedding, Richard donned a linen suit that was perfect for a summer wedding, and Trevor chose a lightweight wool suit in a lovely shade of blue that matched a fashionable pair of suspenders. And for their walk down the aisle, which they took hand-in-hand, both Trevor and Richard wore meaningful keepsakes from their grandparents. In addition to watches they inherited from their maternal grandfathers, Richard tucked a small linen handkerchief into this jacket pocket that his mother gifted to him just before the ceremony. It had belonged to his grandmother, a woman who had a large impact on Richard's life. "Having something that belonged to my grandmother and connected me to my past was very meaningful as Trevor and I took a big step into our future together," Richard says.
Trevor also had something very special from his grandmother on their big day. "Years before I ever met Richard, cleaning out my grandmother's apartment after she passed away, I found a small box that had her perfect handwriting on it among her jewelry," he says. The box read, "the flower Harry wore on our wedding day," and it held a dried rose bud from their wedding in the 1940s as well as a small glass boutonniere vase, which Trevor held onto for years. "On our wedding day, I wore a Queen Anne's lace bud boutonniere in it in my lapel," he says. "When we got home, I added the dried bud to the box and labeled it in my less than perfect handwriting."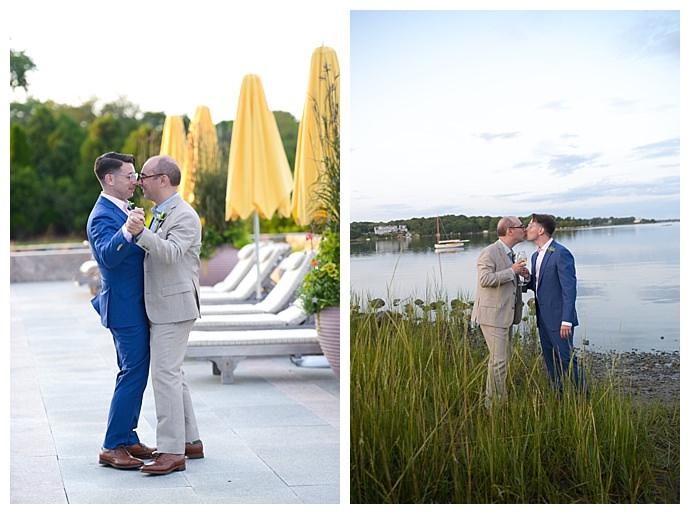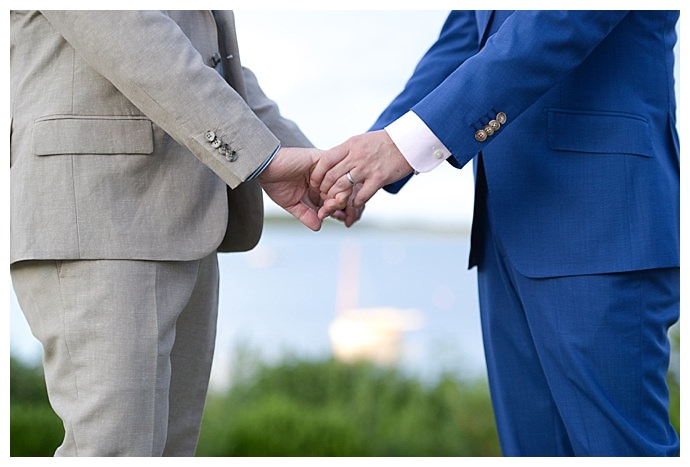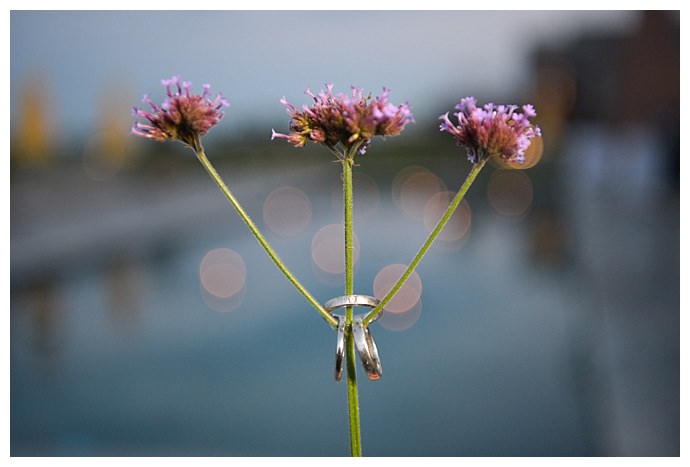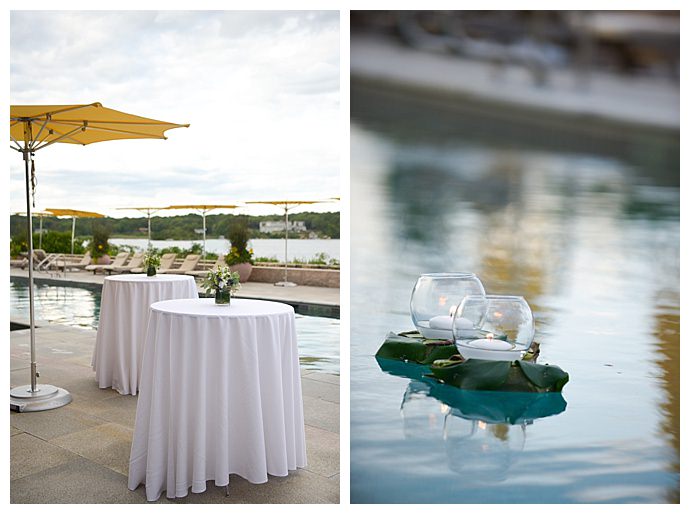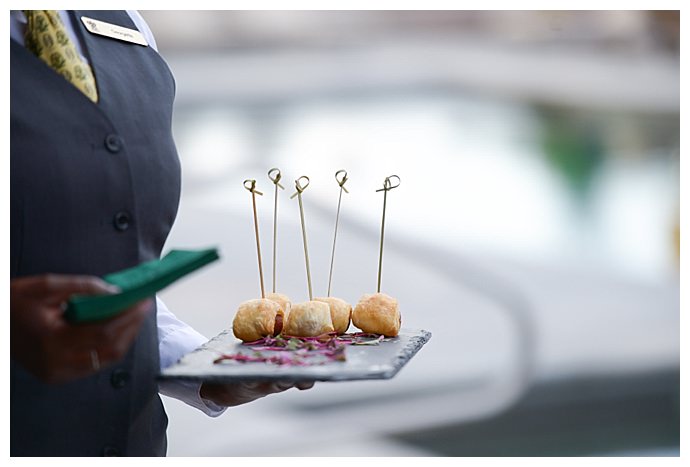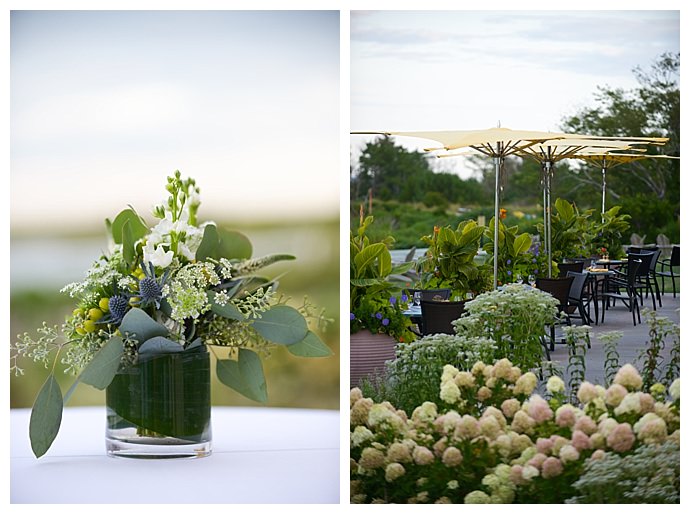 The Party
Cocktails were served poolside along with passed hors d'oeuvres of pigs in a blanket, BLT's with tomato jam and avocado and smoked salmon with cucumber and pickled shallot. "One of the things that the Weekapaug Inn is most known for is their phenomenal farm-to-table New England coastal cuisine," Trevor and Richard say. "We are total opposites when it comes to food, and we wanted to make sure there was something for everyone."
For their elegant seated dinner, an heirloom tomato gazpacho was served before entrees of pork chop and butter poached lobster fricassee along with chicken and salmon. The grooms played DJ at their own wedding and spent hours curating a playlist for the evening. "When we were finished, we had a four-and-a-half-hour playlist that flowed seamlessly from cocktail hour to the ceremony to dinner," they say. One of our favorite details of their wedding day was their wedding cake, where three tiers of white confections paid homage to their lovable pup. "For a fun, personal detail we included a small sculpture of our dog, Enid," Trevor and Richard say. "It was lovingly made by Richard's mother, and instead of placing it on top with the grooms, we had the chef place it beside the bottom tier with an artfully designed bite taken out of the cake!"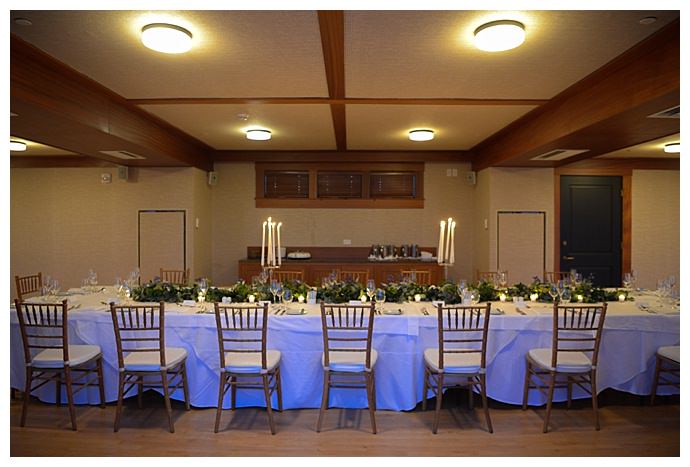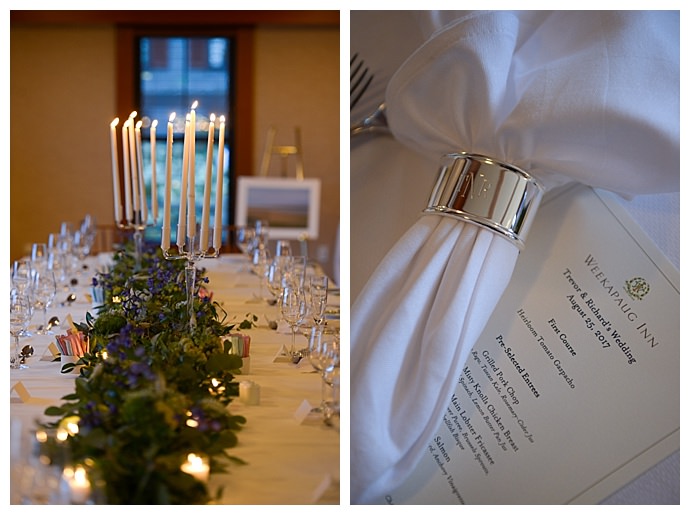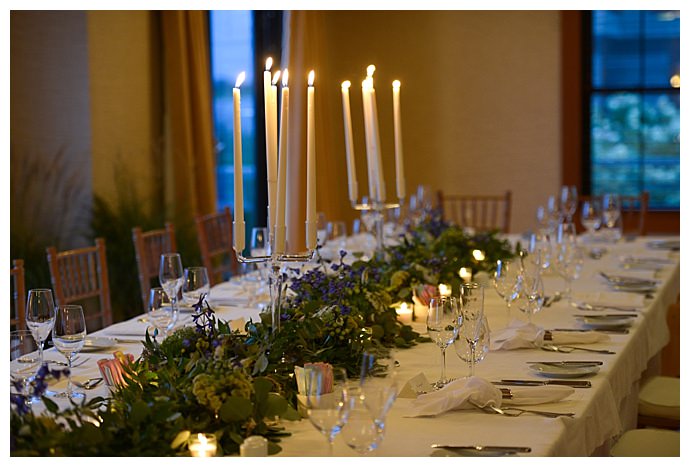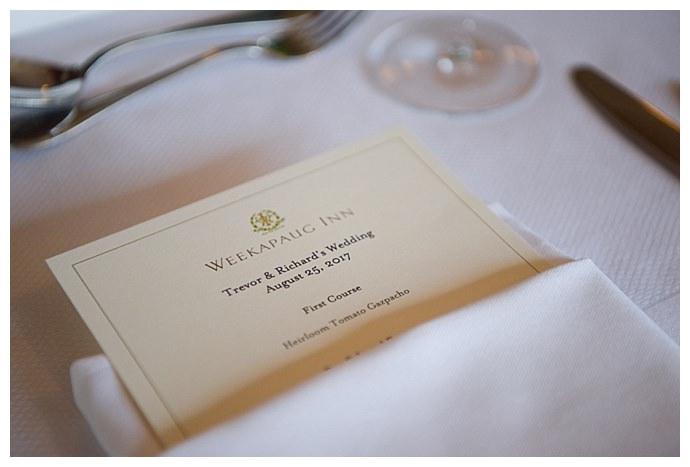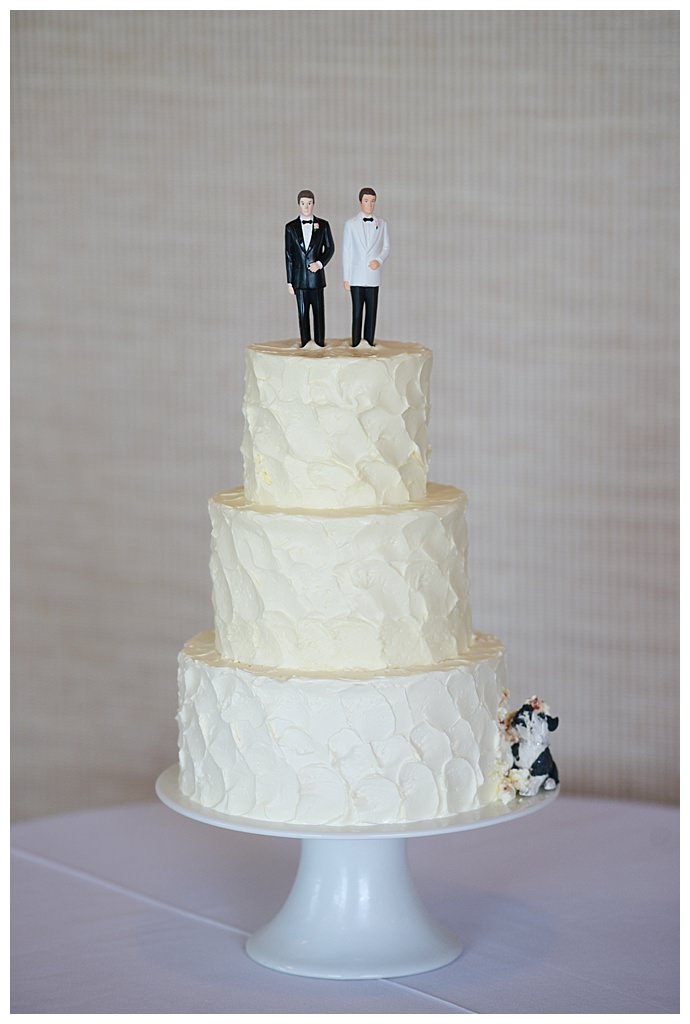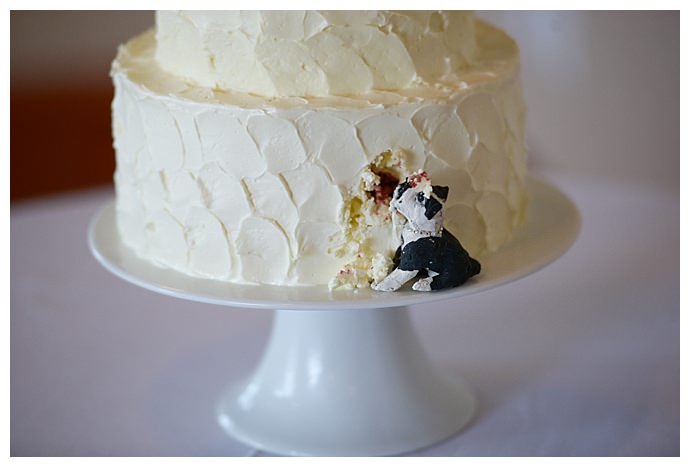 Memorable Moment
"Having our families together for three days and watching our family merge was the highlight for us," Trevor and Richard say. "One of the main reasons we chose to do they type of wedding we did, with just our immediate family at a small inn over a long weekend, was so that everyone could really get to know each other. Watching our two families come together as one is what we will always remember most."