Your wedding day is a once-in-a-lifetime event. It should be celebrated in the languages you speak, while also including the languages of your guests to bring everyone together in celebration. You have invited important friends and family to come be a witness to your love and having a bilingual wedding will bring everyone together for your special day.
"This is your unique ceremony," advises Rev. Emily King, multilingual wedding officiant. "The words you say are some of the most important you will ever say, and they should be said in the language of your heart. The people who are there to hear them deserve to be included, to understand and to support you in your life ahead, wherever you make your home."
Get ready for the wedding you and your guests will always remember with these tips for planning your bilingual celebration.
Be on the same page as your partner
Before you begin planning your wedding, sit down with your partner and discuss what ideas you have for infusing different languages into your day.
"Think of who your guests will be," explains Lupe Juarez, bilingual wedding and portrait photographer. "Are most or all of them bilingual? If not, what are some things you can do to make them feel included?"
Do only you and your partner speak multiple languages? One side of your family? Most of your guests? Are you planning a bilingual elopement for just you and your partner? These answers will guide you through your planning process.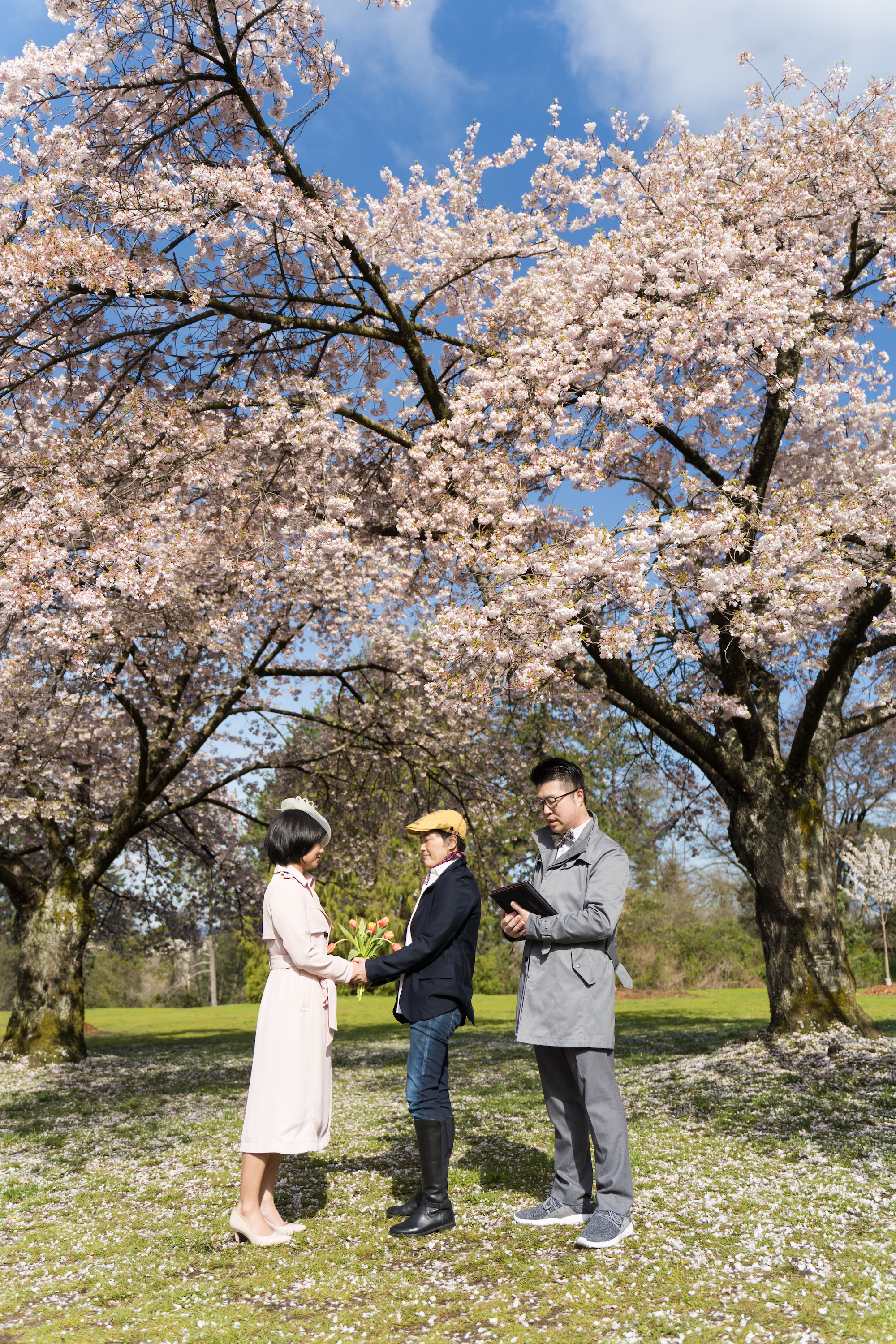 Including multiple languages does not automatically mean a longer ceremony
Having a bilingual ceremony does not mean double the length. Hire a professional wedding officiant who can work with you to create a ceremony in the timeframe you desire.
"For instance, one party speaks Cantonese and the other party speaks Mandarin, but their common language is English" says Kevin Leung of Vancity Officiant who has officiated over 500 multilingual ceremonies. "They struggled if the ceremony needed to be conducted in all three languages so everyone attending the ceremony would understand, including their families who speak only one language of their own. However, they're worried if the ceremony time would be tripled. I suggested that I would communicate with them in their common language, and they could use their common language to exchange their vows etc., while I would do a brief translation in the other two languages so all guests would be happy."
Not all bilingual ceremonies are built the same. Every aspect of a wedding does not need to be done in all languages, especially if time is a constraint.
"For the most part, our couples choose a fully bilingual ceremony, from the welcome to the pronouncement, so that all their loved ones can feel present and understand the entirety of their wedding," explains Daniela VillaRamos, Love Storyteller and Wedding Officiant for Once Upon a Vow. "We usually ask our couples to really think about their loved ones in attendance in order to decide which language will be the primary one and which will be the summarizing secondary one. For instance, if the majority of their guests are Spanish speakers but they have friends or colleagues who only speak English, we recommend Spanish as the primary language and a summary in English. We don't translate bilingual ceremonies word for word since that can extend the ceremony length, be incredibly repetitive for bilingual guests, and loses the natural flow of this love-filled moment. Instead the secondary language captures the essence of what's being said in a succinct way that keeps guests engaged and excited for that first married kiss!"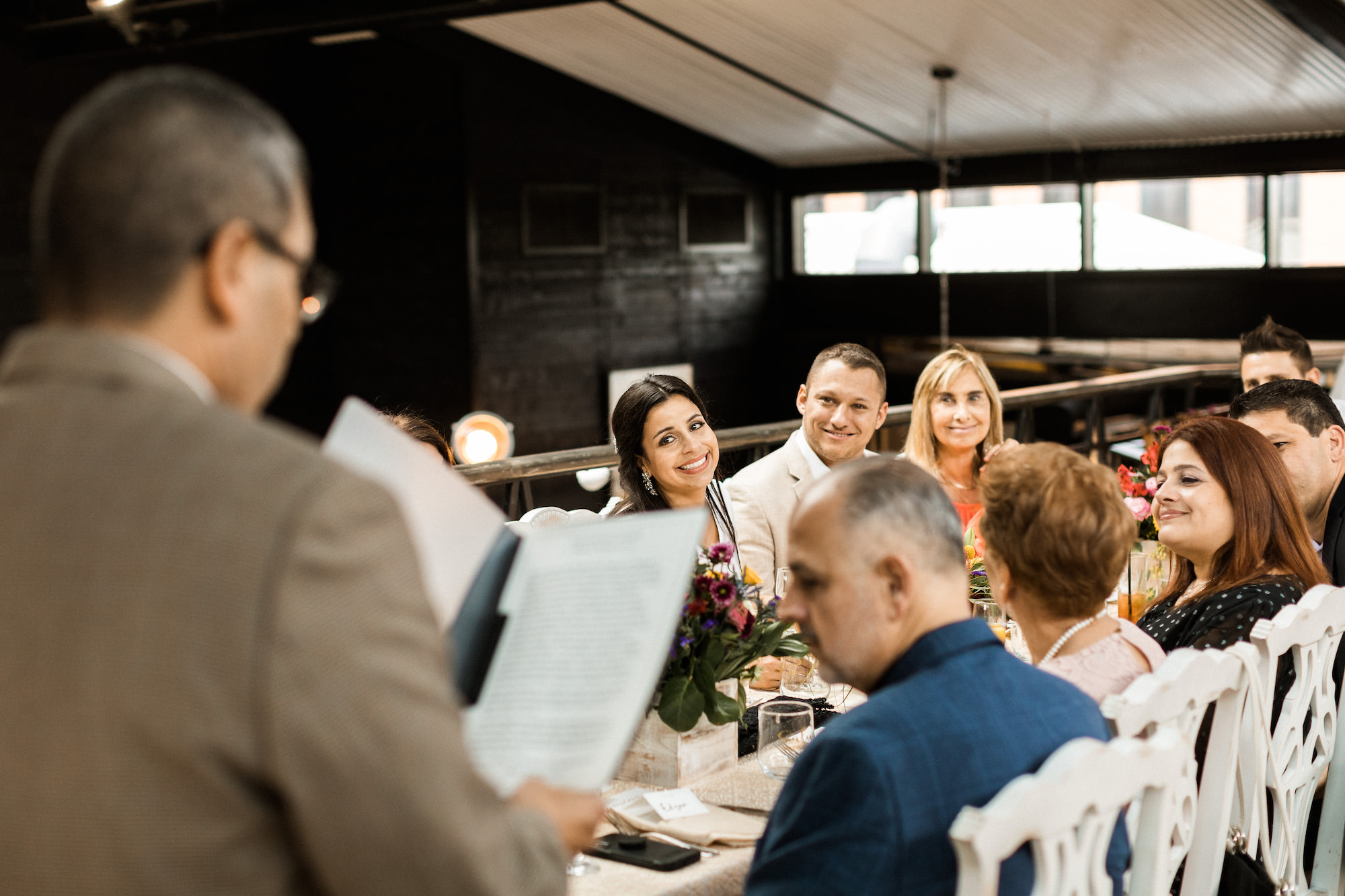 Don't leave guests out of your ceremony
Having a bilingual ceremony is not just reserved for couples who have several guests who speak a different language, sometimes it's only one or two. Your friends and family want to be a part of your big day. They are attending to celebrate you and they should be able to do so. Provide translation services for those who need them. Don't rely on other guests to do this for you, they also want to enjoy the day. Hire a sign language interpreter for your deaf or hard of hearing guest(s). Bring in a translator or have written translations of your ceremony, toasts, or other spoken parts of your wedding. Love Inc. couple Eric and Luis provided headsets for guests to hear the ceremony in their primary language. Equip your guests to have a fun, comfortable experience.
Incorporate family and friends into your wedding
In addition to vendors, family and friends can contribute to the bilingual aspects of your day. From readings to toasts to announcements and emceeing introductions, there are plenty of opportunities where guests can be included and having family and friends involved adds a level of sentimental value to your wedding.
"I have married people in bilingual ceremonies in French, German, Italian and Spanish," shares Rev. King. "We have also created ceremonies in which family members did readings in different languages (Dutch, Mandarin, Portuguese, Burmese, Persian, Arabic, Ukrainian, American Sign Language) and the English translation were read by family members on the other partner's side."
Be inclusive in all steps of the wedding planning process
Including guests in your celebration goes beyond having a bilingual wedding ceremony. It requires that you be mindful at all stages of the planning process where words are being spoken or written starting with your first communication – the invitation.
Send out bilingual invitations and RSVP cards so they include all the necessary information in the language(s) of all your guests. If you are sending invitations in a language not every recipient will understand (for example, only your grandmother speaks Vietnamese and your invitations are printed in English) call these invited guests once they receive their invite to go over the details, bringing in the help of a friend or family member if you also do not speak the language. The same goes for the wedding website. Upload your information in the primary languages of all your guests. This site will be a go-to resource for details, addresses and booking accommodations. Do not leave your guests relying on Google Translate.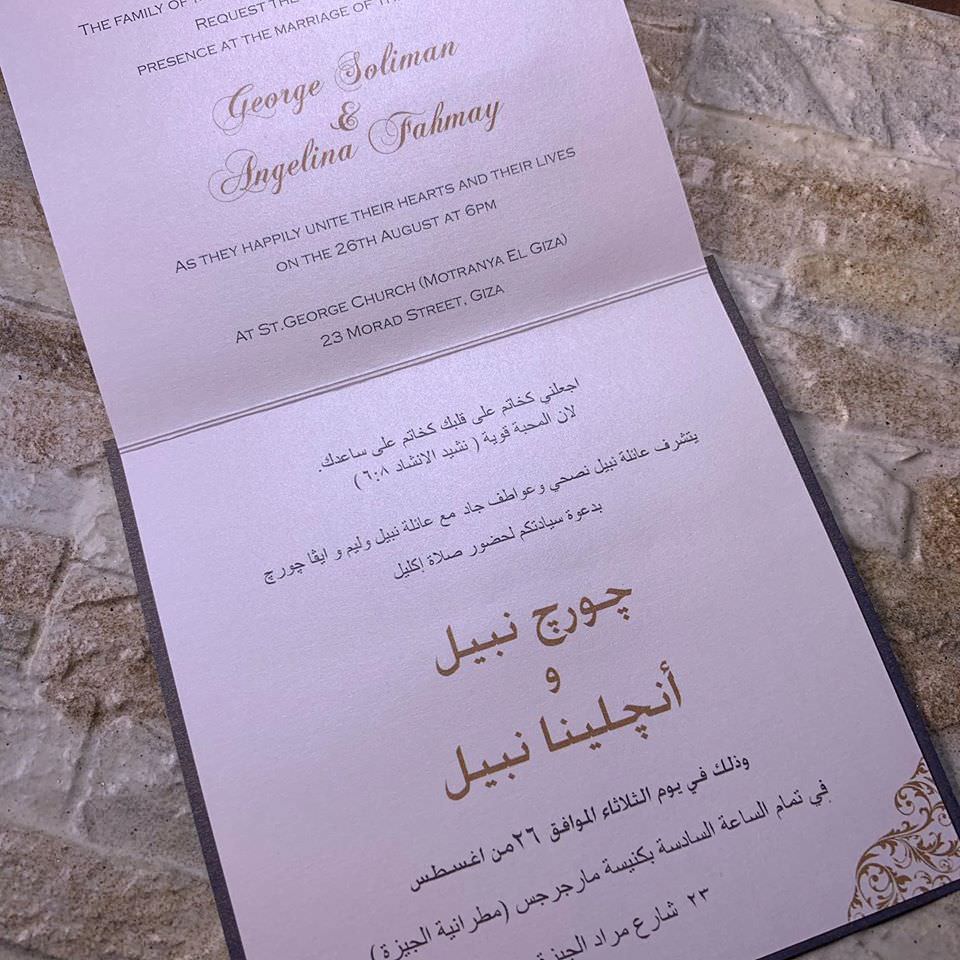 Hire bilingual vendors
Having an inclusive bilingual wedding is more than just a bilingual celebrant officiating in multiple languages.
"When searching for wedding vendors, ask if they are bilingual or if they can provide bilingual on-site staff when looking for venues and catering companies," recommends Juarez. "Can they speak the languages spoken at your wedding? Think of the DJ, MC, bands, photographer, videographer, bartenders, makeup artist, on site-venue staff, just to name a few who will be interacting with guests."
Communication is key for all aspects of a wedding. Photographers who are bilingual will be able to efficiently work with your wedding party to pose them and organize guests for photos. A bilingual band will not only be able to provide bilingual music but also emcee in the languages of your guests. Multilingual vendors are an asset to guests, especially those who may not have other people in attendance who can communicate with them.
"Do not settle and continue being intentionally inclusive of your community," suggests VillaRamos. "Bilingual weddings are not only possible; they are the future. There are more and more multicultural and multilingual vendors in the wedding industry who are excited to blend your cultures, your language, your ancestral roots, your beliefs so don't settle for wedding vendors who may not understand or who you have to educate. Be radically intentional with who you hire because they are the ones who will be by your side on your wedding day, the ones who will make your guests feel seen, heard, and understood."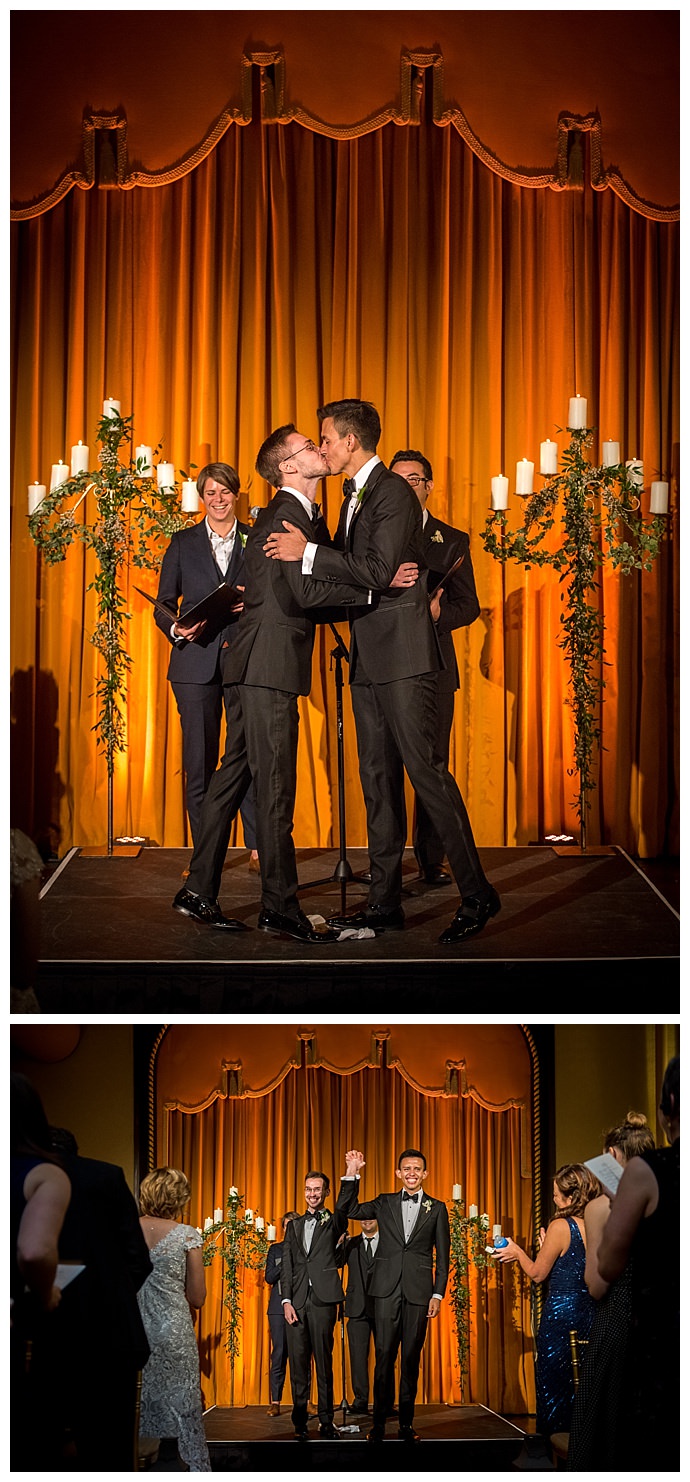 Make sure guests have bilingual resources available
Printed materials go a long way on your wedding day. Direct guests on where to go, what side to sit on, if they need to unplug their phone and more with the help of bilingual signage or ceremony programs. Work with your venue to add temporary signage near existing restroom signs, directional signs, etc. in guests' second language.
At the reception, provide bilingual menus, either individually printed or on a sign, and ensure buffet lines and other self-serve food is properly labeled. Regardless of signage, hire bilingual catering staff to be available if guests have any questions about ingredients or what is being served. No one wants to skip eating at a wedding because they are unsure of what's in the food. Include in your written contract that you want bilingual bartenders and servers.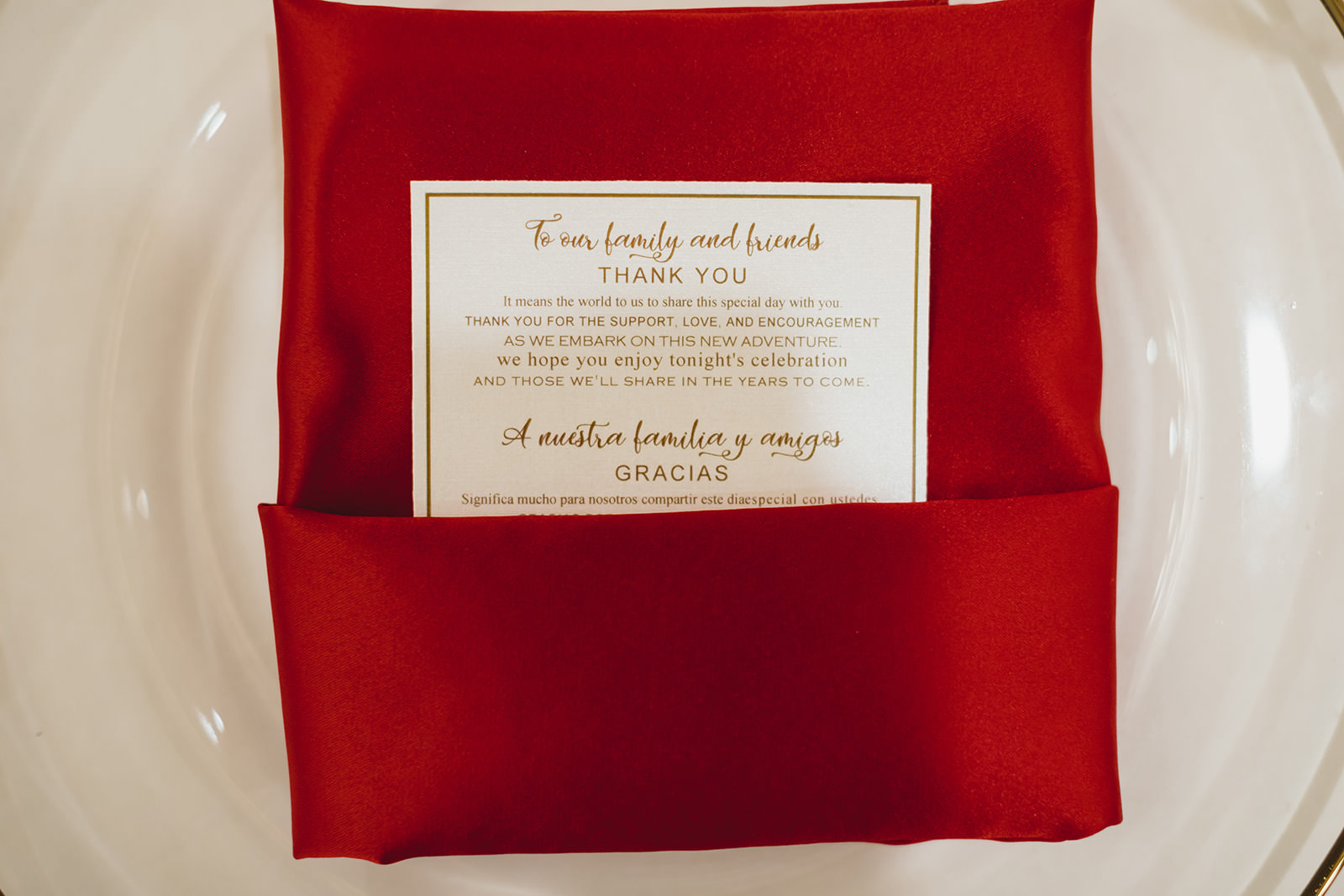 Help other couples find bilingual vendors
Multilingual vendors are few and far between. As a service to bilingual couples planning a wedding as well as a thank you to your vendors, do your part to help spread the word about the services these wedding professionals offer.
"The biggest challenge is finding bilingual wedding vendors, especially officiants, proficient in the languages you need," shares Karla Villar, Love Storyteller and Wedding Officiant for Once Upon a Vow. "The fact is that there are not enough vendors out there who are explicitly marketing themselves as bilingual or multilingual, which means there are either not enough people with the language skills OR the wedding industry structures currently in place do not fully embrace linguistic diversity."
Do your part to assist future couples seeking bilingual vendors. Post reviews on the vendor's profiles with sites like The Knot or Zola. Share their businesses in wedding planning Facebook groups and with friends who are planning their own wedding. Always tag your vendors (all of them, not just the photographer) when you post photos from your wedding on social media. Word of mouth is incredibly powerful and will help couples find the vendors who are right for them so they can have the same bilingual experience you did.
Written by Emily Rochotte / Header image by Krista Mupo Photography