Lawyers typically take on a lot in their first year as attorneys, but for Eric and Luis, their plate was twice as full as they were planning their wedding, too. Although it was one of the busiest times in their lives, Eric and Luis' celebration, which came after a legal ceremony that was held at New York City's courthouse, went off without a hitch. Craig Warga Weddings captured their big day, in which the grooms got ready together as their sweet pup prepared for her role as ring bearer, declared their love for each other in front of friends and family who traveled from all over the world, and celebrated with an elegant reception to cap off a perfect day.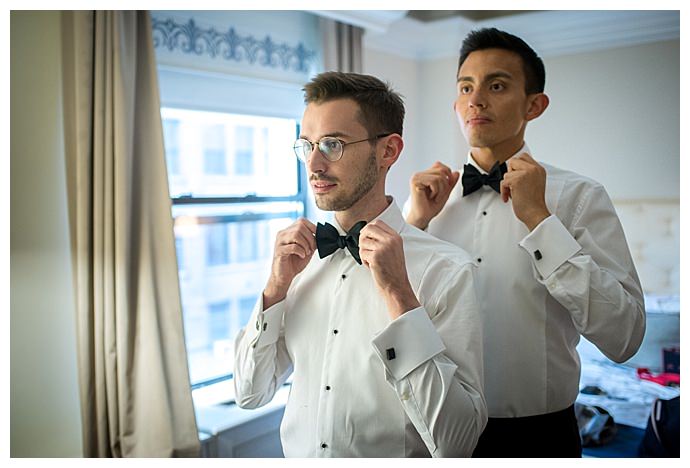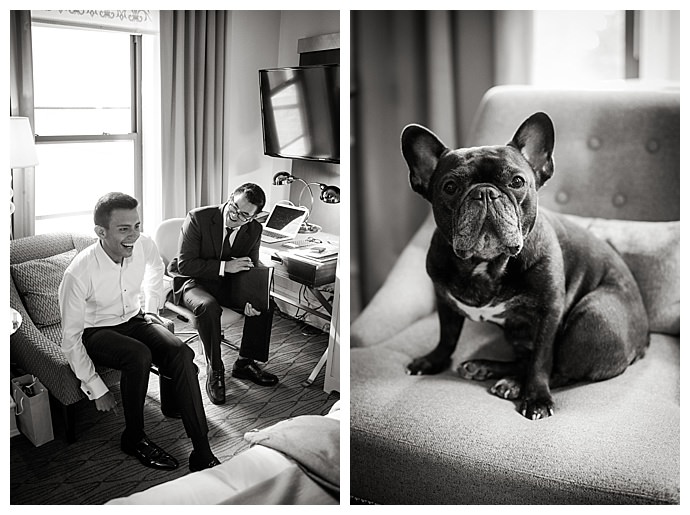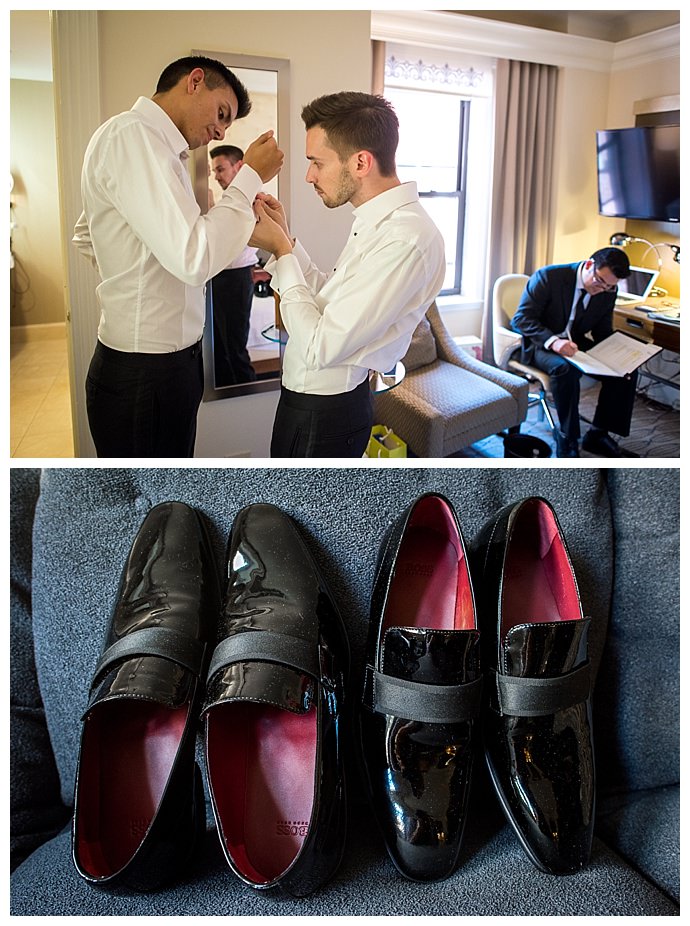 The Love Story
Eric and Luis were both aspiring lawyers in their second year of law school when they met one summer in Washington D.C. Luis was working as an intern for the United Nation's refugee agency and Eric was interning at the Electronic Privacy Information Center when Eric's roommate introduced them. It wasn't long before they shared their first kiss at Cafe Citron, a bar in Dupont Circle.
Two years later, Eric and Luis were on vacation in Cartagena, Colombia, when Luis found the perfect opportunity to propose. Luis brought Eric to Plaza Bolivar, a popular square in the city, and took advantage of a moment when Eric was distracted looking up directions to a restaurant. Luis took out the ring he had been holding onto and placed it inside a Spanish colonial cannon. When he brought Eric over to the cannon, Luis got down on one knee and asked Eric to spend the rest of his life with him.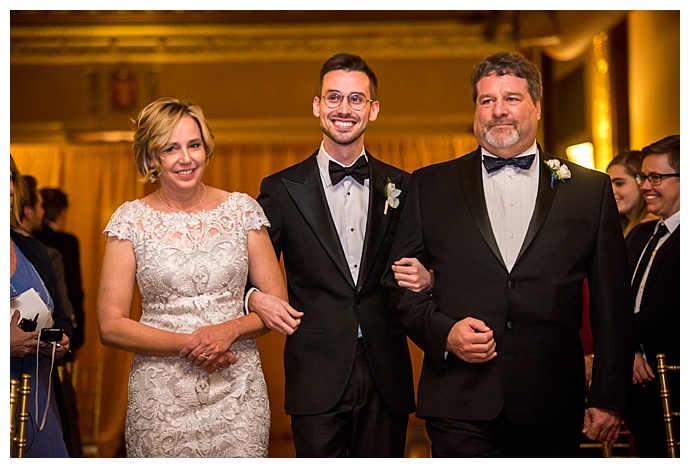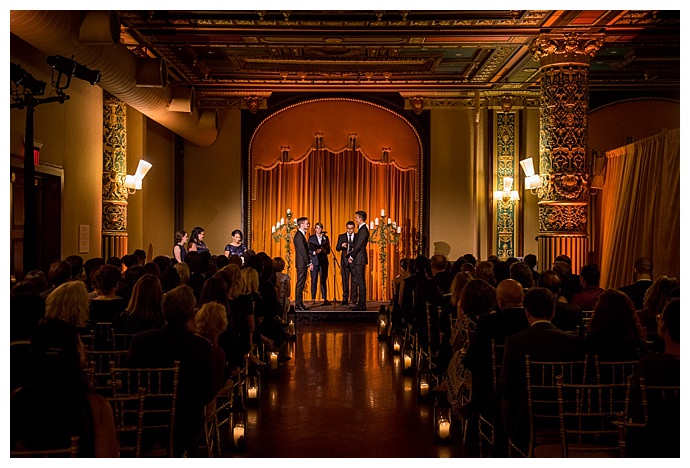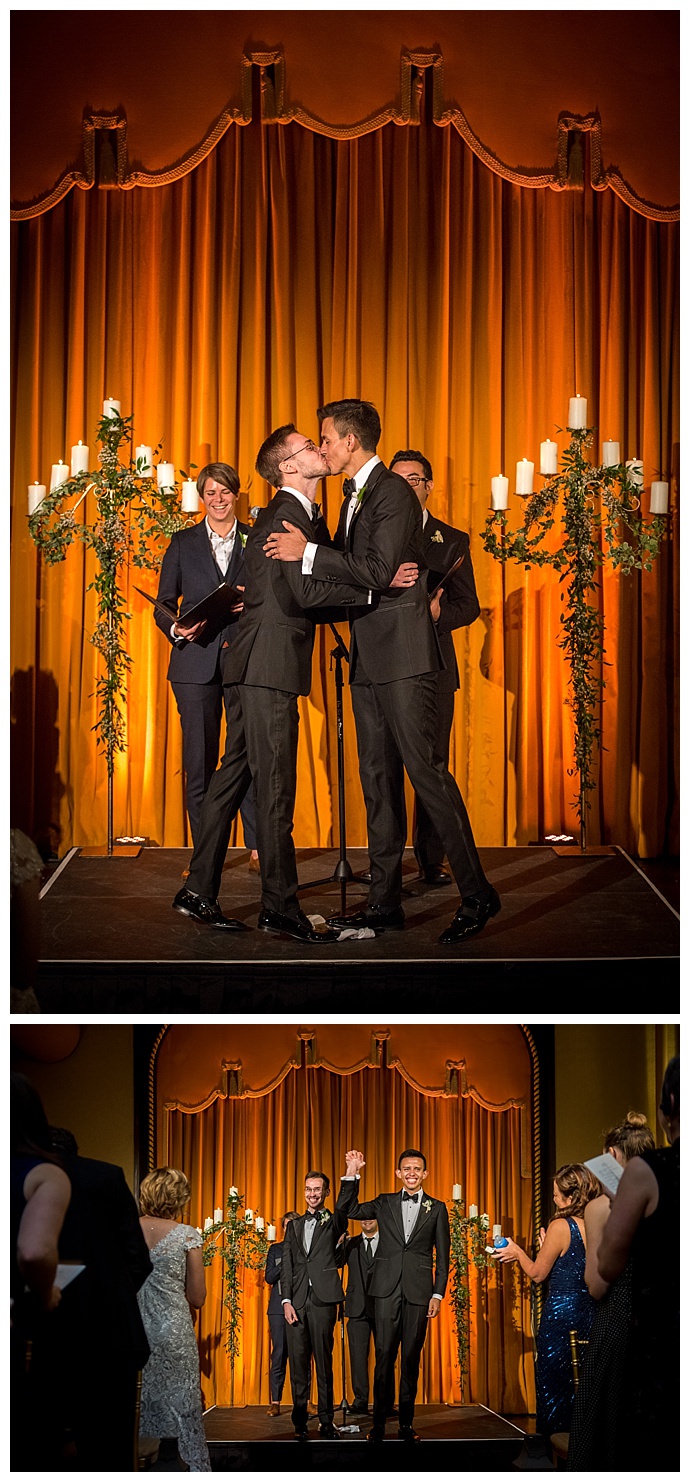 The Ceremony
Eric and Luis, two lawyers and activists with a heart for justice, chose the Prince George Ballroom to say "I do" not only because the venue is stunningly beautiful, but also because the proceeds went to Breaking Ground, a nonprofit that owns and operates the Ballroom and is dedicated to providing housing to the homeless and low-income families in New York.
Forty of Luis' friends and family traveled from Ecuador for their celebration, and the grooms wanted to make sure that everyone felt connected during the ceremony. They provided headsets for all the guests, ensuring the ceremony was bilingual in both Spanish and English. The same friend who introduced Eric and Luis also officiated their beautiful, personalized ceremony along with one of Luis' best friends from college. Wearing matching, custom-made tuxedos, Eric and Luis shied away from a faith-based ceremony but included a traditional ring exchange, the breaking of the glass and the exchange of the arras, which is an old Spanish tradition where the grooms made promises to provide for each other throughout their marriage.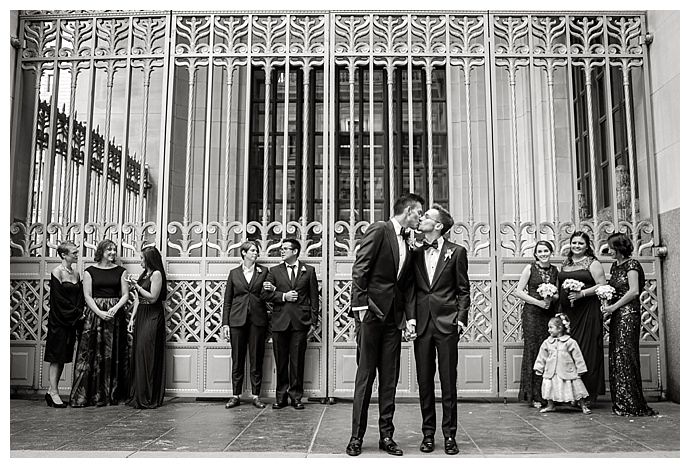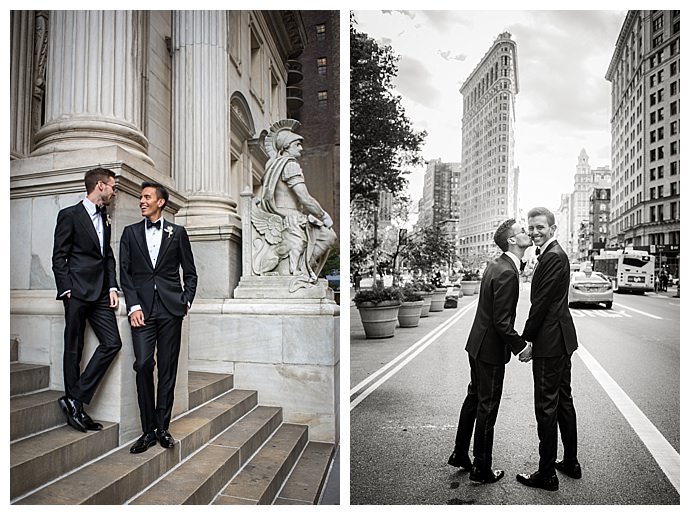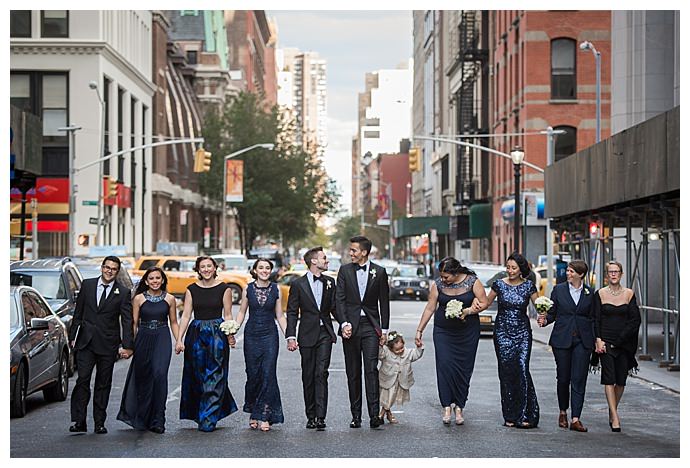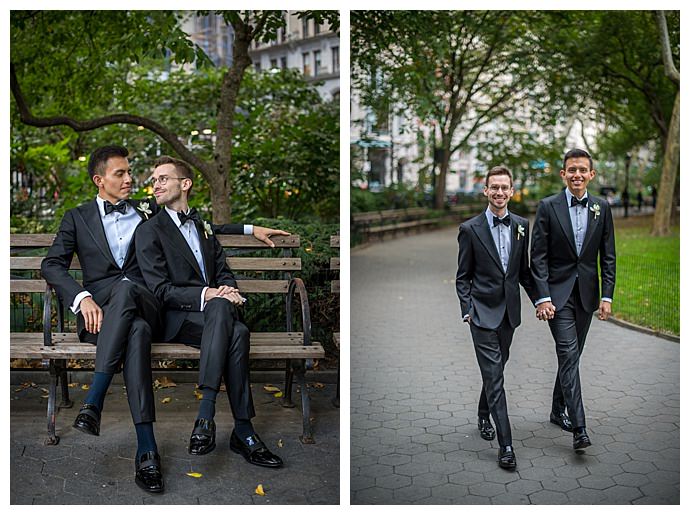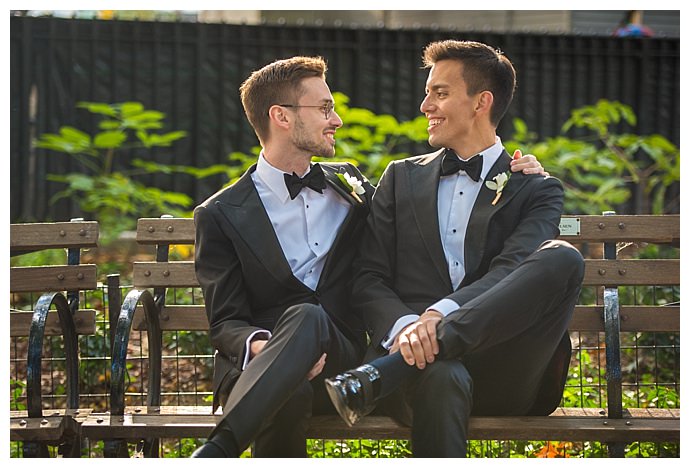 The Party
Eric and Luis threaded white, gold and dark blue into all the details of their wedding, creating an elegant palette for a beautiful reception. Tall white flower arrangements adorned the round tables surrounded by gold chairs where guests enjoyed a cocktail hour before a delectable seated dinner. The menu consisted of roasted beet salad with bleu cheese, ceviche style shrimp with roasted saffrito and roasted pork with white beans, arugula and orange. For dessert, their three-tiered cake with two pumpkin tiers and one chocolate all coated in buttercream frosting was designed by acclaimed New York City bakery Magnolia. And before the night was over, Eric and Luis shared their first dance and husbands to "At Last" by Etta James.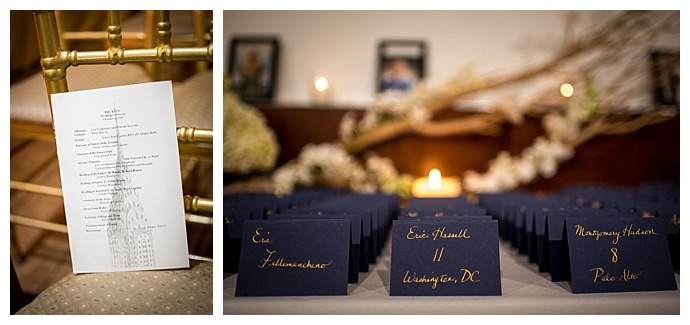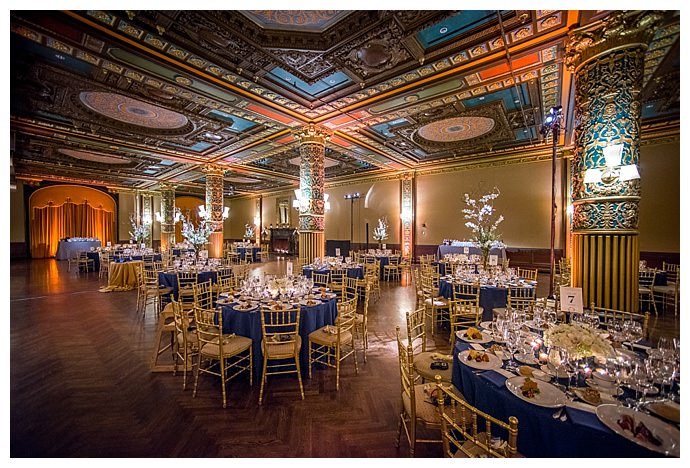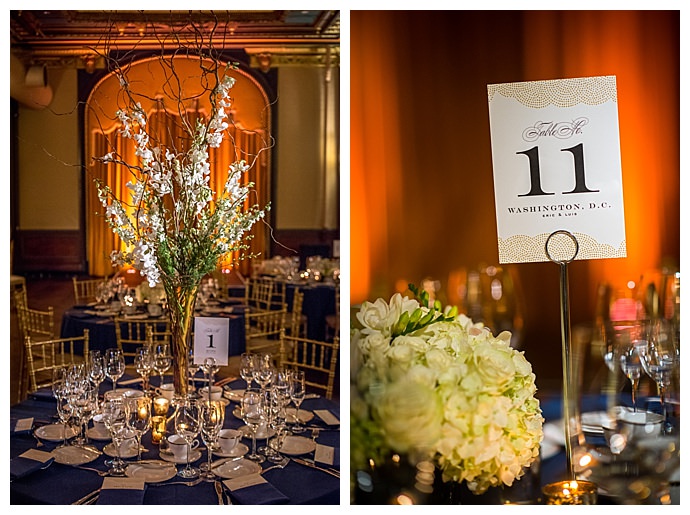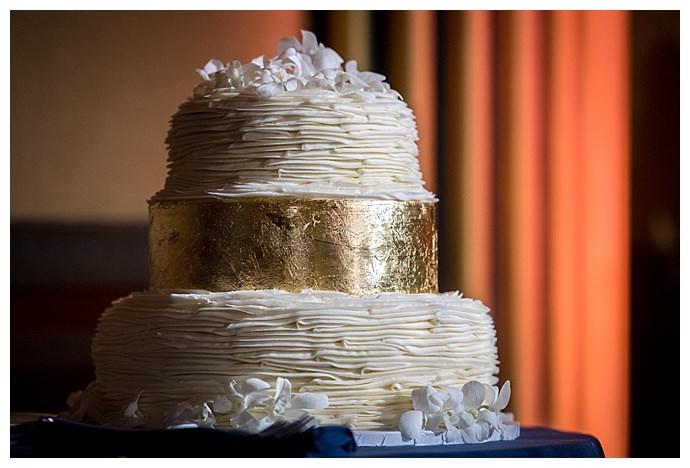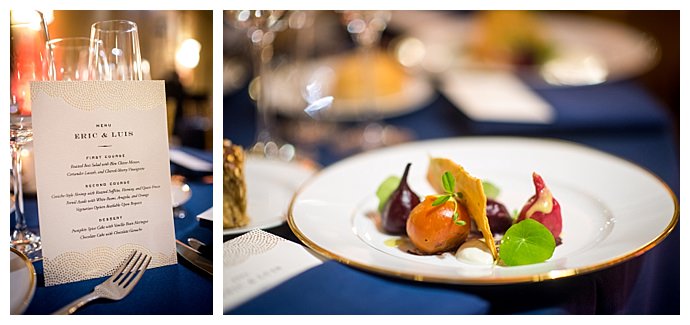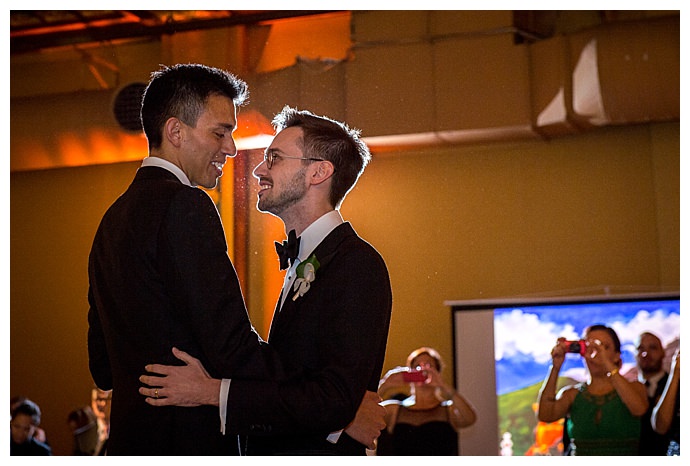 Memorable Moment
"Us lifting our hands at the end of the commitment ceremony while everybody applauded at us," Eric says. "It was really powerful, particularly for Luis, who came to the U.S. seeking asylum after being persecuted in his home country of Ecuador for being gay."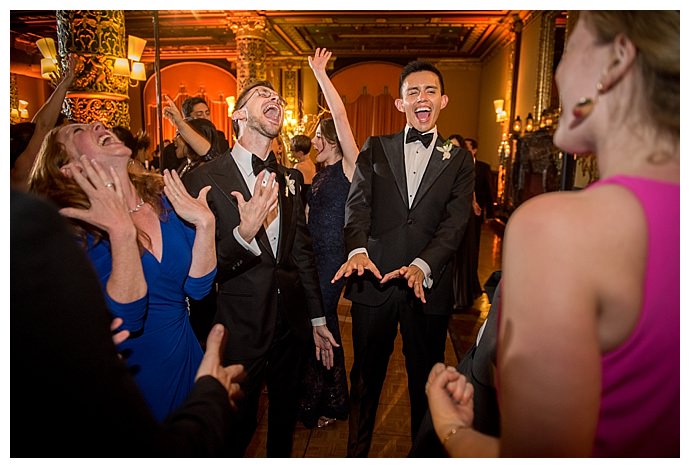 Team of Talents
Venue: The Prince George Ballroom
Photography: Craig Warga Weddings
Floral Design: Surroundings Flowers
Wedding Planner: SORAYA weddings
Stationery: Paperless Post
Catering: Neuman's Kitchen
Cake Design: Magnolia Bakery
Wedding Suit: Suit Supply
Wedding Shoes: Hugo Boss
Wedding Rings: Tiffany & Co.
Makeup Artist: Glamsqaud
DJ: DJ David Miranda
Lighting: Wizard Studios