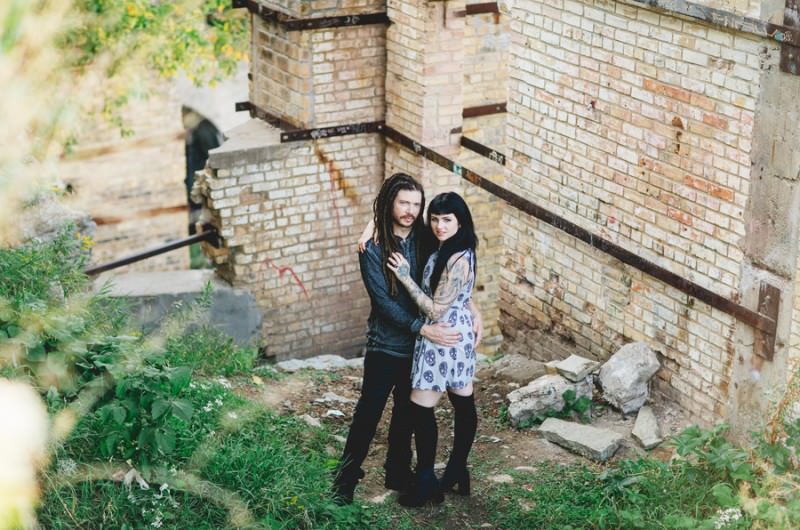 Tim and Brittney's Beautifully Urban Engagement Shoot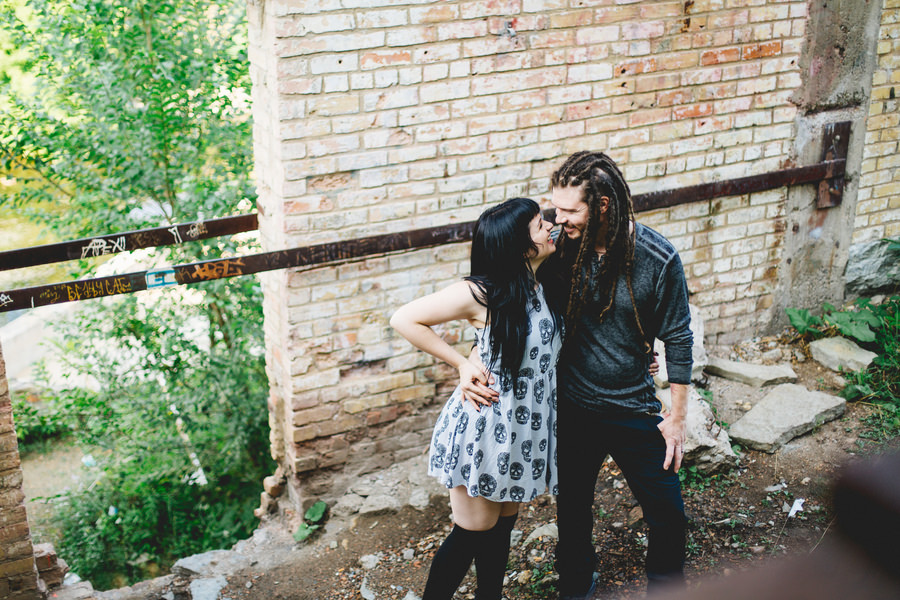 My absolute favorite backdrops are ones that seem stumbled upon, brimming with overgrown foliage, broken bricks and abandonment. There's a sense of solidarity and peacefulness, enabling the couple to just be while having magnificent texture to add interest. Brittney and Tim found the perfect locale for their engagement session with Jen Montgomery Photography at Mill City ruins in downtown Minneapolis. "I loved how urban yet historic the location was and it is representative of our home in Minneapolis," says Brittney.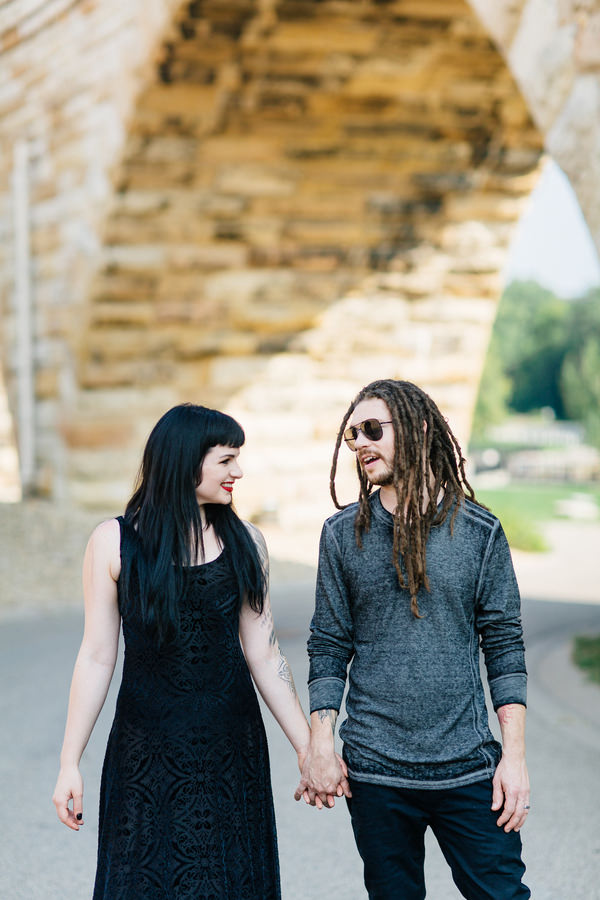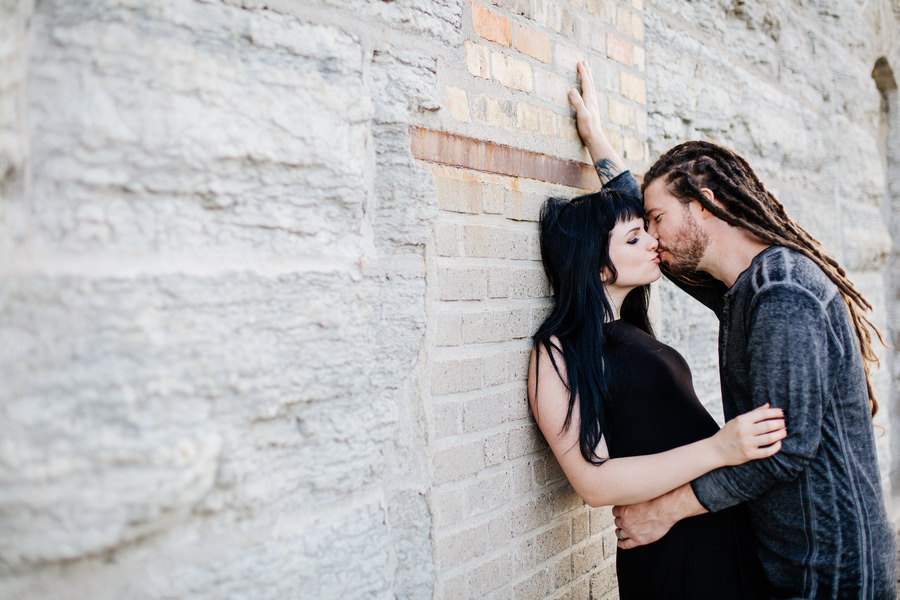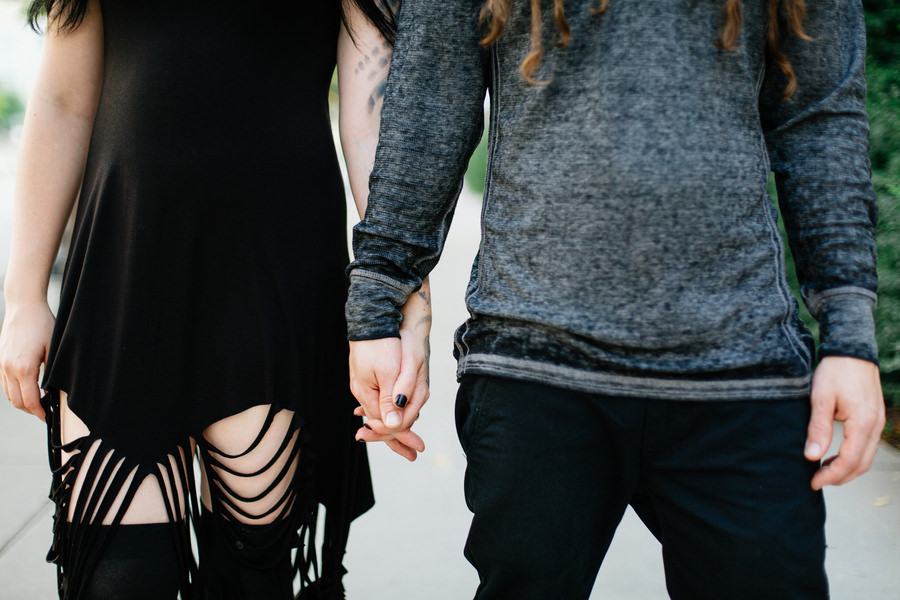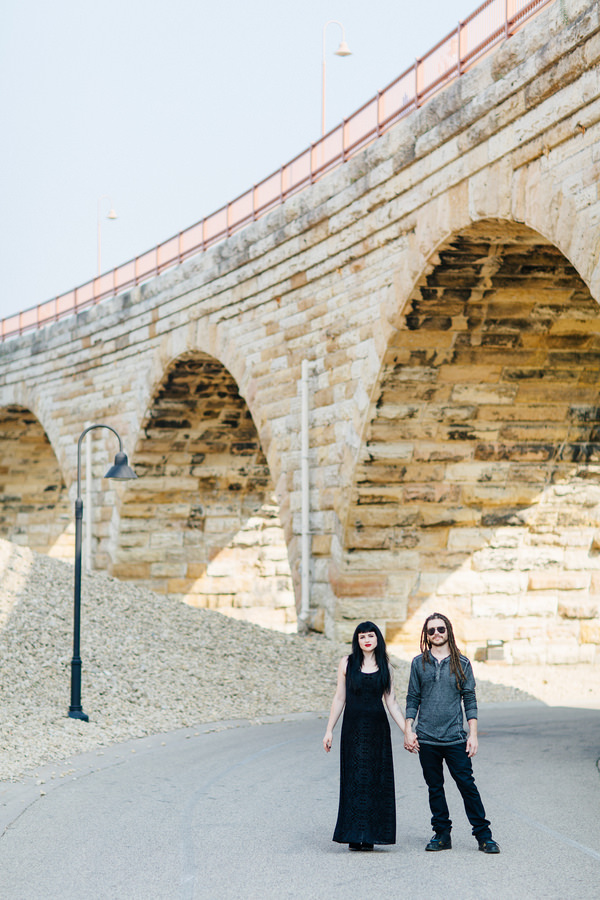 The Love Story
Stolen glances across a 12-person dining table was the start of Brittney and Tim's happily ever after journey. "After class one night, the whole group went out to sushi and my new friend from class invited her boyfriend to join for a late dinner. Her boyfriend was hanging out with Tim, as they had just gotten done with band practice, and so he brought him along to the restaurant. I remember being introduced to Tim and he shook my hand, we both had dreadlocks at the time and I thought he seemed fun and was immediately smitten."
Naturally a social butterfly, Brittney has a tendency to freeze up around people she's romantically interested in. "Of course it would be my Achilles heel to talk to a guy I have a crush on and feel like I'm going to say/do something derpy!" laughs the bride. After an evening of sneaking glances, they connected via Facebook the next day where Tim officially asked her out on their first date.
About a month into their relationship, Tim confessed his love for Brittney. "We were at the Zombie Pub Crawl in Minneapolis and I had done very elaborate special effects makeup on us and after listening to bands, bar hopping and walking in the Guinness Book of World Records Largest Gathering of Zombies, we ended up a nightclub."
It was in that chaotic club scene, with booming music and flashing strobe lights, that time stopped for the couple. "He held both my hands to get my attention and make me stop dancing. It was really endearing how he told me he loved me, but not just loved me, really loved me and wanted to be with me forever," reminisces Brittney. "It just happened to be appropriately strange in full-out zombie theme. And I told him that I loved him, too."
"Things between us were very good timing wise, we fell in love at the same pace with one another and it always felt natural and easy. Plus, how could I not want a ridiculous, fun-loving, adventurous soulmate who didn't mind some fake blood now and again?!"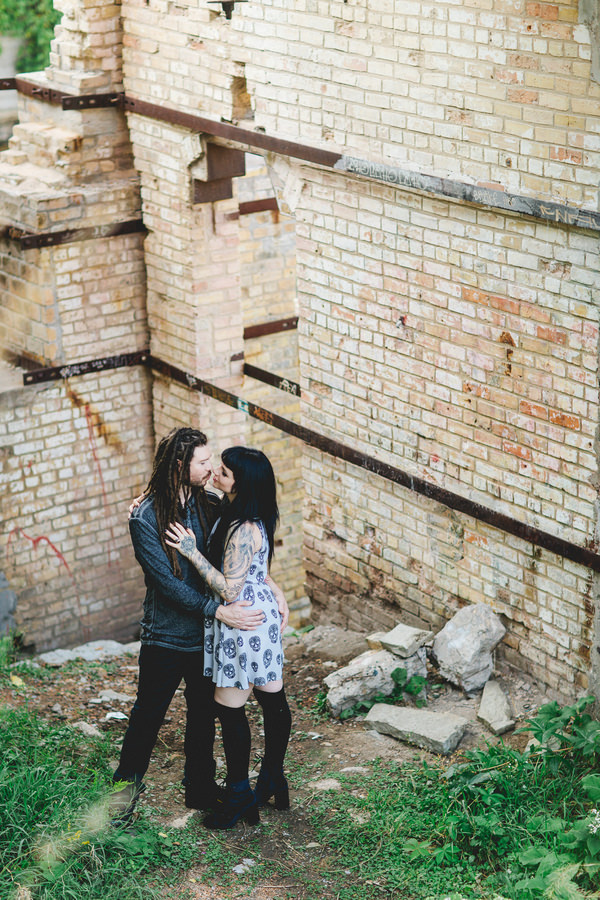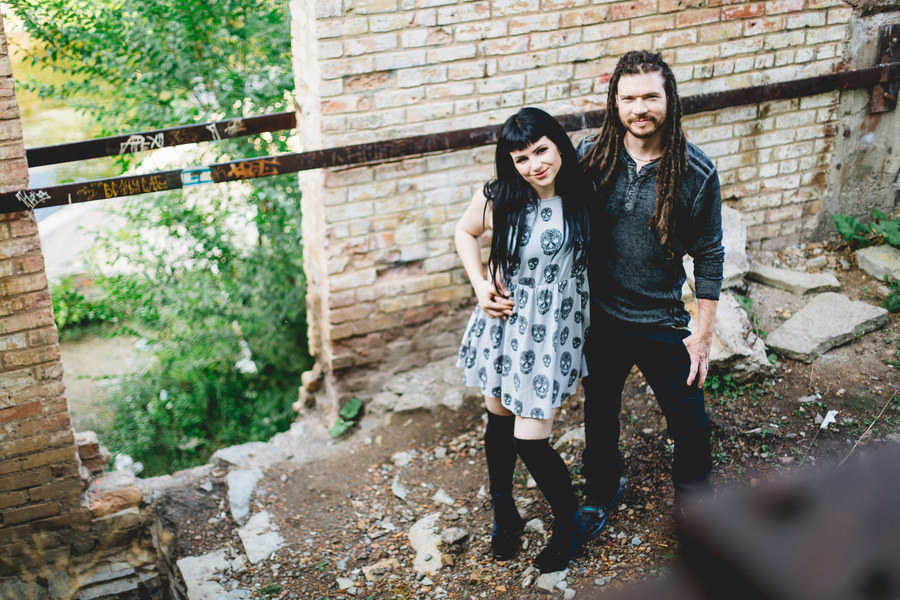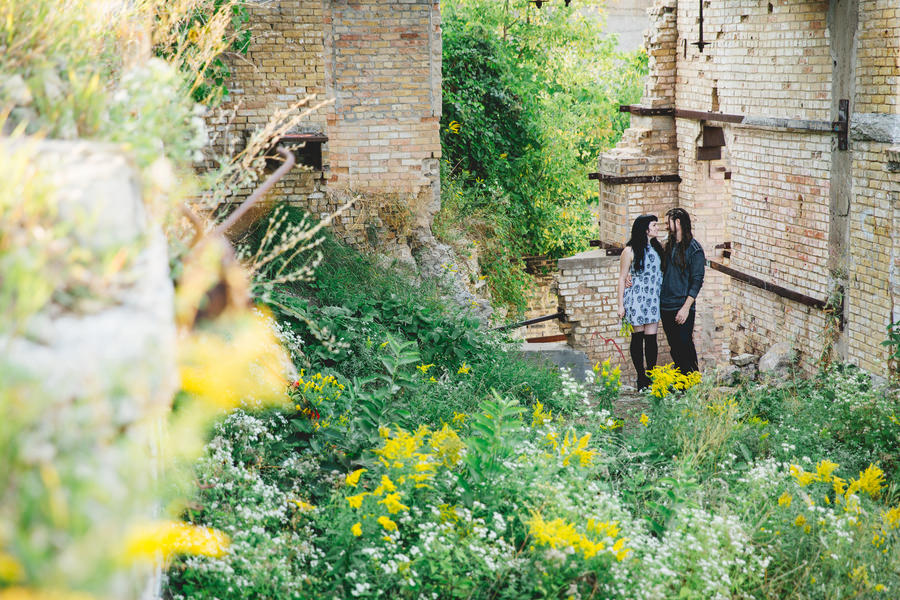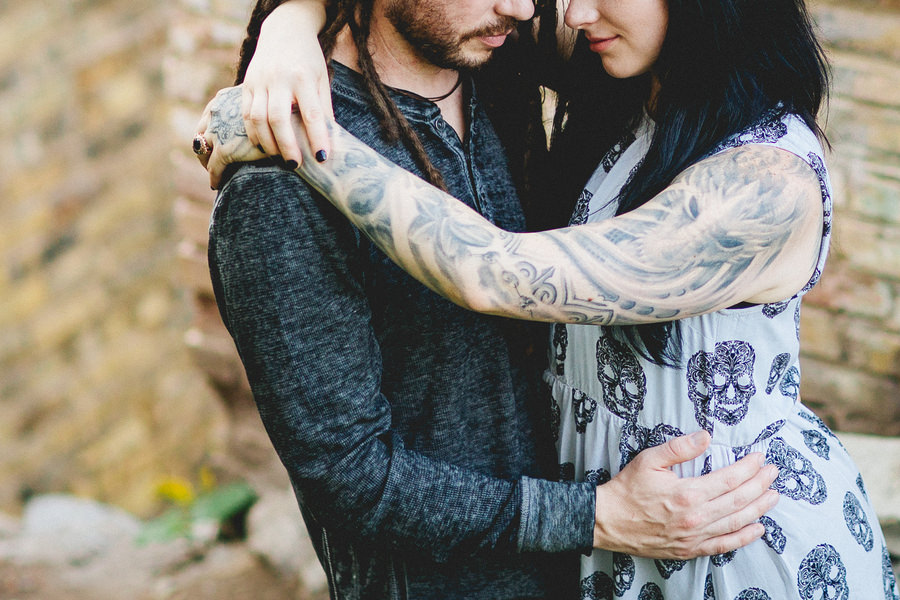 The Proposal
The last night of their vacation in Belize, Brittney and Tim were soaking up their last hours of paradise. Around midnight, they found themselves alone on a dock, with the ocean crashing beneath them and a sky filled with stars above them. "I stood up and like a dork started pointing out constellations and describing them to Tim since I'm into that sort of stuff, and he wasn't really responding so I turned around and when I looked back he was down on one knee."
Her reaction? "Throwing up!" she laughs. "I was also in my first trimester of being pregnant so I threw up a lot, but I remember just feeling like my stomach had gone on the craziest roller coaster. And I thought it was a joke it was right around midnight before April 1st, so it would have been April Fool's Day within a few minutes. I distinctly remember crying and telling him to stop joking and accusing him of being mean with the joke.It was all very hilarious, my response and all!"
Once the shock settled, and no joke punch line was given, Brittney realized this was really happening and responded with an enthusiastic yes. "It was a total surprise and took me off guard. We had talked about waiting to be officially married until our daughter could be a part of the wedding. I knew it would happen eventually … I just didn't think it would be that soon!"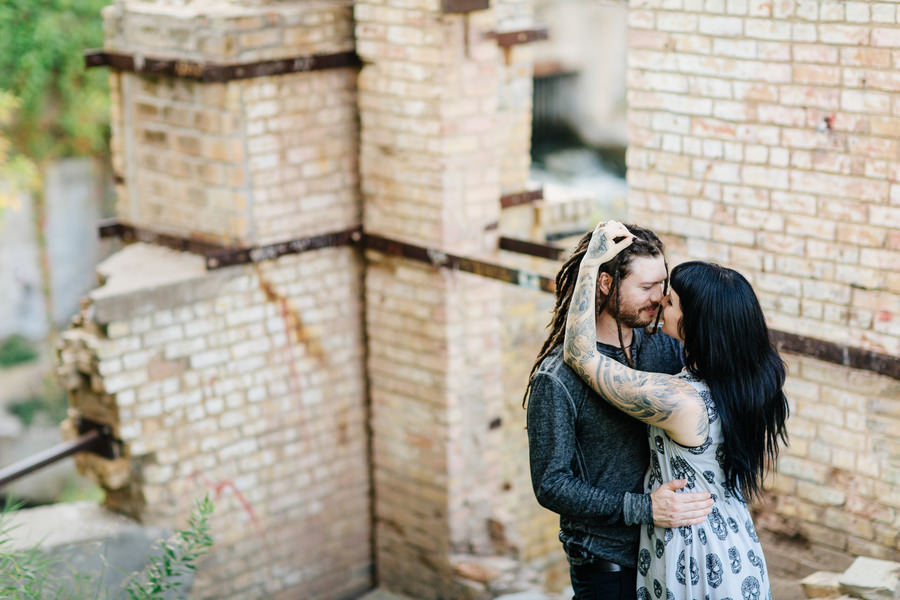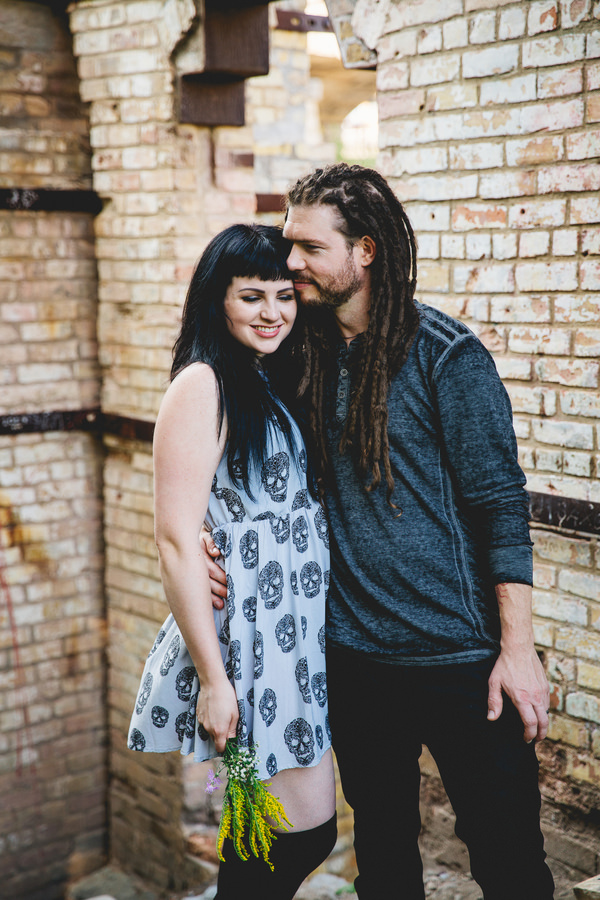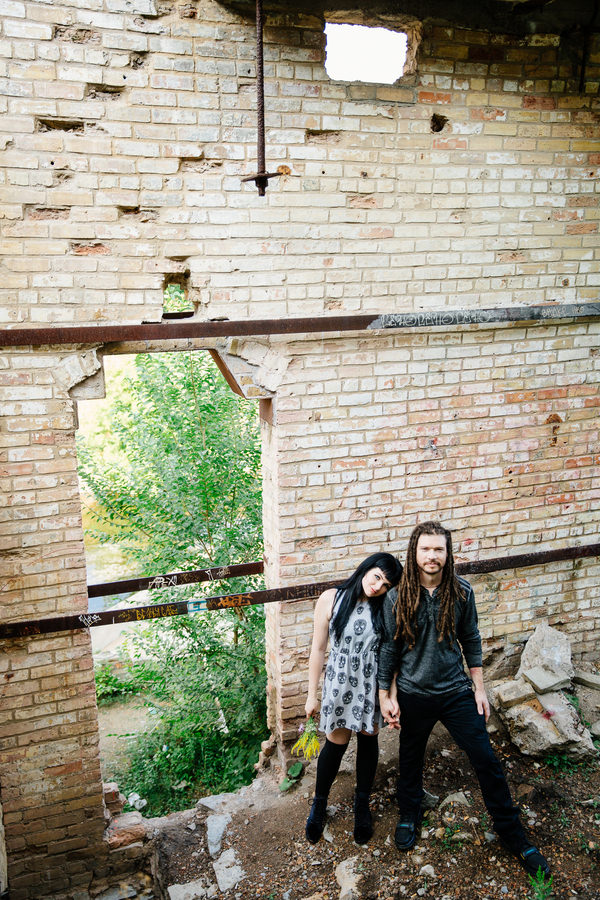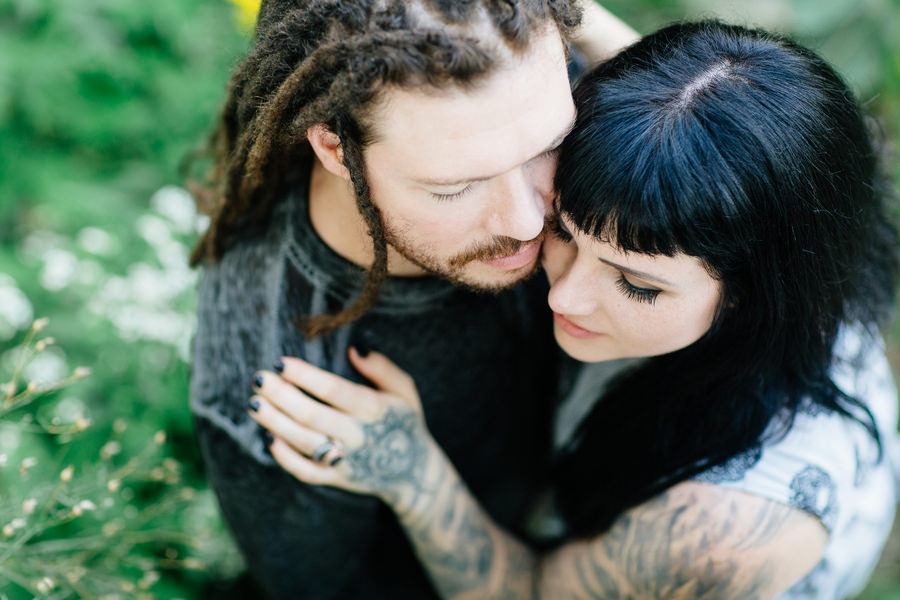 The Ring
Tim proposed with a symbolic ring he bought in Belize and then when they arrived back home in the States, Brittney was able to pick out the official ring. Admittedly not into wedding rings, she shopped from Blood Milk Jewels, an artisan who incorporates castings from bones in her designs. "She does very ornate and slightly spooky but beautiful jewelry," Brittney notes. Her choice: a ring featuring an antique filigree setting in a rose gold vermeil with cast sparrow claws clutching a center quartz. "I preferred the quartz over say a black diamond or other more precious stone, due to the metaphysical properties of quartz and so I was guaranteed it was ethically/morally harvested and crafted. It is my favorite piece of jewelry, and due to work I am not allowed to wear a ring most of the time, so when I do get to wear it, it is like a special treat to myself."